It was an arrest that made headlines far beyond Cayuga County. State police were north of Weedsport on Aug. 6, 2018, when they spotted the vehicle of a man wanted on an arrest warrant. Troopers tried to pull him over, but the driver refused to comply. He hit a trooper's marked car, then took police on a 15-mile chase where speeds reached 107 mph. Troopers stopped their pursuit just outside of Auburn; it had become too dangerous. But police tracked the driver down the next day at a Sennett hotel.
Eight days later, the suspect in that headline-making chase was in Cayuga County Jail, giving a sworn statement to Auburn Police Department Sgt. Timothy Spingler, head of the multi-agency Finger Lakes Drug Task Force. But Spingler wasn't there to ask about the chase or the charges the driver was facing. Instead, he wanted to know about an APD sergeant named Stephan McLoughlin.
The driver in the chase, Brandon Millhoff, who has lived in Auburn and Weedsport in recent years, would give sworn statements alleging that McLoughlin, a former head of the drug investigation unit himself, had been buying cocaine from him and tipping him off about confidential police informants.
Five months later, McLoughlin was demoted from his supervisory role at APD after being temporarily suspended amid the probe into the accusations made by Millhoff and others. A criminal investigation into McLoughlin, conducted by the Cayuga County Sheriff's Office with cooperation from APD leadership, closed without any charges filed because of a lack of supporting evidence. The APD conducted an internal investigation at the same time, but the results are not public. State law prohibits the disclosure of internal law enforcement disciplinary records.
Over the past nine months, The Citizen has used the state Freedom of Information Law and taken court action to secure more than 120 pages of records connected with the McLoughlin investigation. These documents include sworn witness statements obtained by the sheriff's office investigators, an official criminal investigation case summary, a search warrant application, city payroll reports and court documents. The information gathered offers a window into the four-month criminal investigation into whether McLoughlin, a 19-year APD employee, was engaging in official misconduct and illegally possessing drugs.
Investigators talked to at least three people who provided sworn statements that they saw McLoughlin use cocaine, another who said McLoughlin once took cocaine from him during a traffic stop but never arrested him, and a sheriff's deputy who said he was told by a defendant in an unrelated case that he had seen McLoughlin use cocaine. But the records also indicate why the sheriff's office ultimately concluded that it could not obtain enough independent corroboration to justify making an arrest.
McLoughlin did not answer questions The Citizen submitted to him, but according to sheriff's office records, he vehemently denied the allegation that he used or bought illegal drugs, telling investigators he would have anyone who said so arrested for making a false statement, and that he'd sue them for slander.
The records provided by the Cayuga County Sheriff's Office in response to The Citizen's FOIL request include dozens of pages of sworn statements given by people interviewed by investigators. Some portions of the records were redacted. The sheriff's office cited the need to protect the identity of informants in unrelated drug investigations as the reason for redactions.
Millhoff signed at least two lengthy sworn statements, but at least nine other people also gave statements for the sheriff's office investigation. All of them signed their names just below a printed acknowledgment stating they understood that knowingly providing a false statement is a crime.
An investigation begins
The sheriff's office criminal probe into McLoughlin's conduct didn't start with Millhoff, the driver in the dramatic car chase, according to the office's investigation summary.
On Aug. 14, 2018, a Cayuga County Jail inmate named Michelle Nevidomsky — who was being interviewed in an unrelated robbery investigation — told then-Det. Lt. Brian Schenck of the Cayuga County Sheriff's Office that another inmate, Millhoff, "was selling drugs to a police officer," according to the investigation summary. Schenck quickly notified APD Chief Shawn Butler of the information.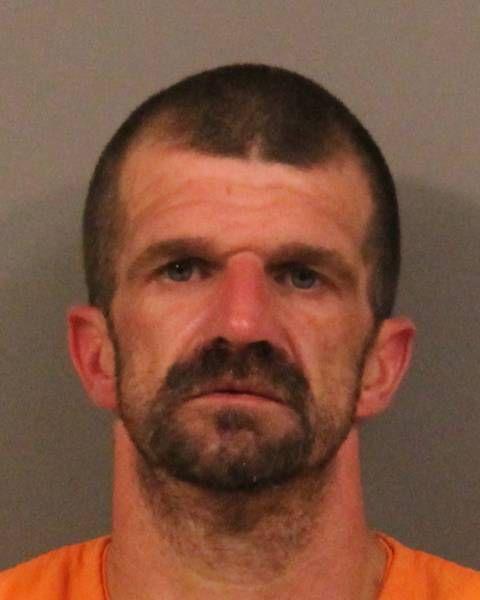 The next day, APD's Spingler came to the jail and took a sworn statement from Millhoff, according to the investigation summary, which labels the probe as "Official misconduct: Public Servant Performing Illegal Function." Spingler obtained a second sworn statement from Millhoff, who was 41 at the time, which largely mirrored the information in the first, on Aug. 24, 2018.
Sheriff's office investigation records state that on Aug. 17, 2018, there was a meeting of city police and sheriff's office staff to discuss the sheriff's office taking the criminal case and APD handling an internal probe.
Millhoff was in the jail at the time after he was arrested following the high-speed chase through numerous municipalities in Cayuga County. A past convicted felon, Millhoff was facing more than two dozen charges stemming mostly from the chase and a related domestic violence case.
Millhoff said he'd known McLoughlin since they were young, according to the investigation summary. They used to party together, and eventually "McLoughlin started asking Millhoff for cocaine." Millhoff told police that McLoughlin at first said the drugs were for someone else, but the two eventually used cocaine together.
"I get cocaine for Stephan and sometimes he would pay me when I gave him the cocaine," Millhoff said in one of his sworn statements. He said other times McLoughlin would give him "information or got me out of trouble so I really didn't worry about him giving me money. I just believed the information or the ability to not get into trouble with the police was worth what I had invested in the cocaine."
Back when McLoughlin headed up the drug task force, Millhoff said, they would meet at least once a month so McLoughlin could tell him who the current drug informants were so Millhoff wouldn't get caught selling cocaine.
Millhoff's statements provide details of specific encounters in which he claimed to have provided McLoughlin with cocaine. He described one time when he gave cocaine to McLoughlin by passing it over a woman riding in his car, but the sheriff's office records noted that investigators were not able to locate the woman to corroborate that account.
In another instance, when McLoughlin was allegedly on duty, Millhoff claimed to have given him cocaine in exchange for money at Auburn's Red Apple gas station. Millhoff said his former girlfriend was with him. According to the investigation summary, that girlfriend told investigators during an August 2018 interview that she was with Millhoff when he met McLoughlin, in his uniform, at Red Apple. She said McLoughlin gave Millhoff money, but she didn't see Millhoff give McLouglin cocaine. She did confirm, however, that there was cocaine in the car at the time.
In another meeting in July 2018, Millhoff said, he gave cocaine to McLoughlin after the officer picked him up because Millhoff had run out of gas. He said McLoughlin took him to a Speedway convenience store. Auburn police later obtained security camera footage that corroborated the two were together at the store.
Records also show that Millhoff and McLoughlin communicated frequently in the weeks before Millhoff was arrested following the high-speed chase. An analysis of phone logs performed for the sheriff's office by the New York National Guard Counterdrug Task Force confirmed 141 calls or texts between the two from June 1, 2018 to Aug. 3, 2018, according to a search warrant application.
A former girlfriend of McLoughlin who worked at the Cayuga County Jail told investigators that he and Millhoff "were very close, to the point that it made her uncomfortable. ... She stated that she knew B. Millhoff's reputation and didn't feel that it was a good idea for a police officer to be that close personally with him," the investigation summary said.
Millhoff's mother, Mary Poole, told The Citizen that Millhoff and McLoughlin had known each other since they were children. She also said her son told her that McLoughlin would help him get out of trouble.
"Brandon told me that whenever he got stopped for speeding, or whatever, Stephan would get him out of it. So I think that's one of the reasons Brandon thought he was (invincible) because Stephan always got him out of things," Poole said.
Millhoff believed McLoughlin got him out of a driving while ability impaired charge in Conquest in 2016. McLoughlin, then an APD sergeant, approached the Cayuga County assistant district attorney who was handling the case, according to the investigation summary. Former ADA Brian Leeds "had noted that he had been contacted by S. McLoughlin who informed him that B. Millhoff was cooperating with law enforcement and requested a reduction."
According to the investigation summary, Leeds told sheriff's office investigators that McLoughlin asked for the DWAI case to be dismissed and "led him to believe that B. Millhoff had either been an informant or acted in that professional capacity for S. McLoughlin." Leeds nevertheless balked at an outright dismissal, according to the report, saying "there would have to at least be a driving revocation which appeared to be more of a consequence than S. McLoughlin wanted."
The case was adjourned. Leeds soon left the district attorney's office for a job in Ontario County, and Millhoff thought that McLoughlin had made the charges go away.
But after the Cayuga County District Attorney's Office became aware in September 2018 of the unresolved DWAI from 2016, it moved forward with prosecuting the case. In a Sept. 5, 2018, email to the Conquest Town Court inquiring about its status, ADA Diane Adsit wrote, "Our computer records show he was pro se and adjourned to work with law enforcement on something. But he never did."
The sheriff's office's records document one time when investigators interviewed McLoughlin. Det. Lt. Fred Cornelius and Det. Sgt. Robert Franklin, who was the lead investigator on the case, visited McLoughlin at his Auburn residence in early September 2018, according to the investigation summary. When confronted with the allegations, McLoughlin "categorically denie(d) ever using cocaine." McLoughlin told the detectives that Millhoff would often ask for help getting out of trouble, but the officer denied ever actually doing so. McLoughlin twice said he never used Millhoff as an informant, something investigators noted as "contrary to disposition notes provided by the Cayuga County District Attorney's Office and former ADA Brian Leeds."
McLoughlin also told Cornelius and Franklin he was already aware of the sheriff's office investigation, as a former "snitch" tipped him off. At the time, he admitted to having paid Millhoff money and said witnesses may have seen that. But McLoughlin added that if anyone was willing to provide a sworn deposition saying they saw "Millhoff provide him with cocaine he would have them arrested for providing a false sworn written statement and then sue them for slander," according to the investigation summary.
Another key witness
Auburn resident Jennifer Lakota's involvement in the investigation began on Sept. 19, 2018, after Millhoff provided his statements and after investigators interviewed McLoughlin. Lakota was at APD after being arrested in connection with a burglary. Lakota said she had been in an "intimate relationship" with McLoughlin, and that the two regularly used cocaine together. Lakota, 29 at the time she made her sworn statement, described an on-again-off-again relationship with McLoughlin that had been taking place for about two years.
"When I first met Stephan I was two years sober," Lakota said in the statement. "My husband at the time was in the military and I started hanging out with Stephan because he was a police officer and I thought that it would be safe."
Having recently come back from rehab, Lakota said she got to know Stephan from working at a local restaurant. It wasn't long, she said, until McLoughlin had cocaine and they were using it together.
About six months prior to her statement, Lakota said, she spent time in jail for an unspecified arrest after relapsing on heroin. Shortly thereafter, Lakota said, she started getting sick when she couldn't get pain pills, so she turned to McLoughlin. Lakota said McLoughlin visited her at her mom's house.
"He had Suboxone and heroin. He gave me the Suboxone and I was still sick so I thought that there was something wrong with it. He then gave me the heroin and I used it. It made me feel better. After that I started using heroin again," she said.
In addition to providing her with drugs, Lakota claimed that McLoughlin tried to blackmail her. About a month before her statement, she alleged, he sent her a video through Facebook Messenger of the two of them having sex.
"I never gave him permission to video me while we were having sex. When I saw the video I was so upset and embarrassed. He sent a message with the video that was threatening and intimidating about not telling anyone about us," she said in her statement.
With the evidence and statements they had gathered, the sheriff's office in November pursued a search warrant seeking information that could corroborate what they had been told by witnesses.
Detective Sgt. Franklin made the application to search cellphone records, Facebook and TextNow accounts of McLoughlin and Lakota. He described the records sought as "relative to a criminal investigation by the Cayuga County Sheriff's Office … into allegations of criminal sale of controlled substance as well as official misconduct and unlawful surveillance."
Franklin noted there were "allegations made by multiple sources that Auburn Police Officer Stephan McLoughlin had been purchasing cocaine both while on and off duty in the City of Auburn as well as using his position as a police officer to aid area drug dealers in the sale of controlled substances by providing them confidential information and informing them of police operations relative to their illegal activities." The application for a warrant stated there was "reasonable cause to believe that a search of these records will result in the seizure of evidence relating to the criminal sale of a controlled substance ... official misconduct ... and unlawful surveillance."
Judge Thomas Leone approved the search warrant on Nov. 14, and the investigation report said searches were executed. But that's where the investigation appears to have ended.
The searches "resulted in negative investigatory leads and or corroboration of statements," according to the investigation summary. "At this time there is not sufficient probable cause or corroboration of testimony for an arrest. Closed by investigation."
Both Lakota and Millhoff would be sentenced to state prison, having pleaded guilty earlier this year in the cases that brought them to the Cayuga County Jail in 2018. Millhoff remains in state custody, serving a 2 ½-to-7-year term, although this summer his DWAI charge in Conquest Town Court was dismissed. Lakota was paroled earlier this summer. The Citizen sent letters to both Millhoff and Lakota while they were incarcerated asking if they would agree to be interviewed for this story, but did not receive responses.
You have free articles remaining.
Register for more free articles
Stay logged in to skip the surveys
Lakota and Millhoff's sworn statements alleging misconduct by McLoughlin were the most extensive in the records obtained by The Citizen, but the files had shorter sworn affidavits from several other people, including the following:
• A 33-year-old gave a statement in which he said McLoughlin stopped him several years ago and told him "they were going to bring the dog and find the drugs so I should make it easy on myself." He then told McLoughlin where he had cocaine. "He took the cocaine, put it in his pocket, and told me someone would be in contact with me." That never happened, though, according to the witness.
• Another 33-year-old man gave a statement saying he saw McLoughlin use cocaine in the back room of Wet Willy's bar in Auburn about four years prior. "Stephan is a good guy and I would like to see him get help," the statement said.
• Sheriff's Deputy Matthew Sloan provided a statement in which he said a man he had charged with aggravated unlicensed operation told him after a 2018 court appearance that he had "issues with trust" of certain officers, and went on to specify McLoughlin because "he has seen him do cocaine in person." But after sharing that information, he told the deputy he "was not willing to be a narc."
While the allegations made against McLoughlin are troubling, the sheriff's office had a solid basis for not making an arrest, said criminal justice consultant Walter Signorelli, who worked through the ranks during a 31-year career with the New York City Police Department and is now an adjunct professor at the John Jay College Criminal Justice.
Signorelli, who's also an attorney, reviewed information The Citizen gathered on the McLoughlin case.
While bringing charges and then subjecting witnesses to cross-examination might be the ideal way to find the truth, he said, there needs to be strong corroboration of allegations in order to do that. And Signorelli didn't see any indication the sheriff's office had that level of corroboration.
"Obviously, you want to err on the side of caution if you think some officer is committing crimes and using drugs — you want to get rid of him, but you do have to corroborate it. ... We have to deal with the laws and rules of evidence and corroboration," he said.
Signorelli said working with drug informants is a "treacherous" area for law enforcement, and he could see that being an issue in McLoughlin's case.
"If you were dealing with an informant and you're getting information, you couldn't just run that on your own. You'd have to register them and they would be supervised. If you paid them, the payments would be recorded. So if he was just running on his own an informal informant, that's always a problem and that's certainly enough to reduce him in rank, maybe even fire him."
An entangled court case
As the investigation unfolded, Millhoff's role in the probe became an issue in his own criminal court case.
Cayuga County District Attorney Jon Budelmann and Millhoff's defense attorneys, Rome Canzano and Benjamin Susman, used legal motions and responses to accuse each other of wrongdoing in connection with the case. Budelmann said the defense, particularly Canzano, was orchestrating the accusations against McLoughlin in an attempt to do political damage to the DA. The defense lawyers, meanwhile, claimed Budelmann was undermining the investigation into McLoughlin and targeting Millhoff.
One of the earliest disputes centered on Millhoff's bail. Canzano and Susman said they believed law enforcement was on board with a plan to release Millhoff and allow him to assist the investigation into McLoughlin from outside jail. But Budelmann derailed that plan, they said, to protect the police officer.
In Budelmann's court papers, however, he said he emailed APD Chief Butler, Deputy Chief Roger Anthony, former Sheriff David Gould and Sheriff's Office Det. Lt. Cornelius in regard to bail, letting them all know he would oppose a reduction of the bail that had already been set at $50,000 cash or $100,000 bond. He said he informed them that they could write the judge in support of bail reduction or come to court, and in the end, law enforcement leaders agreed that Millhoff needed to stay in jail because of the nature of the crimes he was charged with committing.
Budelmann said Millhoff had threatened the life of his ex-girlfriend, repeatedly violated his order of protection against her, missed multiple court appearances and jeopardized the safety of many citizens when he took state police "on a 15-mile high speed chase, while allegedly high on Molly."
Due to the high bail set, Millhoff remained in jail. In court files, his attorneys stated that the high bail "prevented (Millhoff) from continuing to participate in the criminal investigation." As a result, the police were "unable to continue their undercover investigation" and then APD suspended McLoughlin pending an administrative hearing, the defense attorneys said in court papers.
"We lost an opportunity that we can never get back," Canzano said in an interview after Millhoff's case was concluded. "This guy was providing cooperation in one of the bigger, if not the biggest, drug investigations in the county."
More than two months after the bail dispute, Millhoff's attorneys filed a lengthy motion asking to remove Budelmann as prosecutor and appoint a special one to take over. The judge ultimately denied that request, following a series of responses between the two sides.
Among the issues the defense raised was a phone call Budelmann made to Millhoff's mother, Poole, on Sept. 9. The defense claimed that Budelmann told Poole he might lower bail if Millhoff would meet with him, and that the DA encouraged her to keep Millhoff speaking on the phone. To support his arguments in his court papers, the DA quoted extensively from Millhoff's recorded jail phone conversations.
After her son's sentencing, Poole told The Citizen that she felt deceived by Budelmann. "When you go to the parent, who's already suffering with what my son had gone through, and then for him to play on that angers me. It really angers me."
Budelmann said he made no promises about bail to Poole, and he denied telling her to talk to her son on the phone while he was incarcerated. The DA said his main purpose in speaking with the defendant's mother was to find out if someone was manipulating Millhoff, and he concluded that's what the defense lawyers were doing.
After Susman and Canzano asked the court to name a special district attorney to prosecute the Millhoff case, Budelmann responded with his opposition and asked the court to seal the court papers from the public and press. In the cover letter of his Dec. 4 response papers, Budelmann referred to the investigation into McLoughlin as "unrelated" to Millhoff's case. He argued the papers should be sealed "given the salacious and completely unsupported, false allegations" and added that he was concerned Millhoff was "being manipulated by his attorneys."
In a Dec. 7 response, Susman agreed the files should be sealed, but not for the same reasons as Budelmann.
Millhoff "remains ready and willing, to continue to work with law enforcement and assist in their investigation, despite the district attorney's attempts to prevent him from doing so," Susman's papers said. He agreed files should be sealed because of the "administrative suspension and ongoing criminal investigation into the police officer."
After Millhoff's Dec. 11 court appearance, in which attorneys got into a heated argument, The Citizen requested the court file on the case, but learned the records at that time were sealed pending a decision on the motions. After The Citizen hired an attorney in early 2019 to represent the press' and public's right to see the files, the defense withdrew its support for sealing them. Judge Mark Fandrich ultimately agreed with the newspaper's argument and signed an order March 27 that directed the file be unsealed. The documents, however, were not made available to The Citizen until after Millhoff's April 18 sentencing.
Budelmann's papers said the investigation Susman and Canzano referenced in their court fillings was "unrelated" to their client's crimes and that it concluded with no charges, no arrest and McLoughlin returning back to work.
 "I believe defense counsel are seeking false, negative headlines at the expense of (McLoughlin), who has not only not been convicted, but has not even been charged," Budelmann's papers said. He said Susman and Canzano were using Millhoff "in order to seek headlines for themselves."
In an email to The Citizen last spring, Budelmann stated: "After a thorough, four-month joint investigation by the Auburn Police and Cayuga County Sheriff's Departments, there was apparently no evidence found to support Brandon Millhoff's allegations of criminal activity against this APD officer … As a prosecutor, I rely on facts and evidence. When no evidence is found to support any allegation of criminal wrongdoing, there is nothing for me to prosecute."
Budelmann noted that McLoughlin "voluntarily took a surprise urine test showing he was clean" in order to disprove the allegations he used, bought and possessed drugs. In addition, Budelmann said McLoughlin submitted a hair sample and a toenail for testing, and both came back clean. Those drug tests were not mentioned in any of the sheriff's office records provided to The Citizen.
In an interview with The Citizen last spring, Susman said Budelmann "created this narrative that the only reason we're bringing this stuff up is because we're trying to make him look bad. First of all, it's completely unprofessional. I don't even care who it is, I would never put pleadings together to try to make someone's political career fail.
"It's also kind of offensive that he is putting it out there that we're using Millhoff for our personal agenda," Susman said. "That's completely incorrect. It's ridiculous."
In reviewing the arguments between the DA and defense lawyers, Signorelli, the criminal justice professor from John Jay College, questioned the DA's decision to reach out to Millhoff's mother.
"Once you've been indicted, once you're in a case, you're represented by counsel, the district attorney is only supposed to deal with you through your counsel," Signorelli said. "But their way around that might be, well, they weren't speaking directly to him. They were speaking to the mother. So that's another issue."
But Signorelli also said that despite the politics that appeared to motivate the back-and-forth and distrust between attorneys, he didn't see anything that warranted removing the DA from the case, as the defense requested.
"I don't see where a special prosecutor would be called for unless you could show that the local DA somehow is doing something improper," he said. "You can't be having special prosecutors all the time because ... the DA has a job to do. It's their responsibility. They're elected."
Lower rank, lower pay
City of Auburn payroll records, provided in response to a FOIL request, indicate there was a period of time in 2018 when McLoughlin was not paid a regular salary, and more than two months afterward when his pay breakdown seemed to differ from his previous checks.
On Sept. 14, 2018, McLoughlin was paid for more than 80 hours. The city did not issue him a paycheck on the next regular payroll date of Sept. 28. And on Oct. 12, his check was for less than 12 hours. Then, from Oct. 26 to Jan. 4, he was paid an even 80 hours for each two-week pay period with the exception of one 88-hour check. In this time frame, his salary for the 80 hours came from a single line item, regular salary, while previously his hours were made up of various line items, such as vacation, sick, holiday, shift differential, overtime and compensatory time.
New York's civil service law provides that employees facing disciplinary action can be suspended for up to 30 days without pay. If the disciplinary matter has not been resolved after that time period, employees must be paid their base compensation while on suspension.
In checks dated on and after Feb. 1, McLoughlin's hourly rate was lowered, reflecting the demotion from sergeant to patrol officer. As a sergeant, his base wage was $38.69 per hour, but as an officer, it was reduced to $35.26.
Payroll records also show that McLoughlin has seen his overall pay reduced as a result of a schedule change that has him working daytime hours in the patrol division. That change has significantly reduced the amount of shift differential pay he receives. Under the APD union contract, night and overnight shift members earn extra hourly pay for working these hours. In eight paychecks prior to the Sept. 28, 2018, payroll date, McLoughlin was paid between 32 and 76 hours worth of shift differential wages for each paycheck. Since that time, he's been paid for a combined total of 3.5 hours in shift differential time.
Citing state law, city police leaders and the city's corporation counsel said they cannot comment publicly on anything related to internal police investigations and discipline, unless there was consent from the involved officer or a court order. The Citizen filed a FOIL request for McLoughlin's civil service history record, but the city denied the request, citing the statute governing police personnel records.
In an interview with city of Auburn Corporation Counsel Stacy L. DeForrest and APD Deputy Chief Anthony, Anthony confirmed McLoughlin has been with APD 19 years as of this summer. McLouglin will be eligible for retirement after 20 years of service and will be able to collect a pension equal to half of the average of his three highest consecutive years of pay. Anthony said he wouldn't be able to comment on whether there was an agreement in place for McLoughlin to retire when he becomes eligible.
Anthony said McLoughlin became a sergeant in October 2014, and was head of the drug task force between about 2012 and 2016. Anthony said McLoughlin's title changed from sergeant back to officer in January, but DeForrest said city officials can't comment on why that change was made, again citing state law.
The sheriff's office declined to comment for this story beyond the documents provided under the FOIL request. The Citizen also reached out to leadership of the union that represents city police, Auburn Police Local 195, to ask about its feelings on the handling of the McLoughlin matter, but it also declined to comment.
Auburn Police Chief Shawn Butler also said he couldn't discuss the specifics of the McLoughlin case, but did provide a written statement about how the APD handles concerns about employees and how it works with the sheriff's office:
"The Deputy Chief and I have made it one of our top priorities to lead an agency of the highest ethical and moral standards. When complaints or allegations are made against one of our employees, our goal is to investigate each and every complaint to the best of our ability and to determine the truth, maintain the trust and confidence of our employees, as well as those that we serve, all while maintaining due process and respecting the rights of the employee the complaint was made against. We will investigate any allegation made against an employee as extensively as the evidence allows and then and only then will we make a determination and take appropriate action. With that said, we would like to thank the Cayuga County Sheriff's Office for their assistance in countless investigations as they continue to partner with the Auburn Police Department, as it is an example of the excellent partnership that our two agencies share with one another."