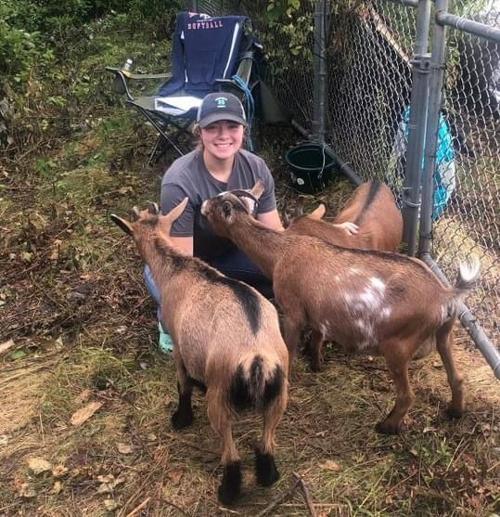 A western New York school district is welcoming three new students to its campus near Jamestown.
And, given the cast, it's safe to assume there will be a lot of "kidding around."
With a retention pond located behind its elementary school in dire need of clearing, Southwestern Central School District will welcome three goats — mother, Pumpkin, and babies, Rusty and Dusty — to its central campus in West Ellicott to help eat up the vegetation that has caused it to become overgrown.
Superintendent Maureen Donahue informed the district's school board of this development at a meeting on Aug. 25.
"Six years ago, someone said that should get a goat," Donahue said. "I told them, 'We're not getting a goat. Kids will get attached to the goat, then we'll have to get rid of the goat. We're not getting a goat.'"
But, after running into rising sophomore Maddy Rose Cresanti while out to lunch one day, the idea actually became feasible: Cresanti's family has raised the three goats for the last two years.
"We were talking and up came the conversation about me having goats and she expressed interest in how she wanted to use the goats to clear out the retention pond," Cresanti told The Post-Journal. "It all just kind of went from there."
She was flattered that Donahue would think to include her on this idea.
"I really appreciate the attention that she gives her students," she said. "She knew I showed goats for 4-H. ... and I think it's great that she's excited to bring more agricultural aspects to a suburban school."
Cresanti, who lives in Bemus Point, said that the goats will come to school with her each day and leave with her each night. The pond, which is designed with additional storage capacity to account for surface runoff during rainfall events, is fenced in.
"This is awesome being able to bring them with," she said. "I have kennels for the goats, so we just bring them with us to school."
The use of goats has become commonplace for environmentally friendly solutions for issues similar to Southwestern's, Donahue told board members, who chuckled at the initial thought.
"You guys are laughing, but there's a company that does this in Buffalo," she said. "There's a company where you can rent out their goats and then come in because they eat the small trees, they eat the brush and people are using them in areas to do that as a proactive way to get rid of it. We're going to use three unless someone has an objection. I want them to go home at night because I don't want anything to happen to them. She's going to take them home at night."
And though the official "first day of school" is not until tomorrow, the district's newest students had an "orientation of sorts" late last week.
"Day one went smoothly," Donahue said via text Friday morning. "Within a few minutes they were feasting on the vegetation."
"They're very comfortable," Cresanti said. "It's a great pasture for them."
And, it hopefully will provide a bright spot to a school year filled with neverending question marks.
"It's such a difficult time already. ... I think this will really be a great new morale booster for the school to have three little goats," Cresanti said.
Be the first to know
Get local news delivered to your inbox!