Although many suspicious blooms still linger, there were indications Friday that some of the harmful algae blooms on Cayuga Lake may have dissipated.
Two state park beaches that had been closed earlier this week, Taughannock Falls State Park in Tompkins County and Long Point State Park in Cayuga County because of the blooms, reopened on Friday.
The blooms had also caused temporary closure of the beach at Camp Casper Gregory in Ledyard, although camp operations have carried on through the week and will continue in the weeks ahead. 
Suspected blooms remain abundant, though. According to the state Department of Environmental Conservation map, there were 27 suspected HABs in the areas throughout the lake as of Friday afternoon. Of those, nine were in Cayuga County.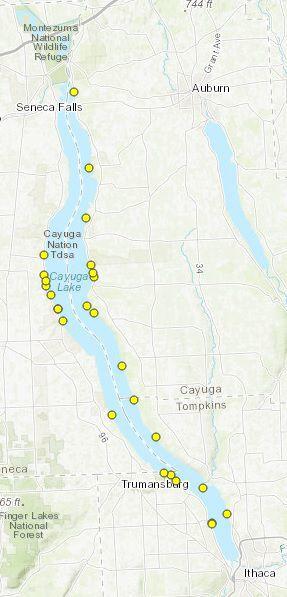 As of Friday, there were no reports of suspected HABs on either Owasco or Skaneateles Lakes. One suspicious bloom was reported on Little Sodus Bay in Fair Haven.  
Results from a July 10 drinking water sample at the Wells College Water Treatment Plant, the facility that treats water for the village of Aurora and Wells College, did not detect any toxins. 
Wednesday, the Cayuga County Health Department announced reports of Cayuga Lake's blooms. The department, per a press release, said the algae blooms are "anticipated to continue due to the warm weather expected," and have triggered drinking testing protocols in the Aurora area. 
The CCHD encouraged the public to report algal blooms, which discolor bodies of water with a "paint-like or filmy appearance or floating scum," but avoid going near the potentially harmful algae. It also advises against drinking water drawn to private properties directly from the lake, even for houses with in-home treatment systems.
At Thursday's city council meeting in Auburn, an update from the city's municipal utilities department said water operators for Auburn, Owasco and Wells College are surveying water and filters daily. This surveying is expected to end in November, at the end of the season for harmful algae blooms.