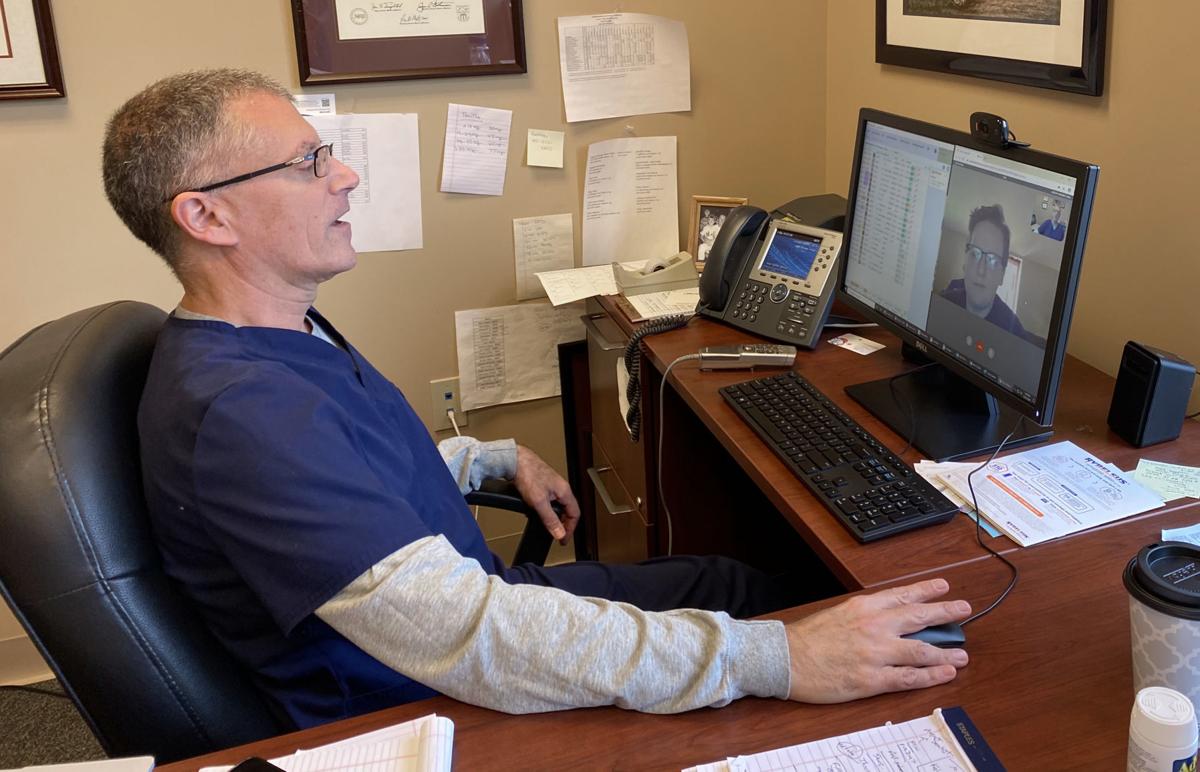 The need for social distancing during the coronavirus pandemic has made people second-guess even their most important face-to-face interactions.
That includes going to the doctor's office.
But technology has allowed people to make the trip digitally instead. Through telehealth, doctors are able to see patients in a manner similar to a FaceTime or Skype call. The only difference is that the call is integrated into the patient's medical records and is compliant with health privacy laws, said Dr. Paul Fu, deputy chief medical officer at Auburn Community Hospital.
A neurologist, Fu was the medical director of telehealth at the Yale University School of Medicine prior to coming to Auburn. His role at the Auburn hospital has included leading its adoption of telehealth, he said, given how many rural patients it sees. But as the coronavirus pandemic began spreading throughout the country weeks ago, that process sped up dramatically.
In that time frame, Fu said, the hospital has set up 90% of its affiliated health care providers — or 35 out of about 40 — with telehealth capability. Though providers would usually reserve the technology for less intensive visits, like follow-ups, the hospital has made the option available to anyone who'd rather stay home than risk coming to the office during the pandemic.
"In a setting where you get a lot of upper respiratory, cough, cold symptoms, you don't necessarily want to be in the waiting room," Fu said. "This way we can still provide care without wearing heavy precautions, or possibly contaminating other patients."
The hospital trained its providers in telehealth in about two days. Fu said the transition has gone so smoothly because of the provider of the hospital's telehealth service: Auburn's own Medent.
Having previously worked with more complicated services, Fu said the local software development company's Video Visits are simple. A patient just has to schedule an appointment, then they're emailed or texted a link. When it's time for the appointment, they can open the link on a computer, tablet or smartphone. The visit takes place in a browser, and requires no apps or plug-ins.
"Telehealth has been a gem, allowing us to maintain patient access in a really tough situation," Fu said. "The last thing you want is for patients not to be able to see providers when they need care."
Medent built the ability for providers to conduct Video Visits into the company's electronic health record software over the last year, said Barbara Cuthbert, Medent's vice president of sales and marketing. She said ease of use, as well as the quality and security of the connection, were priorities during the service's design.
Like Auburn Community Hospital, Medent saw telehealth becoming popular in the near future, but the coronavirus pandemic has suddenly made the service a necessity. The Auburn company has turned on the Video Visit function for 711 practices over the past three weeks, Cuthbert said. The company works with many providers locally and in the Northeast, down the East Coast and into the Central Standard Time zone. Medent is also offering its providers unlimited use of its telehealth service during March and April at no charge, the company announced last week.
"Everyone is learning everything there is to know about telehealth, from our billing specialists to our road techs," Cuthbert said.
One local provider who's been using Medent's telehealth service has been Dr. Joseph Graney of Auburn Internal Medicine and Pediatrics, an affiliate of Auburn Community Hospital.
Before the pandemic, Graney said, he tested Video Visits a few times, and was excited about the service. He saw his first patient digitally on March 12, a routine follow-up. Soon after, he saw an immunocompromised patient who was "thrilled" they didn't have to leave home. Graney now sees 80-90% of his patients through telehealth, and has suggested it to other providers in his office. 
"It's been an absolute lifesaver in this crisis," Graney said. "I know all these patients well, some of them for 15 to 20 years, so when I'm sitting and looking at them on video, it's not very different from being in the office."
The lack of physical interaction does limit the scope of Video Visits, Graney said. He can't evaluate joint pain, or conduct annual physicals. But about 90% of visits are talking — going over a patient's results, or making decisions based on changes in their medical history. And providers can get creative with that remaining 10%. Fu said he can ask patients to perform movements as a form of motor assessment, for instance. Both he and Graney also believe there's room for telehealth to incorporate health monitoring devices like Fitbits and Apple Watches to measure vitals like heart rate.
After the pandemic, Graney expects telehealth will remain many people's preferred method of seeing their doctors. If nothing else, it cuts down on appointment times from about 90 minutes to 15.
"Patients need to know this works very well," he said. 
East Hill Medical Center, meanwhile, is using telehealth to provide care that's just as effective digitally as it is personally: mental health counseling. 
Anyone in the community is welcome to schedule telehealth visits with a clinician at the Auburn community health center, which is also trying to conduct as many of its primary care appointments as possible digitally. The center has also expanded its medical services to anyone in the community, not just previous patients, as a result of the coronavirus pandemic and its economic fallout.
Counseling sessions with East Hill clinicians are available to all ages, and can last up to 45 minutes. Visits can be scheduled by calling (315) 253-8477, prompt No. 2. In a news release, East Hill CEO and President Keith Cuttler said building trust and feeling comfortable with one's counselor are key to positive and productive sessions in this time of social distancing and isolation.
"As a community health center, it's our duty to adjust our services to meet the needs of our community," Cuttler said. "We're here for you if you don't know where else to turn."