AUBURN — Brewers are used to waiting. From fermentation to barrel aging, they know it can take considerable time to create something special.
Indeed, the opening of Prison City Brewing's new 14,000-square-foot facility at 251 North St. has involved some waiting. First announced in June 2016, it changed sites twice before ground was finally broken in December 2019. Owners Dawn and Marc Schulz then hoped to open it by this summer — until the COVID-19 pandemic began.
All the while, the Schulzes have been waiting. They've been waiting to grow the business they started at Prison City Pub & Brewery in December 2014. They've been waiting to be able to make enough of their nationally acclaimed Mass Riot India pale ale to sell a case to everybody who asks for one. And they've been waiting to share that growth with their employees and their community.
Soon, though, the waiting will be over. Prison City Brewing's new facility will open to the public in early December.
Dawn Schulz told The Citizen on Wednesday that the facility was issued a certificate of occupancy that day, clearing the way for it to open as soon as Dec. 1. She spoke as crews put the finishing touches on its taproom, a modern reimagining of the rustic woods, exposed bulbs and brushed metals that are familiar to any customer of Prison City's brewpub. The room seats about 100, so it will be limited to 50 due to COVID-19. They'll be able to choose from 20 beverage taps, plus light food items like cheese and charcuterie. The menu will be reevaluated in the spring, Schulz said.
That's also subject to the pandemic — as are the ways Prison City will use much of the real estate outside the sleek black facility. The only other area of the 5.5-acre property that's been completed so far is the garden on the north end, Schulz said. Before long, it will yield fruits, herbs and vegetables that will be used in the brewery's food and beer. 
Between the garden and the rest of the property is an 8,000-square-foot dairy barn. The Schulzes imagined it hosting concerts, weddings and other mass gatherings before the pandemic made them public health risks, so it could instead become a space for barrel-aging sour beers, Dawn said. The courtyard outside the facility, simply titled The Yard in a play on the prison theme, is a work in progress, too. But she said Prison City will open some sort of beer garden on the property next summer, with regular live music and a food truck operated by the brewery. The first event there was supposed to be a winter carnival this month, but construction delays and the recent surge of COVID-19 forced its cancellation. That's why the brewery will have Christmas trees for sale this season, she said with a laugh. Located on the lawn, for now, are a few plastic domes where small groups can gather at a table. Though they're heated, they'll only be used on milder days until spring arrives.
Even the name of the facility has yet to be finalized, Schulz said. Its working title when ground was broken was Prison City Farmhouse.
"Sometimes we call it 'North Street' and the brewpub 'State Street.' Sometimes we call it the farm, sometimes the farmhouse," she said. "There's no official name yet."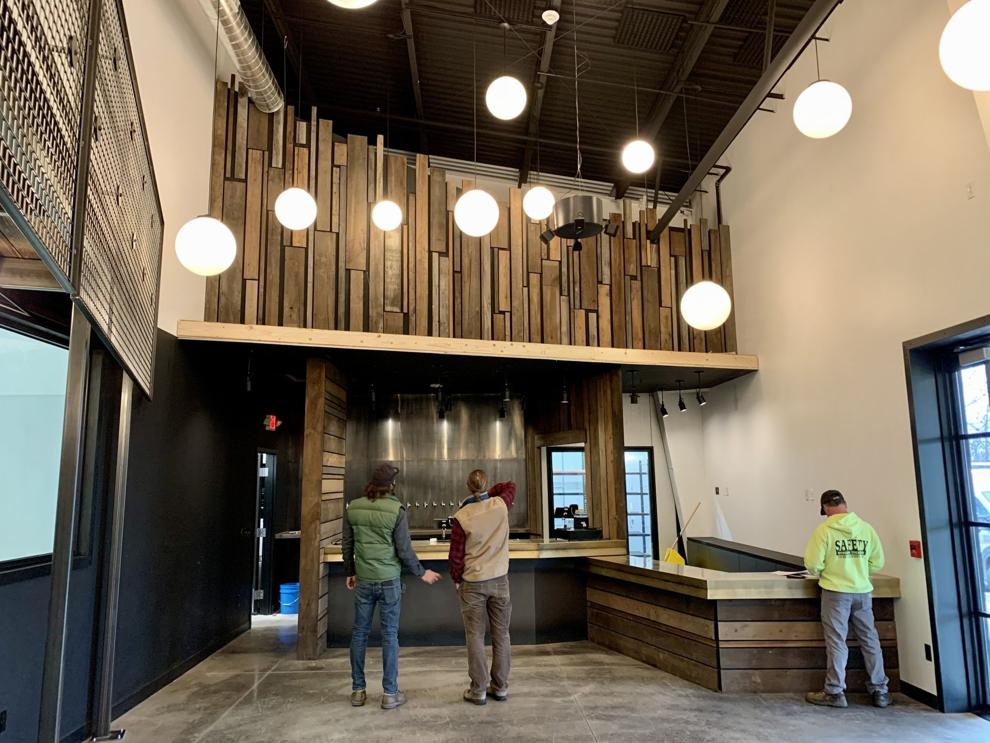 One thing about Prison City's new facility that's already official, though, is the beer coming out of it.
The 20-barrel system there will raise the brewery's annual production from 1,000 barrels to 3,000 in 2021, Schulz said, and 10,000 after another year or two. The facility also has a canning line where, on Wednesday, employees packaged cases of Elegant Pride, the pale ale with lemon zest and mango tea that won a gold medal at the New York State Craft Beer Competition this year.
Overseeing the canning was Sam Sadovnic, Prison City's new director of brewing operations. An Ithaca College grad and former head brewer of Three Notch'd in Roanoke, he's been helping the Auburn brewery scale up its recipes so they taste the same coming out of the new system as they did coming out of the old, 5-barrel one at the brewpub. The process isn't as easy as multiplying everything by four, he told The Citizen. That is the case for water, but malts and hops are a little more capricious. And the system at the facility uses a steam boiler, while the one at the brewpub uses direct fire. So the process involves some trial and error, he said. But more tenured Prison City employees on the line Wednesday chimed in with their approval of the Elegant Pride they were canning.
The new facility also boasts a coolship, a large but shallow metal tray that spontaneously ferments beer by exposing it to open air, and several foeders, wooden tanks for aging beers. Respectively, they'll allow head brewer Ben Maeso to expand into styles like Belgian lambics and oak-aged pilsners. Consulting Prison City on its sour and wood program has been Eric Salazar, a pioneer of the family of styles at New Belgium Brewing in Colorado. With all its new equipment, Schulz added, Prison City will be able to host collaborations with breweries that have previously hosted the Auburn crew, such as East Bloomfield's Other Half and Buffalo's Thin Man. She'd like to use some of that equipment to expand into non-alcoholic seltzers and sodas, too, under the company name Prison City Beverages.
However, Maeso will probably spend more of his time at the brewpub than the new facility, Schulz said. As Prison City favorites like Mass Riot IPA and Crispy Boys lager get scaled up on North Street, he'll keep creating new beers on State Street. She reiterated that the brewpub will remain open, as its full restaurant menu makes it a complementary experience, not a competing one.
Video: Canning at Prison City Brewing's new facility
Cans and bottles of Prison City beer will be available at both sites. Schulz said there are currently no plans for distribution or shipping — but that will also be reevaluated as COVID-19 continues. 
"Packaged sales have been going really well," she said, thanking customers for their support during the pandemic. "We're pretty lucky there."
As she stood in the taproom Wednesday, taking in what she called "the wow factor" of seeing Prison City's new facility come to fruition, Schulz thanked the city of Auburn and the Cayuga Economic Development Agency for encouraging her and her husband to keep their business in their hometown. The $4.25 million project is receiving about $460,000 in relief through a payment-in-lieu-of-taxes agreement from the Auburn Industrial Development Authority, and qualifies for a $900,000 grant through the CNY Regional Economic Development Council for creating 20 to 25 jobs.
Dawn said she's excited to hire the rest of those positions, and to offer new opportunities to her current employees at the facility. She and Marc are also excited to return the favor to their hometown. Though it took years of waiting, Prison City at last has the resources to rival its reputation. And the Schulzes want Auburn to benefit from that.
"People don't come because they can get one Crowler (32-ounce can)," Dawn said. "But if they can come to Auburn to get a case or multiple cases of beer, I think we'll see an increase in tourism."