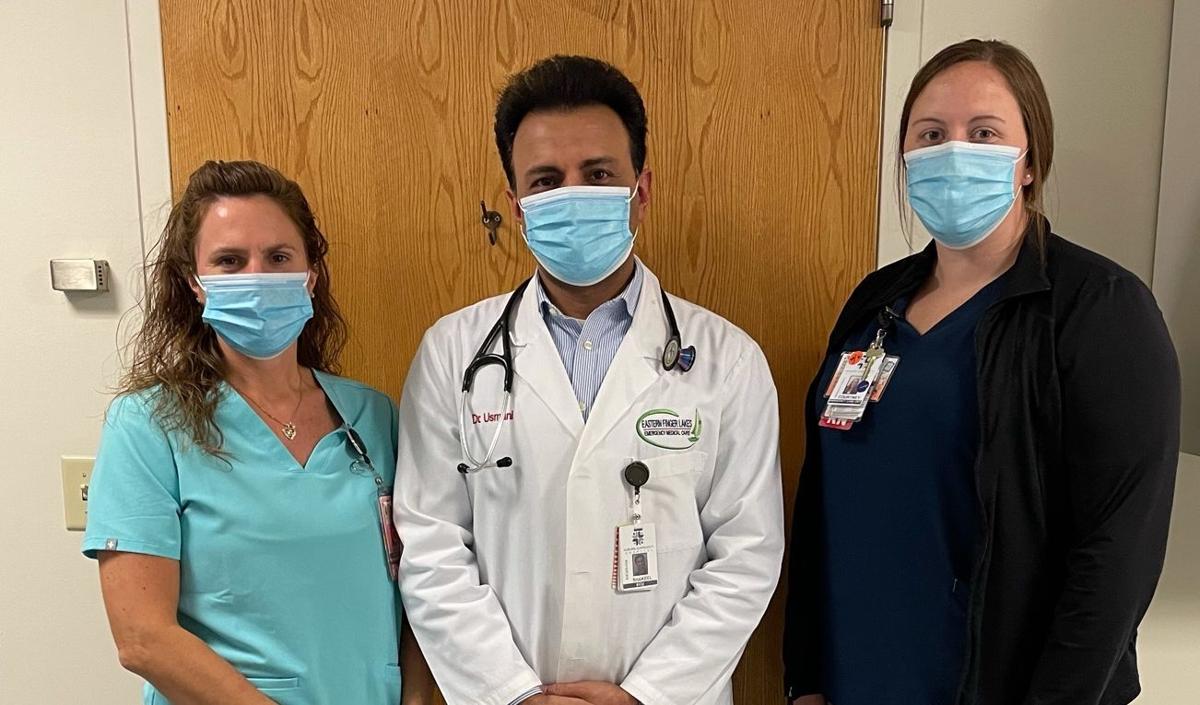 COVID-19 is real. And though it doesn't need to be feared, it does need to be respected.
That's the consensus of three Auburn Community Hospital staff members who spoke with The Citizen last week about their experiences treating people with the virus, including the eight in Cayuga County who have died from it. As local cases surge, far past their peak when the pandemic began in the U.S. in the spring, the three health care providers are asking the community to show that respect to not only COVID-19, but each other. That means, among other things, socially distancing, washing hands regularly and wearing a mask.
"If you can save someone's life by wearing a mask, do it. Just do it," said Melissa Pisano, a registered nurse in the hospital's emergency room.
"It's not going to kill you. Wear a mask if it's going to save our kids in school, if it's going to save people their jobs."
Pisano, along with Dr. Shakeel Usmani and ER nurse manager Courtney Seamans, has treated several people with COVID-19 at the Auburn hospital, many of them during the surge of the last month.
Seamans said those who come to the ER suspecting they have the virus are asked to ring a buzzer outside for a staff member. The person is then asked about their symptoms, possible exposures and testing history. If they're deemed likely to have COVID-19, someone wearing personal protective equipment escorts them to a negative pressure room for further care. If not, they can enter the ER.
It's ultimately the health care provider's decision whether to test the person for the virus, Seamans said. Rapid tests, which deliver results in 15 to 30 minutes, are available but only administered to those in the ER who are pending admission to the hospital or transfer to another facility. Those who have symptoms and don't need care are asked to quarantine at home.
Those who do need care for COVID-19 don't just come to the ER outright. Sometimes they come from their doctor, sometimes by ambulance. Many are sent by the county health department. However they come to the hospital, though, they mostly have the same symptoms: cough, fever and shortness of breath. If they're admitted, it's often because they need supplemental oxygen, or intubation.
But Usmani, who has treated more than 20 people with the virus in Auburn, has also seen a few less common symptoms. An attending physician in the ER, director of the hospitalist department and chief of the department of internal medicine, he has seen body aches, loss of taste and/or smell, and gastrointestinal symptoms like nausea. Nearly a quarter of those hospitalized with COVID-19 have heart complications, and Usmani has seen those, too. Some patients have shown elevated levels of the same enzymes released after heart attacks, he said.
"At the beginning, everyone was focusing on the respiratory part, but now when we treat them, I strongly encourage providers to focus on the cardiac part as well," he said.
The Auburn hospital staff members feel a few things distinguish COVID-19 from the flu, H1N1 and other respiratory illnesses — besides the current pandemic being deadlier. For Usmani, it's the significantly greater ease with which COVID-19 spreads and its non-respiratory symptoms. For Seamans and Pisano, it's the variety of ways the virus affects everyone who has it.
And though it's only deadly for some, Pisano stressed, it can affect anyone. 
"A lot of people think it can't happen to them, but it can. It doesn't discriminate," she said. "This hits everybody."
The three providers have seen that harsh reality set in for those who've been hospitalized with COVID-19 in Auburn. Many are "devastated" by the news, Usmani said. Fear is another common reaction, one compounded by the fact patients aren't able to be comforted by family or friends due to the hospital's restricted visitation policy during the pandemic. Some also worry which of those loved ones they've exposed to the virus, the doctor added. The more of their stories they share, Seamans said, the harder it is not to get attached to them.
But people with COVID-19 need not fear, Usmani continued. Much more is known about the virus now than in March, like the ability of steroids to treat it by strengthening the respiratory system.
So while the doctor and his hospital colleagues ask the community to take the virus seriously, they don't believe it's cause for panic. People should maintain 6 feet of distance from others and wear masks when they can't, and if they suspect they have symptoms, they should quarantine and get tested. Usmani suggests following the guidelines of the Centers for Disease Control & Prevention, which on Friday issued a statement advising the country not to travel for Thanksgiving: "The safest way to celebrate Thanksgiving is to celebrate at home with the people you live with."
As the pandemic and its many disruptive effects continue, however, people also shouldn't disengage from each other entirely, Pisano said.
"We need to come together and help each other. Check on your neighbors and your friends. It is going to take a community to get through this," she said. "We will overcome this virus together."