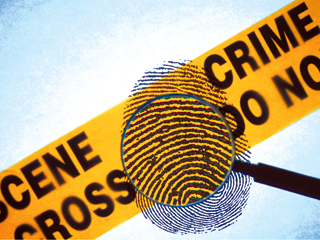 1. Deadly domestic violence
In a place for which homicides are rare — some years there are none in Cayuga County — the community has been stunned with three cases during 2011. And in all three, authorities classified them as domestic violence-related killings.
On March 12, Michael A. Gallow, 28, killed his father, Bernard Gallow, 58, a retired county sheriff's deputy, by shooting him with a rifle inside an unattached garage at the family's Scipio property. Michael Gallow would eventually plead guilty to the crime and was sentenced to 22 years to life in prison.
The other two cases are pending in the justice system.
Auburn resident David McNamara, 35, was charged with killing Katie Socci, 29, his ex-girlfriend who was the mother of his 18-month-old daughter, on June 14 inside Socci's Swift Street home while the baby was sleeping. Authorities said he then buried her body in a shallow grave off a nature trail on the city's west side. McNamara is now also serving a prison sentence for an unrelated drug conviction.
In the third case this year, authorities charged Auburn resident Ryan Brahney, 39, with repeatedly stabbing 29-year-old Bridget Bell, his ex-girlfriend who was the mother of his 3-year-old son, with a knife after breaking into her apartment at Olympia Terrace on Nov. 21, while the couple's son was sleeping upstairs. The couple had a history of domestic violence, authorities said. He remains in county jail under a murder indictment.
Fighting domestic violence was the theme of this year's Cayuga County United Way campaign, which was chaired by Sheriff David Gould and his wife, Suzanne. At the final ceremony to announce how much was raised, the sheriff had the families of Gallow, Socci and Bell come to the podium.  "Domestic violence is a very real problem even in a small community," said Geralyn Gallow, wife of Bernard Gallow. "I'm so hoping that bringing awareness will be very genuine in the prevention of such a terrible, terrible tragedy."
2. Town clerk takes stand against same-sex marriage
Of all the big stories in 2011, none received the statewide and even national attention of Rose Marie Belforti's re-election campaign for clerk in the town of Ledyard. That's because Belforti became a key figure in the same-sex marriage debate when she notified the town that she could not sign gay marriage certificates because of her religious beliefs.
Eventually, Belforti  arranged to have a deputy clerk handle all marriage applications, which requires all couples to schedule appointments. Her stance drew heavy criticism from gay marriage advocates and some town residents, and prompted resident Ed Easter to launch a write-in campaign against her in the fall.
Belforti's story was discussed on national news shows and was the subject of articles by a wide range of media, including the Associated Press and New York Times.
Despite an aggressive campaign by Easter, Belforti prevailed in the general election with a comfortable victory margin. Same-sex marriage advocates, including two women who tried to get a marriage license from Belforti, vow to continue to challenge Belforti's stance.
3. Skaneateles football season concludes in a courthouse
It started as a compelling sports story – former NFL and Syracuse University star football player Tim Green coaching the Skaneateles Lakers to victory after victory during the 2011 season. But it morphed into a news story involving allegations of illegal recruiting, a divisive school district internal investigation, a team suspension by Section III athletics and an ensuing legal fight that eventually resulted in the Lakers' season ending prematurely without ever losing a game on the field.
At the heart of the matter were findings by the district that a Skaneateles coach, who has not been named publicly, tried to recruit players from other school districts to move to Skaneateles to play football there. After Section III suspended the team in the middle of the sectional playoffs, Green resigned as coach in the hopes of getting the penalty overturned. That move did not sway Section III and a judge was not convinced by the school district's claim that the penalty was illegal. The Lakers' playoff run was shut down in a courtroom days before the scheduled sectional championship.
Now the district is in the middle of legal battle in an attempt to have the suspension officially voided from the record, and to fight Section III's claim that Skaneateles should pick up the section's legal fees associated with the case.
4. History-making results in local elections
The 2011 general election in November brought historical results in several local races.
In the battle for two Auburn City Council seats, Republican challengers John Camardo and Peter Ruzicka defeated incumbents Gilda Brower and Thomas McNabb. When they take office in 2012, Ruzicka and Camardo will join Republican Matt Smith to give the GOP control of the council for the first time since 1993.
The election also saw a sitting chairman of the Cayuga County Legislature lose a re-election bid for the first time. Republican Peter Tortorici, chairman for the past two years of the 15-member body, lost to Democrat Joseph Bennett.
A third surprise came out of the Legislature's fourth district, where a write-in candidate who mounted his campaign roughly a week before the election, defeated the only person whose name was on the ballot. Republican Chris Petrus thought he was in line to take over for the seat that's been occupied by his mother, Ann. But Democrat Mark Farrell stunned many with an election-night victory.
5. Ex-APD officer is sent to prison
In what was one of the most-followed Cayuga County Court trials in recent history, a jury found a former Auburn Police Officer guilty March 1 of accepting bribes, official misconduct, falsifying records and harassment related to a scheme he orchestrated as a cop in which he would provide confidential information to contractors in exchange for work being done on his Auburn house.  Brian Hutchings, who had been fired in 2010 from the job he held for 19 years, was immediately taken into custody. A couple of months later, he was sentenced to 1 to 3 years in prison.
As he serves his sentence, Hutchings is also facing charges that he stole thousands of dollars from the APD Police Benevolent Association while serving as treasurer. A trial on those charges is scheduled to take place in 2012.
6. The turmoil continues at Jordan-Elbridge school district
The controversy involving administrative shake-ups in the Jordan-Elbridge Central School District was a big story in the final months of 2010, but the plot twists – and lawsuits – continued throughout 2011. A major scandal erupted in May when details of a sweetheart contract for the district's director of operations emerged. That administrator, Paula VanMinos, secured a deal that ensured she would either receive tenure status or three years worth of her salary. The J-E board eventually fired VanMinos and interim superintendent Larry Zacher, who was alleged to be having an affair with VanMinos.  The scandal then went to a courtroom when the district's suspended business administrator and high school principal and fired treasurer filed a lawsuit related to the contract.
Amid the turmoil, the district forged ahead with a search for a permanent superintendent and hired James Froio, executive principal at Cicero-North Syracuse High School, to be its next superintendent. Froio started in the new job in the summer, and shortly after he began, the district disclosed that an FBI investigation was taking place related to unspecified aspects of the district's operations.
7. Auburn closes West Middle School
In a move aimed at saving an estimated $1.63 million and dealing with a long-term trend of declining enrollment, the Auburn Enlarged City School District voted in March to close West Middle School at the end of the school year, a move opposed by many parents and teachers in the district.
The closure also brought a realignment of the district's grade configurations. The 2011-2012 school year brought the launch of a combined Auburn Junior High School at the building formerly known as East Middle School. Students district-wide in seventh- and eighth-grade attend that school, a change from past practice when students in sixth- through eighth-grade attended one of the middle schools. Auburn's five elementary schools absorbed the sixth-grade class starting with the current school year.
The closure of West brought an end to education inside a building that was constructed in 1939 as a high school.
8. Demolition of Kalet's building meets resistance
Plans for the demolition of the former Kalet's department store building in downtown Auburn had been in the works for more than a year when Joseph Camardo, owner of a neighboring property, took the city to court trying to get the project blocked. Camardo failed to convince a judge, however, to issue a temporary restraining order to prevent the work from getting started. However, with the broader merits of the legal challenge still undecided, Camardo's attorney, Carl DePalma, managed to get the work stopped for a day himself when he sat in a chair next to the demolition site on Camardo's property. Crews said DePalma was putting himself in danger by sitting at that location, so work was halted. Demolition resumed three days later when scaffolding was brought in to do the work in a different manner.
Eventually, Camardo would lose his argument on the merits of his case, though he has appealed that ruling. In the meantime, the Kalet's building did come down, ownership of the site has been transferred from the city of Auburn to Cayuga County and work on the construction of a new performing arts center to be owned by Cayuga Community College is expected to start in 2012.
9. Auburn city manager's office transitions from Palesh to Selby
2011 was a tumultuous year for the Auburn city manager's office, and it all started with a decision by a majority of the Auburn City Council in early January. That's when three of the five councilors said they would not support extending Mark Palesh's contract past its August expiration. About two months later, Palesh announced he would step down in mid-April rather than finish out the contract. He then amended that to make March 28 his final day.
The city council then appointed John Rossi, city attorney, to serve as interim manager while a search was conducted for a permanent leader. A five-person committee appointed by the council to comb through resumes and do some initial interviewing delivered three finalists for consideration. In late August, the council chose Doug Selby, a former city manager of Las Vegas, Nev., and he started in the job just a few days later.
10. Cayugas' have power struggle; trust application dismissed
The Cayuga Indian Nation of New York made major headlines for another year, but in 2011, it was mostly for what was happening internally, not for legal battles over taxation with government entities.
The nation's tribal council voted to oust Clint Halftown as its representative to the federal government, a key day-to-day leadership position within the tribe. That decision was upheld by the federal Bureau of Indian Affairs, and Halftown has appealed it.
In the meantime, members of the new leadership team clashed with Halftown's team at the nation's Seneca Falls office in an incident in which a truck was driven into the building's front door.
Most recently, the BIA dismissed the nation's application to put 130 acres it owns into federal trust, although the agency said the nation can submit a new application that addresses unspecified deficiencies in the first attempt.
Past years' top local stories
2000: Jury awards Indian nations $37 million in damages in Cayuga land claim case
2001: Sept. 11 terrorist attacks on United States have significant impact locally
2002: Violent crime escalates in the local area
2003: Hotly contested four-way Auburn mayoral race ends with Lattimore victorious
2004: Bass Pro Shops opens first New York store in Fingerlakes Mall in Aurelius
2005: Indian land claim cases dismissed following U.S. Supreme Court ruling
2006: Auburn High School football team has improbable run to state championship
2007: Auburn Memorial Hospital files for Chapter 11 bankruptcy protection
2008: Three school district budgets — Auburn, Jordan-Elbridge, Southern Cayuga — defeated on statewide election day
2009: National recession has major effect on local residents, institutions
2010: Downtown Auburn hotel project embroiled in controversy