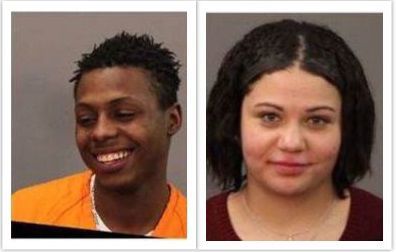 AUBURN — Two of three Cayuga County residents charged in connection with a January robbery and assault have pleaded guilty to felony charges.
In Cayuga County Court Tuesday, Mia Loiacono, 22, of 2496 Bentley School Road, Weedsport, and Dijon Starling-Harvey, 19, of 9 Spring St., Auburn, both pleaded guilty to first-degree robbery, a class B felony. Starling-Harvey also pleaded guilty to first-degree assault, another class B felony. The third defendant, William Vest, 28, of 110 Olympia Terrace, Auburn, who was also charged with first-degree robbery and first-degree assault, did not appear for a plea Tuesday. 
AUBURN — Three Cayuga County residents each face three felonies for their alleged involvemen…
Starling-Harvey was the first to plea, as he admitted stabbing a person multiple times with a knife after the victim was lured into a vehicle by Loiacono on Dublin Hill Road in Ledyard. Starling-Harvey and Vest were in the in the back of the vehicle, waiting for the victim. The three then stole money and phones from the victim. 
The Cayuga County Sheriff's Office previously reported that the victim knew the attackers, and that the incident stemmed from a disagreement.
Starling-Harvey is now facing seven years of prison time, five years of post-release supervision, and an order to pay restitution. Loiacono is looking at three and a half years in prison, five years of post-release supervision, and restitution. The restitution amounts for both Starling-Harvey and Loiacono will be determined at their sentencings July 16. Vest is expected to appear for a plea in the upcoming weeks. 
Staff writer Dan Orzechowski can be reached at (315) 282-2239 or dan.orzechowski@lee.net. Follow him on Twitter @OrzechowskiDan.
Get local news delivered to your inbox!
Subscribe to our Daily Headlines newsletter.