SCIPIO CENTER — It's not easy to be a large dairy farm in the Owasco Lake watershed. Duane and Gary Allen know that firsthand.
Allen Farms, a large concentrated animal feeding operation in Scipio Center, has experienced its share of both successes and challenges. Due to its many best management practices to protect water quality, the Cayuga County Soil and Water Conservation District often highlights the farm as an example. 
But the Allen brothers said they're still recovering from a publicity nightmare in the spring of 2014 when a large amount of manure runoff contaminated an Owasco Lake tributary and a nearby private drinking well. Despite bolstering their farm's initiatives to protect water quality, years later they said they still have people who slowly drive by, looking for any reason to report their farm to the state Department of Environmental Conservation. 
While the Allens understand the concern around water quality, it's frustrating, they said, to have citizen vigilantes surveying their every move. They don't want their manure to run off in the lake, Duane Allen added. They need the organic fertilizer for their crops and having it wash off hurts the farm. He said they drink the water, too, and no farmer ever intends for a manure spill to happen.
The unwanted spotlight started to shine on the Allens again the last couple of months after they decided to build a new rotary milking parlor adjacent to the old one.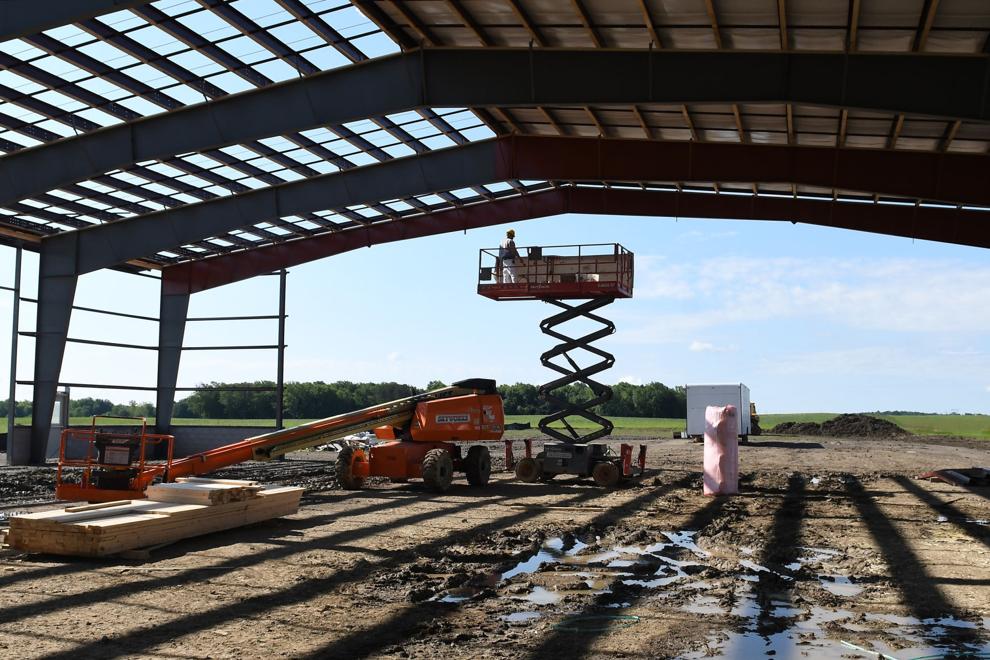 Following a tour of the project, Baxter said she understood it better. The Allens added that they were glad to be able to tell Baxter directly about what they were doing. With a town building permit and a DEC storm water prevention permit for the build, the project is underway.
The 177-by-1,500-feet structure will replace the Allen's 1976 milking barn, which has become out of date and inefficient. The new structure will connect to the main cow barn so cows can be brought to a new holding area. Like a carousel, the cows will hop on the rotary for milking. About seven to eight minutes later, they hop off and the next set of cows get on. The rotation will allow the Allens to milk more often, likely from two times per day to three times per day.
"It'll make us be more efficient, and hopefully (it will) be more comfortable for the cows," Duane Allen said. "They kind of ride around on a merry-go-round. They really like it."
While the parlor is under construction, the Allens have put up silt fences to keep runoff from flowing down the hill, and an engineer helps them remain in compliance with their permits. The farm hopes to have the structure completed and online by the end of the year. 
Since the project is under a certain size, the DEC does not require the farm to have a permit for storm water runoff after the building is finished. That doesn't mean, the Allen brothers said, that they won't do what's best for the environment and their farm. With a ditch at the bottom of the hill, Duane Allen said he's consulted with his engineer to see different ways they can capture the water first.
They plan to use drip lines, he said. Those are areas of larger stones placed underneath a roof line that draw the water in and drain it into the farm's field tiles underneath. He's considering, too, collecting and storing some of the water if it can be reused, though those plans are not quite flushed out yet. 
With the farm being on a hillside, the Allens said they already have multiple precautions in place to filter out the water including grass waterways and buffer strips. They're best management practices the Allens' grandfather had been doing when he operated the farm, and the brothers continue to do them today. 
They acknowledged that farming has changed since then with operations skyrocketing to hundreds of animals from the days of a couple dozen. According to Allen Farms' Concentrated Animal Feeding Operation Annual Compliance Report for 2015, the farm had about 1,800 cows with about 1,500 of those dairy heifers. Gary Allen said they deliver their milk to Dairy Farmers of America, a cooperative, where the milk could become just about anything from yogurt to coffee creamer.
"We have to be efficient, too," Duane Allen said. "We can't have 24 cows anymore and make a living, and that's just the way it is now. That's all why we do this here. We need to stay efficient and stay competitive."
Staff writer Gwendolyn Craig can be reached at (315) 282-2237 or gwendolyn.craig@lee.net. Follow her on Twitter @gwendolynnn1.