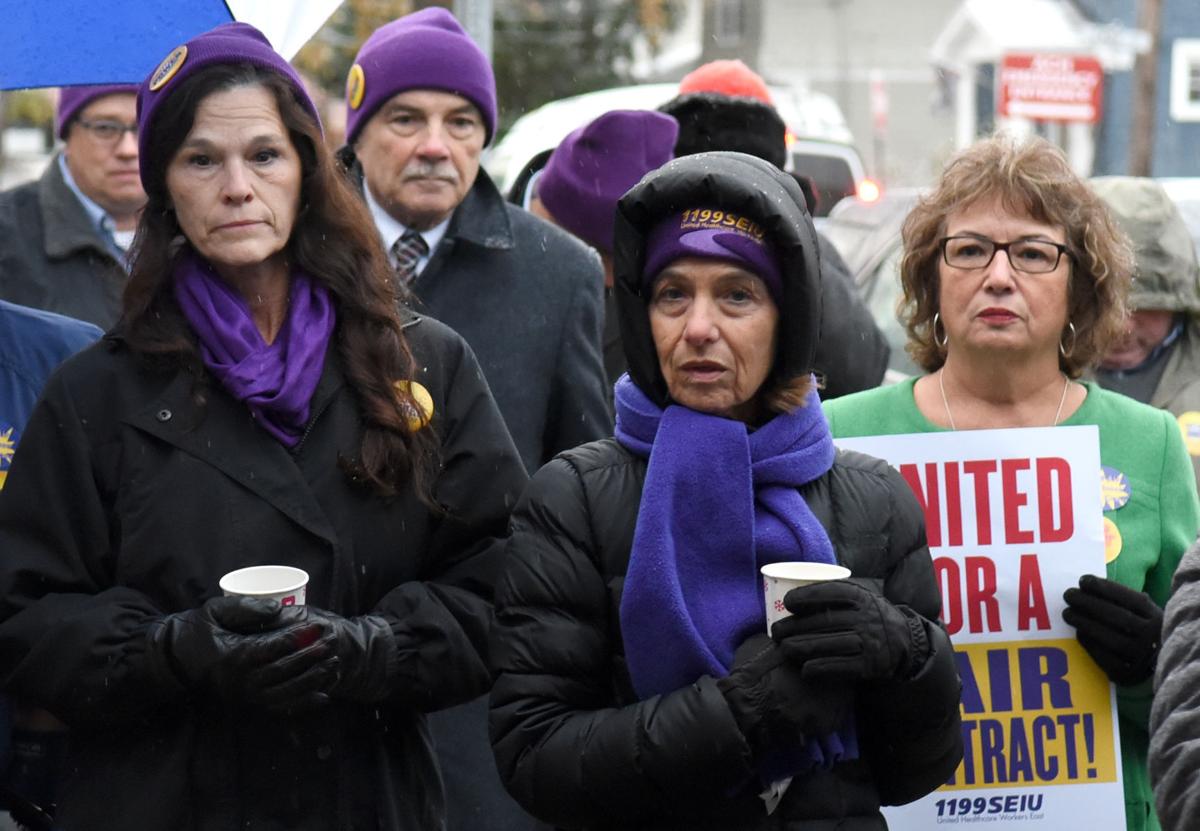 The union representing more than 100 employees at 15 medical offices and an urgent care center is accusing an Auburn Community Hospital-affiliated group of refusing to bargain and bad faith negotiations in charges filed with the National Labor Relations Board. 
1199SEIU, which represents registered nurses, licensed practical nurses, X-ray technicians, medical assistants and receptionists, filed the charges against Auburn Memorial Medical Services on Monday. Allison Krause, a union spokesperson, told The Citizen that they believe AMMS wants to delay reaching an agreement on a first contract so that they could break the union employees formed in 2018. 
The union alleges that the attorney representing AMMS, Raymond Pascucci, has repeatedly engaged in negotiations without substantive counter-proposals. Pascucci, the union says, has made a single wage offer and "no meaningful movement on several mandatory issues of bargaining in the last six months." 
Under the federal National Labor Relations Act, it is illegal to engage in bad-faith or "surface bargaining," which is negotiating without the intent of reaching an agreement.
Laurie Lupien, an LPN at Urgent Care of Auburn, said workers want to be treated fairly. 
"Fair wages, secure benefits, and job security isn't asking that much," she said. "Management has dragged negotiations on so long that many of my co-workers feel that there's no hope and we will always be treated this way. Our community recognizes our sacrifices over this past year but the doctors and the employer we work for do not." 
According to the National Labor Relations Board, agents conduct investigations after charges are filed. The investigative findings are reviewed by a regional director — for the matter involving AMMS, it falls within the Buffalo region. It usually takes seven to 14 weeks for a decision unless there is a settlement, dismissal or withdrawal of the charges. 
If there is sufficient evidence backing a charge and a settlement can't be reached, the National Labor Relations Board issues a complaint and a hearing is held before an administrative law judge. 
In a statement, a spokesperson said Auburn Community Hospital "prides itself on its history of union collaboration and always bargains in good faith." 
"We just settled a three-year labor contract with the nurses' union at (ACH) in April 2021," the spokesperson continued. "The process of reaching another agreement on a totally new contract for employees who perform a wide range of specialized work in multiple physicians' offices is particularly challenging. Not to mention the fact that there are few, if any, physician offices in New York state represented by a union.
"We are encouraged that a federal mediator is involved in the negotiations to assist the parties given the challenging nature of the bargaining unit." 
The hospital revealed — and Krause confirmed — that there is an effort to decertify the union. A petition was circulated by some members and submitted to the National Labor Relations Board. Krause said there will be a vote soon and members will decide whether to keep the union. 
Employers can't be involved in the process — it's against federal labor law — but the hospital acknowledged that has "been made aware that a number of bargaining unit employees who work in the local doctor's office" are attempting to decertify the union. Krause said 1199SEIU believes the effort is due to management's bargaining tactics. 
"We think it's all connected," she said. "Anybody that's been fighting for a first contract for three years is going to be losing hope at this point. We think that dragging on this long was by design." 
To educate its members about the contract talks, 1199SEIU will hold informational pickets outside of some Auburn medical offices on Thursday. There are other outreach efforts to update workers. 
What would be best for the union, though, is securing the first contract. If that happens, Krause said it would show members the benefits of having labor representation. 
"We're constantly having to educate people about what a union is and how it benefits them," she added. "But it's hard because we don't have a contract to say, 'Look at what we've done.'" 
While those talks are ongoing, Auburn Community Hospital's spokesperson said its mission — and the focus of its medical offices — is to put the patient's health first. 
"Hospital and AMMS management value all of our employees and we will continue to work with them to deliver exceptional health care for our community," they said. 
Politics reporter Robert Harding can be reached at (315) 282-2220 or robert.harding@lee.net. Follow him on Twitter @robertharding.