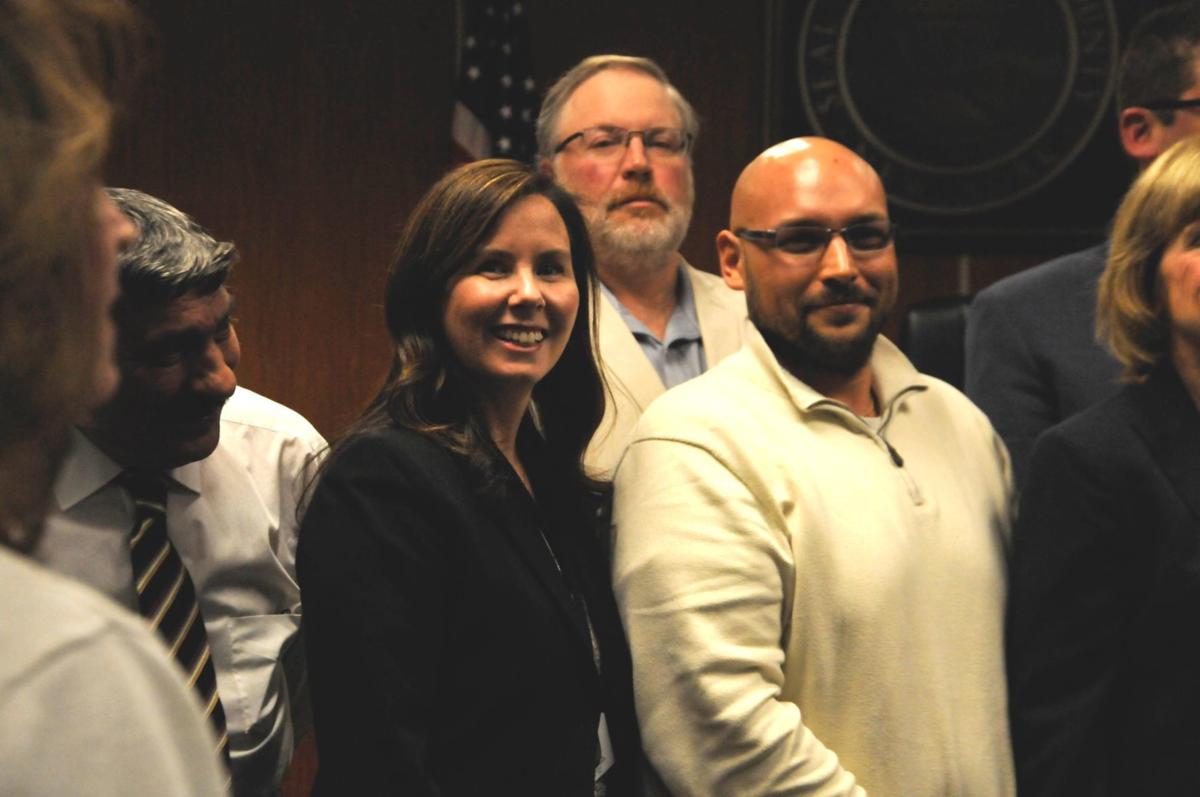 AUBURN — The Cayuga County Legislature unanimously voted Thursday night to name Aileen McNabb-Coleman, a Democrat, the next chair of the legislative body.
During its government reorganization meeting, McNabb-Coleman was elected chair with no other nominations and the body was left with no majority party. Democrats were named the only minority party with a weighted six-vote lead over Republicans.
The motion to nominate McNabb-Coleman was put forward by Benjamin Vitale, D-Montezuma, and seconded by her predecessor and former chair Tucker Whitman. Vitale was also named vice chair with nine supporting votes and six Republicans opposed. 
During her remarks, McNabb-Coleman called for a more harmonious and productive legislative season. "I can do better. We can do better. We must do better. This is a new decade and we are at a crossroads in Cayuga County. One thing I am sure of: I refuse to maintain the status quo or simply go through the motions.
"We don't have the luxury of time for political lines drawn in the sand. This county needs to move forward and we must be unified to ensure our plans and goals be prioritized and achieved," she said.
She called on producing tangible improvement to quality of life for county residents, including addressing public safety concerns, protecting lakes, upgrading parks and enhancing the economy through business retention and attraction.
She told the legislators she will send a list of priorities to be discussed in January committee meetings, including "salary adjustments" for non-bargaining county employees and response to state-implemented criminal justice legislation.
"As your leader, you can count on me. You can count on me for effective communication. I will reach out. You will know exactly where we are and what's ahead," she said.
You have free articles remaining.
County Attorney Christopher Palermo instructed legislators on how they were going to determine the majority and minority parties, which he said was "not clear" prior to two roll calls meant to clarify each legislator's party affiliation.
The first roll call identified which legislators are or would caucus with Democrats, and the second determined which legislators are or would be caucusing with Republicans.
Palermo said the majority party would need to meet or surpass 442 weighted votes, which would constitute the weighted majority of the Legislature. But neither party met that quota, with Democrats holding 418 votes and Republicans holding 412. Whitman was the only member to not align with either party. Whitman previously had caucused with Republicans but recently decided to change his voter registration status to independent.
Even without a majority caucus, the Democrats were named the minority party due to an advantage of six weighted votes over the Republicans. The minority caucus is held by whichever party constitutes the largest minority weighted vote, according to the Legislature's rules of order.
Keith Batman, D-Springport, was sworn in as the minority caucus leader after being nominated by Heidi Nightengale, a Democrat who was elected to the District 10 seat in November and took the oath of office Thursday evening.
Three new legislators and multiple returning members were sworn in during a ceremony prior to the selection of the chair. Joining the 2020 Legislature were Nightengale, Tricia Ottley Kerr (D) for District 12 and Hans Pecher (R) for District 8.
Reelected legislators Christopher Petrus, R-Brutus; Michael Didio, R-Auburn; Andrew Dennison, R-Ira and McNabb-Coleman were also sworn in, along with county clerk Sue Dwyer and District Attorney Jon Budelmann.
McNabb, who was elected to the District 6 seat in 2015, said her term as a legislator has taught her when to be partisan and when to refrain from party politics. She feels Cayuga County doesn't have the "luxury" right now of having a partisan legislature.
"We have a job to do. We need to be held accountable, and I look forward to showing that I'm going to be held accountable," she said.
Staff writer Mary Catalfamo can be reached at (315) 282-2244 or mary.catalfamo@lee.net. Find her on Twitter @mrycatalfamo.
Get local news delivered to your inbox!
Subscribe to our Daily Headlines newsletter.