Weekday top 5: Rapist on the loose in Skaneateles, Wells College on probation, false bomb threat in Aurelius
The Citizen's top five most-read stories of the work week. 
Authorities search for rapist who removed monitor bracelet in Skaneateles
Law enforcement officials in central New York were searching for a "dangerous" convicted rapist who removed a parole monitoring bracelet in Skaneateles on Wednesday.
Christopher E. Block, 61, of 803 Court St., Syracuse, was released from state prison in December on parole after he had been serving a sentence of 25 to 50 years following a 1984 conviction on forcible rape and kidnapping in Syracuse, according to state Division of Corrections and Community Supervision records.
According to the state sex offender registry, Block is white, 5 feet 10 inches tall and weighs 176 pounds. He has brown hair and hazel eyes. He has tattoos on both arms and his back, and is missing a toe on his left foot.
Block's convictions include two counts of first-degree rape, two counts of second-degree kidnapping, two counts of first-degree sexual abuse, two counts of third-degree criminal possession of a weapon and one count of second-degree burglary, according to DOCCS records. His sex offender risk level is the highest potential for re-offending.
The Onondaga County Sheriff's Office received a call from the state parole office a little after 10 p.m. Wednesday requesting assistance looking for Block, said spokesman Sgt. Jon Seeber. He said Block's ankle bracelet had been found on Kane Avenue in Skaneateles.
Seeber said the sheriff's office dispatched a K-9 unit and a helicopter to assist in the search. Members of the office searched until around 2:30 a.m., Seeber said, and they had assistance from state police, the Cayuga County Sheriff's Office and state parole.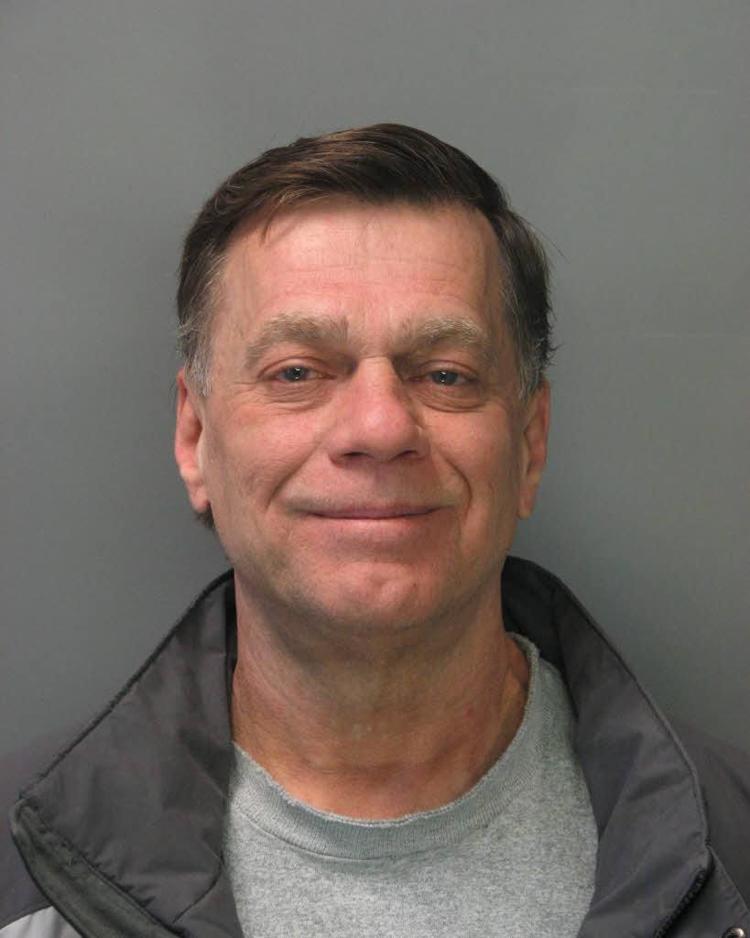 In a Facebook post of a link to a regional television station's article about Block, the Skaneateles Police Department said: "If you see someone you believe is Mr. Block, call 911 immediately." That was posted at 3:13 p.m. Thursday.
Numerous police agencies in central New York have referred questions to the state parole office, which is part of DOCCS. The Syracuse regional parole office referred questions to the agency's press office in Albany, which issued a statement around 3:30 p.m. Thursday.
In that statement, DOCCS said the search was ongoing and that Block "should be considered dangerous." The agency said people can call in tips to (518) 457-4213.
According to DOCCS, Block had been denied parole numerous times before he was conditionally released by statute for good behavior in prison in May 2017. He was returned to custody in November of that year for an unspecified violation of his conditional parole, and an administrative law judge ordered that he remain in prison until his most recent release, which was Dec. 26. Block's parole completion date is Jan. 13, 2034.
Before DOCCS put out its statement, Cayuga County Sheriff Brian Schenck said his agency was also hoping to get more details from the state agency. "We do not have much information and it appears that the investigation is focused in Onondaga County," he said.
Later Thursday, Schenck posted a statement on his office's Facebook page critical of the lack of information being shared about the case.
"Not only should our local law enforcement agencies have been, and continue to be updated and kept in the loop of this ongoing investigation, the public should have been notified about this dangerous fugitive's status much earlier," he said. "This is inexcusable."
Cayuga County E-911, at the request of its Onondaga County counterpart, also sent out a reverse 911 call regarding block at 1:30 a.m. Thursday, E-911 Administrator Denise Spingler said. The call explained that Block had cut his ankle bracelet and was on the loose, provided a circumference of his location and advised residents to lock their doors.
Spingler said she did not anticipate the department sending out another reverse 911, barring a new credible sighting within the county.
Wells College placed on probation by accrediting organization
Wells College has been placed on probation by its accreditation organization and given two years to come into compliance.
The Aurora-based private college was told it received the designation from the Middle States Commission on Higher Education on June 28, according to a statement on the college's website from President Jonathan Gibralter and board of trustees Chair Carrie Bolton. The commission said the college is not in compliance with its "Planning, Resources, and Institutional Improvement" standard and also with its standard related to financial documentation, funding sources and financial development.
Wells will have two years to completely comply with the requirements needed for its academic accreditation to be renewed, the statement said. It is also directed to submit a progress report by Dec. 1.
Middle States is recognized by the U.S. Secretary of Education to conduct accreditation activities for higher education institutions in Delaware, the District of Columbia, Maryland, New Jersey, New York, Pennsylvania, Puerto Rico and the U.S. Virgin Islands, according to the commission's website.
Wells is still fully accredited while it is on probation.
"The College is also modifying its budget for the coming year to bring annual expenditures closer in line with projected revenue, and also to more closely align budget allocations with our long-term strategic priorities," the statement said.
Gilbralter said in an interview with The Citizen on Wednesday that as an alternative to layoffs, the college has enacted salary reductions for current full-time employees, starting with the colleges's new fiscal year, which began this month. Depending on how high an employee's salary is, that cut ranges from 3% to 6%, Gilbralter said. A 10% reduction is in effect for senior administrative staff, including himself, he said. 
"We felt really horrible about having to do this to people who work hard and love the college," Gilbralter said. "They work hard, they care, and we wanted to make sure that we did was even more substantial than what we were asking them to do." 
Gilbralter said the college hopes the reductions will only be in effect for one year. He said Wells has already met its goal of reducing around $1 million from the school's 2019-20 operating budget. Cost-saving measures in addition to the salary reductions include not filling vacant faculty and staff positions, he said.
Wells also has an retirement incentive program for faculty and staff who have more than 10 years of service and are 60 years old or older, Gilbralter said. The incentive is that for every year of employment, they would receive one week's salary, up to 26 weeks, he said.
In the fiscal year ending June 30, 2017, the college reported a net loss of $1.05 million, according to the most recent public filing with the Internal Revenue Service. Revenues for that year fell from $40.8 million to $34.4 million.''
The state Education Department has posted enrollment data for Wells that showed the full-time student population dropped from 558 in 2015-16 to 509 in 2016-17 and then to 481 in 2017-18. Numbers from 2018-19 have not been posted yet.
When addressing the potential challenge probation could mean for recruitment, Gilbralter said he believes colleges throughout the Northeast have had issues recruiting.
"It's a challenge, but students who want an education, want to come to a private college, really find Wells to be the right setting for them. We will continue to recruit those students. I don't think that this is going to be an obstacle for us," Gilbralter said. 
He said the college's goal is to bring in 180 first-year students by August 2020 and it's looking to "dramatically increase" its international enrollment. The college is also open to "creative partnerships" with community colleges within the state, he said. Gilbralter said the college's new vice president for enrollment services, Gerard Turbide, who started earlier this month, is a "national expert in enrollment management, recruitment."
According to a "frequently asked questions" page on its website, Wells will have to submit a "teach-out plan" which is meant to prepare a institution "to ensure that its students can complete their studies elsewhere should the commission ultimately withdraw its accreditation," regardless of the likelihood that the plan would need to be put into action, the page said.
Despite that, the college emphasized that it is not closing.
"This is not a line of discussion that the board of trustees, the president or the senior leadership are currently evaluating — or have even seriously considered," the FAQ section said. "We strongly believe that the College will ultimately prevail over these short-term obstacles, and are looking into any and all avenues that will lead to the College continuing to fulfill its educational mission."
Wells' history reaches back over 150 years. The institution was a women's college for over 130 years before going coed in 2005. Gilbralter said he believes the college, which employs nearly 200 people in full-time and part-time positions, "will be OK" in the long run. 
"Wells has had financial difficulties many times over the years and we've always prevailed and we will now," he said.
State police: Auburn man charged with raping girl
An Auburn man is facing a felony sex abuse charge in connection with a relationship he had with an underage girl, state police said.
Troopers from the state police Auburn station on Tuesday arrested Kevin N. Dicola after an investigation found that he had a sexual relationship with a girl under the age of 17, state police said in a press release.
Dicola was charged with third-degree rape, a class E felony, and endangering the welfare of a child, a class A misdemeanor.
Dicola was arraigned in Fleming Town Court and remanded to Cayuga County Jail on bail of $1,000 cash or $2,000 bond.
Auburn woman charged for false bomb threat in Aurelius
State police arrested an Auburn woman Monday in connection to a reported bomb threat at an Aurelius business in June.
Laci E. Lardin, 31, of Auburn, was charged with making a terroristic threat, a class D felony, and offering a false written statement, a class A misdemeanor, according to a state police news release.
On June 13, K-9 teams from the state police and Wayne County Sheriff's Office responded to a bomb threat at BCS Access Systems in Aurelius, but found no suspicious device.
Following an investigation from the Bureau of Criminal Investigation at the Auburn state police barracks, Lardin was arrested and charged.
Lardin was arraigned in Aurelius Town Court and was remanded to the Cayuga County Jail in lieu of $750 cash and or $1,500 bond. She is scheduled to reappear in Aurelius Town Court at 7 p.m. July 10.
State police: Moravia man drove drunk with 6-month-old in car
A Moravia man was arrested in Auburn for a number of traffic violations while driving with his girlfriend and 6-month-old son in the car, state police said.
Kurtis A. Cole, 22, of Moravia, was pulled over July 7 on Owasco Street in Auburn for a traffic violation and was arrested for driving while intoxicated after being interviewed, state police said.
Cole was charged with first-offense aggravated driving while intoxicated with a child passenger, a class E felony that is also known as Leandra's Law.
He was also charged with failure to return license and registration plates, operation of a motor vehicle while registration is suspended and first-offense driving while intoxicated, all misdemeanors.