Weekly top reads: Athletic Weedsport triplets, Cayuga County crime stories, Cuomo signs Reproductive Health Act
The Citizen's top 10 most-read stories of the week. 
Seven arraigned in Cayuga County Court for connection with Auburn meth lab bust
AUBURN — Seven of the eight people arrested in connection with the Auburn meth lab bust in November were arraigned in Cayuga County Criminal Court Thursday morning. 
AUBURN — A home in Auburn reportedly being used to produce methamphetamine was raided by pol…
A number of adults and three children were found at the scene. The New York State Police's Contaminated Crime Scene Emergency Response Team helped handle the dangerous substances involved in the making of the drugs at the home.
Seven of the eight defendants arrested in connection with the meth bust were arraigned in court Thursday and are now each facing at least three felonies and six misdemeanors.
Seven more arrests have been made following the Finger Lakes Drug Task Force's raid of a met…
The defendants arraigned in court Thursday include:
• Raymond Cox, 37, of 68 Orchard St., Auburn
• James Delaney, 33, of 54 Orchard St., Auburn
• Heather Hutton, 45, of 8 Throop Ave., Auburn
• Theresa Hutton, 23, of 117 Main St., Port Byron
• Thomas Hutton, Sr., 54, of 54 Orchard St., Auburn
• Breanne Lunn, 31, 11 Garden E. Lane, Hannibal
• Timothy Rathbun, 35, of 8270 W. Loop Road, Montezuma
The seven defendants are each facing the charges of:
• Second-degree conspiracy, a class B felony
• Second-degree criminal possession of a controlled substance, a class A felony
• Second- degree unlawful manufacture of methamphetamine, a class C felony
• Second-degree criminal possession of methamphetamine manufacturing materials, a class A misdemeanor
• Criminal possession of precursors of methamphetamine, a class E felony
• Three counts of endangering the welfare of a child, class A misdemeanors
• Second-degree criminal use of drug paraphernalia, a class A misdemeanor
Thomas Hutton is the only exception, as he faces an additional class E felony of unlawful disposal of methamphetamine laboratory materials in addition to the common nine charges. Thomas and Cox are the only two defendants who were remanded to Cayuga County Jail, each are being held in lieu of $5,000 cash or $10,000 bond bail.
Thomas was remanded to the jail after his November arrest, but Cox was remanded to the jail Thursday. District Attorney Jon Budelmann said in court Cox had some risk of flight since he left Tompkins County while on probation for driving while intoxicated, a misdemeanor charge, in the past.
An arrest has been made following the discovery that an Auburn home was being used to manufa…
Lunn, Rathbun, Delaney, Heather Hutton and Theresa Hutton remained out on their own recognizance. Budelmann argued for all defendants released that they be given bail due to the seriousness of their charges and considering they had only low-level felonies when initially released by Auburn City Court. He requested for bail to be set at $1,000 cash or $2,000 bond.
Before releasing the defendants, Leone made sure they understood the serious nature of their charges and explained that if they got into any further trouble he would remand them. All seven defendants are due back in court April 11. 
The eighth defendant, Shaun Cronin, 40, of 36 Franklin St., Auburn, also appeared in court but his arraignment was adjourned until next week. The court adjourned it because there was no court appointed interpreter available to translate the proceedings to sign language for Cronin.
Auburn woman admits in federal court to selling heroin to woman who died of overdose
An Auburn woman admitted in federal court this week to providing fentanyl-laced heroin to another woman who died after overdosing on the drug. 
Allyson Hamilton, 26, of Auburn, pleaded guilty Tuesday to one count of possession with intent to distribute and distribution of heroin or fentanyl. The guilty plea was entered in U.S. District Court in Binghamton. 
The charge stems from an incident that occurred on Dec. 30, 2017, in Auburn, according to an Auburn Police Department press release. Auburn police and emergency personnel were dispatched to 8 Sheridan St. for a drug overdose. Attempts to revive the victim, 24-year-old Megan Condes, were unsuccessful. Condes died at Auburn Community Hospital on Dec. 31, 2017. 
An investigation began and police learned that Condes ingested heroin containing fentanyl. The evidence in the case led police to identify Hamilton as a person of interest. She later became the prime suspect. 
Auburn police forwarded the case to the U.S. Drug Enforcement Administration. In July 2018, the DEA, along with members of the Auburn Police Department and Finger Lakes Drug Task Force, arrested Hamilton on a federal warrant. 
When Hamilton pleaded guilty this week, she admitted to corresponding with Condes for the purpose of selling her two baggies of heroin. Police said the sale was for a negotiated price of $15 per bag. 
Hamilton also admitted to setting up a location for Condes to pick up the drugs. Condes traveled to Hamilton's house to collect the heroin. 
Police said Condes overdosed less than two hours after she obtained the drugs from Hamilton. The cause of death was determined to be anoxic brain injury due to mixed drug toxicity. 
Condes' name was released by police at the request of her mother. In a news release, police said her mother "wanted the world to know that Megan did not intend to die that night." 
"She had her demons, she was an addict, and she tried rehab numerous times, but ultimately she struggled," Condes' mother told authorities. "Megan was 24, and had her whole life ahead of her." 
Hamilton has been released under the supervision of the U.S. Probation Department until her sentencing. She will be sentenced May 21. 
Federal prosecutors are seeking a 120-month sentence, police said. According to the plea agreement filed with the court, she faces a maximum sentence of 20 years in prison and a $1 million fine.
Spoon and Forks: New restaurant brings Thai, sushi and more to Auburn's west end
AUBURN — As Thai food becomes more and more popular in America, many Auburnians have asked when a Thai restaurant would open in the city.
And many times, Bilin Gao and Jinwen Li have been the ones they've asked.
The owners of New China Royal on Genesee Street for 10 years, Gao and Li are now counting on that interest in Thai food as they open a second restaurant: Spoon and Forks Asia Cuisine.
Located down the street from their first restaurant, at the former Tabatha's and Ricky's before that, Spoon and Forks features an expansive menu of Thai and sushi. Traditional dishes include curry chicken, basil chicken and pad Thai (stir-fried noodles with egg, scallions, bean sprouts and dry tofu topped with ground peanuts). The sushi bar serves all manner of tuna, salmon and other rolls. There's also a hibachi bar in the restaurant with chicken, shrimp, steak, salmon and scallop options. And those who just want good old General Tso's or sesame chicken will find those dishes as well.
Speaking in their new restaurant Thursday, the day of its soft opening, Gao and Li said they've been planning to open a second restaurant for several years. They envisioned it being a more formal, sit-down restaurant to complement the takeout business they've been doing at New China Royal since 2009, they said. They were just waiting for the right place to open that restaurant.
That place came along in September 2017, when Gao and Li bought the building at 264 Genesee St. for $98,365, according to The Citizen archives. But that was only the beginning: Gao and Li spent the next 15 months renovating. They replaced the floors, painted the walls and installed their kitchen. What was a seating area between the bar (which serves beer and wine) and the main dining room now hosts a private party area, as well as the hibachi grill and the sushi bar. There's also new wooden trim, new lighting, new tables and seats — it looks like a whole new restaurant. 
Gao and Li said they liked the openness and location of the building. Now, they're spending the week until their restaurant's Jan. 24 grand opening making sure the food they serve there is also to their satisfaction. Between the community's appetite for Thai cuisine and their good relationship with that community, Gao and Li believe Spoon and Forks will be to Auburn's satisfaction, too.
"I care about my food, my customers and my business," Li said. "I treat my customers like my good friends, so everybody treats me like a good friend too."
Triple threat: Weedsport's Mabbett triplets linked by sports, distinct in personalities
Imagine being a quarterback and behind you in the backfield are your two brothers.
Or standing at the top of the key with the ball, one passing option is your brother under the hoop or the other brother over in the corner.
How about getting set on the mound with the ball in your hand, one brother behind the plate ready to receive the pitch and the other backing you up on defense.
None of that visualization is needed for triplets Aidan, Connor and Owen Mabbett. All three play baseball, football and boys basketball at Weedsport, all three unfamiliar with competing in sports without the others. 
Though not identical triplets, it's difficult to picture the Mabbetts apart. However, while their birthday — June 20, 2002 — and last names are the same, there's plenty that separates each individual. 
Owen, technically the oldest, is the most level-headed in school and the one the brothers claim eats the most.
There's Aidan, the middle brother, naturally gifted athletically but also possessing a bit of a temper.
And then Connor, the most laid back, "outdoorsy" of the three, and perhaps the toughest.
While each Mabbett plays the three dominant high school sports, each brother has one athletic realm that is superior to the other two. Owen is Weedsport's quarterback in football, but his best sport is basketball. Aidan is a starter in basketball, but he dazzles as a ball carrier in football. Connor shows off his toughness in football, but he's at his best behind the plate in baseball.
"I think if you combined them all together, you'd have like a superhuman athlete," said Jon Sgaralta, who coaches the Mabbett triplets in football and basketball. "They all have something in their three sports that's superior to the other two. If you combine them all and make a Transformer robot out of them, you'd probably have the best athlete in Cayuga County."
The Mabbetts' interest in sports started young with baseball and grew. Often the triplets were chased out of the house into the backyard to play sports and butt heads.
"We spent a lot of time in the backyard. We had to get out of the house. Too much energy," said Owen. "(Mom) probably had to clean or something and we were probably too wild."
Too wild, indeed. Aidan recalled one instance when when he and Connor were playing 1-on-1 basketball and that turned into a heated exchange.
"(Connor) would always get mad because I'd try to steal the ball and foul him too hard, so he got mad and threw the ball at me," Aidan said. "He started to walk away, so I picked the ball and hit him in the back of the head with it. He fell over and I think I might've broke his glasses."
None of the triplets could agree on when this happened.
"Probably like two years ago," said Owen.
"We were like 10 or 12 (years old), around there," said Aidan.
Said Connor, "I don't know what he's talking about, so ..."
The competitiveness carried on through high school athletics. All three have been on the varsity baseball for the last two years and helped rebuild that program from one that finished 2-11 in 2017 to winning half its games in 2018.
This fall, all three were prominent players on the football team as Weedsport made the switch to eight-man, concluding that season with a section title. At the moment, they're all members of the boys basketball team that also figures to compete for a section title.
It's a unique dynamic, considering each brother has their own specialty. There are times when two brothers are prominent players on the team while the third is a backup, and those times can be difficult.
"If two of us are playing and one isn't, we tend to argue about it," Aidan said. "The other two have to reassure the other that his time's going to come, whether it's football, baseball or basketball."
Sgarlata has seen that dynamic up close. As football coach, he witnessed Connor and Aidan scoring touchdowns and making plays, while Owen, despite being the team's quarterback, settled in as more of a role player. In basketball, Aidan is a starter, Owen plays starter's minutes, and Connor is a backup to both.
"It's rare that you have triplets or even twins where they're really good," Sgarlata said. "Usually you have one that's superior to the other. With these three they really take turns with each sport, and even within each sport there's certain skills.
"They're fun to coach for sure. They make you a lot better when you have three kids like that."
Each triplet is aware of the constant comparisons and the expectation that they'll be together 100 percent of the time, though all three, and their coach, explain that each brings something different to the table. Sgarlata referenced how two of the brothers recently earned their driver's license, and the third is left with questions about when he'll be getting his.
"That's the perception is that they do everything together, but they really are individuals," Sgarlata said. "You see them in the hallway and it's not like they walk the three of them. They have different groups of friends to hang out with. That happens a lot where it's like we have to define each one of them, but each is a unique guy that happens to play sports."
One thing the triplets hope to accomplish together is a season sweep. With a section title in football in the books, a state-ranked basketball team and a baseball team that should continue to ascend, the opportunity is there.
"It'd be more special than just winning one," said Aidan.
"Hopefully all three in one year," said Owen.
"That'd be something," said Connor.
It's said that everything happens in threes. A three-sport sweep, led by triplets, would only be appropriate. 
Weedsport Triplets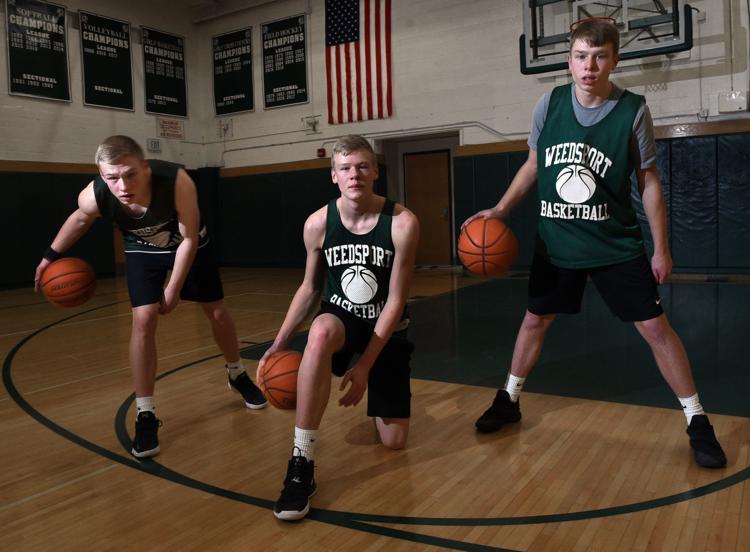 Weedsport Southern Cayuga Boys 2.JPG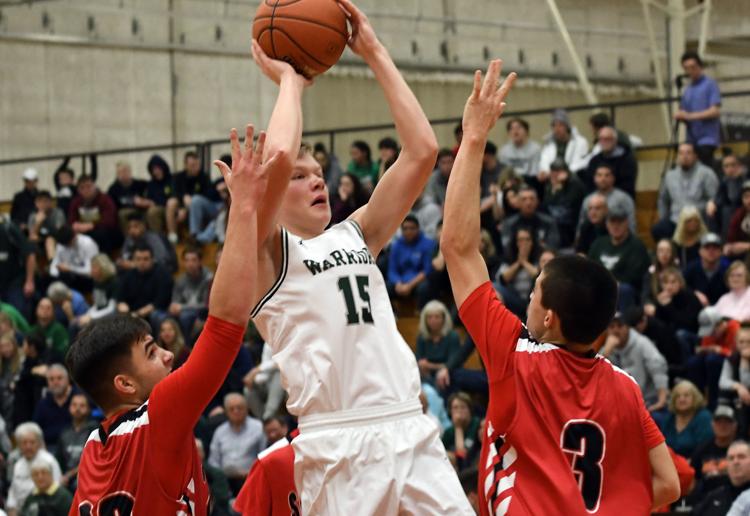 111018 Wport Football 3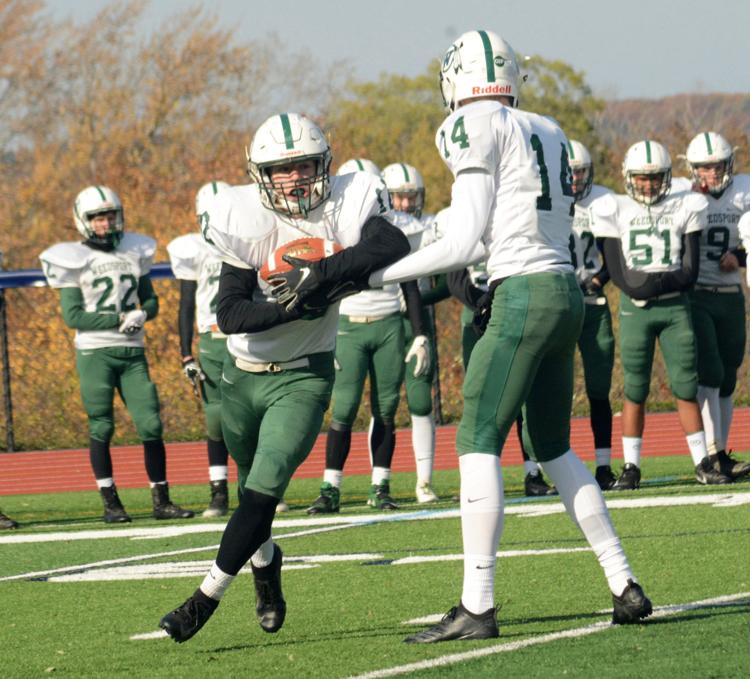 Weedsport APW Football 4.JPG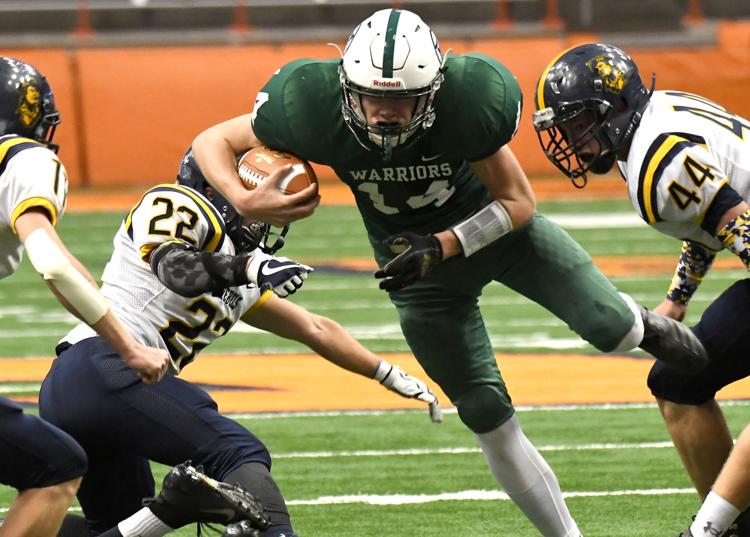 Weedsport APW Football 6.JPG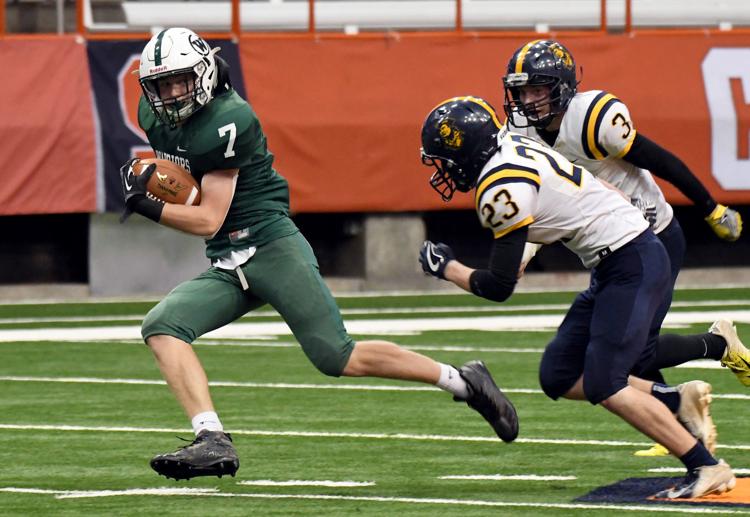 Weedsport APW Football 7.JPG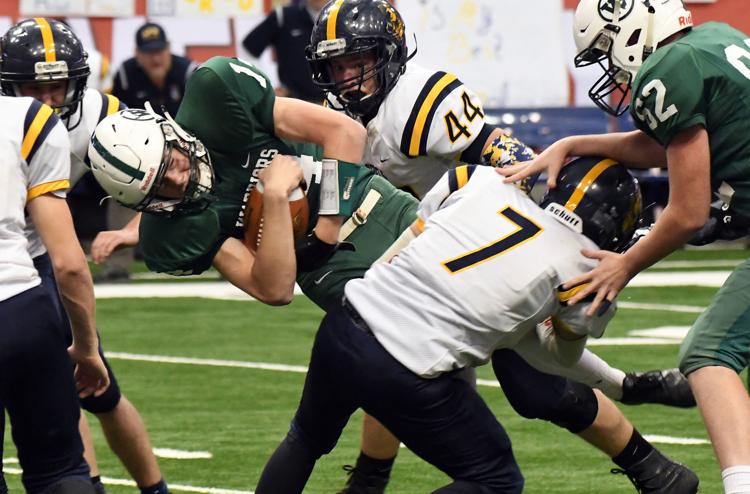 Weedsport APW Football 15.JPG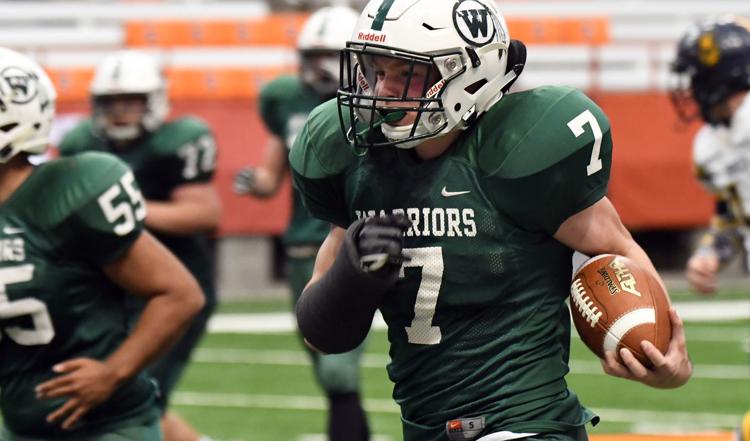 Weedsport Football 1.JPG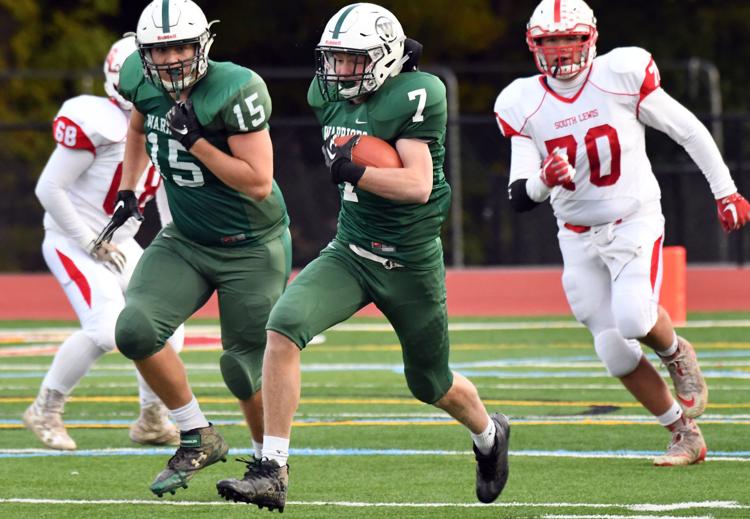 Weedsport Football 3.JPG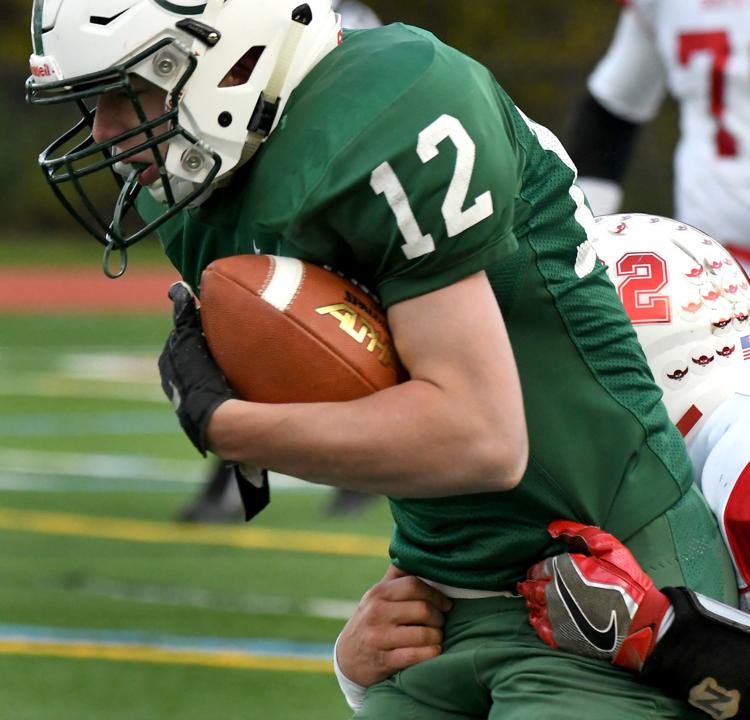 Weedsport Football 5.JPG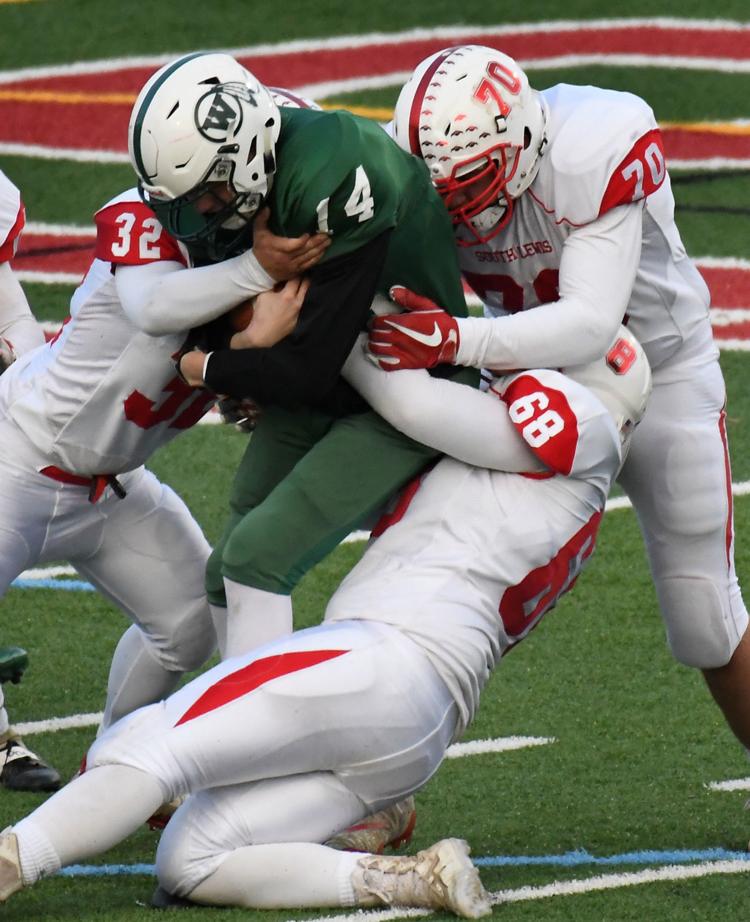 Weedsport football vs. APW - C. Mabbett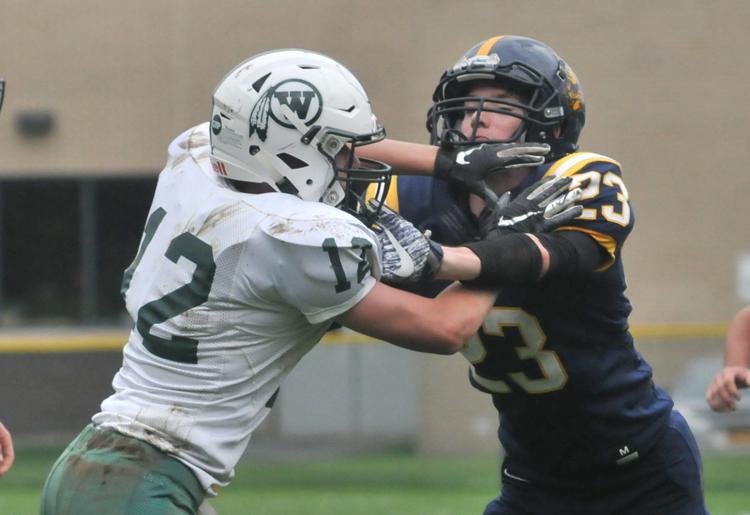 Weedsport football vs. APW - C. Mabbett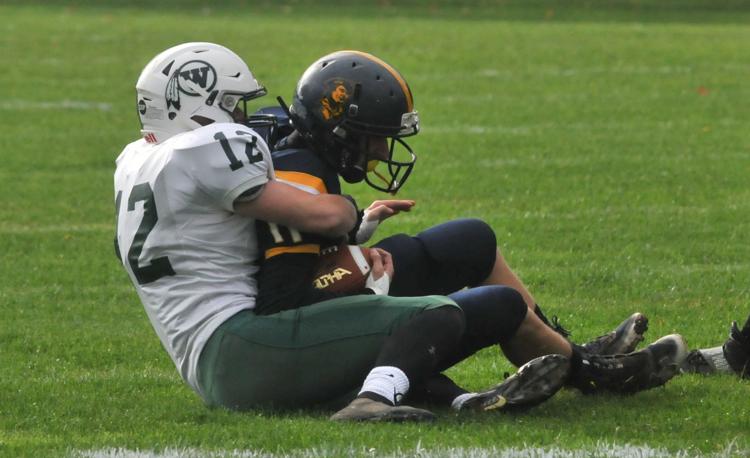 Cato-Meridian Weedsport Baseball 2.JPG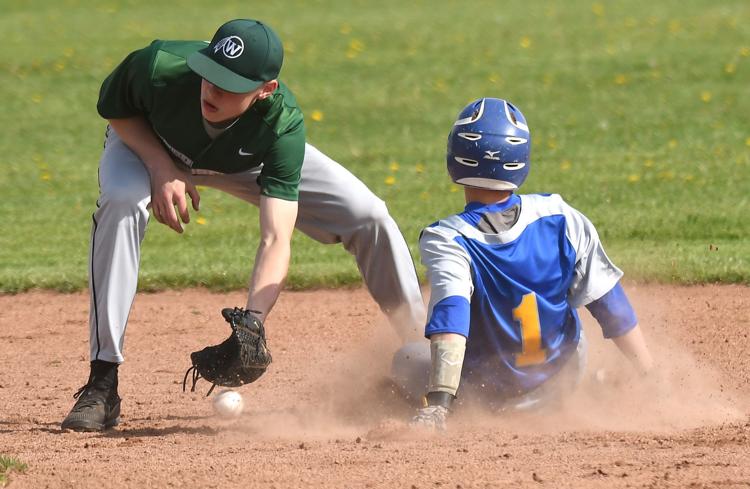 Cato-Meridian Weedsport Baseball 11.JPG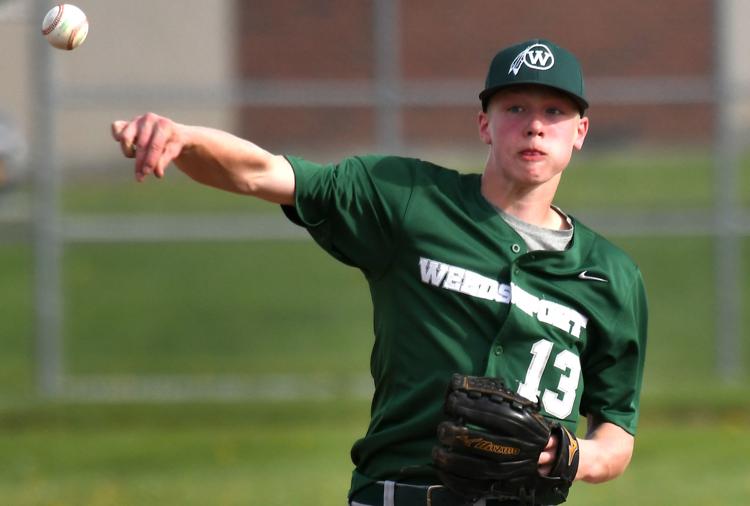 Amusing Auburn: New comedy night at downtown restaurant boosting local scene
Wild's Eats & Sweets may soon have to add another noun to the end of its name.
Since August, the downtown Auburn restaurant has been hosting a biweekly comedy night that's given a mic to stand-ups from the Auburn area and beyond.
Saturday's edition will bring in Max Kessler, a Syracuse University graduate who got into stand-up comedy after becoming a viral star due to his resemblance to Adam Sandler. When Sandler serendipitously portrayed a character named Max Kessler in his 2016 film "The Do-Over," Kessler got the actor's attention online and found himself invited to the film's Los Angeles premiere. The two also appeared together on "The Tonight Show." Late last year, Kessler, who works as an accountant in New York City, followed in his doppelganger's footsteps to the comedy club stage.
Jeffrey Emmette, who organizes comedy nights at Wild's, said Kessler even sounds like Sandler, too. Kessler's comedy isn't as goofy, Emmette added, but he's still funny in his own right.
Emmette said Wild's owner Mathew Wild approached him with the idea of starting a comedy night at the restaurant. Wild knew Emmette had a history in stand-up and entertainment, which included launching the internet radio show "Unscripted Radio" in 2011. Emmette hosted it along with "Mighty Morphin Power Rangers" actress Karan Ashley, "All That" performer Katrina Johnson and Jake Pentland, the son of Roseanne Barr. Emmette, who lived in Auburn at the time, also ventured to Los Angeles to shoot a pilot for a reality show based on "Unscripted Radio."
For the first comedy night at Wild's, Emmette said he rounded up about eight performers — but six of them bailed out.
AUBURN — After Mathew Wild added pizza and chicken wings to the menu of his family's Genesee…
"I'd never done an hour and a half (of material) before, but someone had to fill the time," he said. "It was a pretty good learning curve."
Taking place almost every other Saturday since then, the comedy night has become both an opportunity for Auburn's comedians and a new entertainment option for its comedy lovers. Along with Auburn Public Theater, which also hosts comedians and open mic nights, the new Wild's event is helping to shape a developing scene, Emmette said.
He and Wild hope to eventually make the night weekly and bring in bigger talents, Emmette added.
"It'd be great," he said. "Everyone complains that Auburn doesn't have anything to offer, so now you have this."
Three arrested in southern Cayuga County stabbing
Three people are facing robbery and assault charges stemming from a reported incident early Saturday in Ledyard.
The Cayuga County Sheriff's Office said deputies and state police were dispatched to a reported stabbing on Dublin Hill Road in Ledyard. The victim, who reported being beaten and stabbed several times, was taken to Auburn Community Hospital and then Upstate University Hospital in Syracuse, where he was treated for his injuries. His injuries were not considered life-threatening.
Working with state police and the Auburn Police Department, the sheriff's office tracked down and arrested three suspects. Dijon Starling-Harvey, 19, of Spring Street, Cayuga, and Mia Loiacono, 21, of Bentley School Road, Weedsport, were stopped in a vehicle in Auburn and taken into custody without incident. Later, William Vest, 28, of Olympia Terrace Apartments, Auburn, was taken into custody without incident at his residence.
The sheriff's office said the alleged victim knew the attackers, and that the incident stemmed from a disagreement.
The sheriff's office said all three suspects are charged with first-degree robbery and second-degree assault, both felonies. There were arraigned in Town of Sennett Court and remanded to the Cayuga County Jail on bail of $10,000 cash or $20,000 bond.
The sheriff's office said that anyone with information on the incident can contact Detective Sgt. Rob Franklin at (315) 253-1132. Tips can also be left at www.cayugasheriff.com. Tips can be anonymous.
Auburn man pleads guilty to raping, sending nude pictures to young girl
AUBURN — An Auburn man pleaded guilty in Cayuga County Criminal Court Tuesday to raping and sending sexually explicit images to a minor. 
Todd Klino, 32, was arrested by the Cayuga County Sheriff's Office in November and charged with with sending sexually explicit images and messages to a girl younger than 17. The investigation began Nov. 12 due to a tip from the victim's family. At the time, police said Klino's inappropriate relationship with the girl spanned several months and included him sending images and messages through a number of mediums such as text messages and social media platforms.
An Auburn man was arrested this week for allegedly sending sexually explicit images and mess…
After further investigation, Klino, of 26 Cross St., was charged with third-degree rape and third-degree criminal sexual act. Police said he'd engaged in a sexual relationship with the same girl for several months at a local hotel.
An Auburn man previously charged with sending sexually explicit messages to a young girl was…
Klino pleaded guilty Tuesday to first-degree dissemination of indecent material to a minor, a class D felony, and third-degree rape, a class E felony.
Judge Mark Fandrich said Klino sent pictures of himself naked which also showed his face, to the girl, now 16, to encourage her to have intercourse. In October, in the area of McMaster Street in Auburn, Fandrich said Klino had sex with the girl.
"I took a picture of myself and sent it to her," Klino said while pleading guilty to his crimes. "We had sexual intercourse."
In exchange for his plea, Fandrich will likely sentence Klino to one to three years in prison, indeterminate, for dissemination of indecent material and two years in prison with 10 years of post-release supervision for his rape charge. The sentences will run concurrently. Klino will have to register as a sex offender and an order of protection will be put in place for the victim at his March 26 sentencing.
Klino, who is being held at the Cayuga County Jail in lieu of $30,000 cash or $60,000 bond bail, was remanded back to the jail.
• A homeless woman pleaded guilty to stealing and scrapping a car in Locke in November.   
Christina Merithew, 30, who court records indicate is homeless, pleaded guilty to one count of fourth-degree grand larceny, a class E felony, in court Tuesday morning.
In November, Merithew stole a 2003 Jaguar x25 in Locke. Her ex-fiance told her it was his car, she said.
"Basically, I took a car to a scrapyard and scrapped it," Merithew said as part of her guilty plea. "I didn't have permission to take the car, and it was not mine."
Cayuga County District Attorney Jon Budelmann said Merithew received approximately $250 for the vehicle, which was valued at more than $3,000.
As a second-felony offender, Merithew could face a maximum of two to four years in prison, Fandrich said. She was previously convicted of second-degree attempted possession of a forged instrument in Tompkins County in 2014.
In exchange for her plea, however, she will likely be sentenced to 1.5 to three years in prison. An order of protection will be put in place for the victim, she will be ordered to pay $1,350 in restitution, and she waived her right to appeal as part of her plea deal.
Merithew is due back in court for sentencing March 26.
• A New York City teen could see up to three years in prison for using two counterfeit $100 American Express travelers checks at the Auburn Wegmans in July.
Dashaun Gray, 19, who lives in Queens, pleaded guilty to two counts of second-degree possession of a forged instrument, class D felonies, in court Tuesday.
Gray admitted to knowingly using two forged travelers checks about 30 minutes apart at Wegmans the evening of July 5.
"I went into Wegmans with the travelers check," Gray said, "I bought a few items and I got the change back."
At the time of his December arrest, the Auburn Police Department reported it had to travel to New York City to retrieve Gray after the NYC police department located him. Auburn City Court had issued an arrest warrant for Gray for using the checks at Wegmans.
It took a 10 hours of driving, but Auburn police finally got their man.
Initially charged with two counts of first-degree criminal possession of a forged instrument, class C felonies; two counts of first-degree forgery, class C felonies; and two counts of petit larceny, class A misdemeanors; Gray's plea to both counts of second-degree possession of a forged instrument satisfied the entire indictment.
Fandrich said he will likely sentence Gray to one to three years in prison with a shock camp order for each count, which will run concurrent. The maximum sentence for the crimes is 2 1/3 to seven years. Gray is due back for sentencing March 26.
'Women's health matters': Cuomo, NY lawmakers OK abortion rights bill
On the 46th anniversary of the landmark Roe v. Wade Supreme Court ruling, New York lawmakers passed legislation to update the state's abortion laws and increase access to reproductive health services. 
The three bills adopted by legislators includes the Reproductive Health Act, a measure that decriminalizes abortion by removing it from the state's penal code, authorizes nurse practitioners, physician assistants and other licensed medical professionals to perform abortions and provides exceptions after 24 weeks for a woman to have an abortion if their health is at risk or if the fetus is no longer viable. 
The state Assembly has repeatedly passed the Reproductive Health Act, but it didn't receive a vote in the state Senate when Republicans controlled the chamber. Now that Democrats hold the majority in the Senate, the passage of the abortion rights bill was a priority. 
The state Senate passed the Reproductive Health Act by a 38-24 vote. The state Assembly followed and approved the measure by a 92-47 margin. 
Soon after the Assembly's passage, Gov. Andrew Cuomo signed the bill into law as advocates cheered. 
The signing ceremony capped off hours of debate, dueling press conferences and demonstrations in the state Capitol. Democrats argued that the Reproductive Health Act is necessary because a more conservative Supreme Court could overturn Roe v. Wade, a 1973 decision that legalized abortion in the U.S. 
But there were other concerns. Supporters of the bill said the state's abortion laws needed to be updated with a greater focus on women's health. 
"Abortion is a medical procedure," said Assemblywoman Deborah Glick, a longtime sponsor of the bill. "It is not a crime." 
Republicans, though, were united in their opposition to the bill. At a press conference hours before the Senate session, GOP senators called on their Democratic colleagues to consider a proposal that would make it a felony to assault a pregnant woman. 
During the Senate debate, several senators claimed the Reproductive Health Act would eliminate protections for pregnant women who are victims of assault and other crimes, especially attacks that seek to cause harm to an unborn child. 
Democratic state Sen. Liz Krueger, who sponsored the bill in her chamber, dismissed the claim by noting that there are already statutes in place to charge perpetrators in those cases. 
There were other criticisms levied by Republicans. State Sen. Pam Helming, a Canandaigua Republican, called the bill "an extreme expansion of abortion rights." 
"It does nothing to safeguard the rights of women who choose to bring their babies to term," she said during the Senate floor debate. 
Despite the Republican opposition, the new Senate Democratic majority showed strong support for the abortion rights bill. 
State Sen. Alessandra Biaggi recalled her time as an aide to Gov. Andrew Cuomo. While with the governor's office, she was assigned to work on moving the Reproductive Health Act. 
On Tuesday, she was one of the Democrats who voted for the bill's passage. 
"This is a pivotal moment for the women of New York, and it is long overdue," she said. 
For Stewart-Cousins, it was another vote on legislation that didn't advance in past sessions. The Democratic-led state Senate has already passed election reform bills and legislation to prevent discrimination against transgender people. The measures were blocked by Senate Republicans when they held the majority. 
Stewart-Cousins recalled sponsoring the Reproductive Health Act and being told in 2007 that it didn't need to be discussed. But with President Donald Trump declaring his support for overturning Roe v. Wade and members of his administration sharing the same view, she believes action needed to be taken to preserve women's reproductive rights. 
"Today we are saying no. We're saying not here in New York," she said. 
The state Legislature also passed the Comprehensive Contraception Coverage Act. The bill will require health insurance companies to cover all contraceptive options approved by the Food and Drug Administration. Insurers would be required to cover contraceptive counseling and services. 
A separate measure, the Boss Bill, also received final approval by state lawmakers. It will prevent employers from discriminating against their employees based on their reproductive health decisions.
By signing the Reproductive Health Act, Cuomo believes New York is "setting the bar" on women's equality. 
"We stand up and point the exact opposite direction of this president and this federal government," he said. "And there couldn't be a better time." 
DREAM Act: NY lawmakers approve tuition aid for undocumented immigrants
The Democratic-controlled state Legislature has achieved another goal: Extending state tuition assistance to undocumented immigrants.
State lawmakers on Wednesday passed the DREAM Act, a bill that allows undocumented immigrants to access state financial aid, including the Tuition Assistance Program, to pay for college tuition.
The legislation establishes the DREAM Fund, which would provide scholarships to students who were brought to the U.S. illegally as children. It also allows undocumented immigrant families to participate in the state's 529 College Savings Program.
The DREAM Act is another bill that has been approved by the state Assembly in the past, but was blocked by Republicans in the state Senate. Until this year, Republicans controlled the Senate and determined which bills were considered in the chamber. 
With Democrats now in power, the DREAM Act's passage was one of the new Senate majority's top priorities. 
Supporters argued that the DREAM Act would not only benefit immigrant students, but it would help the state. State Sen. Luis Sepulveda, one of the bill's sponsors, said DREAMers contribute $115 million in state and local taxes every year. He noted that the cost of the bill would be $27 million annually, a fraction of what young immigrants contribute to the state's economy. 
"This is the right thing to do," he said. 
Republicans opposed the bill and accused Democrats of having misplaced priorities. During the floor debate, state Sen. Fred Akshar said he surveyed his constituents on the subject and found that 85 percent oppose the DREAM Act. Most of the respondents, he said, are struggling to afford college tuition for their children. 
State Sen. Rob Ortt, a western New York Republican, agreed. He believes Democrats are undermining federal law by extending tuition benefits to undocumented immigrants. He also thinks there will be a budgetary impact of implementing the law. 
"There's no question that this will increase costs for New Yorkers," he said, adding that it may be paid for through higher taxes or increased tuition at state colleges and universities. 
The Republicans' objections weren't enough to derail the legislation. In past years, GOP opposition prevented the bill from advancing in the state Legislature. But that's not the case this year now that Democrats control both chambers. 
The Assembly, as it has for nearly a decade, passed the DREAM Act with ease. Assemblywoman Carmen De La Rosa, one of the bill's sponsors, shared her experience as an immigrant from the Dominican Republican. Her parents came to the U.S. because they believed in the American dream, she said. 
Without the DREAM Act, De La Rosa explained that undocumented immigrants are attending and graduating from high school, but many are unable to attend college because they lack access to financial assistance available to other students. 
"Denying these students financial aid is denying them the right to education," De La Rosa said. 
The state Senate also passed the DREAM Act by a wide margin. For many senators, even those who opposed the bill, the legislation served another purpose. 
This year, the DREAM Act was named in honor of the late state Sen. Jose Peralta. Peralta, a Queens Democrat, was known for his DREAM Act advocacy. 
Peralta died after suffering a heart attack in November. He was 47. 
State Sen. Joe Griffo, a Republican who opposed the DREAM Act, lauded Peralta. He referred to his former colleague as "an honorable man" and an "extraordinary public servant." 
Others echoed those sentiments. Senate Majority Leader Andrea Stewart-Cousins recognized members of Peralta's family, including his wife and children who were in attendance for the Senate session. 
"It is a dream for us to be able to crown the legacy of Senator Peralta in the presence of his wife and his family," Stewart-Cousins said before the DREAM Act passed the Senate. 
With the state Legislature's approval, the bill now heads to Gov. Andrew Cuomo for his approval. He has supported the DREAM Act in the past and included it in his state budget proposals. 
Cuomo's office announced that the governor met with the Peralta family while they were in Albany for the DREAM Act votes. 
"As a key part of our Justice Agenda, we look forward to finally making it law for all New Yorkers this year, for Senator Peralta and the Dreamers," Cuomo said. 
Auburn committee trims DRI project list
AUBURN — The Auburn Local Planning Committee rolled up its sleeves Tuesday as it trimmed a preliminary list of downtown projects being considered for state funding.
The goal of Tuesday's meeting was to begin eliminating some of the 29 Downtown Revitalization Initiative proposals. Having met this goal, the LPC now estimates the total cost of all projects to fall between $13 million and $15 million. 
At earlier meetings, members of the LPC and the public were given stacks of "DRI bucks" that represented the program's actual funds. They then dropped the bucks into jars that represented the project proposals whose funding they supported.
The exercise's results found 11 highly supported project proposals that together amount to $7.8 million. The exercise also determined 11 moderately supported projects and seven projects that received limited or no support. 
However, any of the 29 proposals could still receive DRI funding.
Three additional project proposals, which were submitted through another open call round, include opening a Jamaican restaurant, building a retreat learning center and building a foundation for urban repair. 
Two of these projects — the learning center and the foundation for urban repair — would require a downtown boundary modification in order to be considered for DRI funding.  
Established by the LPC, the 162-acre district stretches from Genesee Street and Parker streets to the downtown area. Projects seeking DRI funding must be placed within the boundaries. 
These boundaries were modified once before to include the consideration of projects that sat directly adjacent to the region. 
Last July, Gov. Andrew Cuomo announced Auburn as the central New York recipient of DRI funding, giving Auburn a $10 million grant to work with. Currently, there are 150 businesses within DRI boundaries and 25 percent of the acreage is vacant.