The Citizen's top 10 most-read stories of the week. 
Two NY prisons officially closed
The state Department of Corrections and Community Supervision confirmed Wednesday that Lincoln Correctional Facility in Manhattan and Livingston Correctional Facility in western New York have officially closed. 
The facilities — Lincoln was a minimum security prison, while Livingston was a medium security prison — closed Sept. 1, according to DOCCS. 
At the time of the announcement, Lincoln Correctional Facility had 133 inmates and 113 employees. The prison's capacity was 284 inmates. Livingston's capacity was 874 and held 806 inmates as of mid-May. The prison employed 327 people. 
Since Cuomo took office in 2011, the state shuttered 15 correctional facilities. The closures were possible, the state says, because the crime rate is at an all-time low and a declining inmate population means fewer prisons are needed. 
"These new closures are another step toward reversing the era of mass incarceration and recognizing that there are more effective alternatives to lengthy imprisonment," Cuomo said in February.
The latest round of closures leave the state with 52 correctional facilities. The employees affected by the closing of the two prisons were offered positions within DOCCS or another state agency. 
While one of the prisons that closed is in New York City, the other is in an upstate county — Livingston — where the facility was a major employer. A neighboring prison, Groveland, remains open. But state and local officials who represent Livingston County worry about the effects of the closure. 
Livingston County Administrator Ian Coyle told The Citizen in July that he filed a Freedom of Information Law request for more information about why Livingston was selected. In an email to The Citizen Friday, Coyle said he's still waiting for a response to his FOIL request. 
Now that the prison is closed, the focus shifts to reusing the facility. It has been challenging for the state to find new uses for many of the prisons that have closed. Butler Correctional Facility, a medium security prison in Wayne County that closed in 2014, has been vacant for five years. There has been minimal interest in the site. 
The state is planning to auction the prison later this year. 
Empire State Development will play a role in identifying a reuse for Livingston. Coyle is already working on that at the county level. 
"Prison redevelopments, from an adaptive reuse perspective, are quite challenging but we have begun putting the (former) prison area into regional requests for site inventories for the attraction of economic development projects," he said. 
Special report: Demoted Auburn policeman was target of a 2018 criminal probe
It was an arrest that made headlines far beyond Cayuga County. State police were north of Weedsport on Aug. 6, 2018, when they spotted the vehicle of a man wanted on an arrest warrant. Troopers tried to pull him over, but the driver refused to comply. He hit a trooper's marked car, then took police on a 15-mile chase where speeds reached 107 mph. Troopers stopped their pursuit just outside of Auburn; it had become too dangerous. But police tracked the driver down the next day at a Sennett hotel.
Eight days later, the suspect in that headline-making chase was in Cayuga County Jail, giving a sworn statement to Auburn Police Department Sgt. Timothy Spingler, head of the multi-agency Finger Lakes Drug Task Force. But Spingler wasn't there to ask about the chase or the charges the driver was facing. Instead, he wanted to know about an APD sergeant named Stephan McLoughlin.
The driver in the chase, Brandon Millhoff, who has lived in Auburn and Weedsport in recent years, would give sworn statements alleging that McLoughlin, a former head of the drug investigation unit himself, had been buying cocaine from him and tipping him off about confidential police informants.
Five months later, McLoughlin was demoted from his supervisory role at APD after being temporarily suspended amid the probe into the accusations made by Millhoff and others. A criminal investigation into McLoughlin, conducted by the Cayuga County Sheriff's Office with cooperation from APD leadership, closed without any charges filed because of a lack of supporting evidence. The APD conducted an internal investigation at the same time, but the results are not public. State law prohibits the disclosure of internal law enforcement disciplinary records.
Over the past nine months, The Citizen has used the state Freedom of Information Law and taken court action to secure more than 120 pages of records connected with the McLoughlin investigation. These documents include sworn witness statements obtained by the sheriff's office investigators, an official criminal investigation case summary, a search warrant application, city payroll reports and court documents. The information gathered offers a window into the four-month criminal investigation into whether McLoughlin, a 19-year APD employee, was engaging in official misconduct and illegally possessing drugs.
Investigators talked to at least three people who provided sworn statements that they saw McLoughlin use cocaine, another who said McLoughlin once took cocaine from him during a traffic stop but never arrested him, and a sheriff's deputy who said he was told by a defendant in an unrelated case that he had seen McLoughlin use cocaine. But the records also indicate why the sheriff's office ultimately concluded that it could not obtain enough independent corroboration to justify making an arrest.
McLoughlin did not answer questions The Citizen submitted to him, but according to sheriff's office records, he vehemently denied the allegation that he used or bought illegal drugs, telling investigators he would have anyone who said so arrested for making a false statement, and that he'd sue them for slander.
The records provided by the Cayuga County Sheriff's Office in response to The Citizen's FOIL request include dozens of pages of sworn statements given by people interviewed by investigators. Some portions of the records were redacted. The sheriff's office cited the need to protect the identity of informants in unrelated drug investigations as the reason for redactions.
Millhoff signed at least two lengthy sworn statements, but at least nine other people also gave statements for the sheriff's office investigation. All of them signed their names just below a printed acknowledgment stating they understood that knowingly providing a false statement is a crime.
An investigation begins
The sheriff's office criminal probe into McLoughlin's conduct didn't start with Millhoff, the driver in the dramatic car chase, according to the office's investigation summary.
On Aug. 14, 2018, a Cayuga County Jail inmate named Michelle Nevidomsky — who was being interviewed in an unrelated robbery investigation — told then-Det. Lt. Brian Schenck of the Cayuga County Sheriff's Office that another inmate, Millhoff, "was selling drugs to a police officer," according to the investigation summary. Schenck quickly notified APD Chief Shawn Butler of the information.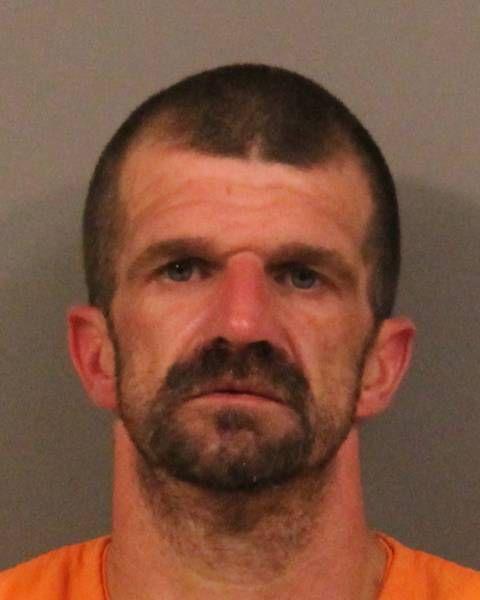 The next day, APD's Spingler came to the jail and took a sworn statement from Millhoff, according to the investigation summary, which labels the probe as "Official misconduct: Public Servant Performing Illegal Function." Spingler obtained a second sworn statement from Millhoff, who was 41 at the time, which largely mirrored the information in the first, on Aug. 24, 2018.
Sheriff's office investigation records state that on Aug. 17, 2018, there was a meeting of city police and sheriff's office staff to discuss the sheriff's office taking the criminal case and APD handling an internal probe.
Millhoff was in the jail at the time after he was arrested following the high-speed chase through numerous municipalities in Cayuga County. A past convicted felon, Millhoff was facing more than two dozen charges stemming mostly from the chase and a related domestic violence case.
Millhoff said he'd known McLoughlin since they were young, according to the investigation summary. They used to party together, and eventually "McLoughlin started asking Millhoff for cocaine." Millhoff told police that McLoughlin at first said the drugs were for someone else, but the two eventually used cocaine together.
"I get cocaine for Stephan and sometimes he would pay me when I gave him the cocaine," Millhoff said in one of his sworn statements. He said other times McLoughlin would give him "information or got me out of trouble so I really didn't worry about him giving me money. I just believed the information or the ability to not get into trouble with the police was worth what I had invested in the cocaine."
Back when McLoughlin headed up the drug task force, Millhoff said, they would meet at least once a month so McLoughlin could tell him who the current drug informants were so Millhoff wouldn't get caught selling cocaine.
Millhoff's statements provide details of specific encounters in which he claimed to have provided McLoughlin with cocaine. He described one time when he gave cocaine to McLoughlin by passing it over a woman riding in his car, but the sheriff's office records noted that investigators were not able to locate the woman to corroborate that account.
In another instance, when McLoughlin was allegedly on duty, Millhoff claimed to have given him cocaine in exchange for money at Auburn's Red Apple gas station. Millhoff said his former girlfriend was with him. According to the investigation summary, that girlfriend told investigators during an August 2018 interview that she was with Millhoff when he met McLoughlin, in his uniform, at Red Apple. She said McLoughlin gave Millhoff money, but she didn't see Millhoff give McLouglin cocaine. She did confirm, however, that there was cocaine in the car at the time.
In another meeting in July 2018, Millhoff said, he gave cocaine to McLoughlin after the officer picked him up because Millhoff had run out of gas. He said McLoughlin took him to a Speedway convenience store. Auburn police later obtained security camera footage that corroborated the two were together at the store.
Records also show that Millhoff and McLoughlin communicated frequently in the weeks before Millhoff was arrested following the high-speed chase. An analysis of phone logs performed for the sheriff's office by the New York National Guard Counterdrug Task Force confirmed 141 calls or texts between the two from June 1, 2018 to Aug. 3, 2018, according to a search warrant application.
A former girlfriend of McLoughlin who worked at the Cayuga County Jail told investigators that he and Millhoff "were very close, to the point that it made her uncomfortable. ... She stated that she knew B. Millhoff's reputation and didn't feel that it was a good idea for a police officer to be that close personally with him," the investigation summary said.
Millhoff's mother, Mary Poole, told The Citizen that Millhoff and McLoughlin had known each other since they were children. She also said her son told her that McLoughlin would help him get out of trouble.
"Brandon told me that whenever he got stopped for speeding, or whatever, Stephan would get him out of it. So I think that's one of the reasons Brandon thought he was (invincible) because Stephan always got him out of things," Poole said.
Millhoff believed McLoughlin got him out of a driving while ability impaired charge in Conquest in 2016. McLoughlin, then an APD sergeant, approached the Cayuga County assistant district attorney who was handling the case, according to the investigation summary. Former ADA Brian Leeds "had noted that he had been contacted by S. McLoughlin who informed him that B. Millhoff was cooperating with law enforcement and requested a reduction."
According to the investigation summary, Leeds told sheriff's office investigators that McLoughlin asked for the DWAI case to be dismissed and "led him to believe that B. Millhoff had either been an informant or acted in that professional capacity for S. McLoughlin." Leeds nevertheless balked at an outright dismissal, according to the report, saying "there would have to at least be a driving revocation which appeared to be more of a consequence than S. McLoughlin wanted."
The case was adjourned. Leeds soon left the district attorney's office for a job in Ontario County, and Millhoff thought that McLoughlin had made the charges go away.
But after the Cayuga County District Attorney's Office became aware in September 2018 of the unresolved DWAI from 2016, it moved forward with prosecuting the case. In a Sept. 5, 2018, email to the Conquest Town Court inquiring about its status, ADA Diane Adsit wrote, "Our computer records show he was pro se and adjourned to work with law enforcement on something. But he never did."
The sheriff's office's records document one time when investigators interviewed McLoughlin. Det. Lt. Fred Cornelius and Det. Sgt. Robert Franklin, who was the lead investigator on the case, visited McLoughlin at his Auburn residence in early September 2018, according to the investigation summary. When confronted with the allegations, McLoughlin "categorically denie(d) ever using cocaine." McLoughlin told the detectives that Millhoff would often ask for help getting out of trouble, but the officer denied ever actually doing so. McLoughlin twice said he never used Millhoff as an informant, something investigators noted as "contrary to disposition notes provided by the Cayuga County District Attorney's Office and former ADA Brian Leeds."
McLoughlin also told Cornelius and Franklin he was already aware of the sheriff's office investigation, as a former "snitch" tipped him off. At the time, he admitted to having paid Millhoff money and said witnesses may have seen that. But McLoughlin added that if anyone was willing to provide a sworn deposition saying they saw "Millhoff provide him with cocaine he would have them arrested for providing a false sworn written statement and then sue them for slander," according to the investigation summary.
Another key witness
Auburn resident Jennifer Lakota's involvement in the investigation began on Sept. 19, 2018, after Millhoff provided his statements and after investigators interviewed McLoughlin. Lakota was at APD after being arrested in connection with a burglary. Lakota said she had been in an "intimate relationship" with McLoughlin, and that the two regularly used cocaine together. Lakota, 29 at the time she made her sworn statement, described an on-again-off-again relationship with McLoughlin that had been taking place for about two years.
"When I first met Stephan I was two years sober," Lakota said in the statement. "My husband at the time was in the military and I started hanging out with Stephan because he was a police officer and I thought that it would be safe."
Having recently come back from rehab, Lakota said she got to know Stephan from working at a local restaurant. It wasn't long, she said, until McLoughlin had cocaine and they were using it together.
About six months prior to her statement, Lakota said, she spent time in jail for an unspecified arrest after relapsing on heroin. Shortly thereafter, Lakota said, she started getting sick when she couldn't get pain pills, so she turned to McLoughlin. Lakota said McLoughlin visited her at her mom's house.
"He had Suboxone and heroin. He gave me the Suboxone and I was still sick so I thought that there was something wrong with it. He then gave me the heroin and I used it. It made me feel better. After that I started using heroin again," she said.
In addition to providing her with drugs, Lakota claimed that McLoughlin tried to blackmail her. About a month before her statement, she alleged, he sent her a video through Facebook Messenger of the two of them having sex.
"I never gave him permission to video me while we were having sex. When I saw the video I was so upset and embarrassed. He sent a message with the video that was threatening and intimidating about not telling anyone about us," she said in her statement.
With the evidence and statements they had gathered, the sheriff's office in November pursued a search warrant seeking information that could corroborate what they had been told by witnesses.
Detective Sgt. Franklin made the application to search cellphone records, Facebook and TextNow accounts of McLoughlin and Lakota. He described the records sought as "relative to a criminal investigation by the Cayuga County Sheriff's Office … into allegations of criminal sale of controlled substance as well as official misconduct and unlawful surveillance."
Franklin noted there were "allegations made by multiple sources that Auburn Police Officer Stephan McLoughlin had been purchasing cocaine both while on and off duty in the City of Auburn as well as using his position as a police officer to aid area drug dealers in the sale of controlled substances by providing them confidential information and informing them of police operations relative to their illegal activities." The application for a warrant stated there was "reasonable cause to believe that a search of these records will result in the seizure of evidence relating to the criminal sale of a controlled substance ... official misconduct ... and unlawful surveillance."
Judge Thomas Leone approved the search warrant on Nov. 14, and the investigation report said searches were executed. But that's where the investigation appears to have ended.
The searches "resulted in negative investigatory leads and or corroboration of statements," according to the investigation summary. "At this time there is not sufficient probable cause or corroboration of testimony for an arrest. Closed by investigation."
Both Lakota and Millhoff would be sentenced to state prison, having pleaded guilty earlier this year in the cases that brought them to the Cayuga County Jail in 2018. Millhoff remains in state custody, serving a 2 ½-to-7-year term, although this summer his DWAI charge in Conquest Town Court was dismissed. Lakota was paroled earlier this summer. The Citizen sent letters to both Millhoff and Lakota while they were incarcerated asking if they would agree to be interviewed for this story, but did not receive responses.
Lakota and Millhoff's sworn statements alleging misconduct by McLoughlin were the most extensive in the records obtained by The Citizen, but the files had shorter sworn affidavits from several other people, including the following:
• A 33-year-old gave a statement in which he said McLoughlin stopped him several years ago and told him "they were going to bring the dog and find the drugs so I should make it easy on myself." He then told McLoughlin where he had cocaine. "He took the cocaine, put it in his pocket, and told me someone would be in contact with me." That never happened, though, according to the witness.
• Another 33-year-old man gave a statement saying he saw McLoughlin use cocaine in the back room of Wet Willy's bar in Auburn about four years prior. "Stephan is a good guy and I would like to see him get help," the statement said.
• Sheriff's Deputy Matthew Sloan provided a statement in which he said a man he had charged with aggravated unlicensed operation told him after a 2018 court appearance that he had "issues with trust" of certain officers, and went on to specify McLoughlin because "he has seen him do cocaine in person." But after sharing that information, he told the deputy he "was not willing to be a narc."
While the allegations made against McLoughlin are troubling, the sheriff's office had a solid basis for not making an arrest, said criminal justice consultant Walter Signorelli, who worked through the ranks during a 31-year career with the New York City Police Department and is now an adjunct professor at the John Jay College Criminal Justice.
Signorelli, who's also an attorney, reviewed information The Citizen gathered on the McLoughlin case.
While bringing charges and then subjecting witnesses to cross-examination might be the ideal way to find the truth, he said, there needs to be strong corroboration of allegations in order to do that. And Signorelli didn't see any indication the sheriff's office had that level of corroboration.
"Obviously, you want to err on the side of caution if you think some officer is committing crimes and using drugs — you want to get rid of him, but you do have to corroborate it. ... We have to deal with the laws and rules of evidence and corroboration," he said.
Signorelli said working with drug informants is a "treacherous" area for law enforcement, and he could see that being an issue in McLoughlin's case.
"If you were dealing with an informant and you're getting information, you couldn't just run that on your own. You'd have to register them and they would be supervised. If you paid them, the payments would be recorded. So if he was just running on his own an informal informant, that's always a problem and that's certainly enough to reduce him in rank, maybe even fire him."
An entangled court case
As the investigation unfolded, Millhoff's role in the probe became an issue in his own criminal court case.
Cayuga County District Attorney Jon Budelmann and Millhoff's defense attorneys, Rome Canzano and Benjamin Susman, used legal motions and responses to accuse each other of wrongdoing in connection with the case. Budelmann said the defense, particularly Canzano, was orchestrating the accusations against McLoughlin in an attempt to do political damage to the DA. The defense lawyers, meanwhile, claimed Budelmann was undermining the investigation into McLoughlin and targeting Millhoff.
One of the earliest disputes centered on Millhoff's bail. Canzano and Susman said they believed law enforcement was on board with a plan to release Millhoff and allow him to assist the investigation into McLoughlin from outside jail. But Budelmann derailed that plan, they said, to protect the police officer.
In Budelmann's court papers, however, he said he emailed APD Chief Butler, Deputy Chief Roger Anthony, former Sheriff David Gould and Sheriff's Office Det. Lt. Cornelius in regard to bail, letting them all know he would oppose a reduction of the bail that had already been set at $50,000 cash or $100,000 bond. He said he informed them that they could write the judge in support of bail reduction or come to court, and in the end, law enforcement leaders agreed that Millhoff needed to stay in jail because of the nature of the crimes he was charged with committing.
Budelmann said Millhoff had threatened the life of his ex-girlfriend, repeatedly violated his order of protection against her, missed multiple court appearances and jeopardized the safety of many citizens when he took state police "on a 15-mile high speed chase, while allegedly high on Molly."
Due to the high bail set, Millhoff remained in jail. In court files, his attorneys stated that the high bail "prevented (Millhoff) from continuing to participate in the criminal investigation." As a result, the police were "unable to continue their undercover investigation" and then APD suspended McLoughlin pending an administrative hearing, the defense attorneys said in court papers.
"We lost an opportunity that we can never get back," Canzano said in an interview after Millhoff's case was concluded. "This guy was providing cooperation in one of the bigger, if not the biggest, drug investigations in the county."
More than two months after the bail dispute, Millhoff's attorneys filed a lengthy motion asking to remove Budelmann as prosecutor and appoint a special one to take over. The judge ultimately denied that request, following a series of responses between the two sides.
Among the issues the defense raised was a phone call Budelmann made to Millhoff's mother, Poole, on Sept. 9. The defense claimed that Budelmann told Poole he might lower bail if Millhoff would meet with him, and that the DA encouraged her to keep Millhoff speaking on the phone. To support his arguments in his court papers, the DA quoted extensively from Millhoff's recorded jail phone conversations.
After her son's sentencing, Poole told The Citizen that she felt deceived by Budelmann. "When you go to the parent, who's already suffering with what my son had gone through, and then for him to play on that angers me. It really angers me."
Budelmann said he made no promises about bail to Poole, and he denied telling her to talk to her son on the phone while he was incarcerated. The DA said his main purpose in speaking with the defendant's mother was to find out if someone was manipulating Millhoff, and he concluded that's what the defense lawyers were doing.
After Susman and Canzano asked the court to name a special district attorney to prosecute the Millhoff case, Budelmann responded with his opposition and asked the court to seal the court papers from the public and press. In the cover letter of his Dec. 4 response papers, Budelmann referred to the investigation into McLoughlin as "unrelated" to Millhoff's case. He argued the papers should be sealed "given the salacious and completely unsupported, false allegations" and added that he was concerned Millhoff was "being manipulated by his attorneys."
In a Dec. 7 response, Susman agreed the files should be sealed, but not for the same reasons as Budelmann.
Millhoff "remains ready and willing, to continue to work with law enforcement and assist in their investigation, despite the district attorney's attempts to prevent him from doing so," Susman's papers said. He agreed files should be sealed because of the "administrative suspension and ongoing criminal investigation into the police officer."
After Millhoff's Dec. 11 court appearance, in which attorneys got into a heated argument, The Citizen requested the court file on the case, but learned the records at that time were sealed pending a decision on the motions. After The Citizen hired an attorney in early 2019 to represent the press' and public's right to see the files, the defense withdrew its support for sealing them. Judge Mark Fandrich ultimately agreed with the newspaper's argument and signed an order March 27 that directed the file be unsealed. The documents, however, were not made available to The Citizen until after Millhoff's April 18 sentencing.
Budelmann's papers said the investigation Susman and Canzano referenced in their court fillings was "unrelated" to their client's crimes and that it concluded with no charges, no arrest and McLoughlin returning back to work.
 "I believe defense counsel are seeking false, negative headlines at the expense of (McLoughlin), who has not only not been convicted, but has not even been charged," Budelmann's papers said. He said Susman and Canzano were using Millhoff "in order to seek headlines for themselves."
In an email to The Citizen last spring, Budelmann stated: "After a thorough, four-month joint investigation by the Auburn Police and Cayuga County Sheriff's Departments, there was apparently no evidence found to support Brandon Millhoff's allegations of criminal activity against this APD officer … As a prosecutor, I rely on facts and evidence. When no evidence is found to support any allegation of criminal wrongdoing, there is nothing for me to prosecute."
Budelmann noted that McLoughlin "voluntarily took a surprise urine test showing he was clean" in order to disprove the allegations he used, bought and possessed drugs. In addition, Budelmann said McLoughlin submitted a hair sample and a toenail for testing, and both came back clean. Those drug tests were not mentioned in any of the sheriff's office records provided to The Citizen.
In an interview with The Citizen last spring, Susman said Budelmann "created this narrative that the only reason we're bringing this stuff up is because we're trying to make him look bad. First of all, it's completely unprofessional. I don't even care who it is, I would never put pleadings together to try to make someone's political career fail.
"It's also kind of offensive that he is putting it out there that we're using Millhoff for our personal agenda," Susman said. "That's completely incorrect. It's ridiculous."
In reviewing the arguments between the DA and defense lawyers, Signorelli, the criminal justice professor from John Jay College, questioned the DA's decision to reach out to Millhoff's mother.
"Once you've been indicted, once you're in a case, you're represented by counsel, the district attorney is only supposed to deal with you through your counsel," Signorelli said. "But their way around that might be, well, they weren't speaking directly to him. They were speaking to the mother. So that's another issue."
But Signorelli also said that despite the politics that appeared to motivate the back-and-forth and distrust between attorneys, he didn't see anything that warranted removing the DA from the case, as the defense requested.
"I don't see where a special prosecutor would be called for unless you could show that the local DA somehow is doing something improper," he said. "You can't be having special prosecutors all the time because ... the DA has a job to do. It's their responsibility. They're elected."
Lower rank, lower pay
City of Auburn payroll records, provided in response to a FOIL request, indicate there was a period of time in 2018 when McLoughlin was not paid a regular salary, and more than two months afterward when his pay breakdown seemed to differ from his previous checks.
On Sept. 14, 2018, McLoughlin was paid for more than 80 hours. The city did not issue him a paycheck on the next regular payroll date of Sept. 28. And on Oct. 12, his check was for less than 12 hours. Then, from Oct. 26 to Jan. 4, he was paid an even 80 hours for each two-week pay period with the exception of one 88-hour check. In this time frame, his salary for the 80 hours came from a single line item, regular salary, while previously his hours were made up of various line items, such as vacation, sick, holiday, shift differential, overtime and compensatory time.
New York's civil service law provides that employees facing disciplinary action can be suspended for up to 30 days without pay. If the disciplinary matter has not been resolved after that time period, employees must be paid their base compensation while on suspension.
In checks dated on and after Feb. 1, McLoughlin's hourly rate was lowered, reflecting the demotion from sergeant to patrol officer. As a sergeant, his base wage was $38.69 per hour, but as an officer, it was reduced to $35.26.
Payroll records also show that McLoughlin has seen his overall pay reduced as a result of a schedule change that has him working daytime hours in the patrol division. That change has significantly reduced the amount of shift differential pay he receives. Under the APD union contract, night and overnight shift members earn extra hourly pay for working these hours. In eight paychecks prior to the Sept. 28, 2018, payroll date, McLoughlin was paid between 32 and 76 hours worth of shift differential wages for each paycheck. Since that time, he's been paid for a combined total of 3.5 hours in shift differential time.
Citing state law, city police leaders and the city's corporation counsel said they cannot comment publicly on anything related to internal police investigations and discipline, unless there was consent from the involved officer or a court order. The Citizen filed a FOIL request for McLoughlin's civil service history record, but the city denied the request, citing the statute governing police personnel records.
In an interview with city of Auburn Corporation Counsel Stacy L. DeForrest and APD Deputy Chief Anthony, Anthony confirmed McLoughlin has been with APD 19 years as of this summer. McLouglin will be eligible for retirement after 20 years of service and will be able to collect a pension equal to half of the average of his three highest consecutive years of pay. Anthony said he wouldn't be able to comment on whether there was an agreement in place for McLoughlin to retire when he becomes eligible.
Anthony said McLoughlin became a sergeant in October 2014, and was head of the drug task force between about 2012 and 2016. Anthony said McLoughlin's title changed from sergeant back to officer in January, but DeForrest said city officials can't comment on why that change was made, again citing state law.
The sheriff's office declined to comment for this story beyond the documents provided under the FOIL request. The Citizen also reached out to leadership of the union that represents city police, Auburn Police Local 195, to ask about its feelings on the handling of the McLoughlin matter, but it also declined to comment.
Auburn Police Chief Shawn Butler also said he couldn't discuss the specifics of the McLoughlin case, but did provide a written statement about how the APD handles concerns about employees and how it works with the sheriff's office:
"The Deputy Chief and I have made it one of our top priorities to lead an agency of the highest ethical and moral standards. When complaints or allegations are made against one of our employees, our goal is to investigate each and every complaint to the best of our ability and to determine the truth, maintain the trust and confidence of our employees, as well as those that we serve, all while maintaining due process and respecting the rights of the employee the complaint was made against. We will investigate any allegation made against an employee as extensively as the evidence allows and then and only then will we make a determination and take appropriate action. With that said, we would like to thank the Cayuga County Sheriff's Office for their assistance in countless investigations as they continue to partner with the Auburn Police Department, as it is an example of the excellent partnership that our two agencies share with one another."
For Aunt Harriet: Auburn woman, Tubman's great-great-grandniece, keeps legacy alive
AUBURN — It wasn't a family secret, but Pauline Copes Johnson grew up not knowing about her connection to American history. 
Her parents knew. Her older siblings knew. Other relatives knew. 
At 25 years old, Copes Johnson found out about the iconic figure in her family tree. It was then, 67 years ago, she learned she is Harriet Tubman's great-great-grandniece. 
"I thought this is the best thing that has ever happened to me that I was a relative," Copes Johnson recalled during an hour-long interview at her Parker Street home. 
The revelation sparked an interest in the woman Copes Johnson refers to as "Aunt Harriet." She embarked on a personal mission to learn as much as she could about the abolitionist, Civil War veteran and suffragist. 
Copes Johnson traveled across the United States and took a trip to Africa. But her education began, literally, at home. 
Parker Street
Copes Johnson has lived in this blue house on a quiet stretch of the city's west side her entire life. There's an official-looking street sign in her front yard that reads, "Harriet Tubman Ross Avenue." 
Neighboring her to the south is the Thompson Memorial AME Zion Church and parsonage — a property acquired by the National Park Service and part of the Harriet Tubman National Historical Park in Cayuga County. 
Tubman attended services at the church. After church, she would visit Copes Johnson's parents at the house. 
"My mother used to serve tea and crumpets and they used to talk," said Copes Johnson, who wasn't alive at the time but was told stories by family members who were present. "My older sister and brother told me that they had to go outside or go upstairs to their bedroom so that they could not hear the conversation. They weren't supposed to know anything going on between my mother and father and Aunt Harriet." 
The subjects of the Sunday conversations remain a secret. Copes Johnson speculates that they could've been talking about her father buying the house. Before Copes Johnson's parents lived there, she said it was the residence for the matron at the Home for the Aged established by Tubman on South Street. 
Based on the information she's gathered, Copes Johnson said her parents rented the house at the time of Tubman's visits. She believes her father eventually purchased the home. 
"I guess he did because this house was all clear," she added. 
Lifelong Auburnian
Copes Johnson grew up in the Parker Street home and attended West High School. She loved school — and she loved the close proximity of her house to school. 
"I made excuses to come home," she said with a chuckle. "When I had free time — study hall, I think it was — I made up an excuse. I'd leave my books home before I went to school and my excuse was to get my books. I'd come home and I'd get my books. That was fun ... I enjoyed my school years." 
It was in a class at West High School that she received her first job opportunity. Representatives from New York Telephone Company visited her home economics class. The company needed operators at its Auburn office, so Copes Johnson applied. 
There was a test, she recalled. Two men from the company listened to her as she participated in the verbal exam. 
"They probably thought that I was going to talk with a Southern drawl," she said. "I said I'm not from the South. I was born right here in Auburn." 
She passed the test and started her job as a telephone operator. She worked for New York Telephone for two years until the company moved out of Auburn. 
A bulk of Copes Johnson's professional career was at Red Star Express Lines, a former Auburn-based trucking company. She worked as a secretary there for nearly 20 years and, during her time with the company, became a notary public. Her license is active, according to the New York Department of State. 
A memory she has of both jobs is that she was the only African American. That may have been an intimidating environment for some, but not Copes Johnson. 
"I'd been by myself, which I really liked because there was no other African Americans to try to influence me and so I was glad that I got those two jobs," she said. 
Despite being the only person of color at both companies, she said people were kind to her. It was more challenging during her younger years, she explained, because some classmates in school would call her names. 
Much like her great-great-grand aunt, she didn't accept those conditions. She fought back. 
"I used to fight because I knew that I was just as good as they were, just as clean as they were and just as smart as they were," she said. "They quit calling me names after a while. They found out that I was a sturdy person." 
Talking Tubman
After Red Star left Auburn, Copes Johnson sought new employment. She worked at Sears' Fingerlakes Mall location, but left when scheduling became a problem. Through the Green Thumb Agency, she pursued a job at the Harriet Tubman Home. 
However, the nonprofit organization bearing her relative's name wouldn't hire her. She settled for a volunteer role at the historic site. That's when she became more interested in learning about Tubman's contributions. 
When groups or schools would call the Harriet Tubman Home asking for someone to come and give a presentation about Tubman, it was often Copes Johnson who made those trips. She visited schools in Auburn and central New York, but also traveled out of the area. 
She's been as far west as Albuquerque, New Mexico. She visited other states, including Kentucky and Ohio. She's made several trips to New York City. 
Copes Johnson's most memorable trip was to Ghana. In 2004, she traveled with a New York City-based theater group to the African country. She went against her doctor's advice — he told her not to go because she recently had double hip replacement surgery. He worried that she wouldn't have access to the care she needs if complications arose. 
But she wasn't going to miss the trip of a lifetime. She didn't have any health problems during the visit. She was "instooled" as the second Harriet Tubman by a tribal chief. She described the installation as being "instooled" because they required her to stand on a stool during the ceremony. 
The main purpose of the trip was to learn more about Tubman's grandmother, Modesty, who is believed to have lived in Ghana or the Ivory Coast. Unfortunately, she didn't glean any new information about Modesty. 
There is a reason why Copes Johnson has been willing to travel across this continent and to others. 
"I was trying to keep (Tubman's) name alive because I think that she has done something wonderful for the United States," she said. "I don't think there's any man around that did what she did." 
Tubman's contributions are well documented. She escaped from slavery in Maryland, returned to help free other enslaved people and served with the Union Army in the Civil War. 
During the latter part of her life, Tubman lived in Auburn. Her former brick residence and the Home for the Aged she established are part of the national historical park bearing her name. 
Copes Johnson played a role in lobbying for the legislation that created the national park. She's also been engaged in the effort to put her great-great-grand aunt on the $20 bill. 
In 2016, she wrote a letter to Treasury Secretary Jacob Lew urging him to put Tubman's likeness on paper currency. Later that year, Lew announced changes to paper money that included Tubman replacing President Andrew Jackson as the face of the $20 bill. 
That effort has been delayed under President Donald Trump's administration. 
"I think there is bias because (Treasury Secretary Steven Mnuchin) doesn't want Aunt Harriet on the $20 bill and besides that, Trump is his boss and Trump has probably put it through his thick head not to have a woman on the currency and not a black woman anyhow," Copes Johnson said. 
As she awaits the $20 bill redesign, Copes Johnson is pleased that Tubman has received more attention over the last several years. Between the national parks in Auburn and Maryland, the $20 bill campaign and an upcoming film about the abolitionist, there is a greater awareness of her contributions. 
Copes Johnson hopes that continues. 
"I want people to know all about Aunt Harriet," she said. "I want all African Americans to be treated fairly. After all, we are all human beings just like you. We wish to be treated the same." 
Pauline Copes Johnson 1.JPG
Pauline Copes Johnson 2.JPG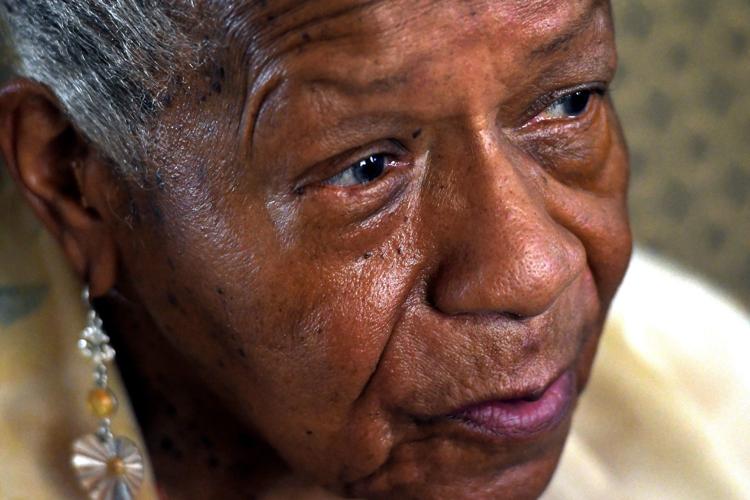 Pauline Copes Johnson 3.JPG
Pauline Copes Johnson 4.JPG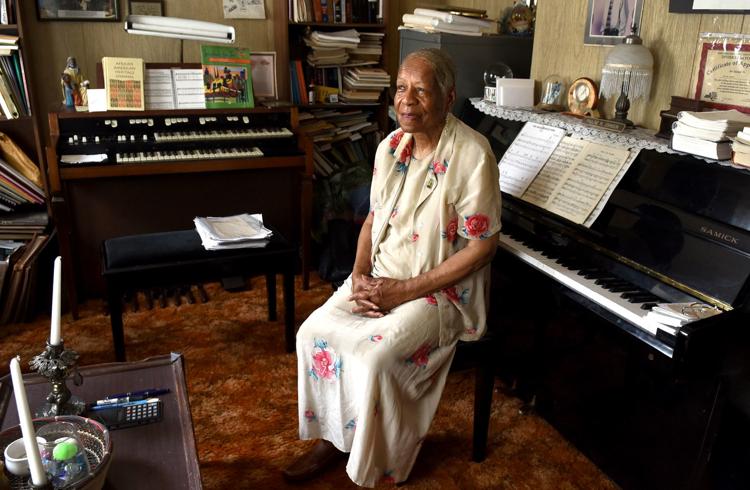 Pauline Copes Johnson 5.JPG
Pauline Copes Johnson 6.JPG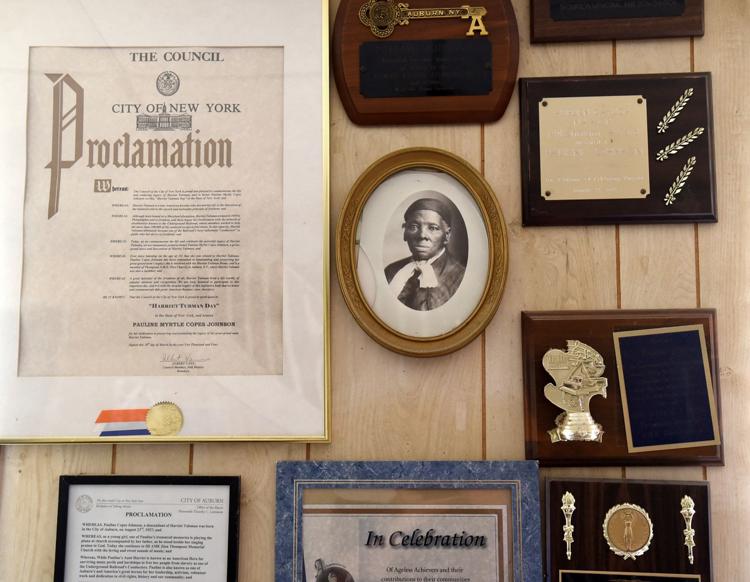 Pauline Copes Johnson 7.JPG
Pauline Copes Johnson 8.JPG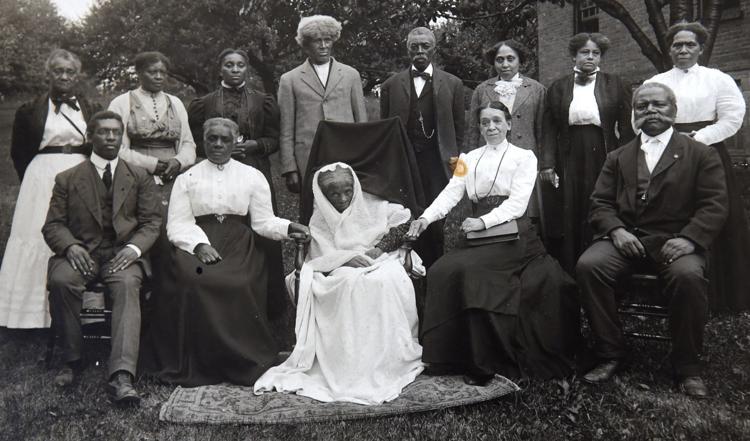 Pauline Copes Johnson 9.JPG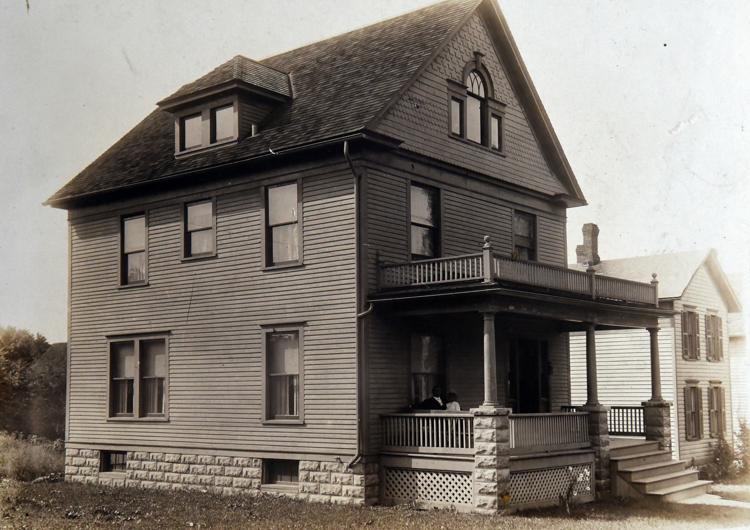 Pauline Copes Johnson 10.JPG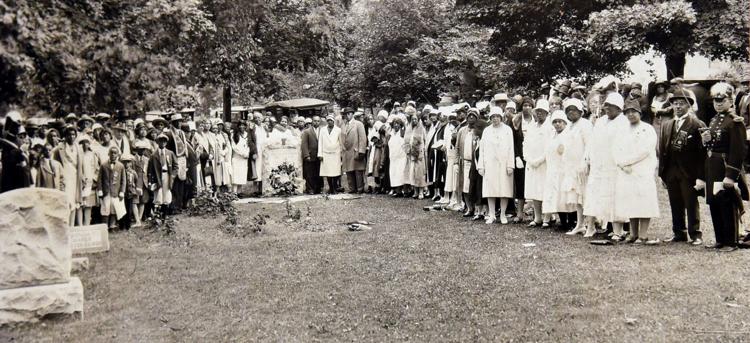 Pauline Copes Johnson 11.JPG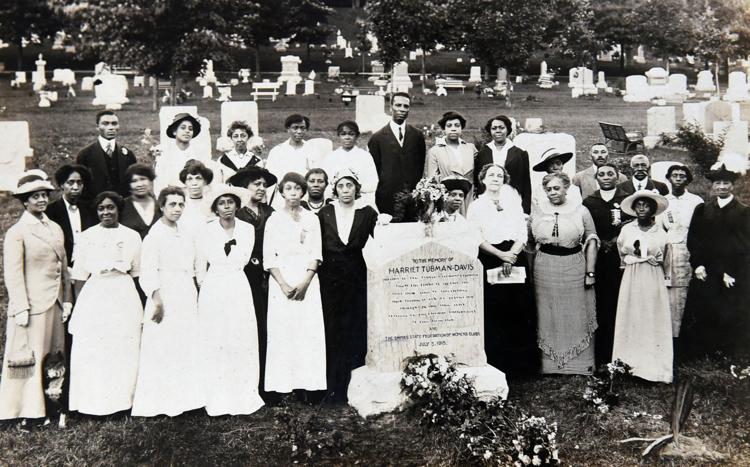 Pauline Copes Johnson 12.JPG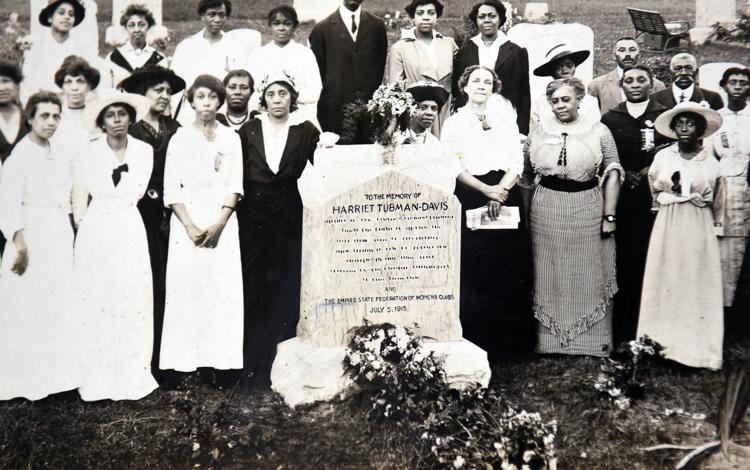 Pauline Copes Johnson 13.JPG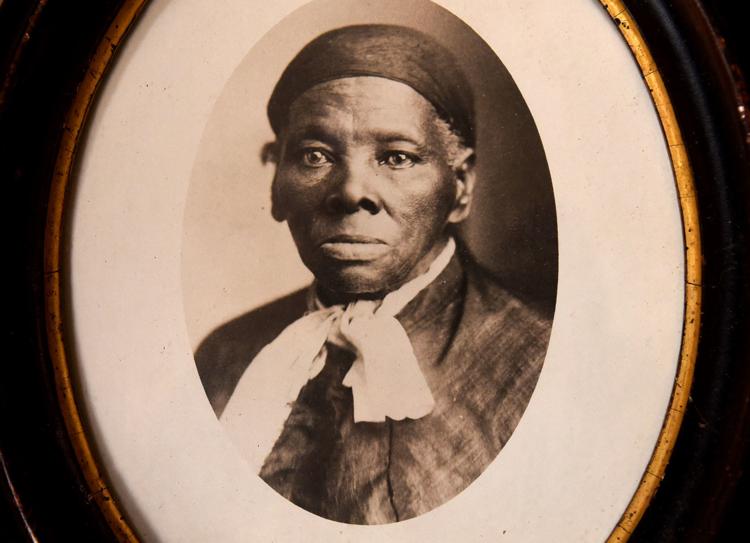 Auburn football's defense suffocates Penfield for second win of season
AUBURN — It was evident from the opening series that Auburn's defensive front was too tough for Penfield to handle. 
The Maroons forced the Patriots of Section V into four turnovers, while also scoring a couple sacks, in a 41-7 win Friday at Holland Stadium.
Auburn improves to 2-0, marking the third time in four years the Maroons have won their first two games.
The defense, which held Henninger to 14 points in the opener last week, was even better in Week 2 for the Maroons. On the first series of the game, Auburn's Connor Mahunik recorded two tackles for loss, then Devante Strachan sacked Penfield quarterback Thomas Wharton on third down to force the Patriots into a punt. 
Most of the following Penfield possessions ended similarly. 
"I'd say by the second series we knew the defense would own the line of scrimmage," Auburn coach Dave Moskov said. "By then we'd seen most of the stuff we knew they were running. They had a couple wrinkles. ...They tried the screen and tried a couple other things to loosen things up, but by that second series we thought we really had control of the line of scrimmage."
Linebacker Keyshin Cooper was unblockable, racking up six tackles (three for a loss), a sack and a forced fumble. Owen Spearing had a team-high seven tackles with one forced fumble. Dan Buchanan and Nathan Garrigan both recovered fumbles, and Dante Herndon and Shaheed Beal each came up with interceptions. 
"Keyshin is fantastic, and Owen Spearing and those linebackers do a great job timing it up," Moskov said. "They love it. They have so much fun. It's an aggressive defense and they love attacking the line of scrimmage. Two games in a row they've really changed the tone of the game with the way they controlled the front."
A stout defense was necessary after a shaky start for the offense, marred by penalties and a very costly turnover in the first half. Auburn nearly had the game's first touchdown when Troy Churney advanced to the goal line on a second-and-5 late in the first quarter, but as Churney rolled into the end zone, he fumbled and Penfield recovered. That was coupled with a handful of penalties that put the offense behind the sticks. 
Churney made amends in the second quarter. Following a muffed punt from the Patriots, an Auburn drive that started at Penfield's 30 ended when Churney swung a 9-yard pass to Beal who beat a defender to the right pylon. 
After Herndon picked off Wharton at midfield, Churney led Auburn on another scoring drive that ended in his 1-yard touchdown on a quarterback sneak, putting the Maroons in front 14-0 midway through the second quarter. 
"Last week we had some composure issues too," Moskov said. "To the kids' credit, they settled down. That's something we've really gotta resolve. That's two games in a row that we've seen it, lack of composure in the first quarter and giving up points we should've had."
Wind gusts made punting for both teams an adventure. Auburn, which had a very short punt in the first quarter, almost always went for it on fourth down — even if it was an unfavorable distance. After a series of incompletions to start the second half, Churney connected with Robert Morris on a screen on fourth-and-6, and Morris scampered deep into Penfield territory. Auburn converted another fourth down, this time on fourth-and-11 from the Patriots' 13, when Churney found Beal on a slant for his second touchdown. 
A 56-yard gain on reverse by Beal set up a 1-yard touchdown run from Davari Agee on Auburn's next possession to give the Maroons a 28-0 lead. Agee scored again in the fourth quarter on a 26-yard rumble, while Herndon chipped in with a 27-yard touchdown.  
Nine different players had at least one rushing attempt, and the committee backfield should continue as the season wears on.
"A lot of those guys play defense, so we like to rotate them in whenever we can," Moskov said. "We try to keep some healthy legs back there. Davari did a great job for us in the first game chewing up the clock. He had a little tough time early but came in late and took control again with that power. We love bringing in Davari with that Power-I. He's a tough tackle."
Auburn (2-0) hits the road next Friday at Fulton, and then league play begins with back-to-back home games against Indian River and Whitesboro. The Maroons hope they can clean up some of their mistakes as they hit the bulk of their league schedule. 
"We're making too many mistakes right now," Moskov said. "We've gotta solve those problems because we can't spot a team field position and we can't give up points on the board. I think we're coming out of the locker room a little amped up. We've gotta settle down and play ball right from jump street."
AHS Penfield Football 1.JPG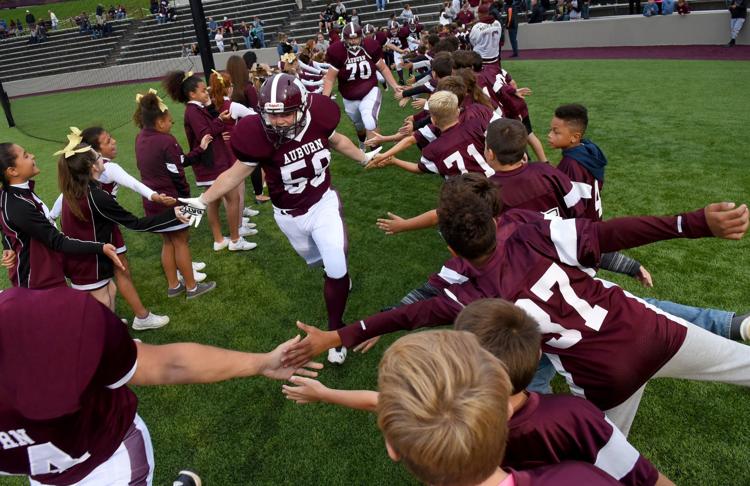 AHS Penfield Football 2.JPG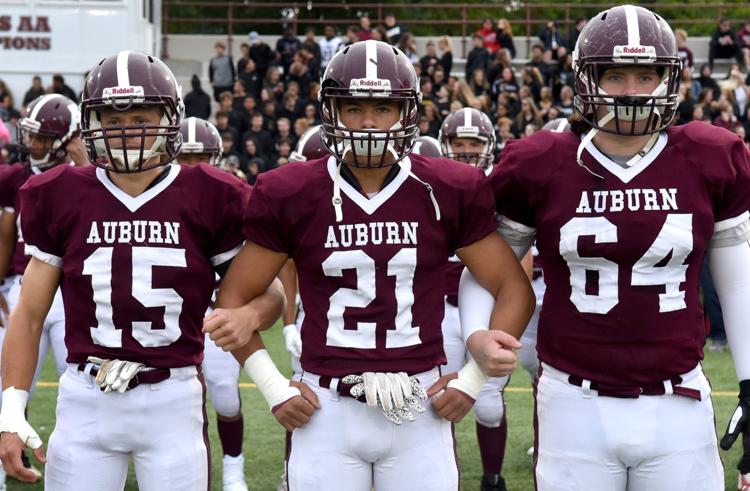 AHS Penfield Football 3.JPG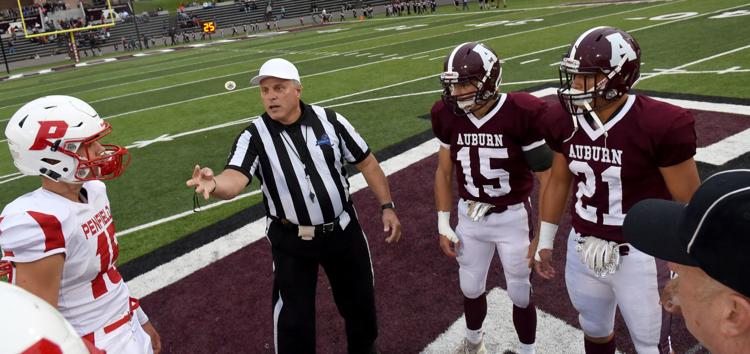 AHS Penfield Football 4.JPG
AHS Penfield Football 5.JPG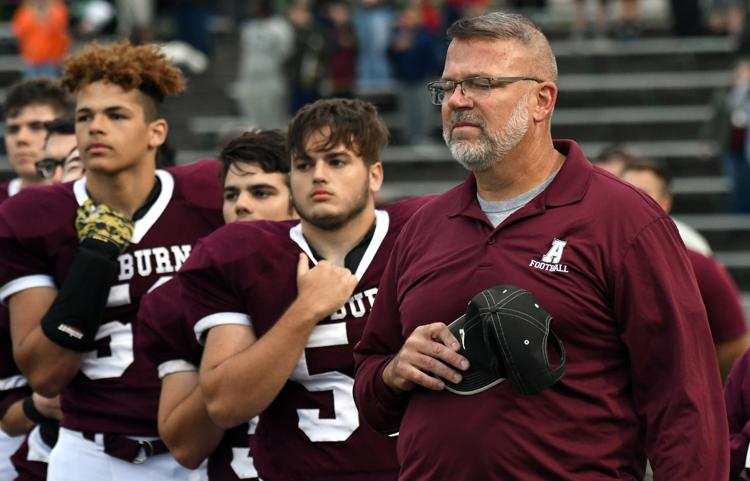 AHS Penfield Football 6.JPG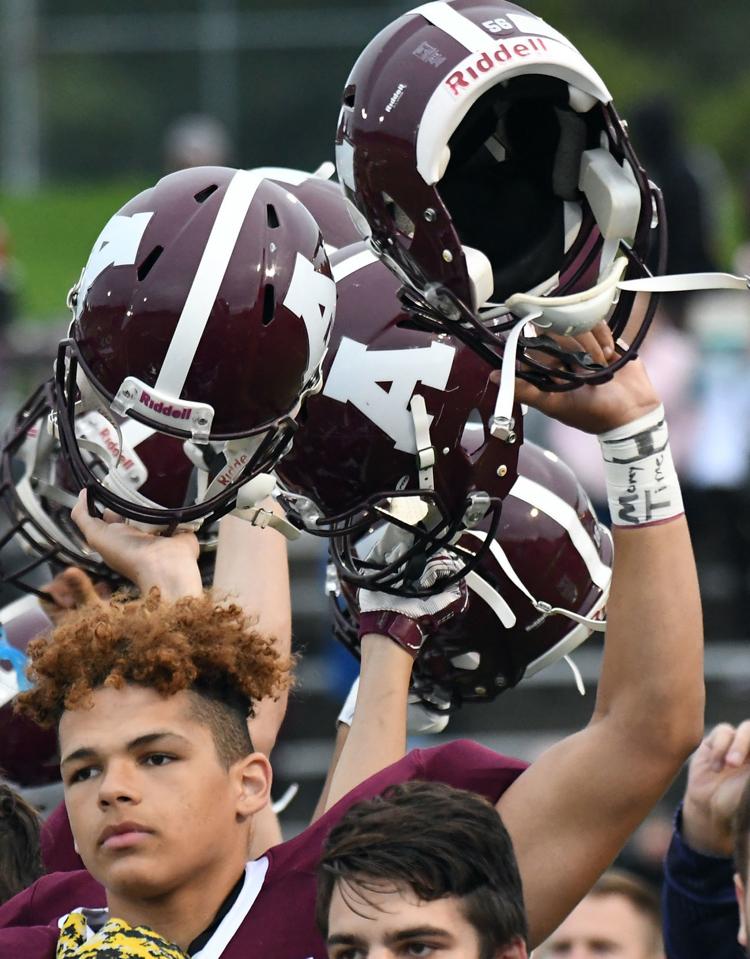 AHS Penfield Football 7.JPG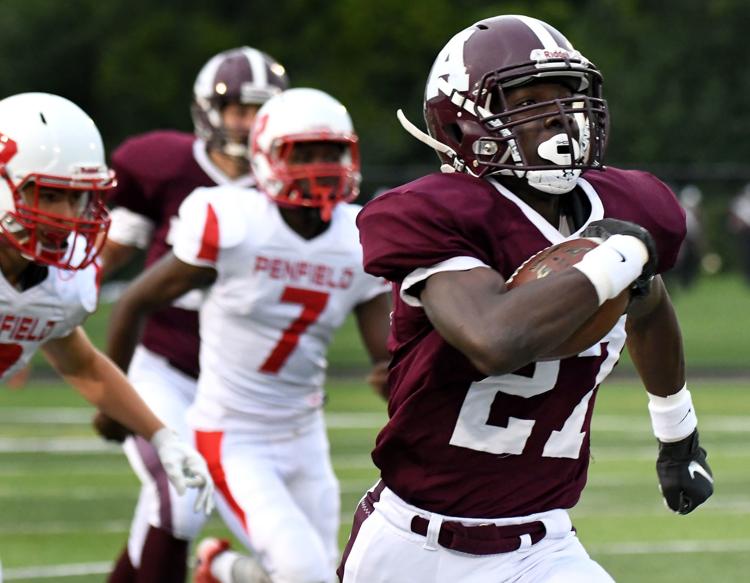 AHS Penfield Football 8.JPG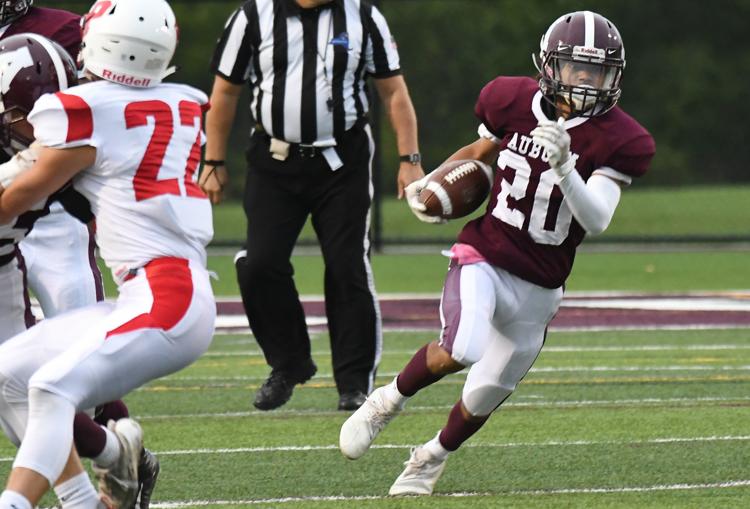 AHS Penfield Football 9.JPG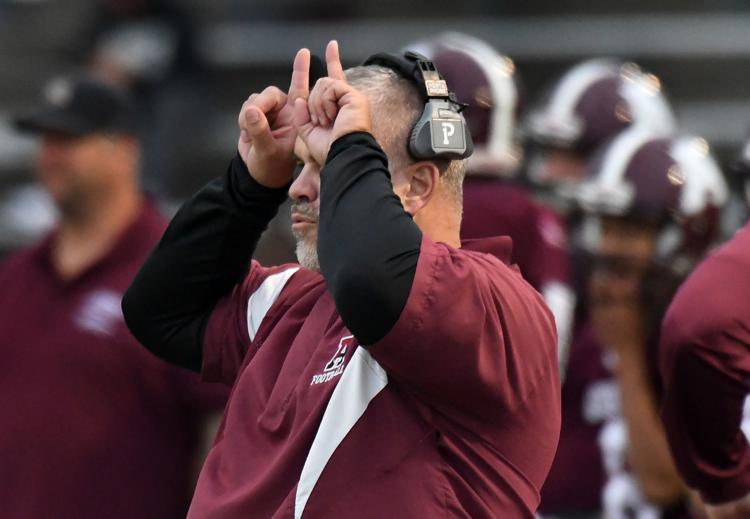 AHS Penfield Football 10.JPG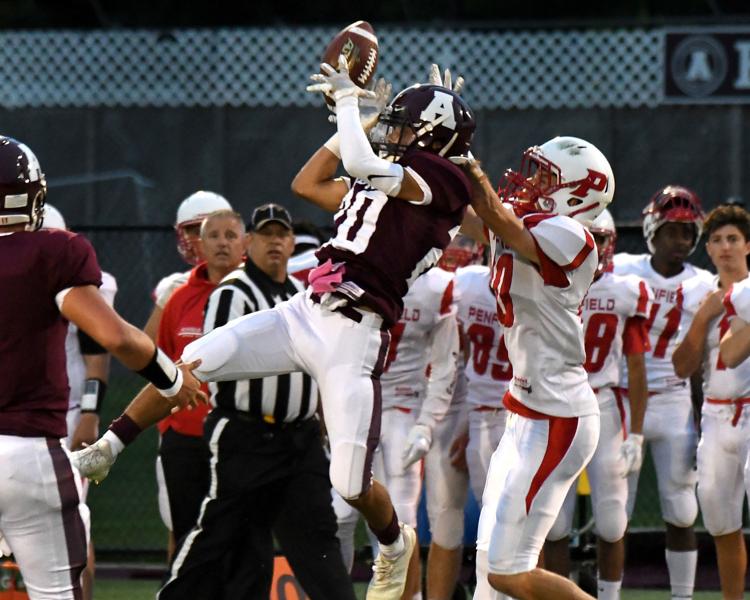 AHS Penfield Football 11.JPG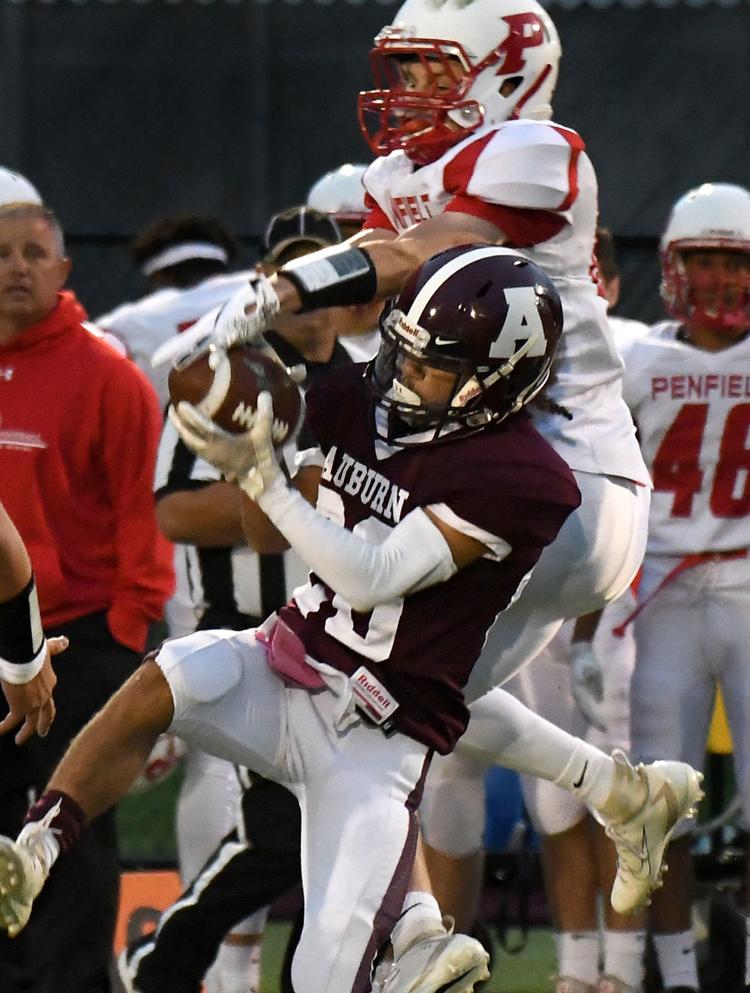 AHS Penfield Football 12.JPG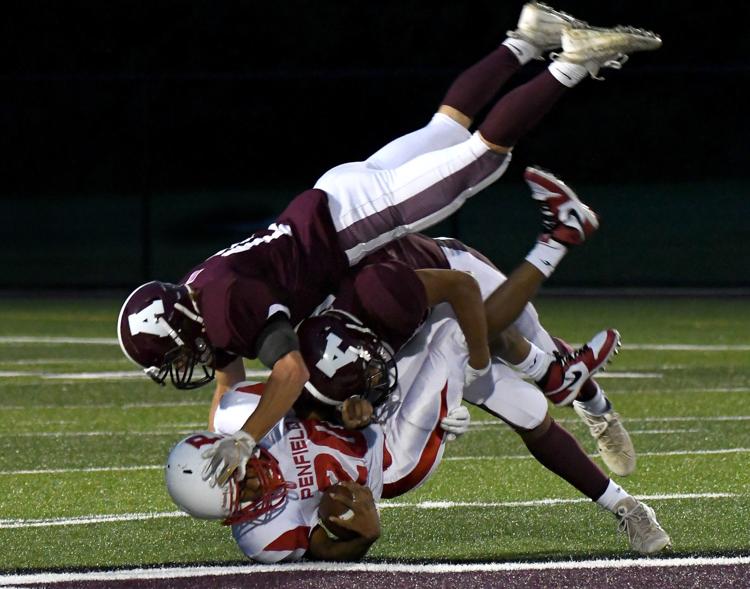 AHS Penfield Football 13.JPG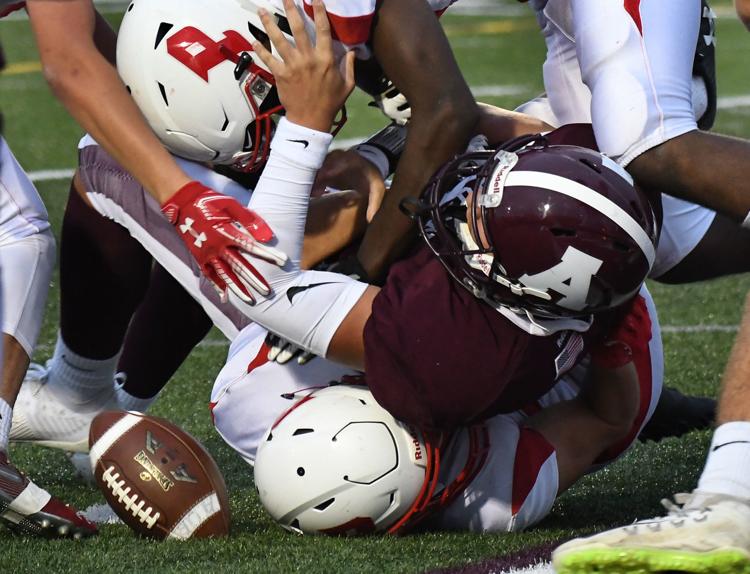 AHS Penfield Football 14.JPG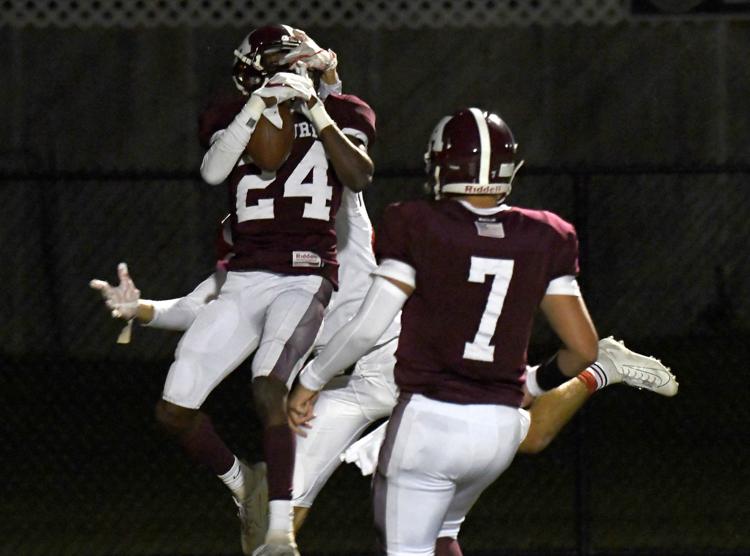 AHS Penfield Football 15.JPG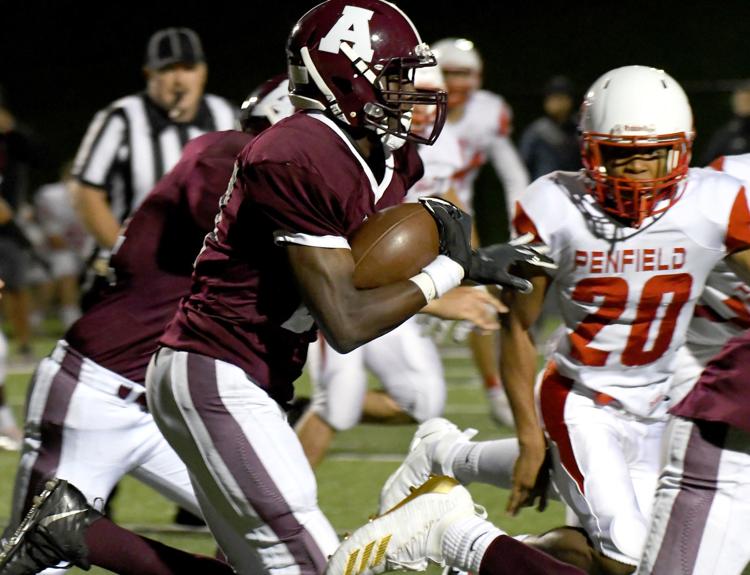 AHS Penfield Football 16.JPG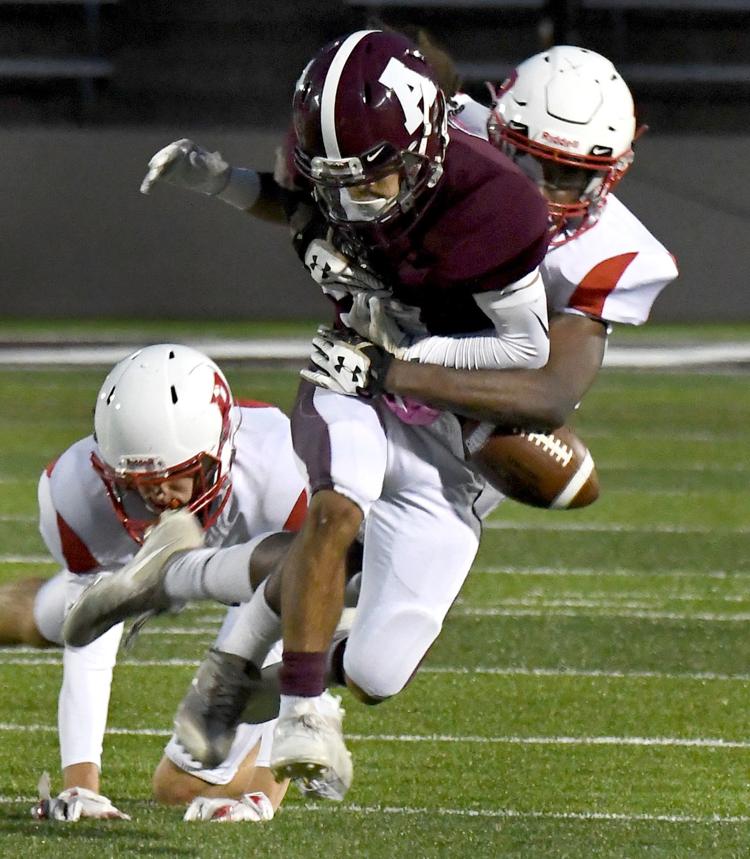 AHS Penfield Football 17.JPG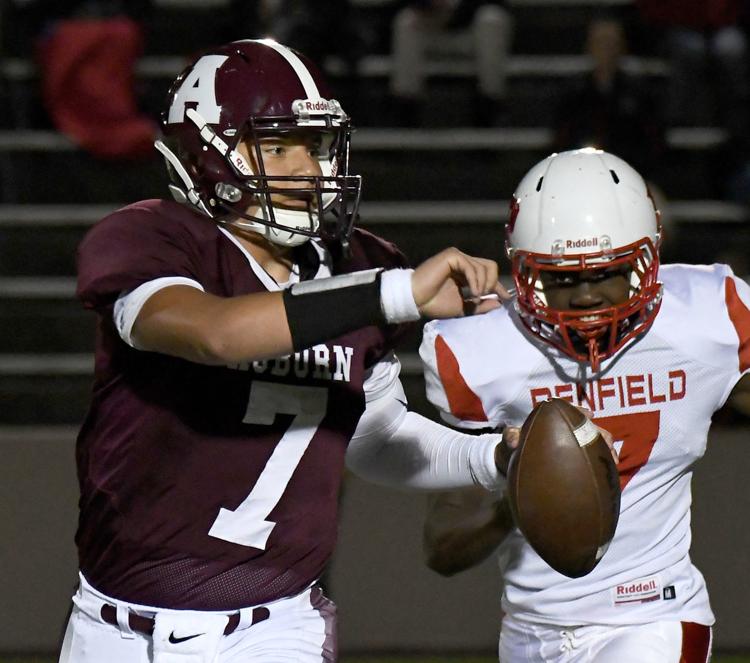 AHS Penfield Football 18.JPG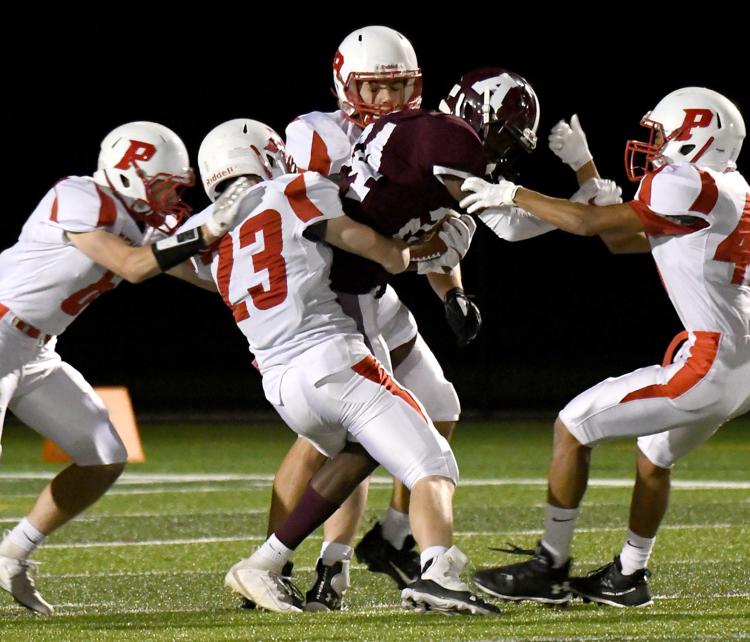 AHS Penfield Football 19.JPG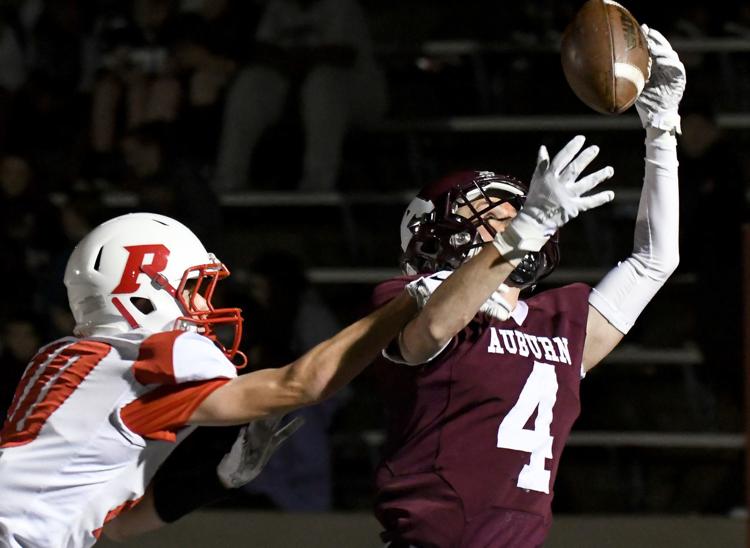 AHS Penfield Football 20.JPG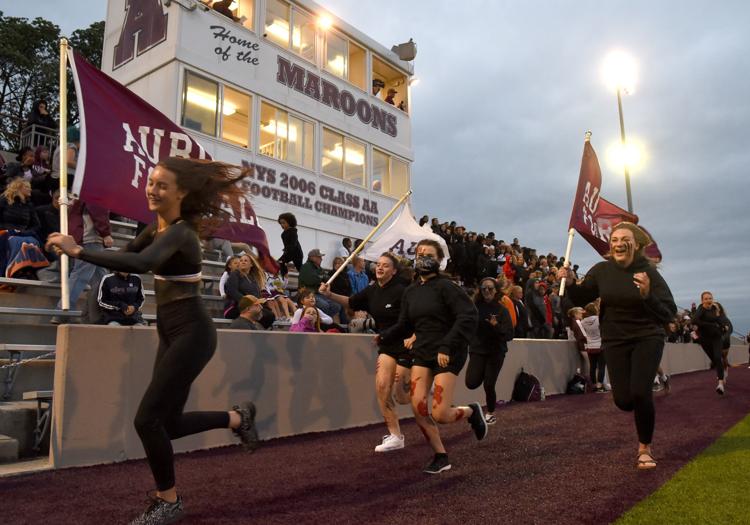 AHS Penfield Football 21.JPG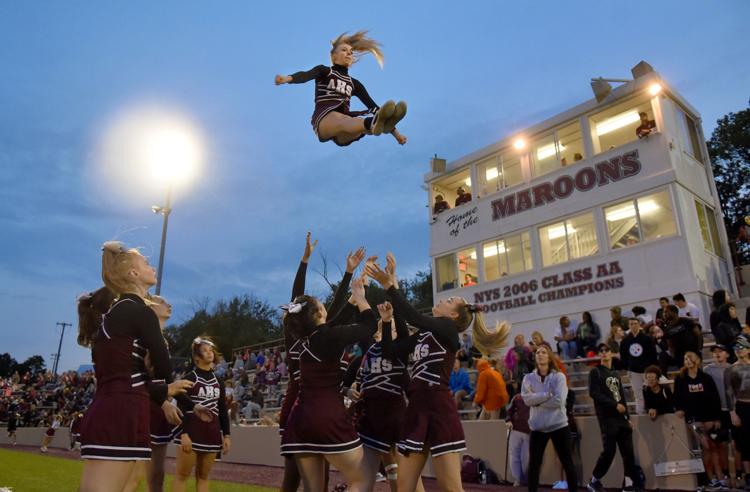 AHS Penfield Football 22.JPG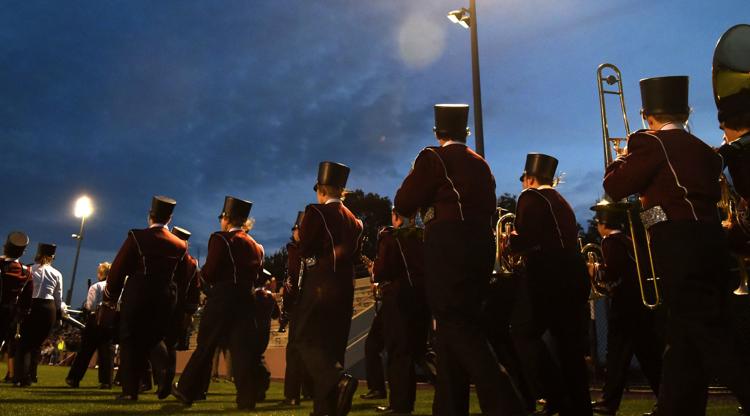 AHS Penfield Football 23.JPG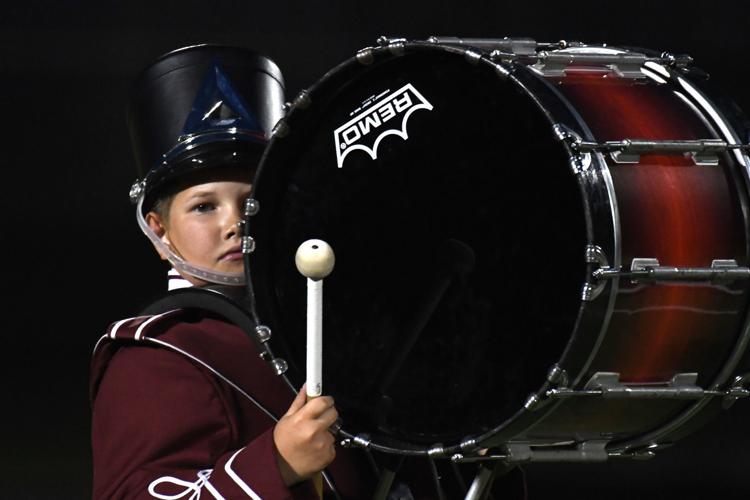 AHS Penfield Football 24.JPG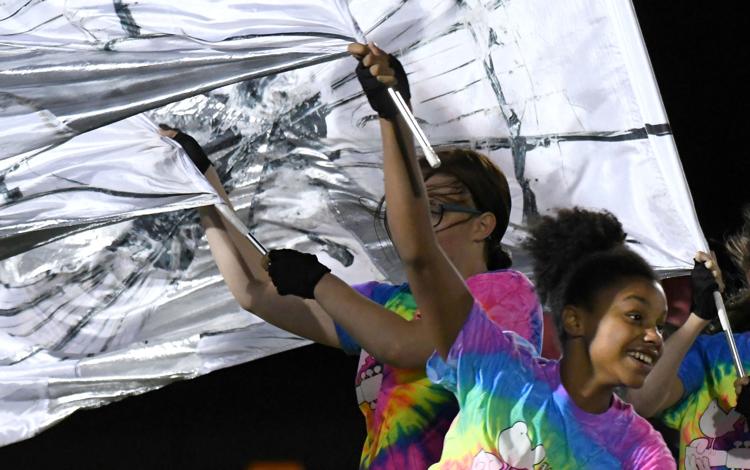 AHS Penfield Football 25.JPG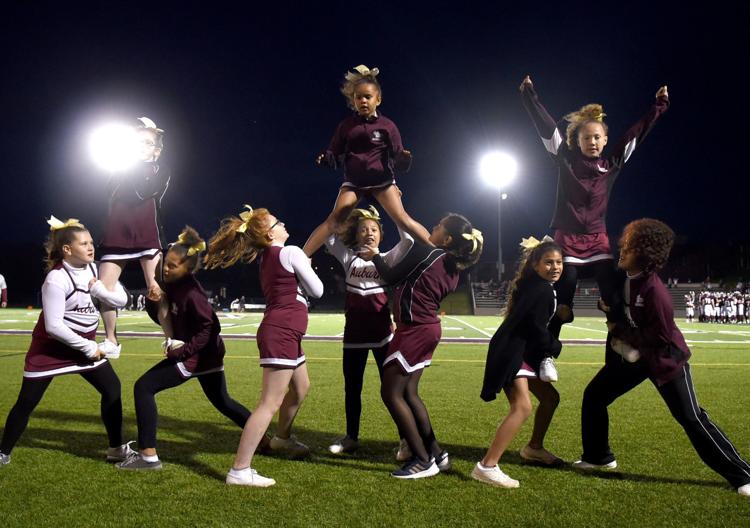 AHS Penfield Football 26.JPG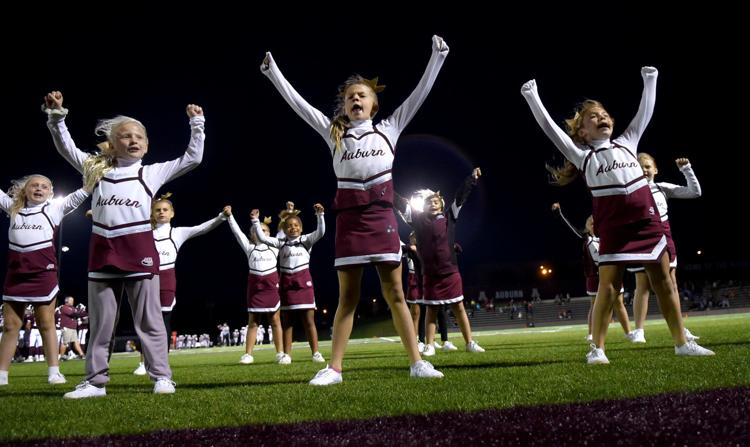 AHS Penfield Football 27.JPG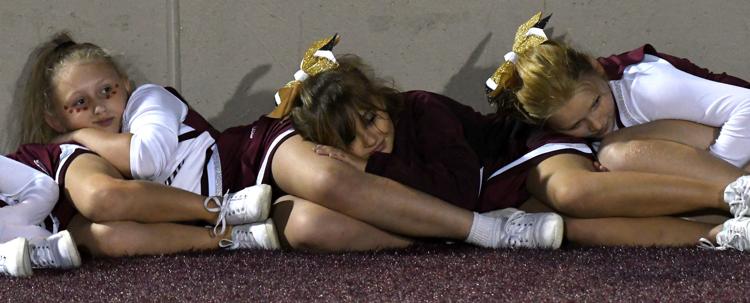 AHS Penfield Football 28.JPG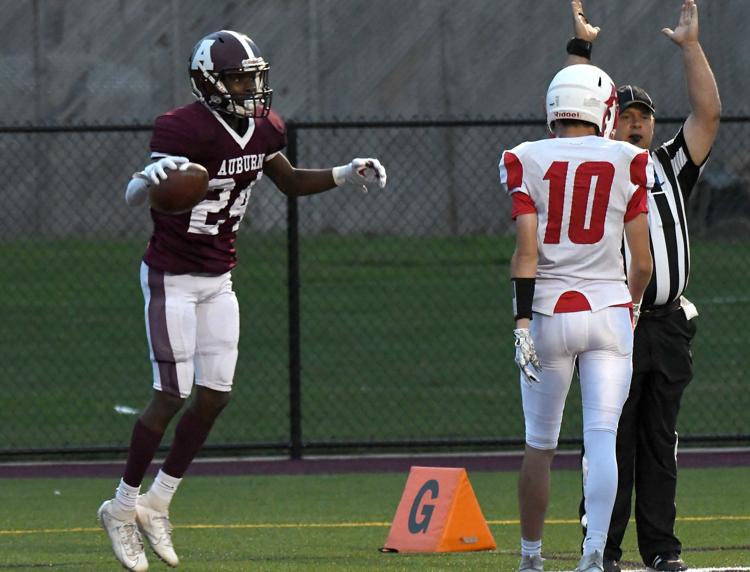 AHS Penfield Football 29.JPG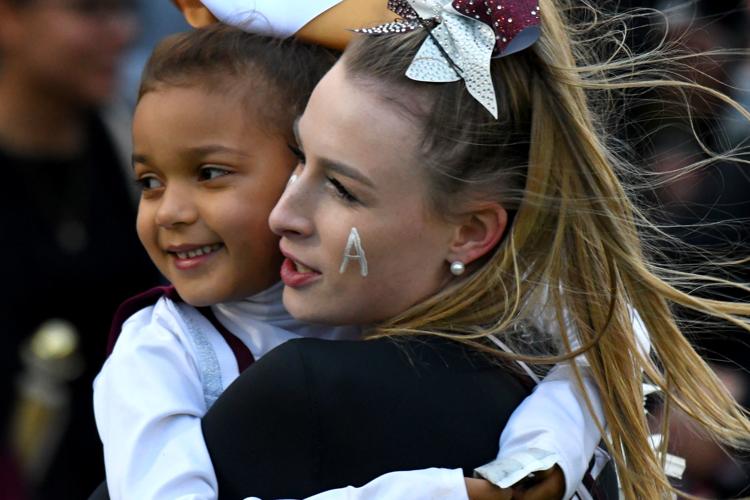 Two Auburn residents accused of conspiring to sell cocaine, LSD
AUBURN — Two Auburn residents were arrested Tuesday morning after being indicted on multiple felony charges that they conspired to sell cocaine and LSD on different occasions in 2018. 
A Cayuga County grand jury indictment alleges that Paige Sierra Sharp, 19, of 61 N. Lewis St. in Auburn, communicated with a confidential informant on or about April 30, 2018, over text message or phone calls to arrange to sell cocaine. Her role was "to set up meetings with customers through electronic means," the indictment states.
It was the role of Christopher Robin McLoughlin, 24, of the same North Lewis Street address, to "travel to a location to sell cocaine and receive payment therefore," the document also reads. McLoughlin is accused of meeting with a confidential informant on the same date on Genesee Street in Auburn to sell cocaine.
Both McLoughlin and Sharp are accused of possessing and selling LSD on Genesee Street in Auburn on June 28 and July 24, 2018. 
After they were arrested Tuesday, Sept. 10, by the Auburn Police Department, the two appeared in Cayuga County Court later that day to be arraigned. Defense attorney Norman Chirco said in court that McLoughlin turned himself in on a warrant. 
Judge Mark Fandrich set McLoughlin's bail at $2,500 cash or $5,000 bond and Sharp's at $1,000 cash or $2,000 bond. 
They were each charged with five felonies: the class B felonies of third-degree criminal sale of a controlled substance and third-degree criminal possession of a controlled substance; the class D felonies of fifth-degree criminal sale of a controlled substance and fifth-degree criminal possession of a controlled substance; and fourth-degree criminal conspiracy, a class E felony.
Both are scheduled for another court appearance on Nov. 19.
Auburn men charged in Finger Lakes Drug Task Force arrests
Two Auburn men are facing criminal charges in separate recent drug-selling cases, the Finger Lakes Drug Task Force said.
Auburn Police Department Sgt. Tim Spingler said that Christopher M. Piedmont, 47, of 16 N. Fulton St., Apt. 9, sold cocaine to a confidential informant with the task force in two instances. Piedmont was picked up on an indictment warrant Thursday and charged with third-degree criminal sale of a controlled substance.
Spingler also said that William J. Purcell Jr., 55, of 3 Seminary St., Apt. 2, had been recently charged.
Purcell sold prescription drugs to a confidential informant, Spingler said. Purcell was picked up on an indictment warrant Wednesday and charged with third-degree criminal sale of a controlled substance.
State police: Four from Moravia stole copper from home
Four people from Moravia are facing criminal charges after allegedly stealing items from a Seneca County residence they broke into, state police said.
New York State Police Investigator Leland Tyler said Tasha M. Sweeney, 26, Darrin M. Hayes, 28, Helen R. Calkins, 27, and Timothy M. Gower, 29, broke into a home on Route 318 in the Seneca County town of Tyre at least twice over a couple days this week. The four took copper, equipment and other items from the residence, Tyler said. He said most of the stolen items have since been recovered.
The suspects' vehicle was seen and identified Thursday, Tyler said, and the suspects were all charged in Moravia that day. All four were charged with third-degree burglary, a class D felony.
The four were arraigned at the Seneca County Centralized Arraignment Court Friday and remanded to the Seneca County Jail. Bail was set at $5,000 cash or $10,000 bond for Sweeney; $2,500 cash or $5,000 bond for Hayes; $250 cash or $500 bond for Calkins; and no bail for Gower. 
Art in the Park: Visitors explore art at outdoor event in Auburn
AUBURN — While Leslie Tinti lives close to Hoopes Park in Auburn, she had never been to the Art in the Park event held there until Saturday morning.
Tinti, who was at the vendor-packed event with family, said she was enjoying herself. She said she wanted to check out the event, adding that she didn't she realize there would be so many vendors. She noted they hadn't been at the event long, but enjoyed some cookies they had. Tenti talked about what she thought the appeal of the event was.
"I think probably the vendors, just supporting local people with their businesses, and it's a nice day, and it's a nice way to come see what people living in our community have to offer," she said.
Tents with all manner of arts, crafts and other items, from stone to soaps and lotions, were lined up at different parts of the park. Food trucks and other activities were also around while music could be heard. 
Dave Witter had a tent at the park, with crowds of people coming by to see Witter's wooden shelves, cars, clocks and more. Witter said he has has been at the art event a few times in the past, and business had been good that morning.
Two event attendees, Astella Murphy and Ellen Harper, complimented Witter on his work, and Harper bought a small shelf. Harper said her father had done woodworking and she was drawn to such items. She added that she was surprised by the number of vendors at the event, and Murphy said she enjoyed her time there as well. 
"There's a lot of creative people here," Murphy said.
Kasha Fletcher and Kim Bunce, art teachers at Auburn Junior High School and Auburn High School, respectively, shared a tent for Fletcher's knitting and crocheting business and Bunce's pottery business. Nearby were some of Bunce's students, doing face painting for children. 
Tiffany Kline could be seen doing painting activities with children at a tent for the Finger Lakes Classical Academy, which hopes to open a physical location by fall 2020. Moments such as children playing by a foundation could also be seen at the park as well.
Deb Tomushunas was busy creating art work for the fourth annual Jake Harding Memorial Plein Air Paint Out, a juried event in which competitors painted in the outdoors. She would occasional look over intently at the spot in front of her, as her piece was of a spot with steps she was close to.
She admitted that she was nervous, as she had less than two hours at that point to finish her piece, and it normally takes her months to finish a painting rather than hours. Being out in the park was a "a treat for me," Tomushunas said. She praised the setting.
"I think the art and the vendors, it's a nice combination of events," Tomushunas said.
Auburn man sent to prison in emotional domestic violence sentencing
AUBURN — Dwight Williams will spend at least two years in prison in connection with a domestic violence case after he was sentenced Thursday in Cayuga County Court.
But, for the victim, who is the mother of Williams' two sons, it was the court order prohibiting him from having contact with her that appeared most upsetting. Because it meant that he couldn't talk to her, or their children. 
Emotions began to swell as Williams tearfully began to read a statement to the court on Thursday, often pausing and choking up entirely at one point. "The person who committed those crimes, I hate that person," he said, going on to say he wanted to a better role model for his children. "They deserve to have a healthy, sober father." 
In response, Judge Thomas Leone returned to the subject of Williams' children. "They don't need to see a father who was abusive to their mother," he said. "I hope you read that letter every day" in prison, Leone said. He added that he hoped Williams was able to change, even with his "terrible" criminal history.
Defense attorney Rome Canzano earlier requested on Williams' behalf that the order of protection be modified to allow some contact with the victim. Leone denied the modification, issuing a full stay away order benefiting the victim and handing down the prison sentence.
In her own impassioned statement, the victim asked Leone for a different outcome primarily for her children's sake. "They cry because they can't remember what their father's voice sounds like," she said. "I pretend he's dead to get through this, but my kids don't."
Leone didn't budge, saying he's seen similar domestic violence situations but that he hopes both she and Williams get counseling. He also denied Williams' ability to waive the remainder of his restitution — about $500, according to the district attorney's statements in court.
Before Williams was escorted out of the courtroom, he turned around in his seat and spoke to the victim in what Cayuga County District Attorney Jon Budelmann noted afterwards was in violation of the order of protection that was just issued. 
• Andrew Wilbur, 19, of 54 Van Anden St. in Auburn, was sentenced to one to three years in prison after he was convicted of possessing a sexual performance by a child, a class E felony. 
• An Auburn man who violated an order of protection against a woman was sentenced to one to three years in prison. 
Budelmann said in court on Thursday that 26-year-old Brendon J. Harvey, stood over the woman's bed, calling her a "whore" and pushed her back down on the bed. Harvey continued to call the woman, who had an order of protection against him, that night until APD got on the phone at one point, police said.
Harvey, formerly of of 228 N. Seward Ave., Auburn, pleaded guilty July 11 to first-degree criminal contempt, a class E felony. 
• A Port Byron man who solicited oral sex from someone he believed was a minor will spend two years in prison followed by five years of post release supervision. 
• An Auburn woman began a 30-day sentence at the Cayuga County Jail on Thursday. Stephanie Weaver, 22, of 64 Grant Ave., Apt. 3, was also sentenced to three years of probation and mandated mental health treatment.
Weaver attempted to discard a knife that was used in a stabbing on June 2 on Grant Avenue in Auburn. Noah Oakes, a 20-year-old who was identified at the time as her boyfriend, had a knife at the time of the incident and was charged shortly after in connection to the non-fatal assault. 
And the winner is ...: NY DMV announces new license plate design
Beginning in April 2020, New York's official license plate will feature images of Niagara Falls and the Statue of Liberty. 
The state Department of Motor Vehicles on Friday announced the winning license plate design. The design, dubbed "Plate 5," beat out four others in an online vote that concluded Monday. 
New York will have a new official license plate in 2020, and the state's residents will sele…
The license plate, which will be manufactured at Auburn Correctional Facility, has a white background with blue and gold lettering and lines. On the bottom left is an image of Niagara Falls. "Excelsior," the state's motto, appears in the middle. Images of the Statue of Liberty and the New York City skyline appear in the bottom right. 
Plate 5 was the overwhelming favorite. More than 325,000 New Yorkers voted in the license plate survey, according to the state DMV. The winning design received 49.7% of the vote. 
The runner-up was Plate 1, which featured a large image of the Statue of Liberty on the left. That design received 16% of the vote. Plate 4 — a design featuring the U.S. motto, "E. Pluribus Unun," and the state motto with the Statue of Liberty's torch in the middle — finished third with 14.9% of the vote. 
Plates 2 and 3 each received 9.7% in the vote. Plate 3 was notable because it featured the Gov. Mario M. Cuomo Bridge. 
While there was some online speculation that the vote was rigged in favor of the Cuomo bridge, the final tally indicates it wasn't close. The plate featuring parts of upstate and downstate was the preferred design of nearly half of those surveyed. 
"The design overwhelming selected by New Yorkers showcases some of our most iconic symbols and truly represents what the Empire State is all about — our diversity, our unparalleled architecture and natural beauty, and our unyielding commitment to freedom and justice for all," DMV Commissioner Mark Schroeder said. 
The license plate redesign has received attention for another reason: The mandatory replacement program that the state plans to proceed with next year. 
Once the new plates are released in April, they will replace the Empire blue and white plates and the state DMV will no longer issue the Empire blue and gold plates. The new plates are necessary, the Cuomo administration says, to ensure they are readable by cashless tolling systems and law enforcement. More than 3 million license plates are over 10 years old, according to the governor's office, and many of them are damaged or peeling. 
There is a contest to determine the state's next official license plate, but county clerks i…
Drivers with license plates that are more than 10 years old must get the new plates. The replacement plates will be provided when drivers renew their vehicle's registration. 
There will be a one-time $25 fee for the new plates, plus an additional $20 fee if customers wish to keep their existing license plate number. 
Cuomo has been criticized for the mandate and the fee. Some Republican lawmakers have introduced legislation to block the fee. County clerks called the license plate replacement program an "unnecessary money grab." 
In a statement Friday, Schroeder said he's willing to work with legislators to "establish a cost-effective system to distribute the new plates."