The Citizen's top 10 most-read stories of the week. 
Auburn's Equal Rights Heritage Center opens to the public
AUBURN — The wait is finally over.
Auburn's Equal Rights Heritage Center welcomed a flood of people on Tuesday as it opened to visitors for the first time. 
For Julia Langworth, the center has already made a lasting impression. 
"I'm visiting my sister this week, and she told me that [the center] was opening today," said Langworth. "I didn't know the history was so rich in the area ... I can't wait to check this place out." 
Mayor Micheal Quill thanked Gov. Andrew Cuomo for supporting the region's tourism development and said that the welcome center will attract newcomers to the area. 
"By strategically placing this center on the same street that William H. Seward and Harriet Tubman called home, the governor has raised our regional profile as a must-see destination that will welcome travelers for years and years to come," said Quill. 
Lt. Gov. Kathy Hochul spoke at the event and said that Auburn, "an incredible, historical jewel," should be proud. 
"No other state can claim to be the home of so many movements," said Hochul. "But we still have work to do."
Hochul asked gatherers to "continue to fight for the rights that are still not fully achieved in our country today." She said this past Friday she was in Buffalo, where a plan was unveiled to construct an African American Veterans Memorial.
According to City Councilor James Giannettino, tourism was a $101 million industry in Cayuga County last year, generating close to $13 million in tax revenue.  
Giannettino said 6,000 people visited the Harriet Tubman National Historical Park in July and August. He also said the heritage center gives the city a "unique opportunity to welcome those people, direct them to all our sites and encourage them to dine and stay in Auburn." 
The goal of opening a welcome center, said Giannettino, was originally part of the Auburn Historical and Cultural Sites Commission's mission statement, and can be found in the city code.
"Today through the efforts of many people, this goal was realized with a world-class facility," he said. "We invite everyone to come check it out for themselves."
Pauline Copes Johnson, Harriet Tubman's great-great-grandniece, was also present and helped unveil a statue of Tubman donated by George and Mary Cuthbert and their children. 
Welcome Center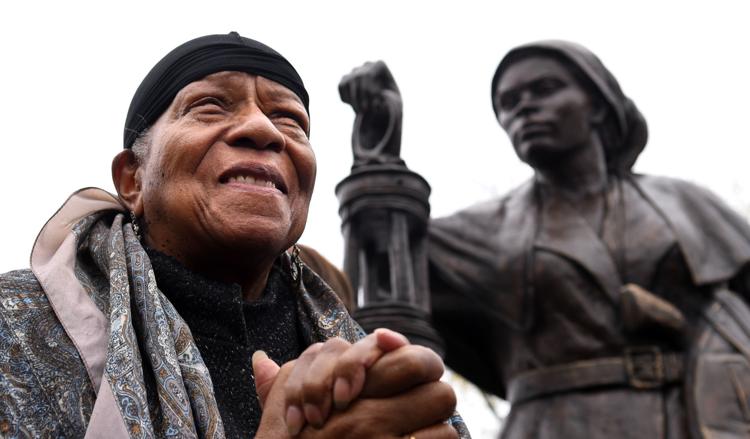 Welcome Center 2.JPG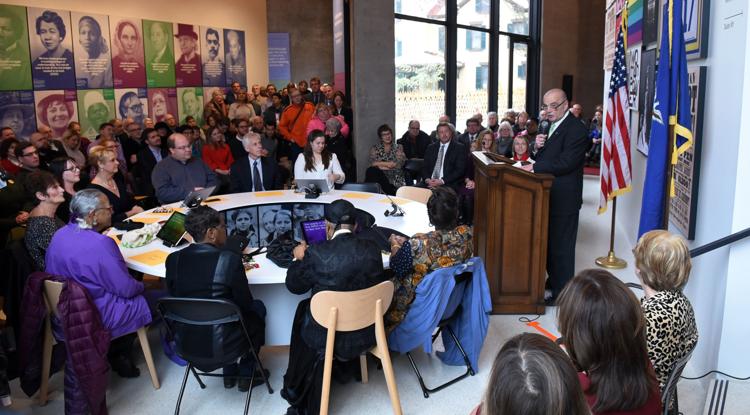 Welcome Center 5.JPG

Welcome Center 3.JPG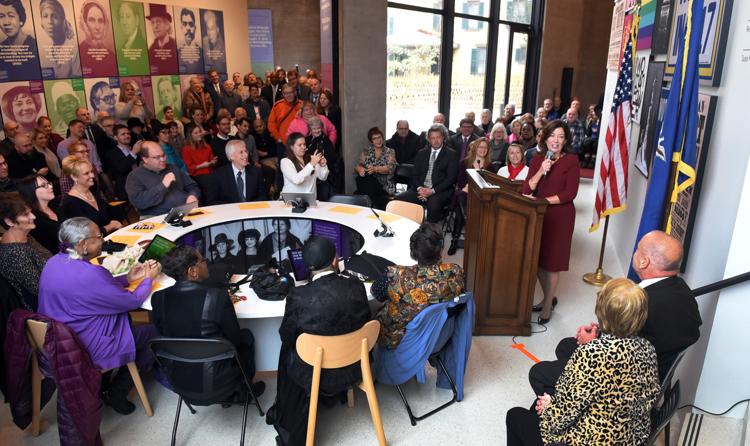 Welcome Center 4.JPG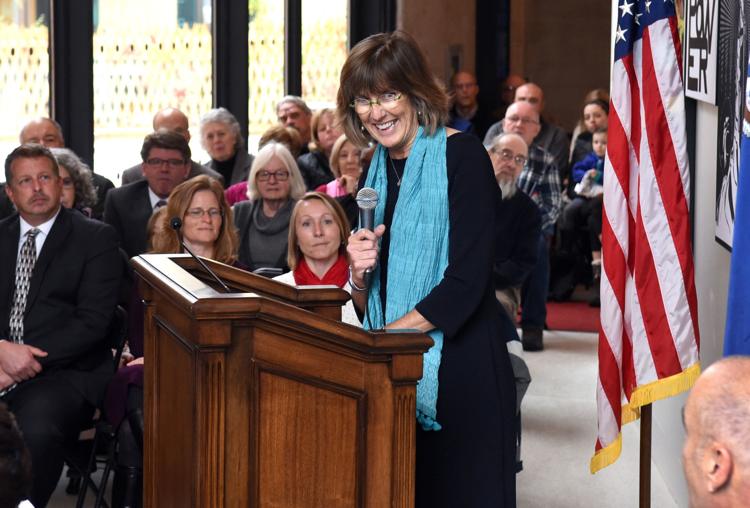 Welcome Center 6.JPG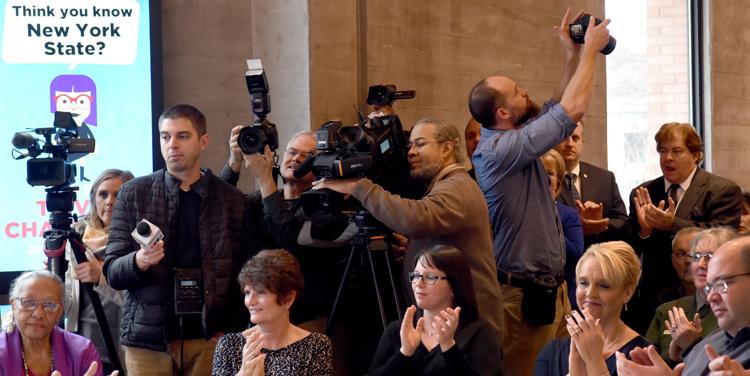 Welcome Center 7.JPG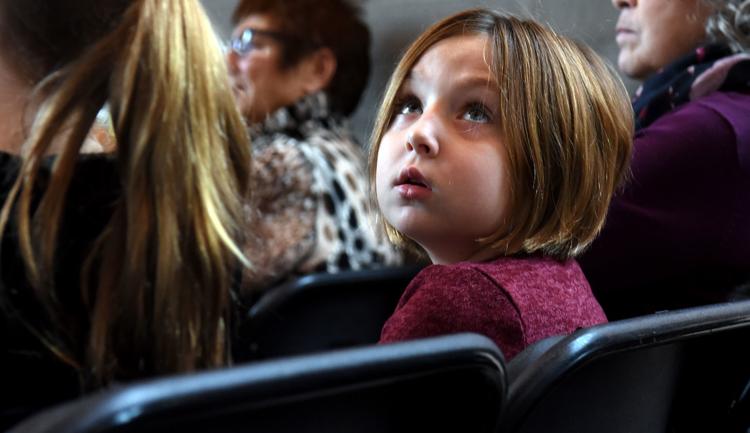 Welcome Center 8.JPG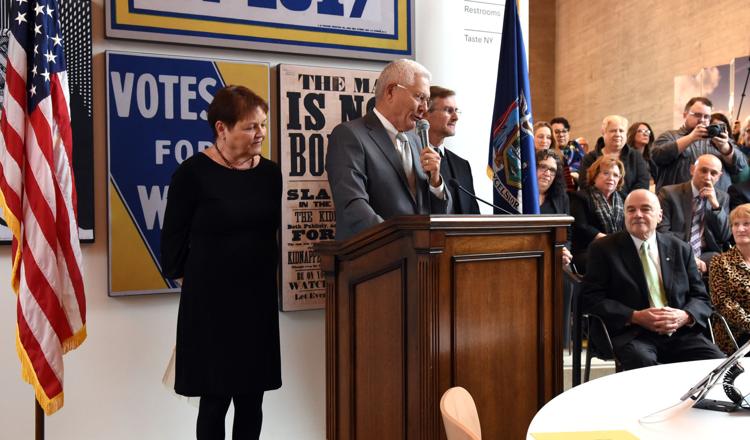 Welcome Center 9.JPG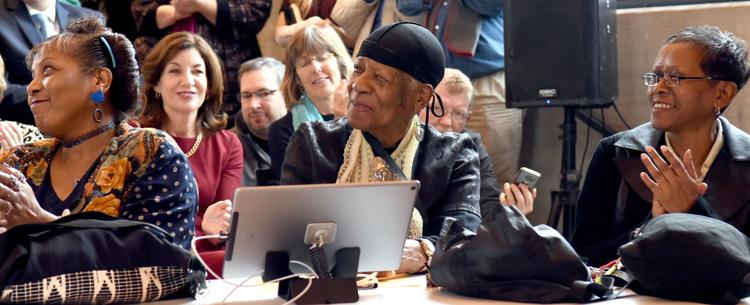 Welcome Center 10.JPG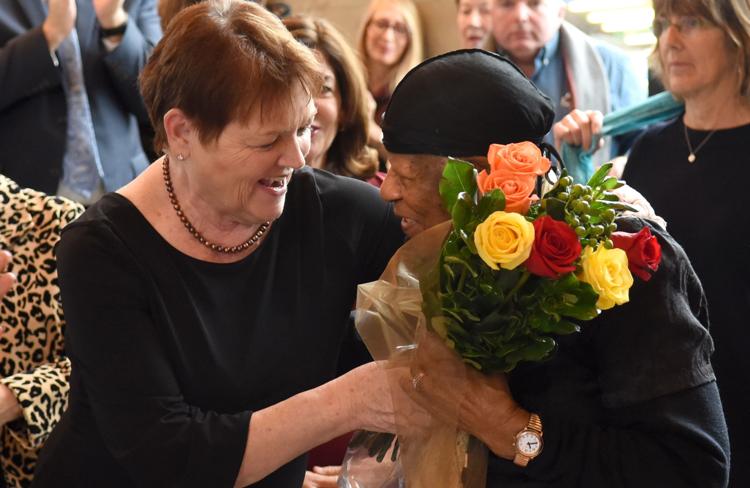 Welcome Center 11.JPG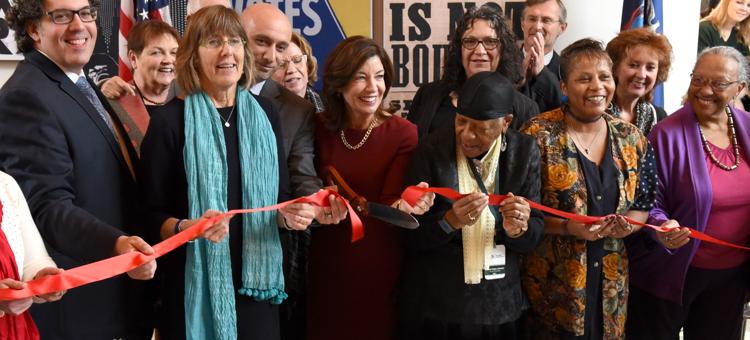 Welcome Center 12.JPG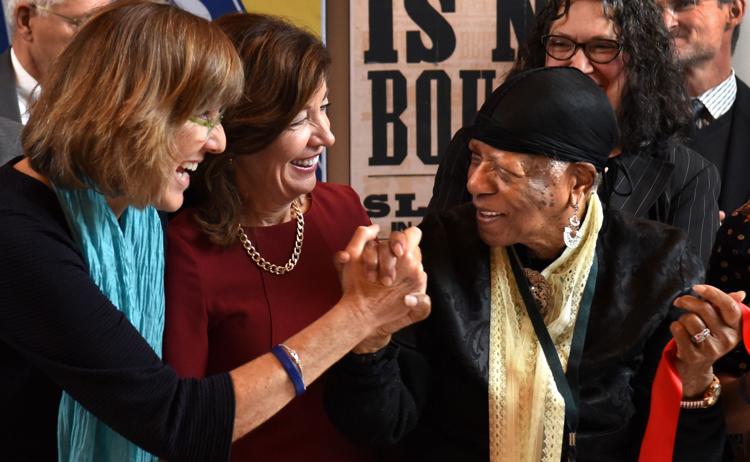 Welcome Center 13.JPG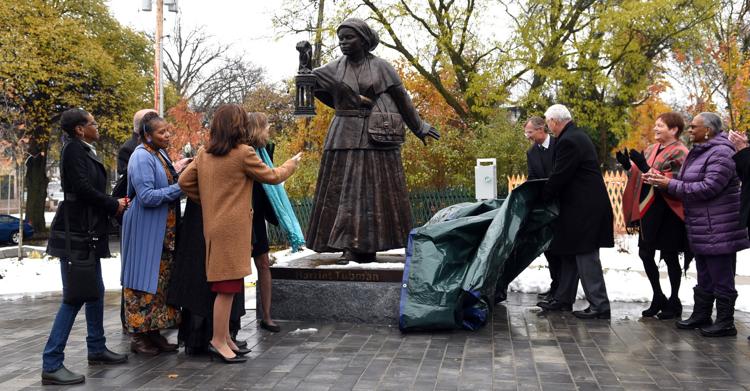 Welcome Center 14.JPG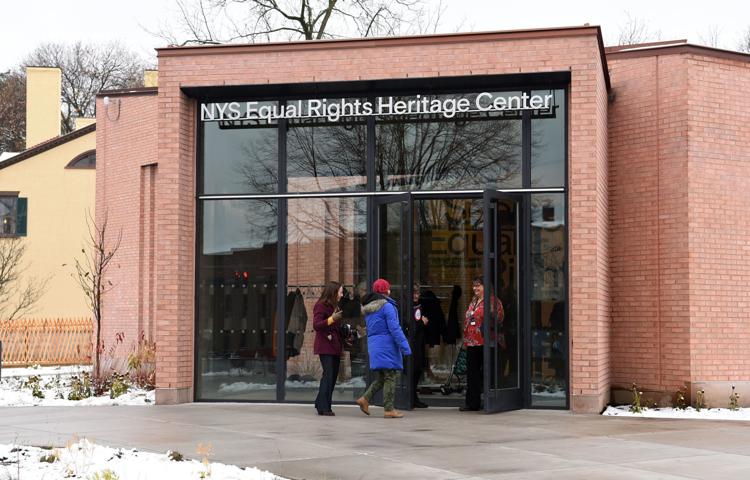 Welcome Center 15.JPG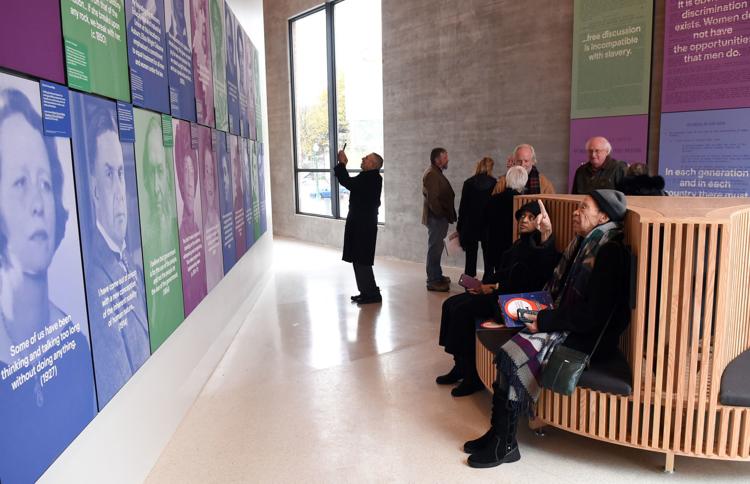 Welcome Center 16.JPG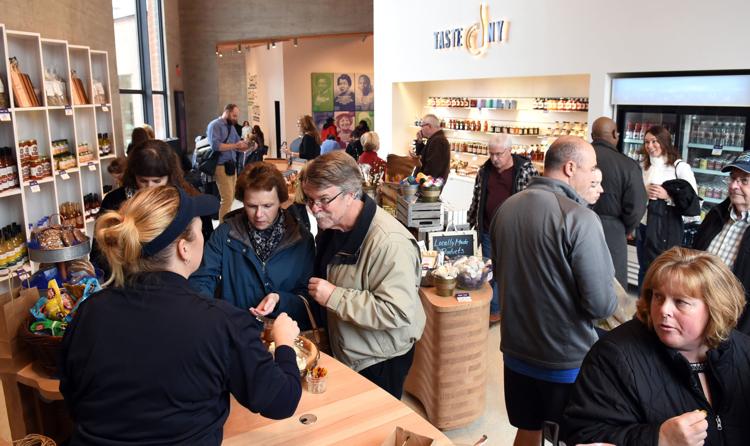 Welcome Center 17.JPG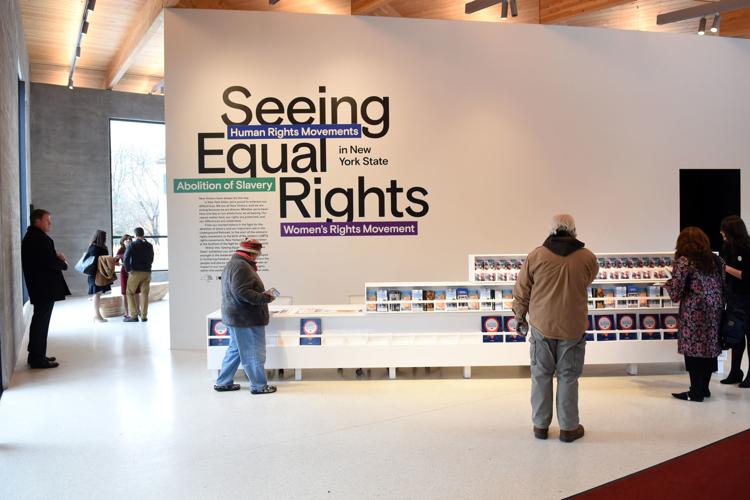 Welcome Center 18.JPG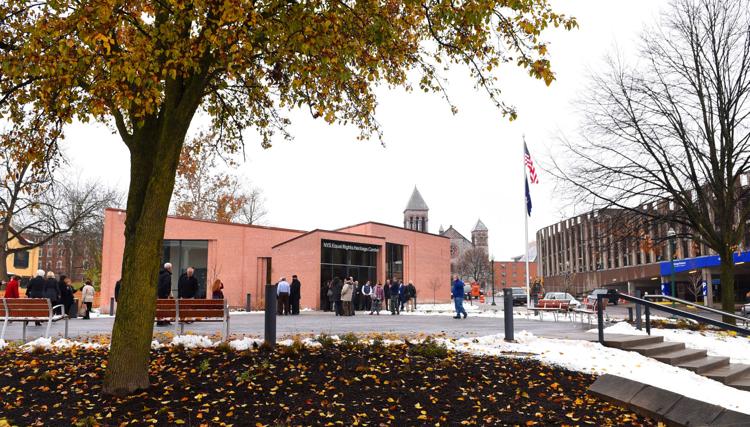 Cayuga County judge 'reluctantly' sentences woman to probation for deadly crash
AUBURN — A North Syracuse woman who killed two people and injured three others in a car crash last year was sentenced to five years of probation in Cayuga County Court Tuesday morning.
In June 2017, Kadesha Dunham, 25, attempted to pass a concrete truck on Franklin Street Road in Sennett. On Dunham's third attempt to pass the truck — in a no passing zone on a blind hill — she smashed head-on into an eastbound pickup truck. The pickup truck's driver, William Curtis, of Skaneateles, attempted to avoid the collision but could not.
Dunham's front seat passenger, Terrel Jackson, 29, of Syracuse, was pronounced dead at the scene. Dunham and 2-year-old backseat passenger Iy'Leiah Noreault were flown by helicopter to University Hospital in Syracuse. The day after the accident, state police announced that Noreault died, and Dunham was in critical condition.
Dunham's own 3-year-old son was also in the back seat and was paralyzed as result of the accident. Noreault's mother, Shandelle Benjamin-Noreault, 30, who was also in the back seat, and Curtis, the pickup driver, both sustained non-life-threatening injuries.
In July, Dunham pleaded guilty to two counts of criminally negligent homicide, class E felonies, and three counts of third-degree assault with criminal negligence, class A misdemeanors. The felonies carry a maximum sentence of up to four years in prison.
Dunham, who was hospitalized for many months after the accident, sustained a traumatic brain injury during the crash and reportedly has no memory of the accident.
Rome Canzano, Dunham's attorney, said Tuesday that when she "came to" in the hospital months after the accident, she had no recollection of the incident and didn't know people were killed and injured.
Senior Assistant District Attorney Diane Adsit added that Dunham's "life was in the balance" for quite some time. She said that Dunham's grandmother, who she and her son live with, also reported there have been many instances in which Dunham has been confused why her son is paralyzed, and she will have to remind Dunham about the accident and that it was her fault.
"Being reminded of (that) constantly is a hell of its own she has to live through," Adsit said. She added that Dunham is also "living a hell of her own" by being stuck in a body with life-long medical issues.
Due to the severity of her injuries, the Cayuga County District Attorney's office advocated for Dunham to be sentenced to probation with strict conditions including a curfew, no drug or alcohol use, license revocation, compliance with her doctors and a traumatic brain injury program, and a permanent order of protection for the family of Terrel Jackson. The DA's office consulted with the families of the victims in reaching this recommendation.
Another factor in the recommendation is that the traumatic brain injury program Dunham is currently in does not allow those who have been incarcerated to participate, so she would lose eligibility if sent to prison.
The DA's office also previously reported that a sentence of probation would provide "greater control over" Dunham's behavior for a longer period of time than sentencing her to prison, as she would likely be given immediate medical parole if she was sent to a state correctional facility.
"This is an incredibly difficult case for me," Judge Thomas Leone said in court Tuesday. "I'm losing some sleep over this one."
Dunham was originally in court for sentencing on Oct. 30, however, at that time Leone said he "cannot in good conscious" go ahead with the agreed upon sentence. He was "disturbed" by Dunham's pre-sentence report as he saw no evidence of remorse from Dunham, and she admitted to using marijuana on a regular basis until mid-September. At that time Leone vocalized that he saw two options — sentence Dunham to prison that day, or adjourn the case so he could see Dunham's medical records and documentation of her TBI as he didn't have any of those files.
Jackson's mother, Maryann Donalson, also spoke at court in October, advocating for Dunham to be placed on probation.
"You took the breath out of me when you took my son," Donalson said through tears. "He was a father, he was a brother and he was my child."
She said that what Dunham did was "reckless" and that in "stupidity" she was responsible for the lives lost. She expressed, however, that "there is nothing to gain from her being in prison." If Dunham were sent to prison, and could no longer get the medical attention she needs, Donalson said that would be another life lost and she didn't want that for Dunham nor her parents.
"I'm begging you to be OK with (probation)," she told Leone. "I'm at peace with it. ... It's not for me to judge her anymore, I left that to God."
"You're an incredible woman, I'll say that," Leone said following Donalson's testimony. "Unfortunately, I'm not on her level of forgiveness," Leone added before adjourning sentencing until Nov. 13.
During the sentencing, both Canzano and Adsit acknowledged the difficulty of the case, as well as Leone's concerns, but continued advocating for a sentence of probation.
"If Kadesha walked away from this crash uninjured, I'd be the first person advocating for prison," Adsit said Tuesday. "Prison is not the answer to this case."
Adsit also shared that Benjamin-Noreault, who lost her 2-year-old daughter, was "very vocal and angry" that they wanted to prosecute Dunham, as she saw it as an accident and felt "somewhat responsible" as she encouraged Dunham to pass the truck.
Canzano added that Dunham's lack of expression of remorse is a function of her injury from the accident.
"I'm remorseful for what I've done, it was a stupid decision," Dunham said on Tuesday.
After hearing from both sides, Leone said he was still "on the fence" and asked to hear from Cayuga County Probation Supervisor Kelly Murphy.
Murphy said that the needs of the defendant and the needs of the victims trying to heal are clear.
"Right now the defendant is living in her own prison, mentally and physically," Murphy said, adding that sending her to prison wouldn't help anybody.
Leone said this was one of his most difficult cases in his 12 years serving as the Cayuga County judge, and that he was taking into account all Dunham's medical needs, the lives lost, the reality that prison would not mean more control over Dunham and the fact that he'd been "begged" to sentence her to probation.
"It is with great reluctance that I will go along with the recommendation of the people," Leone said before sentencing Dunham to five years of probation.
Man sentenced for using Auburn relatives' identities to steal around $175,000
AUBURN — A Seneca Falls man was sentenced to five years of probation for stealing about $175,000 from his Auburn relatives.
A Seneca County man has been charged with eight felonies for using false identities to withd…
"It's kinda like he went on a spree in different states all at the same time," Elkovitch said in Cayuga County Court Thursday.
"I take full responsibility for my actions, it was wrong ... I shouldn't have done it," said Tortorello, who resides at 312 Gravel Road, Seneca Falls, on Thursday.
AUBURN — In June 2015, Raymond Tortorello Jr. went to the bank to obtain a loan, but he took…
Cayuga County District Attorney Jon E. Budelmann said Tortorello's grandparents said in a victim impact statement that they "suffered a broken heart" due to the crime.
"Identity theft in any form is really a tragic crime," Judge Thomas Leone said, adding that taking advantage of one's own grandparents was "despicable."
Tortorello was sentenced to the agreed-upon sentence of 5 years probation and ordered to pay about $1,500 in restitution, which may be subject to change within the next 60 days.
Three plead guilty, one sentenced for Auburn burglary that led to car chase
AUBURN — Four Auburn residents made appearances in Cayuga County Court Thursday morning to plea guilty to, or be sentenced for, their involvement in a May burglary that led to a police chase in Auburn. 
Bell, a second felony offender, named a handful of codefendants, among them Jerad Stiles, 30, and Aaron Peters, 32, who were also charged with dozens of felonies following the burglary which ultimately led to a brief police pursuit in Auburn on May 31.
The Auburn Police Department's investigation of the Holley Street burglary complaint led officers to the parking lot of the Westside Plaza, where the APD and Finger Lakes Drug Task Force observed long guns being passed from one vehicle to another.
Officers attempted to stop a black Jeep Cherokee, which was also stolen, but the driver fled. When the jeep struck a parked vehicle, Peters and Stiles — both second felony offenders — fled on foot before being apprehended.
In court Thursday, Peters, of 38 E. Genesee St., Apt. 4, was sentenced to seven years in prison and five years post-release supervision for second-degree burglary, a class C felony, third-degree unlawfully fleeing a police officer, a class A misdemeanor, and misdemeanors of reckless driving and resisting arrest. He was also ordered to pay restitution in the amount of about $21,700 and signed orders of protection to protect the Holley Street homeowner and the owner of the Jeep.
Cayuga County District Attorney Jon Budelmann said after court that about $5,000 cash was taken from the home, as well as televisions and guns. The $21,700 is the total restitution amount for the homeowner, he added, the same amount will be ordered to each defendant and they will pay off the total sum together.
Three others connected to the burglary also pleaded guilty in court Thursday.
Stiles, of 5 Church St., Apt. 2, pleaded guilty to two separate counts of second-degree burglary, class C felonies.
"I went into the residence to steal merchandise for my drug addiction," Stiles said as part of his plea. He also admitted to returning to the residence a second time in the same day.
One of Stiles' attorneys, Thomas Turturo, said Stiles' offer was to plea to the two burglary counts for full satisfaction of his charges. His other charges included six felonies of third-degree grand larceny, third-degree burglary, two counts of fourth-degree conspiracy, two counts of fourth-degree criminal possession of stolen property for possessing firearms and six misdemeanors of two counts petit larceny, two counts of fourth-degree criminal possession of a weapon, third-degree unauthorized use of a vehicle without ownership and resisting arrest.
Judge Thomas Leone said Stiles could face up to 15 years in prison, but due to his guilty plea and the agreement that the attorneys worked out he will likely be sentenced to five years in prison with five years of post-release supervision. Stiles is due back in court for sentencing on Jan. 31.
Two women, who both claimed to be drivers facilitating the May 30 burglary, also pleaded guilty in court.
Michelle Nevidomsky Warner, 29, admitted to picking up and driving others for the purpose of the burglary. She said she dropped them off at the corner of Holley and Seymour streets then drove around the block twice, keeping a look-out for police. She said she picked people up again after the burglary.
The day following the burglary, Warner admitted that she got caught with cocaine in her purse she intended to use and possibly sell.
Warner, of 103 Van Anden St., pleaded guilty to second-degree burglary, a class C felony, and third-degree criminal possession of narcotic drugs.
Leone said Warner's maximum prison exposure for the burglary charges is 15 years, but in exchange for her plea she will likely be sentenced to three and a half years — which Leone called "a bargain" — with three years post-release supervision. Warner is due back in court Jan. 17 for sentencing.
Brittany Bryan, 30, said "On May 30 I drove a vehicle ... while they entered the house and burglarized it." She said that Stiles, Peters, Warner and Bell were in the car and she drove and acted as a lookout. She admitted that she knew people intended to burglarize the residence.
Bryan, of 26 Westlake Ave., pleaded guilty to third-degree burglary, reduced from a second-degree charge, a class D felony, and fourth-degree conspiracy, a class E felony.
While maximum prison time for Bryan could be seven years, Budelmann said after court she would likely be sentenced to 2 1/3 to 7 years in prison with a shock camp order and post-release supervision.
Bryan's attorney, Rome Canzano, asked for a bail reduction as Bryan has three children, but Leone remanded her to Cayuga County Jail, commenting that she has "some addiction issues and I don't want to set her up for failure."
Bryan is due back in court for sentencing Feb. 7.
Auburn police officer to become Weedsport school resource officer
WEEDSPORT — The village of Weedsport voted to hire a retiring Auburn Police Department officer as the school resource officer for the Weedsport Central School District.
Officer Brandy Quigley, who served with city police for more than 20 years,  is expected to start as the district's school resource officer Jan. 2 when students return from winter break.
After months of working out the details and passing the contract back and forth between the village and the school district, the village's board of trustees voted in a regular meeting Wednesday night both to approve the contract and to hire Quigley.
Deputy Mayor Chere Perkins referred to Quigley's resume as "very impressive."
Weedsport Police Department Officer in Charge Greg Gilfus previously said Quigley's salary, paid by the school, will be $50,000 and work time will be split between the elementary and high school. On Wednesday Gilfus said that the situation for potential overtime is still being worked out with the school.
"The overtime itself though, at least in my discussions with the school, doesn't seem like that's going to be a real issue because it doesn't sound like they have plans on having the officer there for extracurricular activities," village attorney Jeff Eaton said.
Gilfus said that the understanding is that vacation time, aside from maybe a few days, will be when the children are not in school. Gilfus previously told The Citizen that Quigley's time will be split between the village's elementary and high school.
• The village agreed to increase most village employees' salaries by 2 percent, following an executive session that was more than an hour long. 
In a Nov. 5 special meeting, the village also voted to change Gilfus' compensation to a $15,000 annual salary rather than an hourly pay, according to meeting minutes. 
Prior to these salary adjustments, the tentative 2019-2020 village budget included total general fund appropriations of $1,238,626, about a 2-percent increase from last year. The amount of the appropriations to be made up by real property taxes is $492,271, also about a 2-percent increase from last year. The proposed tax rate is $6.28 per $1,000, about a 15-cent increase from last year.   
"I'll recalculate and adjust the budget accordingly and then I'll finalize the budget," Village Treasurer Diane Scheufele said Wednesday. She added that the tentative budget should be completed next week, and a public hearing for the budget will likely take place at the village's January meeting.
New $10 million Auburn welcome center to open next week
After weeks of anticipation, the Equal Rights Heritage Center in downtown Auburn has released its opening date.
The $10 million welcome center on South Street will host a grand opening at 10 a.m. Tuesday with a "special unveiling," according to a Friday news release. State Parks Commissioner Rose Harvey, Auburn Mayor Michael Quill and several state and community leaders will be present.
Quill had announced last week that the center was almost complete, but needed a couple more weeks to finish construction — which began in February. At that time, finishing touches, including a new statue of Harriet Tubman in the building's courtyard, were still in the works.
Gov. Andrew Cuomo announced the project last year. It's being funded through the state's $500 million Upstate Revitalization Initiative for the central New York region. He said that the center will pay tribute to historical figures with area connections such as Harriet Tubman and William Seward, who lived in Auburn and fought for equal rights.
"We kind of like to say that the center is the welcome mat ... and Auburn (and) the region itself is actually the museum exhibits to go see," said Visitor Experience Manager Courtney Rae Kasper in October.
Kasper said that the center will be a hub for everything going on at the historical and cultural sites in Auburn and Cayuga County.
She described the center as an interactive experience, filled with exhibits detailing an overview of equal rights throughout the state, listening booths, a social justice video table and various iPad components. From the center of the ERHC, Kasper said there are large picture windows that highlight sites such as the Seward House and Memorial City Hall. The hope is the windows will spark people's interest and encourage them to experience the sites for themselves.
Following the opening, the center's proposed hours will be 9 a.m. to 5 p.m. Monday through Friday, and 11 a.m. to 4 p.m. Saturday and Sunday.
Skaneateles football falls victim to record-setting Batavia runner in state semifinal
ENDICOTT — For the first time in 17 games, Skaneateles football exited the field with sorrow instead of joy.
Even worse for the Lakers was that their streak ends one game short of the state title game.
Skaneateles was taken down by Section V champion Batavia 54-49 in the NYSPHSAA Class B semifinal Saturday at Ty Cobb Stadium at Union-Endicott High School. The Lakers, defending Class C state champions, were the No. 1-ranked team in the state. 
The Blue Devils rode a record-setting performance from running back Ray Leach, who carried the ball over 50 times for 474 yards and eight touchdowns. Leach's rushing yardage breaks his own record set last week against Section VI's Cheektowaga in the state regional, while his touchdown total ties his other record that also set in his previous game.
Skaneateles never led, though the Lakers did tie the game three separate times in the first half. Whenever momentum appeared ready to swing Skaneateles' way, however, Leach broke off a big run that moved the chains. When the Blue Devils advanced inside Skaneateles' 10-yard line, Leach was automatic. 
"At times we felt like we had him and he'd just muscle out of tackles and outrun us," Lakers coach Joe Sindoni said. "He was a very, very, very good back and he was tough to stop."
Quarterback Patrick Hackler gave the Lakers a chance in the final minutes, leading three scoring drives in the fourth quarter to keep pace. Skaneateles was never able to steal an extra possession though, attempting three onside kicks in the final eight minutes that were all recovered by Batavia.
One try, which ended in the hands of the Lakers' Nate Wellington, was called back as the officials ruled the ball did not travel 10 yards.
"They said that we touched it early. We looked at the film and our kid touched it right at (10 yards)," Sindoni said. "It is what it is. The ref is trying to make a call and he doesn't have the benefit of instant replay. Those are the breaks of the game."
Neither Batavia nor Skaneateles had trouble moving the ball in the first half. In those first 24 minutes, the Blue Devils were forced to punt only once while the Lakers were denied one time on a turnover on downs. Every other drive through the first two quarters ended in a touchdown. 
The third quarter was one to forget for Skaneateles. Hackler was intercepted on his first pass of the second half on a deep try to Nick Wamp. Two possessions later, the Lakers were stopped a yard short on 4th-and-5 at midfield. The drive after that Hackler was intercepted on another long pass to Wamp, picked off by the Blue Devils' Leach. 
The turnovers allowed Batavia some breathing room, and Skaneateles was never able to fully recover. 
Hackler, the defending Class C player of the year, finished 17-for-30 with 260 passing yards, three touchdown and two interceptions. He also rushed 17 times for 149 yards and three touchdowns.
Nick Wamp caught seven passes for 145 yards and two touchdowns, while Areh Boni rushed nine times for 64 yards and a score. Will McGlynn also caught a 2-yard touchdown pass.
Skaneateles' loss completes a two-year journey in which the Lakers won the NYSPHSAA Class C title, switched to Class B and worked its way to the No. 1 ranking in the state before bowing out to Batavia.
The Lakers fall two wins short of becoming the second team in NYSPHSAA tournament history to claim consecutive state titles in different classes, with the latter gained in a higher class. The last and only school to accomplish that was Onondaga in 2002.
"(I told the players) how proud I am of them, from being a team that three years ago got absolutely pounded by Cazenovia in the B playoffs ... two years later who would've thought we'd be the No. 1 team in the state in B, being the smallest B school in the state?" Sindoni said. "It's unfortunate that we weren't able to make enough plays, but a lot of teams would've quit in the situations that we were in.
"These kids never stopped playing. They believed right up until that last play that something was going to happen and that they were going to do it. That's just a testament to what great character kids they are."
Skaneateles Batavia 19.JPG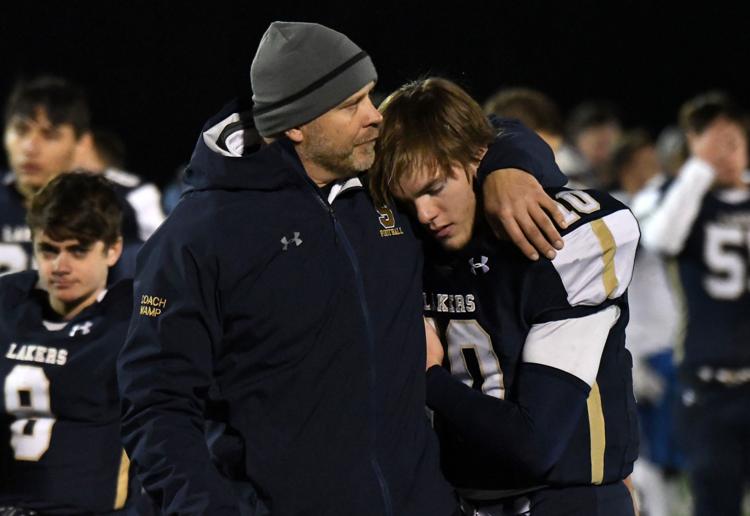 Skaneateles Batavia 6.JPG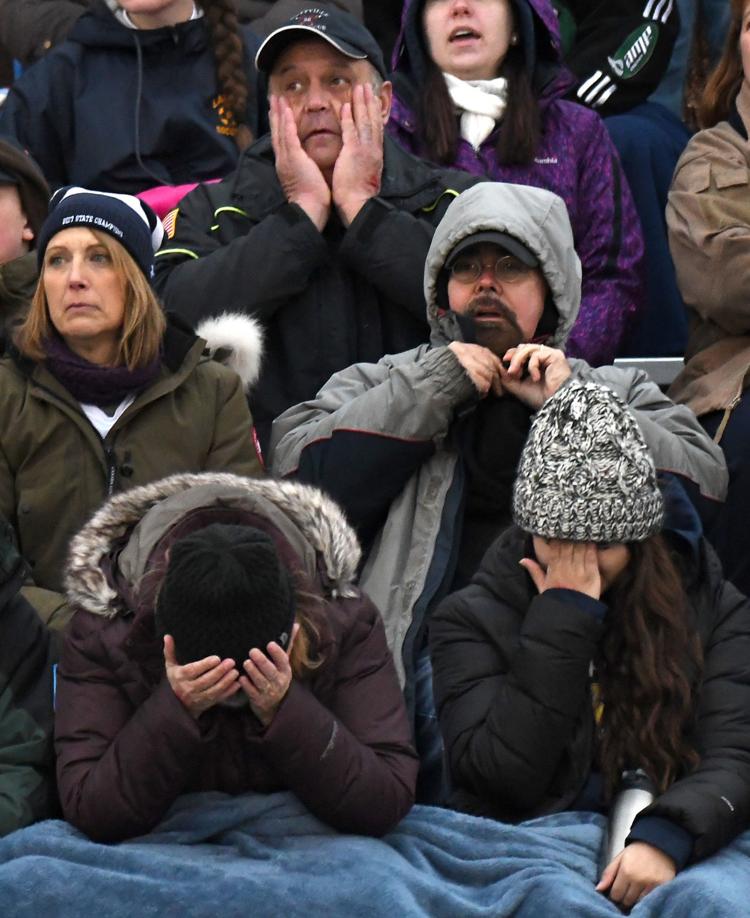 Skaneateles Batavia 2.JPG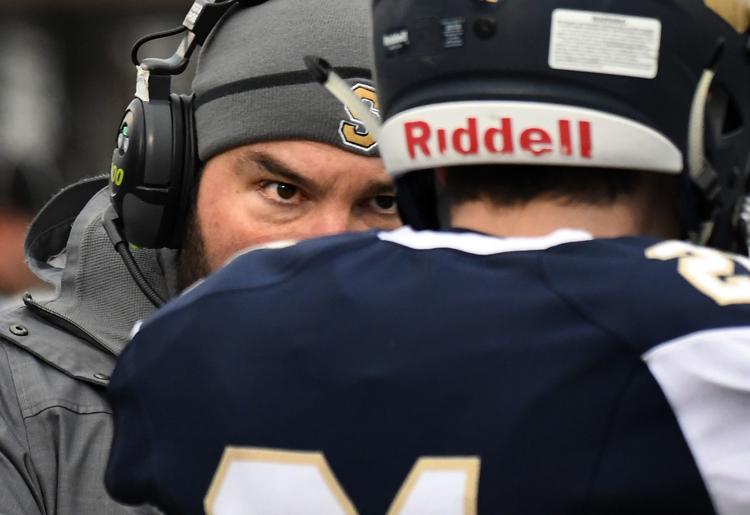 Skaneateles Batavia 7.JPG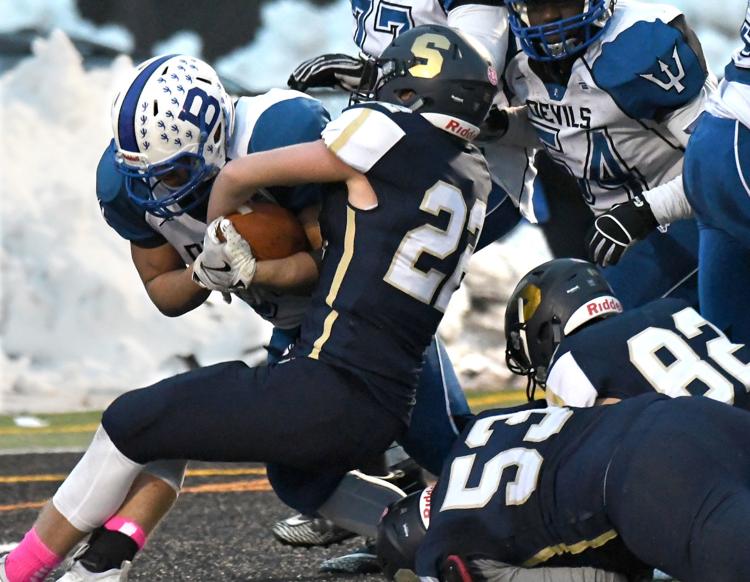 Skaneateles Batavia 16.JPG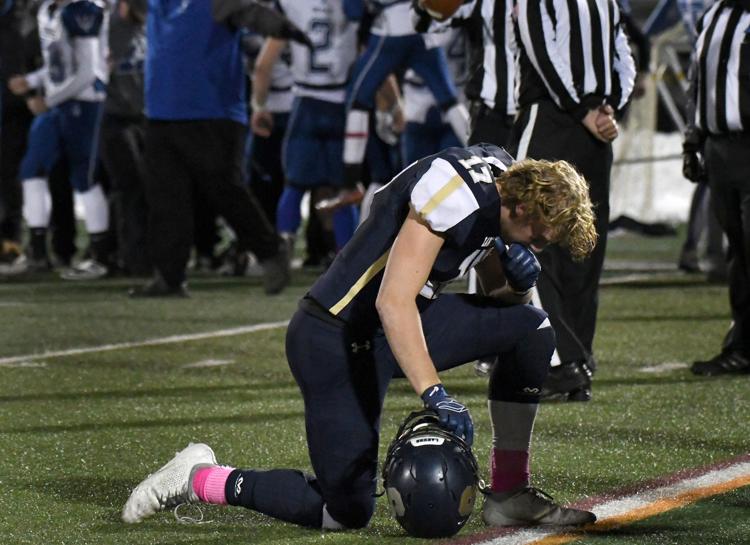 Skaneateles Batavia 1.JPG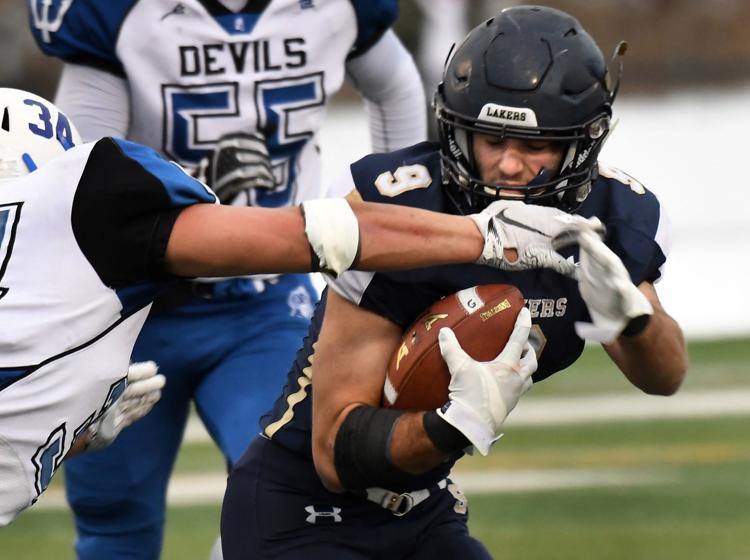 Skaneateles Batavia 4.JPG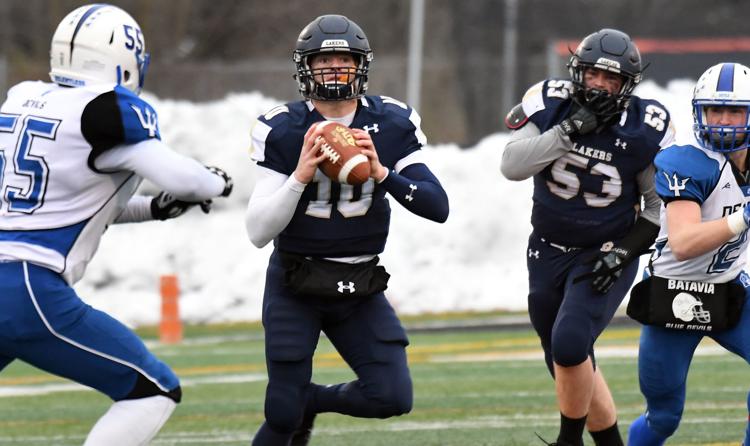 Skaneateles Batavia 3.JPG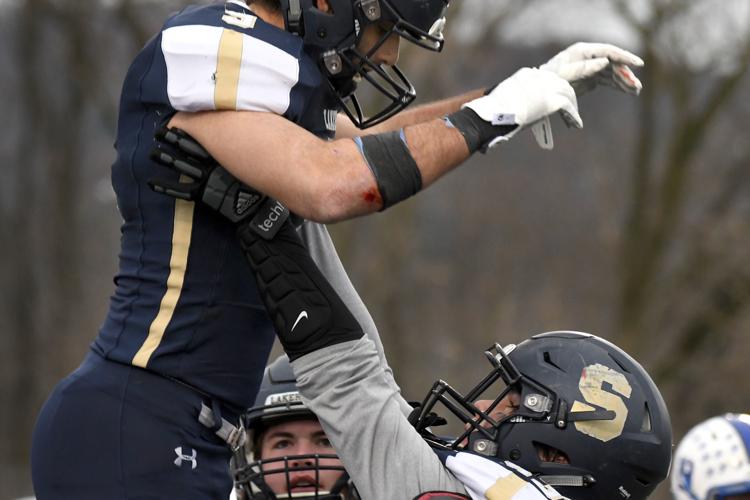 Skaneateles Batavia 15.JPG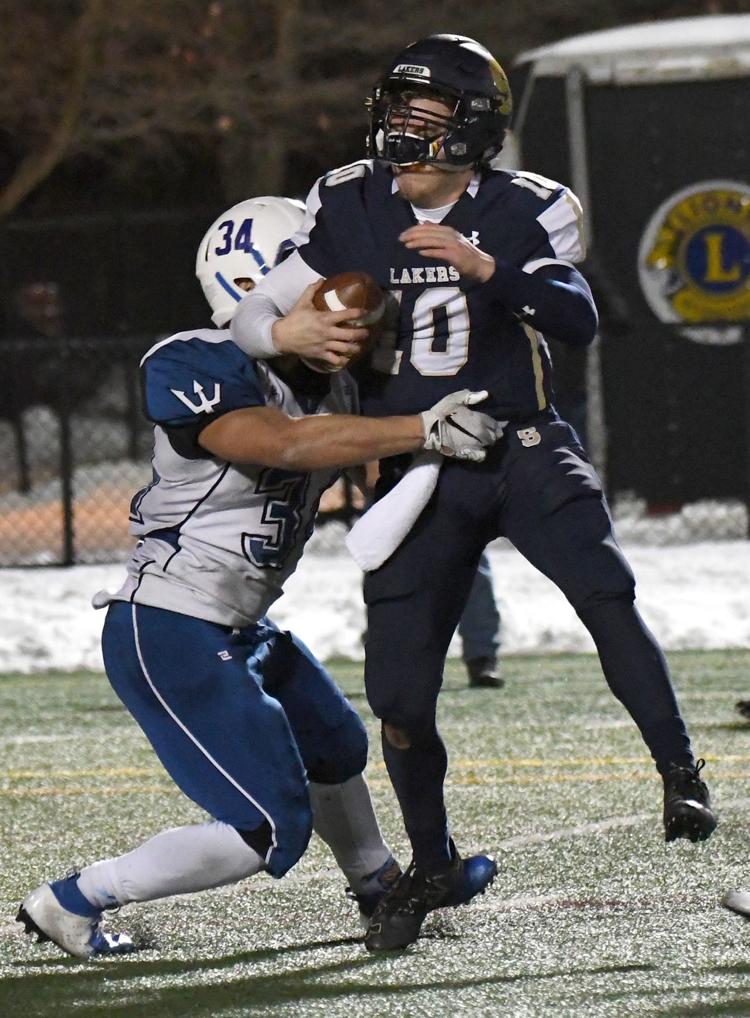 Skaneateles Batavia 13.JPG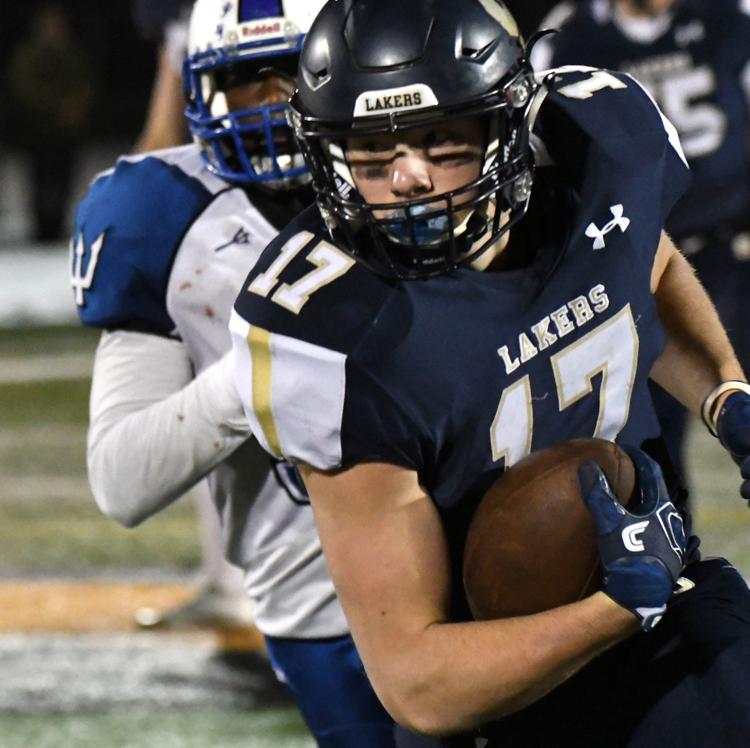 Skaneateles Batavia 12.JPG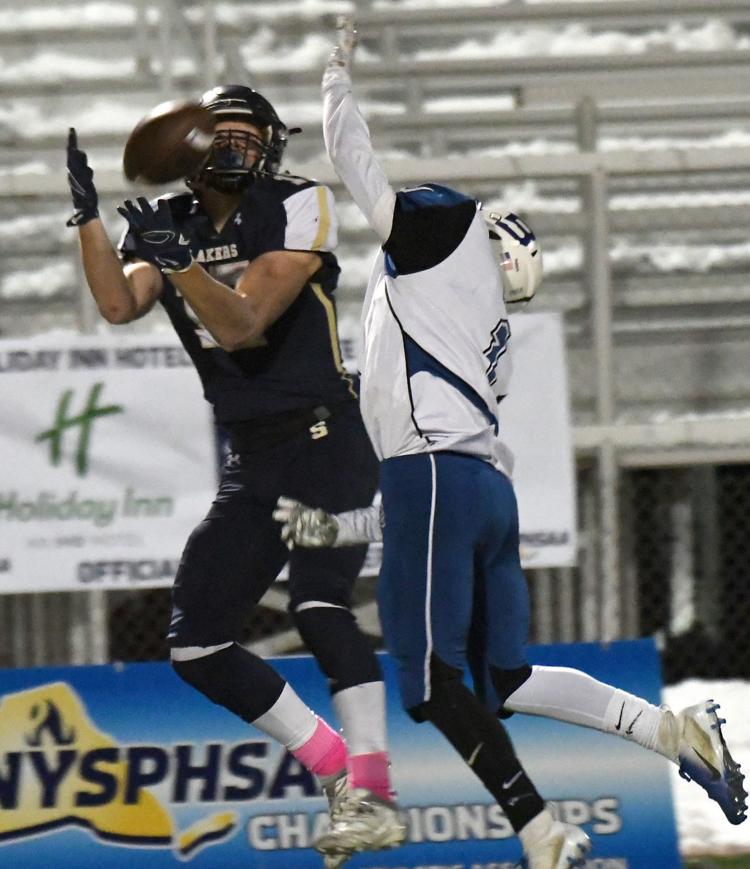 Skaneateles Batavia 8.JPG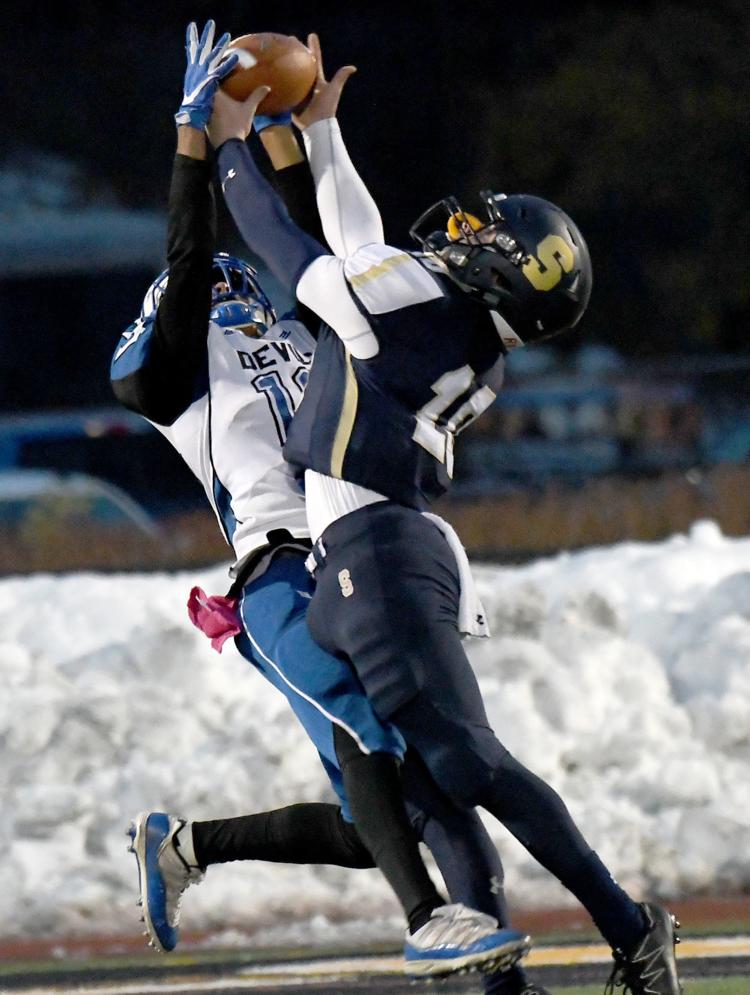 Skaneateles Batavia 9.JPG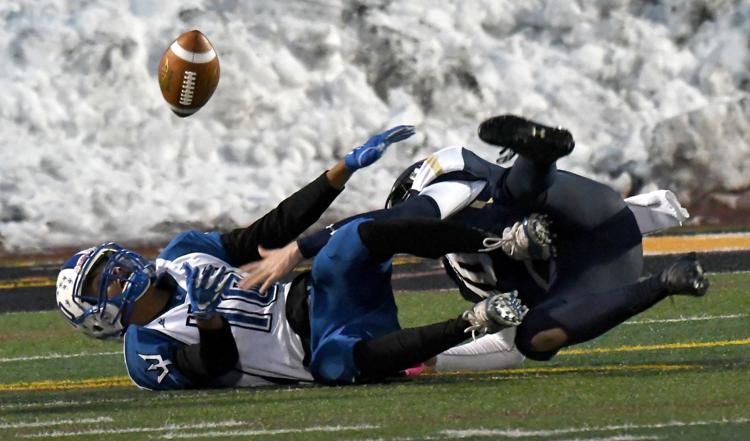 Skaneateles Batavia 10.JPG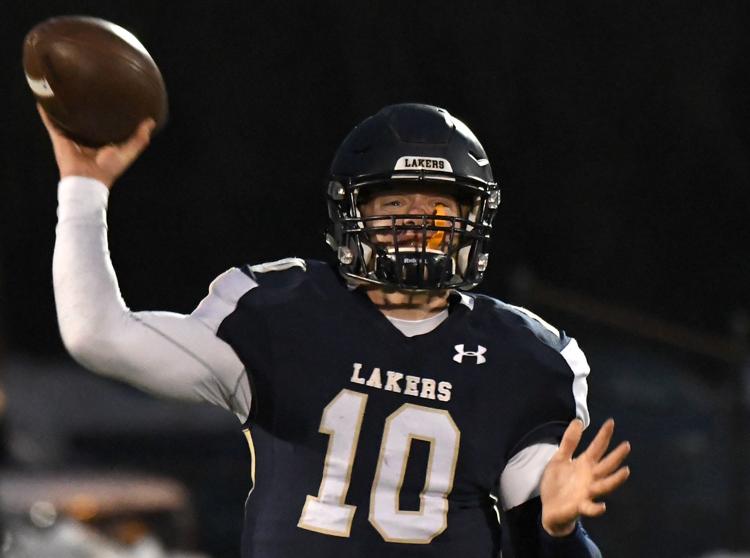 Skaneateles Batavia 14.JPG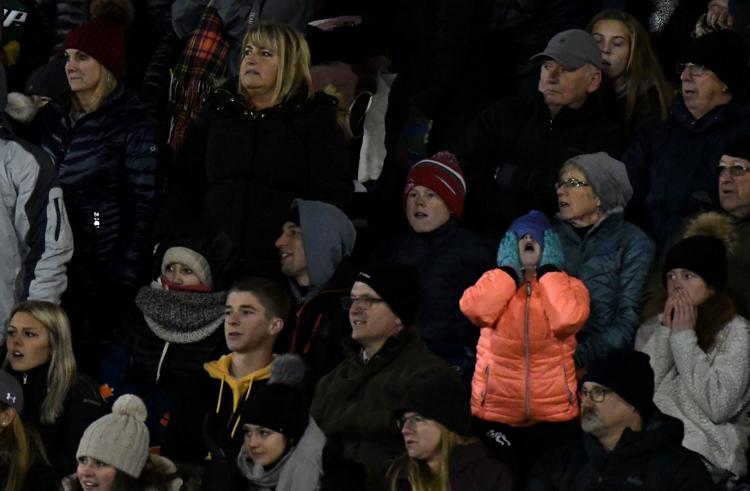 Skaneateles Batavia 11.JPG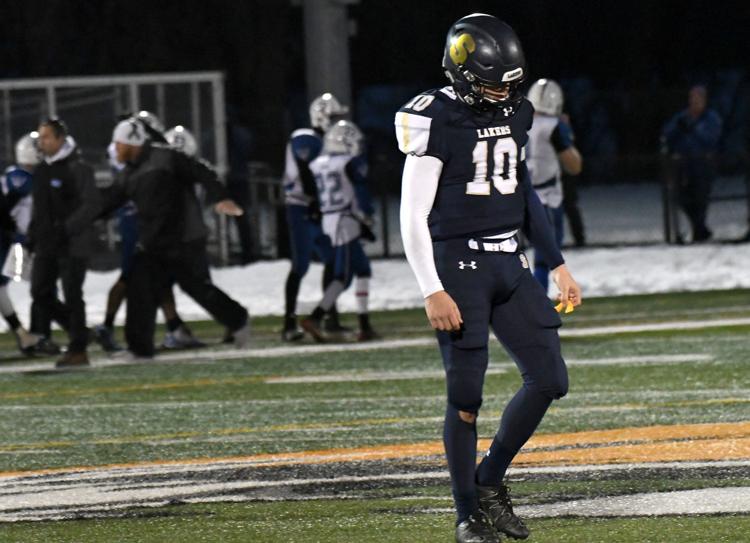 Skaneateles Batavia 5.JPG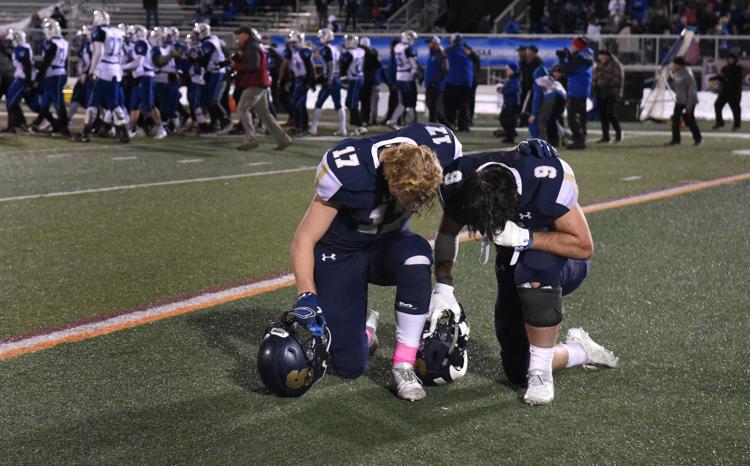 Skaneateles Batavia 17.JPG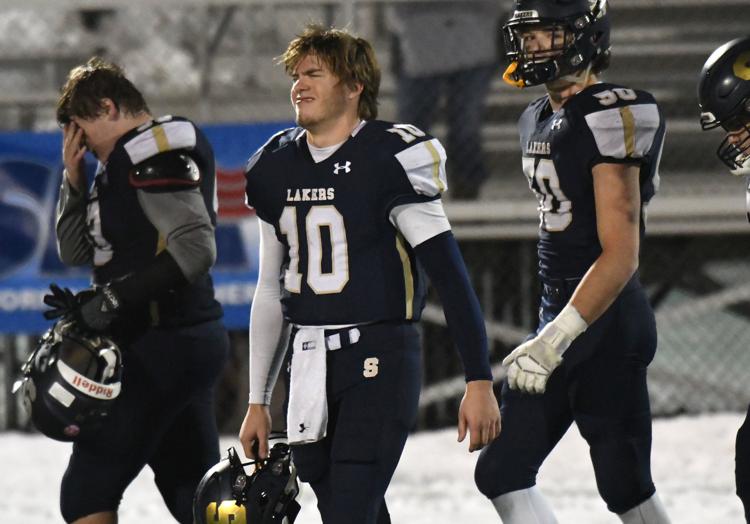 U.S. Marshals Service assists Auburn police in tracking sex offenders
The Auburn Police Department and U.S. Marshals Service conducted 138 sex offender compliance checks between July 16 and Sept. 28 as a part of Operation Prison City.
According to a news release, the goal of Operation Prison City was to assist Auburn in bringing non-compliant sex offenders back into compliance. The checks ensure that registered sex offenders follow through on such requirements as updating their home, work and school addresses, among other stipulations.
The marshals service said that two offenders were found to be out of compliance with registration requirements and were subsequently arrested out of state. Fifteen others were not able to be located. The Auburn Police Department verified each individual's registered residence and/or place of employment, and those found to be out of compliance or with unknown locations were be investigated further for violations of state, local and federal laws.
"Operation Prison City is another example of how federal and local agencies can work together to ensure our communities remain safe," Auburn Police Chief Shawn Butler said in the release. "The Auburn Police Department would like to thank the U.S. Marshals Service for its collaborative partnership with our agency as it allows a more proactive compliance approach to our sex offender population."
Denis Donovan, Chief Deputy U.S. Marshal for the Northern District of New York, said, "Non-compliant sex offenders who evade registration pose great risk to the communities where they hide. The United States Marshals Service is committed to its mission of working with and supporting local and state law enforcement with the investigation and apprehension of those sex offenders who are not in compliance with their registration requirements."
Auburn police ask for help locating missing teen
The Auburn Police Department is requesting the public's help in locating a teen girl missing since Wednesday.
Tresny Stevens, 16, reportedly ran away from 202 Franklin St., a Cayuga Centers' facility, in Auburn last week. No clothing description was available and her whereabouts are unknown.
Stevens, who is listed as an endangered runaway, is originally from the Syracuse area and it is believed that is where she may be staying.
The Cayuga Centers facility at Franklin Street is a nine-bed short-term respite house that's been providing care since May for low-risk youth, roughly between the ages of 7 and 16 years old, the agency said. The residents there are referred from Cayuga and Onondaga counties' departments of human services.
Anyone with any information about Stevens and where she may be located is asked to contact the Auburn Police Department at (315) 253-3231. Callers are reminded that they can remain anonymous.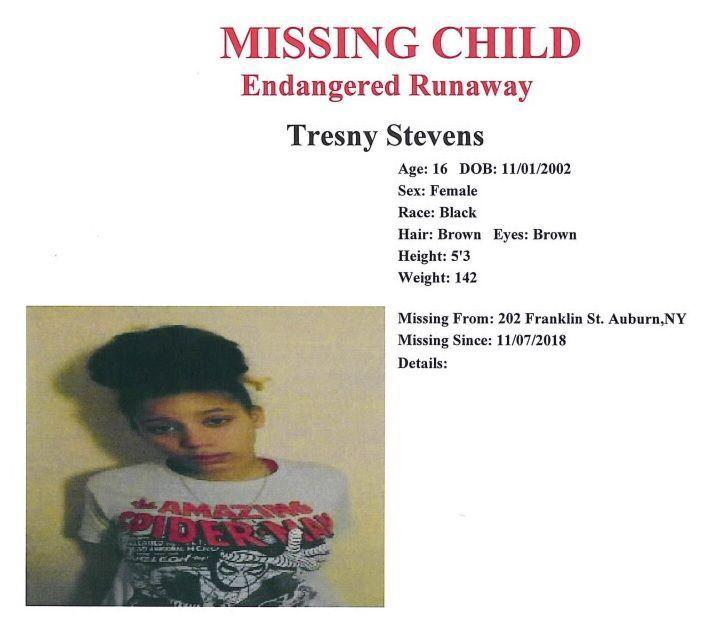 Police: Auburn home was being used as a methamphetamine lab
AUBURN — A home in Auburn reportedly being used to produce methamphetamine was raided by police Friday morning.
The Cayuga County Sheriff's Office said that the Finger Lakes Drug Task Force executed a warrant around 10 a.m. at 54 Orchard St. and found multiple people "actively engaged in the production of methamphetamine."
Adults and children were found at the scene after the raid by members of the Auburn Police Department and the sheriff's office. Some occupants in the house, including children, were transported to Auburn Community Hospital for evaluation but no serious medical issues had been found, police said in a news release.
Police said that Cayuga County Child Protective Services was assisting with the investigation and the drug task force was continuing its investigation Friday evening. Officials said they would not immediately release the names of people involved. 
Orchard Street between Jefferson and Baker streets was blocked off for several hours as authorities dealt with the scene. The New York State Police's Contaminated Crime Scene Emergency Response Team helped handle the dangerous substances involved in the making of the drugs at the home, police said, adding that those in neighboring houses were in no danger.
"It's all contained in that residence," sheriff's office detective Lt. Brian Schenck said at the scene.
The Auburn Fire Department was also on the scene, along with the Auburn Police Department, the New York Environmental Conservation Police and  Auburn TLC Ambulance. An animal control team was also present to remove a dog from the building. People in white hazmat suits, some in handcuffs, were being escorted in and out of an ambulance. Later, state police investigators in orange hazmat suits were removing materials from the building.
Anyone with information relevant to the investigation is asked to call Detective Rob Franklin at (315) 253-1132. People may also submit tips to cayugasheriff.com by clicking on the "leave a tip" tab. People may remain anonymous.