Weekly top reads: Cayuga County-area graduations, Moravia flooding, Auburn bicycling accident
The Citizen's top 10 most-read stories of the week. 
Pedestrian taken to Syracuse hospital after being struck by pickup truck in Auburn
A pedestrian was struck by a pickup truck while crossing Genesee Street at the intersection of South Fulton Street in Auburn Tuesday afternoon.
The victim, an unidentified 26-year-old man, was taken to the the trauma center at Upstate University Hospital in Syracuse, according to 911 dispatchers.
The call for a collision between a pickup truck and pedestrian came in at 3:15, dispatchers said, with Auburn fire and police departments and TLC Ambulance responding to the scene.
The Auburn Police Department said that a pickup truck driven by an 80-year-old man from Auburn whom police did not identify was driving northbound on South Fulton Street and had just turned left onto East Genesee Street with a green light when the accident occurred.
Police said the man who was struck had been in the crosswalk. He was described as coherent and stable when he was transported from the scene. He was in stable condition Tuesday night but would be kept for further evaluation as a precautionary measure, police said.
The APD said that the the driver of the pickup truck was not under the influence of alcohol or drugs and no charges or tickets had been issued.
Police said that several witnesses and Good Samaritans provided initial medical attention the fire department and TLC ambulance crews provided further medical treatment.
Major flood stage reached in Moravia; road closures, basement flooding throughout Cayuga County
Heavy rain moving through the region Thursday morning forced some temporary road closures in the southern half of Cayuga County, and pushed the Owasco Inlet in Moravia to its most severe flooding stage.
A National Weather Service flood warning in effect into the afternoon covered south central Cayuga County and northeastern Tompkins County, with the agency reporting the water level gauge for the Owasco Inlet in Moravia reaching flood stage.
NWS monitoring data show the inlet was at 9.7 feet at 6 p.m. Thursday, which indicates major flooding. That's up by more than 5 feet since 6 a.m., although the levels began to plateau somewhat around 10 a.m. The NWS said the inlet could rise to as high as 10 feet in the afternoon before subsiding Thursday evening. The indicator showed the level falling Thursday night into the "moderate" flooding range.
Minor flood stage for the Owasco Inlet in Moravia is reached at 8.5 feet, moderate flooding is at 9 feet and major flooding at 9.5 feet, according to NWS.
Steve Lynch, acting interim director of the Cayuga County Emergency Management Office, said department staff have been keeping a close eye on flood gauges along the inlet, and using that information to coordinate with city of Auburn staff as they manage outflows at the Mill Street dam.
In Moravia, most roads were still open, but Aurora Street was shut down at about 12:25 p.m. between Grove Street and Warner Road due to flooding.
High water levels had also forced officials to shut down portions of some main roads in the area earlier in the morning. Route 38A between Globe Road in Niles and Murphy Hill Road in Moravia, Route 34B in Genoa between Center Road and Genoa-Lansing Town Line Road and Route 90 in Genoa between Indian Field Road and Route 34 all were closed to traffic for periods of time Thursday morning. All of those roads had been reopened as of 10:30 a.m., according to the state Department of Transportation.
Cayuga County dispatchers said there had been reports of basement flooding and water-covered roads in Moravia and Weedsport. There were no reported accidents or injuries as a result of the flooding.
Moravia Fire Department firefighter Parker Dickenson said numerous roadways had flooded in the village earlier in the day. While the water then receded, additional rain was expected for the area.
"Everything is looking good for now until we get hit again," Dickenson said at about 10:15 a.m.
Coordinators from the county's Emergency Management Office have also been working directly with Moravia-area fire departments and public safety personnel, Lynch said.
The county is also in close contact, Lynch said, with the state Division of Homeland Security and Emergency Services, who have sent staff to the county to determine whether there's a need to bring in state resources.
The division has already been involved working to contain flooding on Lake Ontario in recent weeks, where aqua dams, sand bags, and personnel have been mobilized.
"The Division of Homeland Security and Emergency Services have been very involved in Lake Ontario issues, and on top of that they are now bringing that same level of professionalism to the southern part of the county," Lynch said.
The north of the county hasn't been spared its portion of flooding.
Weedsport Fire Chief David James said that fire personnel and the Weedsport Department of Public Works had worked for about seven hours taking care of flooded basements at two houses on North Willow Street. He said he believed the damage had been fairly minor. He said the village appeared to be in the clear as of about 3:15 p.m.
"Once the rain finally gave us a break, things have subsided and things are good," James said.
County EMO coordinators have also been moving throughout the county to check for washouts on fire lanes, water flowing over roads and culverts, and more, according to Lynch.
To monitor NWS watches, warnings and advisories, view forecasts and see radar images, visit auburnpub.com/weather.
An Auburn treasure: Inside the Phoenix Building as its outside gets repainted
AUBURN — Sometime after Andrew Simkin bought the Phoenix Building in May 2012, he wandered into its bank vault. It hadn't been used in decades. The Auburn Savings Bank, which opened in the stately Second Empire-style building in 1871, had served its last customer by 1990. So Simkin didn't expect to see much in the dormant steel and concrete structure.
The vault had several compartments inside, Simkin said Thursday in his office on the building's fourth floor. One of the compartments was locked. But, using a large wrench, he was able to open it. As he did, his eyes were drawn to light gleaming off the surface of several small metallic discs. "Woah!" he thought. As Simkin stepped closer, however, he realized those discs were merely the lock mechanisms for the vault's other compartments. They were not, as he briefly hoped, the long forgotten gold he sometimes jokes about finding in the former bank.
But Simkin and his wife, Bess, didn't buy the Phoenix Building for treasure. On the contrary, they want it to remain one. So they've been investing in the downtown centerpiece — most recently by having the cornice on its north and west sides painted taupe and auburn, and its window frames painted the latter. The colors match those of its clock tower, which was renovated in 2017. 
Like all the work the Simkins have done on the building, the paint job is being funded by them. They originally sought $120,000 through Auburn's $10 million Downtown Revitalization Initiative grant, and made it to the city's final list of 19 qualifying projects, but withdrew their request after that list was submitted to the state for approval in March, Andrew said. That's because Paul Barron, a painter who's done work on the building's interior, offered to start the project this spring. And the Simkins preferred doing it now privately to waiting at least a year for the grant money.
The painting, which requires scaffolding over the South Street sidewalk and use of a hydraulic lift, is underway. The $120,000 would have covered both that and some caulking and sealing of the granite façade that was applied to the Phoenix Building's first floor sometime in the late '60s, Simkin said. Meanwhile, he continues doing much of the work inside himself.
The building has 35-40 rooms — the number is fluid because some can be divided or combined depending on a tenant's needs — and Simkin has been renovating them steadily. Common jobs include removing carpet and drop ceilings, exposing hardwood floors and high clearances. He's also uncovered some columns and skylights on the fourth floor, which was added in 1905. Simkin believes that historic character, including the wide, quiet hallways, make the building appealing to tenants. So does the way it welcomes natural light, a necessity when it was designed by architect Horatio Nelson White. And Simkin's efforts to preserve that character haven't gone unappreciated: In 2014, he won an Award for Building Rehabilitation from the city's Historic Resources Review Board. 
"The building does have kind of a good vibe," Simkin said. "People appreciate it. People who've spent time here, and Auburn residents, even if they've never set foot inside, tend to appreciate it."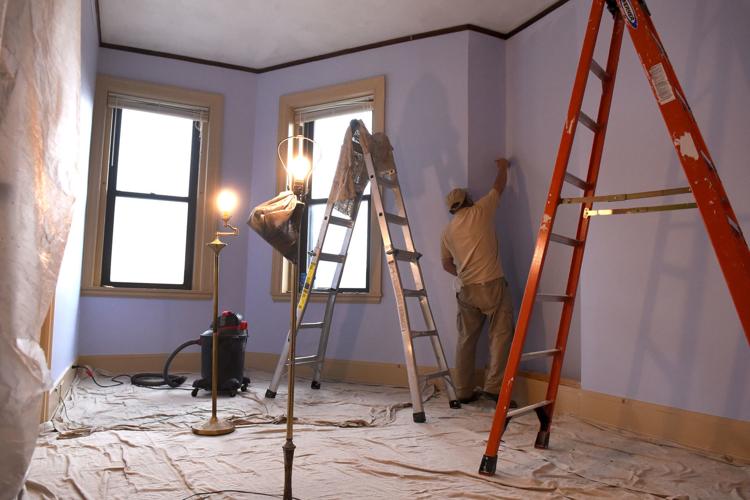 Simkin grew up in Seattle. After 25 years as a consul general in the U.S. Foreign Service, including a combined 15 years spent working in Spain, Kuwait, India and elsewhere overseas, he and Bess looked to retire in the Cayuga County area. His grandfather lived in Poplar Ridge, so he still has plenty of family in the area, including a sister who teaches at Ithaca College. The family also has a residence on Cayuga Lake. And the Simkins simply love the area, Andrew said. His and Bess' children, meanwhile, live in Maine, Maryland and North Carolina.
Though he was retiring from the Foreign Service, Simkin began studying for the state bar exam upon moving to New York. That's when he learned about the Phoenix Building. Wanting to put their savings toward real property rather than the stock market or other volatile investments, the Simkins bought the building from previous owners Dean/Conroy LLC for $329,000, according to Cayuga County records. Beforehand, Andrew's property management and real estate experience was limited to some handiwork and maintenance. But it was just "a great building," he said.
Simkin practices a light caseload of real estate law from his office. He also volunteers with some area nonprofits, including the Howland Stone Store Museum as it restores Opendore, the Isabel Howland home in Sherwood. Otherwise, Simkin has kept busy working on his building. In addition to renovating rooms, he's redone bathrooms, replaced the roof above the Auburn Document Centre on the Genesee Street side of the ground floor, and opened the Havana Room, a rentable space for special occasions with room for about 100 people, on the South Street side.
The building was close to full when the Simkins bought it. Today, though, its list of tenants is even more diverse, spanning lawyers, accountants, counselors, a massage therapist, an acupuncturist, music and art studios, and more. Among its newest tenants is RAD Coworks, a modern work and networking space opened in April by Brian Redfield of Totum Design Co. and Sign Dept. Among its oldest is Connie Daloia, of United Marketing, who's had an office there since 2003. And under Simkin's ownership, Daloia said, the building has been noticeably different.
"There's more of a cohesiveness with the people now," he said. "Things are taken care of on the spot. And it's fun to see some of the old architecture restored."
Many tenants also feel a responsibility to the building, Daloia said. They're quick to alert Simkin about any issues they notice, and Daloia personally checks to make sure it's locked when he leaves at night. He also maintains an aquarium outside his office, which serves as an informal waiting area for patients and customers of neighboring tenants.
As the Simkins continue working on their building inside and out, stewarding one of Auburn's treasures, Andrew hopes that same feeling extends to the community as well.
"I just want it to continue to be well-used and appreciated," he said. "I enjoy coming here and spending my days here. And I expect to keep coming here as long as I can."
Woman airlifted to hospital after Auburn bicycling accident
A woman was airlifted to Upstate University Hospital in Syracuse after a cycling accident in Auburn on Tuesday.
The victim fell off her bicycle around noon while riding with a group of other people and sustained a head injury at Dunning Avenue and Clymer Street in Auburn, the Auburn Fire Department said.
The woman was treated at the site of the accident and transported by ambulance to Auburn High School, where she was lifted by Mercy Flight helicopter to the trauma center in Syracuse with "significant injuries," according to the AFD.
Additional details about the accident, including the woman's condition, were not available Tuesday night.
'This is really happening': Jordan-Elbridge High School honors 2019 graduates
JORDAN — Jordan-Elbridge High School student council president Benjamin Sullivan said that despite his title, he was probably one of the least interesting students set to walk across the stage for the school's 2019 commencement ceremony.
Sullivan said he felt outclassed by many of his fellow graduates at John Howes Stadium in Jordan Saturday.
"I look around and see talent everywhere on this field," he said.
Earlier in the event, Jordan-Elbridge Central School District Board of Education president David Gallaro told graduates to never give up, to stay connected to family and friends, and to be kind and help others.
Co-valedictorian Reilly Keenen thanked his parents, staff, administration, his classmates and "Canada, for being great neighbors," which drew laughs from the people in the stadium's packed stands. And he gave his fellow graduates some advice.
"Don't waste your time stressing about the little things in life," Keenen said. "You have your whole life ahead of you to worry. Save it for the important things." 
Co-valedictorian McKayla Rohmer, salutatorian Ethan McCabe and district Superintendent James Froio were among the other speakers at the ceremony.
After the students received their diplomas and and left the stadium as high school graduates, senior class co-president Meagan Jackson talked about what was running through her head when she tossed her mortarboard into the air with her classmates.
"Wow, this is really happening. I'm finally like a graduate," she said.
Before the ceremony, Eliza Sparks said she drove 12 hours to see her son Jeremiah Sparks graduate. Eliza said she had moved to North Carolina in 2016 and Jeremiah originally went with her but "because of sports he decided to come back to the school that he loved" and she agreed to let him finish high school at Jordan-Elbridge. She praised her son's "personal drive," saying she was proud of the man Jeremiah has become. 
"The school was amazing. They welcomed him back with open arms, and the education that he received here at Jordan-Elbridge obviously was grade-A," she said.
Auburn police resolve missing person case
The Auburn Police Department cancelled the public call for help in locating a 46-year-old man who had been missing since June 8.
The APD issued a call for the public's help finding Christopher Cornall Saturday morning. Police said Cornall was reported missing from Auburn on June 8, and left his residence "on his own accord."
In a press release issued Sunday morning, the APD announced that the case resolved.
The APD will not issue any further information "because of the manner this case was resolved and for the privacy of the family," Auburn Police Chief Shawn Butler said.
APD thanked the public for its help, as well as New York State Police, the Cayuga County Sheriff's Office, New York State Park Police, Onondaga County Sheriff's Office Air One crew and the Moravia Volunteer Fire Department.
Skaneateles elementary school principal resigns
SKANEATELES — A Skaneateles elementary school principal has left her post after less than a year.
The Skaneateles Central School District Board of Education approved State Street Intermediate School principal Michelle Crisafulli's resignation, effective Aug. 31, at a meeting Tuesday night.
Superintendent Lynda Quick said after the meeting that she was "not at liberty to discuss the circumstances behind" Crisafulli's resignation. Quick said Crisafulli left her role last week. Since the district's last day of class is June 26, Brian Cohen, the district K-12 science, technology, engineering, and math coordinator and K-12 humanities coordinator Francine Grannell, will be leading the school. Quick said discussions on "what the plan will be" will take place with the board in the near future, adding that the district is hoping to have a replacement by the start of the 2019-20 school year. 
Crisafulli is one of three people to have lead the school since last year.
Christopher Casler-Goncalves had been the principal for both the State Street school and Waterman Primary School before leaving in April 2018 after less than a year in the position.
Patrick Brown, who had been the Skaneateles district's longtime K-12 reading and humanities coordinator, became the interim principal for both schools shortly after Casler-Goncalves' departure and took over the Waterman role full time that June. Crisafulli joined the district in July 2018 after serving most recently as director of testing and academics for the Greater Amsterdam School District. 
A departing board of education member was acknowledged.
Margaret Usdansky Niebuhr, who joined the board in 2013, chose not to run gain for another term. 
Board president Susan Murphy said Usdansky Niebuhr's "perspective, thoughtfulness and articulation on the board will be sorely missed." 
A cake was presented in Usdansky Niebuhr's honor after the meeting. She said she has enjoyed her time on the board and learned a lot from it, but said her position as director of the Center for Learning and Student Success at Syracuse University has kept her busy.
"It was just time for a little bit more time for my family and not so many late evenings, but it's been a wonderful experience," she said.
Memphis man charged with burglary in Skaneateles Falls
A Memphis man was arrested Thursday after he returned to the site of a burglary that occurred in Skaneateles Falls earlier this month, according to New York State Police.
Robert B. Butters, 40, was charged Thursday with third-degree burglary, a class D felony, in connection with a break-in that occurred June 2 at 4563 Jordan Road in Skaneateles, according to state police. The building is a manufacturing facility that was once used by Clear Edge Filtration.
Police said the building was in the process of being re-purposed when the suspect allegedly broke in and stole copper wiring. Butters was arrested after he was found back at the building on Thursday, according to state police.
According to Onondaga County Sheriff's Office records, Butters was still in custody at the Onondaga County Justice Center as of Monday afternoon.
Driver ticketed after hitting pedestrian in Auburn crosswalk
An Auburn man has been ticketed following an accident Tuesday that injured a pedestrian. 
Police said Friday that John Thurston, 80, of Auburn, was issued a traffic ticket for failure to yield right of way to pedestrians in a crosswalk. 
The accident occurred after 3 p.m. Tuesday. Thurston was the driver of a pickup truck heading northbound on South Fulton Street. As he turned left onto East Genesee Street, he struck a 26-year-old pedestrian in the crosswalk. 
The pedestrian, whose name wasn't released, was transported to Upstate University Hospital in Syracuse. He has been released from the hospital and is recovering from his injuries, police said. 
Southern Cayuga High School bids farewell to its 2019 graduates
POPLAR RIDGE —  Cindy Walter remembers being in the room when her niece Molly Walter was born.
On Saturday, Cindy was about to watch Molly graduate from Southern Cayuga High School.
Cindy and Julee Jorgensen, another aunt of Molly's, said before the school's commencement ceremony they are proud of the person Molly has become.
"In one sense, it feels like a blink, and in the other sense, I can just see her little journey of growing up and all of her struggles and joys all along the way and it's just sort of unreal and exciting," Cindy said.
The event's beginning was signaled by the sounds of bagpipes reverberating through the school auditorium courtesy of members of the Syracuse Scottish Pipe Band as the graduates walked up to their seats on the auditorium stage. 
Valedictorian Catherine Kopp spoke about her love of reading and what she learned from some of her favorite books, from Nobel Peace Prize winner Malala Yousafzai's autobiography "I Am Malala: The Story of the Girl Who Stood Up for Education and was Shot by the Taliban," to "Oh, the Places You'll Go!" by Dr. Suess. Through reading, Kopp said, she learned learning requires time, the importance of perseverance and that "life is one big wonderful adventure." 
"In whatever path you travel on, find what is special to you and cherish it forever," she said.
Graduate Abdias Puac Perez said in his senior address that he was 15 when he chose to move from Guatemala to the United States. While living with his brother, he didn't know anyone at school and while he struggled at first, his English improved and he found success in his schoolwork, he said.
"When I think about it now I am surprised that I took such risks, but it has been worth it," he said.
Principal Luke Carnicelli, senior class president Conner Bennett and Southern Cayuga Class of 1975 valedictorian Craig Buckhout were among those who also spoke.
After the students were officially declared graduates, Samuel Vreeland said grabbing his diploma "was one of the greatest feelings in the world."