Weekly top reads: Cayuga County breweries win state awards, Skaneateles hockey, Auburn coffee company expands
The Citizen's top 10 most-read stories of the week. 
Fire destroys mobile home in Cayuga County
VENICE — Several Cayuga County fire departments responded to a structure fire in the town of Venice Monday morning that destroyed a mobile home. 
The fire was reported at 1597 Mc Allister Road near the intersection with East Venice Road. Fire departments were dispatched to the area at 9:36 a.m. for a fully involved fire at a mobile home. Flames and heavy smoke were observed.
"It's going to be a total loss," Genoa Fire Chief Doug LaFave said at the scene around 11:15 a.m. "We're still investigating."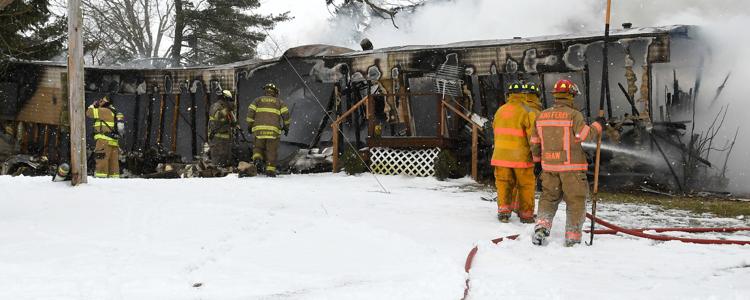 LaFave said the fire unfortunately got a big head start, but the four adults and a cat living in the home were already out safely when the first units arrived. Once on scene around 9:50 a.m., firefighters knocked the bulk of the fire down in about 30 minutes.
Personnel from multiple agencies worked together, surrounding the home to combat the fire from different angles as smoke billowed into the air. Once the steam and smoke settled, only a charred frame of the home remained.
The American Red Cross is assisting the family, LaFave said. One resident who was experiencing shortness of breath was treated on scene, no other injuries were reported. 
The fire departments at the scene included Genoa, King Ferry, Moravia, Long Hill, Scipio and Poplar Ridge. Other departments were asked to provide engines and tankers to support the firefighting operation. Ambulances from Southern Cayuga and Four Town were also on scene and New York State Electric and Gas arrived around 11 a.m. The Cayuga County Emergency Services Office was also present.  
Genoa Firefighter Ed Robinson said at least eight tankers were on scene since there are no fire hydrants in the area.
"They're here in case it flairs back up," Robinson said, adding that the large response to the fire was good considering the time of day.
Portions of McAllister, East Venice and Myers Road were closed down.
LaFave said Cayuga County fire investigators are in charge of determining the cause of the fire. While the investigation is still ongoing, he said the most likely cause of the fire is a faulty heating system.  
Simply successful: Auburn coffee company opens second location
AUBURN — Matt Peirson didn't have to say a word Tuesday afternoon about the success of his business, Simple Roast Coffee Co. It was the first day of the soft opening of the company's second drive-thru kiosk, located in Towne Center Plaza on Auburn's west end. And within a span of 15 minutes, Peirson and his staff had served almost as many customers.
Saturday will be the grand opening of the kiosk, which comes two and a half years after Peirson opened Simple Roast's first location in Grant Avenue Plaza. Speaking Tuesday, he said he knew by last summer that a second location was necessary. Lines for Simple Roast's coffee were growing longer and longer, leaving customers more and more frustrated.
Peirson, who roasts his own coffee beans at a West Street facility, believes the quality of his product is a small reason for Simple Roast's success. The bigger one, he continued, is customer service.
"People like to have a good experience here, a friendly face," he said. "We remember their drinks. We know their dogs, we know their kids. We know when they're driving their wife's car." 
In search of where to build that second location, Peirson scouted Auburn properties for several months, he said. The Towne Center Plaza site not only gave him the space required of a drive-thru, but on the opposite side of the city from the other Simple Roast, it's positioned to attract its own pool of caffeine seekers. That stretch of West Genesee Street sees average annual daily traffic of 10,458 compared to 13,123 by Grant Avenue Plaza, according to the state Department of Transportation. And the new kiosk is closer to downtown, sparing customers there the drive down Grant Avenue.
The 275-square-foot kiosk was built in one of the plaza's outparcels, close to the road. Aside from 2 feet of extra length to fit another refrigerator, the new Simple Roast is virtually identical to the first one, which previously hosted Nana's Cafe and Custard's Last Stand. After two and a half years operating that location, Peirson said, he's learned how to make the most efficient use of such limited space. He now has two baristas working at all times, with a bar-back in the morning and, if they get busier, afternoons as well. Overall, Simple Roast employs 16, eight at each kiosk.
SENNETT — Behind Simple Roast Coffee is a simple truth: It's the only place in town to get c…
Peirson also learned that Simple Roast's original food selections weren't conducive to its coffee service: Preparing bagels and breakfast sandwiches only made waits longer. So he swapped those items for seasonal drinks and specials. Those join coffee staples like lattes and mochas, as well as chai, smoothies and more on the menu, which is the same at both Simple Roast locations, Peirson said.
With his trusted baristas holding down the kiosks, Peirson now spends almost all of his work time roasting coffee beans. He was going through 20 pounds of coffee a week after he opened the first Simple Roast kiosk, he said. By the time the second opened, he was roasting 500 pounds a week. That includes not only the 60 to 70 retail bags sold and the four or five 30-pound bins used weekly at the kiosk, but also the wholesale accounts Simple Roast has attracted. Peirson has already upgraded his roaster from making 5-pound batches to almost 20-pound ones, he said.
He may have to upgrade again after one of Simple Roast's wholesale accounts opens: Auburn Public Theater's café. Scheduled to open later this year, the café will both serve Peirson's coffee and sell his beans. Having his coffee available downtown, in a sit-down setting, will satisfy a common request Peirson hears from customers, he said. But he has no plans to build a Simple Roast café: He prefers the customer experience of the drive-thru. And after opening his second one, he's trying to keep pace with a business that's doing three times the numbers he planned to do.
"I never expected this to be so popular," he said. "I'm obviously incredibly humble and glad that it is, but it isn't what I expected." 
Where to find fish dinners in the Cayuga County area this Lent
The wait is over Friday for those hankering for fish dinners because of the late Lenten season this year. Here are the community fish fries we know about in the Cayuga County area:
🐟 4 to 8 p.m. at the Knights of Columbus, 47 Market St., Auburn. Dinners are served by Maggie's Pie's & Pasta. The Knights of Columbus will also feature live music from 6 to 9 p.m. Fridays during Lent, beginning with Steele Brothers March 8. For more information, or pricing, call (315) 253-8722.
🐟 4:30 to 7 p.m. at Ancient Order of Hibernians, 79 Van Anden St., Auburn. Fish or shrimp is available, and dinners cost $10.
🐟 5 to 8 p.m. at the Auburn Moose Lodge No. 1419, 83 Wall St., Auburn. Fried or broiled dinners are $10. Takeout is available; meals are for members and guests. For more information, call (315) 253-2301.
🐟 5 to 7:30 p.m. at the Auburn Elks Lodge No. 474, 314 State St., Auburn. Fried or broiled dinners are $11. Takeout is available; meals are for members and guests. For more information, call (315) 252-4351.
🐟 5 to 8 p.m. at the Robert J. Hydon American Legion Post No. 239, 3808 Jordan Road, Skaneateles. Meals are for eating in or takeout. For more information, or pricing, call (315) 685-7614 or visit skaneatelesamericanlegion.org.
Auburn's Prison City and Weedsport's Lunkenheimer win big at state beer competition
Auburn's Prison City Pub & Brewery and Weedsport's Lunkenheimer Craft Beer Co. acquitted themselves well at the third annual New York State Craft Beer Competition.
The competition's winners were announced Friday night at the New York State Brewers Association's annual conference in Albany. Prison City took four awards and Lunkenheimer took three, making the Cayuga County breweries two of only three in the state to win at least three awards, along with Threes Brewing, of Brooklyn. A total of 74 medals were awarded.
Prison City took the night's top prize, the Governor's Cup for best beer in New York, for its Barrel-aged Wham Whams, an imperial stout aged in Willett bourbon barrels and conditioned on toasted coconut and vanilla beans. The State Street brewpub also won gold in the Experimental category for the same beer, plus silver in the Pale Ale category for its Illusion of Knowledge pale ale, the same beer ranked No. 7 in a 2018 blind tasting of 151 pale ales from across the country by Paste Magazine. Last, for its fourth award, Prison City took bronze in Wild and Sour Ale for its dry-hopped sour Laser Brain.
AUBURN — The Auburn Planning Board approved the site plan for Prison City Pub & Brewery'…
Meanwhile, Weedsport's Lunkenheimer took gold in Strong Ale (non-Belgian) for its Barleywine 2018, third in Fruit and Spice Beer (Non-sour) for its Toasted Coconut Porter, and gold in the New York State Beer category. The last category judged breweries that use at least 20 percent New York state hops, malt and other ingredients, and fielded 353 qualified entries.
Prison City's Governor's Cup win dethroned Threes Brewing, which won the award the first two years of the competition. The event's third year saw more than 100 breweries enter 813 beers, all of which Barrel-aged Wham Whams topped to win the Governor's Cup. The state Craft Brewers Association and the Raise a Glass Foundation organized the competition, which had 56 judges.
Barrel-Aged Wham Whams is no stranger to statewide prestige: It was the beer Prison City entered into Gov. Andrew Cuomo's inaugural Taste NY Craft Beer Challenge in 2017 after the brewpub finished in the top five of the competition's online vote. The Auburn brewpub also took gold in the New England-style IPA category, for Control for Smilers, at last year's New York State Craft Beer Competition.
Of the awarded Cayuga County beers, Prison City's Illusion of Knowledge and Lunkenheimer's Barleywine 2018 are currently on tap at each location. 
"The diversity of this year's winners is a clear example of the high-quality craft beer being brewed all over the state," state Brewers Association Executive Director Paul Leone said in a news release.
Gallery: Cayuga County's new craft beer scene
Aug. 9, 2015: Four craft breweries have sprouted up in Cayuga County within the past year, and along with a new craft beer market, they've all seen sales surpass their original projections. Local brewers talk about what they have planned next and the state of the craft brewing industry.
Auburn man found guilty of 20 crimes involving domestic abuse, assaulting police officers
AUBURN — In January last year, a teen was playing video games in his apartment when the power went out around 10 p.m. Instead of finding a blown fuse when he headed to the breaker room, he discovered the electricity had been shut off by a woman who had been locked in the basement.
Justin Tillmon, 32, told the teen he'd beaten up his 27-year-old ex-girlfriend and locked her in the basement.
In a Cayuga County Court trial that spanned about two weeks, including 5.5 days of testimony, a jury on Thursday found Tillmon guilty of 20 crimes after deliberating for less than one hour.
Cayuga County District Attorney Budelmann said the domestic incident began when the woman awoke to find Tillmon standing over her and their 8-year-old son where they'd been sleeping on a couch. When the victim, who'd broken off a more than 10-year relationship with Tillmon in July 2017, rejected his sexual advances — he snapped.
Tillmon hit the woman, threw her into a wall and choked her, Budelmann said. She was also thrown headfirst down two flights of stairs before being locked in a basement storage room. Budelmann told the jury that given it was late on a weeknight, Tillmon probably figured he had hours to do whatever he wanted to her. At some point before police arrived, Tillmon released her from the room.
Once the Auburn Police Department arrived in the area of 145 Washington St., Tillmon resisted arrest, Budelmann said. One officer hurt his knee while attempting to handcuff Tillmon and another was injured when Tillmon "violently shoved" him into a wall. Budelmann said the officer went headfirst into a wall and sustained a concussion, chipped tooth and strained neck and back.
Tillmon was charged with four felonies and four misdemeanors following the domestic incident. His charges included: second-degree kidnapping, a class B felony; second-degree strangulation, a class D felony; two counts of second-degree assault, class D felonies, for injuring police officers; class A misdemeanors of third-degree assault, for injuring the female victim; resisting arrest; and two counts of endangering the welfare of a child.
In September, Tillmon was indicted on additional charges including first-degree criminal contempt, a class E felony, for repeatedly calling the victim in violation of an order of protection; nine class A misdemeanor counts of second-degree criminal contempt and two class A misdemeanors of fourth-degree tampering with a witness.
Budelmann said that Tillmon later tried to contact the victim hundreds of times, violating an order of protection. Through a third party, Tillmon also posted intimate photos and videos of the woman on social media. Budelmann said Tillmon also tried to get the victim and a witness not to testify.
"He didn't want her to testify, that's why he's calling her," Budelmann said. "He's calling to get her to cooperate like she used to."
Joseph Sapio, Tillmon's defense attorney, questioned some of the charges during his closing arguments.
For the kidnapping charge, Sapio said there needs to be proof there was threat or actual use of deadly physical force. The victim's injuries, which he said the doctor testified to as being scrapes and bruises, didn't seem to communicate that level of force was used. Another component of kidnapping would be that the victim was held somewhere she would be "unlikely to be found." Given that Tillmon told the teen witness that he had locked the woman in the basement, Sapio didn't believe that applied. He asked the jury to find Tillmon not guilty on the kidnapping charge but instead consider second-degree unlawful imprisonment, a misdemeanor.
For the strangulation charge, Sapio similarly asked the jury to find Tillmon not guilty and urged the jury to instead consider the misdemeanor of criminal obstruction of breathing. A strangulation charge requires a loss of consciousness, or a state of stupor, Sapio said, adding the victim never said she lost consciousness. While she didn't remember how she got back up the stairs after being locked in the basement, he questioned if that could be because she had been drinking that night.
Sapio also didn't see enough evidence for the two second-degree assault charges and questioned the severity of the knee injury one officer suffered. The first-degree criminal contempt felony charge, Sapio said, is in part contingent on there being "no purpose of legitimate communication," which he questioned as the victim not only had to accept jail phone calls and consent to pay for them, but she and Tillmon also had conversations on a variety of topics.
After hearing both Sapio's and Budelmann's closing arguments, the jurors spent less than an hour deliberating before reaching a guilty verdict on 20 charges. Tillmon was found guilty of 18 of the charges as indicted, but two charges he was found guilty of lesser offenses. Instead of the felony charges for kidnapping and strangulation, Tillmon was found guilty of misdemeanors of second-degree unlawful imprisonment and criminal obstruction of breathing.
Tillmon, donned in a red and blue stripped shirt, appeared calm throughout the announcement of the verdict. He nodded his head up and down when the jury announced its not guilty verdict for kidnapping. Throughout much of the verdict announcement, Sapio's hand rested on Tillmon's right shoulder.
"We were pleased with the verdict so far," Sapio said of the first two charges being reduced. "It was a long nine days," he added, as jury selection began Feb. 25.
Sapio said prior to Tillmon's May 7 sentencing date, he plans to file "an application to set aside the verdicts," because he doesn't think the prosecution provided enough proof to support the guilty verdicts on the charges for assault of the police officers and the first-degree felony contempt charge.
"Prior to trial all the defendant was willing to accept was two misdemeanors. I am pleased that jurors agreed he deserved much more and found him guilty of twenty crimes between the two indictments, including three felonies. He now faces up to 18 years in prison," Budelmann said in a news release. "By convicting the defendant of both counts of the violent felony assault second he has been held accountable for injuring two police officers."
Auburn charity dinner preserves 'dying art' of Polish/Ukrainian cuisine
AUBURN — Done right, a home-cooked meal can make eyes widen and leave bellies stuffed. On Sunday in Auburn, stomachs by the hundreds were filled with a special kind of cooking. 
About 400 meals were sold by Auburn's Knights of Columbus, Council No. 207 at the organization's third annual Polish/Ukrainian dinner. Served by assembly lines of the nonprofit's ladies auxiliary, Styrofoam containers were loaded with eastern European cuisine only to be cleaned nearly spotless by hungry customers. 
Inside a container were classic cheese and potato pierogies, a cup of kaputsa (braised cabbage), pigs in a blanket and glistening homemade kielbasa. 
"We just wanted to raise enough to continue giving back to the community," said Sandy Jorgensen, auxiliary president.
The Knights of Columbus, a charitable, Catholic organization, continuously raises money for those in need in the community, Jorgensen said. 
"Really, anyone that normally asks for money, we'll give," she added. 
Jorgensen, a person of Ukranian descent, said that when she cooks, she pays homage to a teacher of hers — her grandmother. To preserve a "dying art," she decided to pass the torch to her daughters and teach them what she had once been taught herself. 
Stephanie Donalow, who stopped by Sunday with her family, echoed Jorgensen when she said her children have never cooked Polish food before. 
"We're all Polish," Donalow said, "but we haven't had a Polish meal in a while. Here and there ... we'll have pierogies at Christmas time, but that's about it." 
Garrett Flynn is neither Ukrainian nor Polish, but he came to Sunday's feast knowing the proceeds will go somewhere that could use the help. 
"My father was in the Knights of Columbus. It's an organization I've known almost my whole life," Flynn said. "I'm happy to be here." 
Black skies, white sidewalks: The state of Auburn's crows
It's become an Auburn cliché to say, but every winter evening, the city's skyline looks like Alfred Hitchcock's "The Birds."
Indeed, that's when thousands upon thousands of crows saturate Auburn's treetops and soar over its streets in numbers rarely seen outside the classic horror movie.
But the similarities end there. To be sure, Auburn's birds don't kill people. And, ominous as it may appear, the city's avian presence isn't shrouded in mystery like the movie's. Experts can explain why all those crows are drawn to Auburn. And, after being trained by those experts, the city's Department of Public Works can more or less control where the birds descend.
Despite those control efforts, which began 14 years ago, crows remain a fact of life in Auburn — especially for Mike Talbot. The city's DPW superintendent since 2011, and an employee of the department since 2000, Talbot has seen almost the entirety of Auburn's crow saga. Like clockwork, he said, they arrive alongside winter in late November and all but disappear by March 1.
"I bet someday they'll just stop coming here for whatever reason," he said. "Just like they started coming here."
Although reports of the birds amassing in the trees outside Auburn date back more than a century, it wasn't until the late 1990s that they started roosting inside the city in significant numbers, said Kevin J. McGowan of the Cornell Lab of Ornithology in Ithaca. Having observed the city's crows for more than two decades, as well as populations across the state, McGowan believes they come to Auburn along a diagonal migratory path that stretches from Quebec and Nova Scotia to the area where West Virginia, Maryland and Pennsylvania meet.
But there's a simpler explanation why, of all the places on that path, the crows congregate so strongly in Auburn, McGowan said. 
"The agricultural fields are the big draw. It's an area that has abundant food the crows can access during winter," he said. "The city is a central place for them to gather at night and go out into the fields during the day. So Auburn's great because it's geographically in a good spot for the crows and has big trees to roost and fields to forage." 
According to a 2008 report by the U.S. Department of Agriculture's Wildlife Services, the U.S. crow population has been steadily increasing since 1966. Researchers counted 63,800 in Auburn in 2005, the report said. Meanwhile, 25,740 were counted in Albany, 16,320 in Troy and 12,000 in Utica — all cities with at least twice Auburn's human population of 27,707 that year. At the time, Wildlife Services said Auburn had the most crows the department had ever documented in New York state. They outnumbered humans more than 2-to-1.
Wildlife Services also said its report was prompted by rising complaints about the murder of problems created by urban crows: picked-apart trash, cacophonous nighttime caws and, of course, poop. 
"You wish they wore diapers," Talbot joked.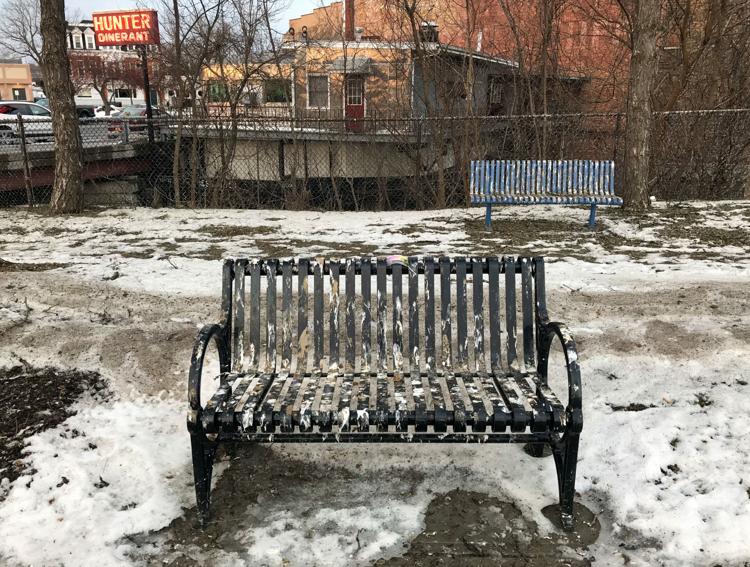 In Auburn, the messy birds were met by welcoming parties of hunters, who organized a crow shoot tournament in 2003. In turn, the hunters were met by protesters, who called the tournament a massacre. The event ended in 348 birds dead and at least four protesters arrested for trespassing. But the heated debate over the treatment of Auburn's birds continued.
In 2004, bolstered by the previous year's controversy and an advertising vehicle in the form of a customized 1986 Pontiac Firebird christened the "crow mobile," the tournament returned. That year's hunt claimed 1,067. By 2005, a bill to outlaw such events was introduced to the state Senate, but wasn't passed. Free to fire at will, hunters bagged another 1,061 crows in 2005 and 453 in 2006.
A common argument from crow hunt protesters — and crow defenders to this day — was that the birds give Auburn character. Decades after their arrival, that does seem to be the case, whether it's Crow City Roasters coffee or the mural of them on Exchange Street. A hallmark of gothic imagery, the black bird has been speculated to herald good as well as evil, life as well as death.
Talbot, for his part, has developed for the birds the kind of respect one often develops for a longtime adversary.
"They're such a smart bird," he said. "And you don't want to hurt them." 
For better or worse, the crows have also drawn attention to the city. A National Geographic crew filmed the flock in 1998, and the hunts drew widespread media attention years later. 
But perhaps the most compelling argument against hunting Auburn's crows was its inefficacy. Every bird killed was a drop in the bucket, one dead against 50 still alive and roosting.
So Auburn turned to the USDA. In 2005, the city spent $14,000 on a hazing program led by Wildlife Services. Using pyrotechnics, lasers and recordings of calls from distressed crows, members of that team and the Department of Environmental Conservation drove almost half of Auburn's population out of the city in one week. Many went to Cortland and Geneva, McGowan said.
In 2006, Wildlife Services counted 36,525 crows in Auburn, down from the prior year's 63,800. Participants in that year's hunt — the last to date — blamed the USDA for similarly halving their haul.
McGowan warned, though, that hazing crows is like shoveling snow: It will always have to be done again.
That's why, when the USDA returned to Auburn in 2006, it taught employees of the city's Department of Public Works how to continue the hazing.
Today, Talbot said, those efforts remain about the same as they were 14 years ago. One difference is that city employees no longer use crow calls as part of their hazing program. Broadcast by speakers on a truck, the calls annoyed Auburn's human residents more than its avian ones, Talbot said. And after awhile, he continued, the birds adapted to them.
"They'd see our truck coming and just not move," he said. "They actually post lookouts. They're in constant communication."
When they don't have snow to plow, two city employees spend their winter evenings hazing crows, Talbot said. They use two types of pyrotechnics — one makes a screeching sound, the other a "pop!" — as well as a gun that projects a laser the size of a golf ball. But effective as those measures are, and experienced as the DPW is with them, hazing can still be frustrating, Talbot continued.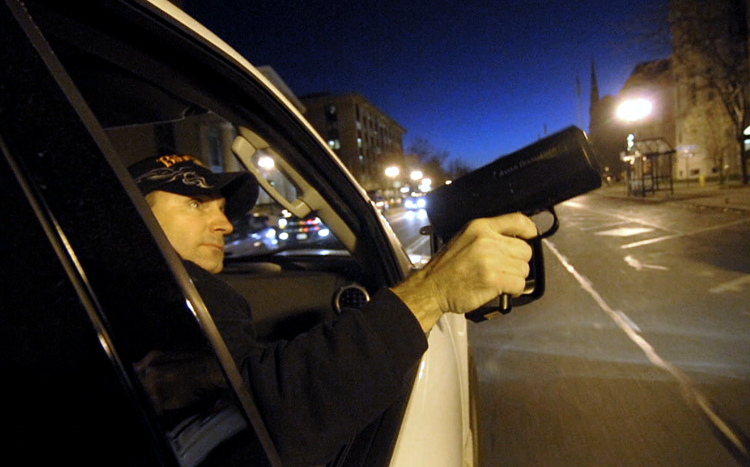 Auburn's crows don't follow any one itinerary through the city. They could line the Owasco River near the Mill Street Dam, greet guests of the Hilton Garden Inn or accentuate the grim atmosphere at Fort Hill Cemetery. But wherever city employees find the birds, Talbot said, they try to guide the flock toward the Municipal Landfill at Auburn's northwest corner, where there are trees to roost and refuse to eat. That herding process, however, can easily feel like going in circles, Talbot said. And it means ignoring the myriad other tasks on the department's to-do list.
That's not to say Auburn's hazing program hasn't been successful, Talbot said. Some years, he continued, the crow population does seem to go down. But such observations are anecdotal at best: Talbot thought last winter wasn't so bad, for instance, while McGowan was amazed at the number of birds. The reason for that disparity is because there hasn't been an official count of Auburn's crows in more than a decade. Wildlife Services said it hasn't conducted work in the city since 2008. And for the DPW, counting the birds is even more difficult than hazing them, Talbot said.
"You can sit there with one of those counters all night long. One crow looks like the next crow, which looks like the next," he said. "And they circle, they land, they hop, they're all over the place."
The department has another crow-related duty — so to speak. After the birds leave Auburn, employees must clean their droppings from city benches, monuments and sidewalks. With thousands of crows occupying such a small area, it doesn't take long for those droppings to get unsightly, Talbot admitted, but his department simply doesn't have the resources to clean them every week.
The same smelly chore also falls to Auburn property owners. Both Joseph Catalfano, owner of 39 Genesee St., and Joseph Bartolotta, owner of several buildings in the city, said that cleaning up after crows is routine maintenance. The limousines at Catalfano's business, J&J Limousine Service, and the cars of tenants at Bartlotta's rental properties are particularly vulnerable, they said.
The nuisance posed by the crows has provoked Auburn residents into taking their own actions against them, Talbot said. Some douse their trash in bleach to dissuade the birds from eating it. But he cautioned against that, as city staff still has to collect the bags. There are harmless ways to haze crows, however, such as lobbing a snowball at a roost or even clapping to scatter it, Talbot said.
There are also decidedly harmful ways to thin the area's crow population. As regulated by the DEC, their hunting season is Sept. 1 through March 31 in New York. And despite the relaxed attitude toward shooting crows in Auburn's recent history, lately there have been no instances of illegal crow hunting in the area according to the DEC, Auburn police and the Cayuga County Sheriff's Office. 
McGowan understands the instinct to repel Auburn's crows, the revulsion they inspire. It can be unsettling to see so many birds sharing the same air as us, he said. The endurance of Hitchcock's movie in the collective unconscious certainly hasn't helped. But McGowan also suggested trying to appreciate the crows. With climate change, it's uncertain that they'll always come to the city, though he believes their migratory patterns won't be affected too significantly. Regardless, McGowan said, Auburn has in its crows something worthy of awe. He compared the sight of them to the passenger pigeons that darkened the skies 100 years ago, the buffalo on the Great Plains, the herds that roam Africa. They're a natural phenomenon speaking, in coos and caws, to our imagination.
"You just don't see wildlife congregate like that," he said. "It's an incredible thing."
Police: Drug task force charges Auburn man with selling opioids
An Auburn man has been charged with selling opioids to an undercover Finger Lakes Drug Task Force member, according to the Auburn Police Department.
Casey J. Drake, of 101 Quill Ave., Apt. C15, was picked up on a indictment warrant Thursday and charged with two counts of fourth-degree criminal sale of a controlled substance, and fifth-degree criminal possession of a controlled substance. Auburn Deputy Police Chief Roger Anthony said Drake sold opioids to an undercover task force member on two occasions last year.
The task force executed the warrant at Drake's residence at 5:21 p.m., Anthony said, and task force members and APD patrol officers were present at the arrest. Drake was released from the Cayuga County Jail Friday on $400 bail.
Lynn's natural hat trick pushes Skaneateles hockey past Webster Thomas in state semis
BUFFALO — In the blink of an eye, Skaneateles hockey punched its ticket to the state championship.
Two goals in 12 seconds from Lakers captain Luke Lynn was enough to boost Skaneateles by Webster Thomas 5-2 in the NYSPHSAA Division II semifinal Saturday at the HarborCenter in Buffalo.
With the Lakers already ahead 2-0 after the first period, Lynn's line started the second and the senior dug an even deeper hole for the opposing Titans with a sudden pair of goals.
The greatest shift of his life? Most likely.
"Luke's been primed for this for a long time and this has been his goal to get here," Skaneateles coach Mitch Major said. "For him to step up in a big moment just shows you the fortitude of Luke Lynn."
Lynn had already scored once before his second-period flurry began. Late in the first period immediately after a Skaneateles penalty had expired, Lynn skated in on a 2-on-1 with defenseman Bauer Morrissey, hauled in a beautiful backhand pass from Morrissey and fired one past Webster Thomas goalie Cody Rougeux. He terrorized Rougeux again less than a minute into the second for his second goal on a high shot from the hash marks.
That second goal put Skaneateles in front 3-0 and prompted a goaltending change by Webster Thomas, who replaced Rougeux with backup Connelly Springer.
Springer received a cold welcome from Lynn, who after a faceoff took the puck wide, cut through the crease and slipped another goal into the net.
Two goals in 12 seconds and a natural hat trick in less than three minutes of game time to give Skaneateles a 4-0 advantage.
"We're just an explosive team and any of the three lines can do it," Lynn said. "You can get a goal any shift with one coming after the other. I just tried to enjoy the moment."
Lynn's third goal served as a wake-up call for Webster Thomas and the Titans proceeded to pepper Lakers goalie Adam Casper with 12 shots in the second and six more in the third period, including a pair of breakaways. For the most part, he was up to the task.
Webster Thomas did give Skaneateles a scare with a flash of goals of its own in the third. The Titan' Kyle Vent ruined Casper's shutout bid with 2:52 remaining, then Webster Thomas' Spencer Nuccitelli scored again seven seconds later to make it a 4-2 game.
A breakaway goal by the Lakers' Ryan Gick with 1:33 left in regulation snuffed out any chance of a Webster Thomas comeback. Instead, Skaneateles will play for the state title.
"We were clearly unraveling a little bit there, but they were able to compose themselves," Major said. "We settled down, we got the right personnel out and stuck to the game plan. We knew we were going to be alright as long as we got pucks deep. We had guys blocking shots and selling out, and when you're selling out in a game like that you feel good about your chances."
In addition to Lynn's hat trick, Gick finished with a goal and an assist and Jimmy Liberatore rounded out the scoring with one tally. Morrissey was credited with a pair of assists, while Charlie Major, Cam Lowe and Garrett Krieger each registered one assist.
In net, Casper made 21 saves. The sophomore has allowed only three goals in three games this postseason. 
"Scoring is great, but when you have a brick wall in there like Adam it gives even more reassurance," Lynn said. "There was no doubt in my mind he was going to keep us in it. They had some really nice shots and he came up huge. It's a nice cushion to have Adam back there. I don't know what we'd do without him.
"We have Chris (Falso) too and Chris has been huge for us all year. I think the two of them have been amazing."
Next up for Skaneateles is Section II's Queensbury (12 p.m,, Sunday March 10 at the HarborCenter), and the Spartans are fresh off a shutout win over John Jay in the semifinals.
With a win over Queensbury, the Lakers would capture their fourth state title in program history, and to do so they'll have to overcome a quick turnaround.
"We're going to go watch some video, and the guys are going to rest and get some dinner," Major said. "We're really just going to relax today. We've got some bumps and bruises right now."
NYSPHSAA HOCKEY SEMI FINAL: Webster-Thomas vs Skaneateles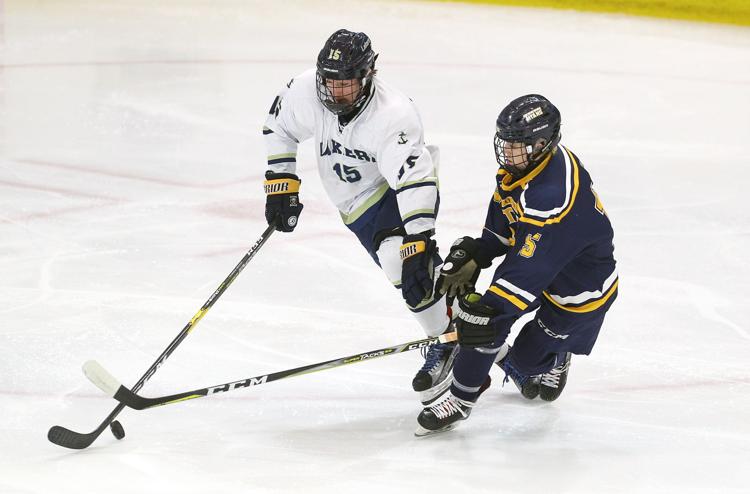 NYSPHSAA HOCKEY SEMI FINAL: Webster-Thomas vs Skaneateles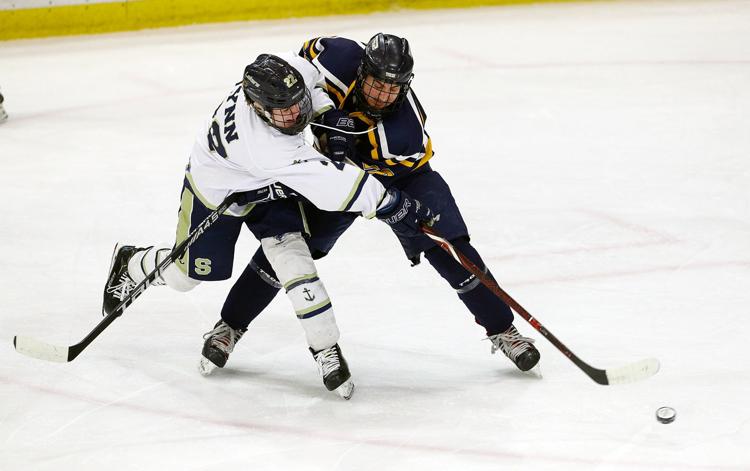 NYSPHSAA HOCKEY SEMI FINAL: Webster-Thomas vs Skaneateles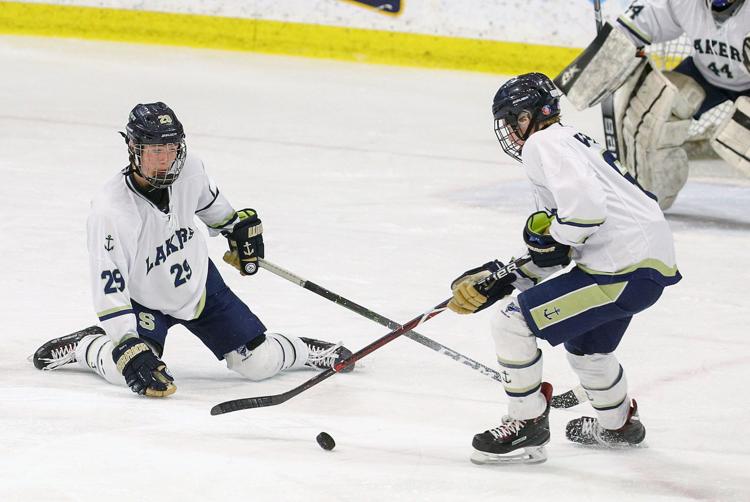 NYSPHSAA HOCKEY SEMI FINAL: Webster-Thomas vs Skaneateles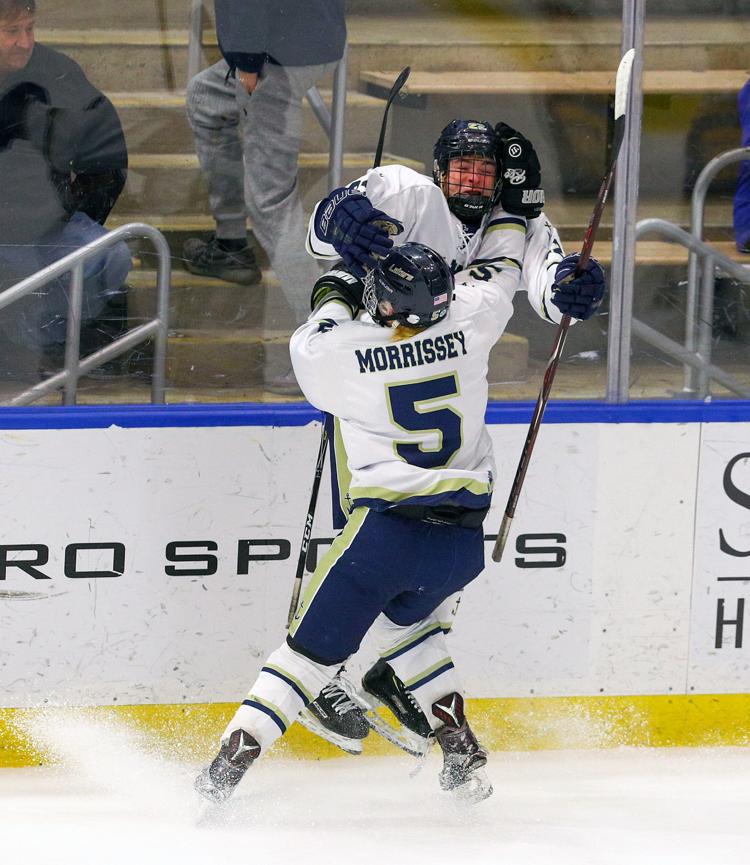 NYSPHSAA HOCKEY SEMI FINAL: Webster-Thomas vs Skaneateles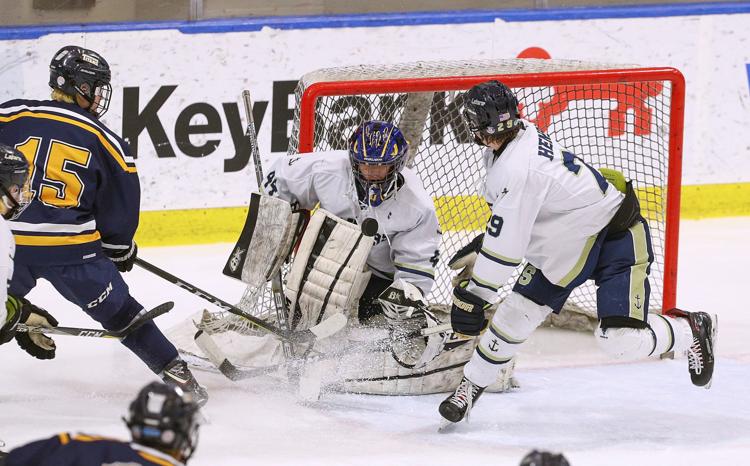 NYSPHSAA HOCKEY SEMI FINAL: Webster-Thomas vs Skaneateles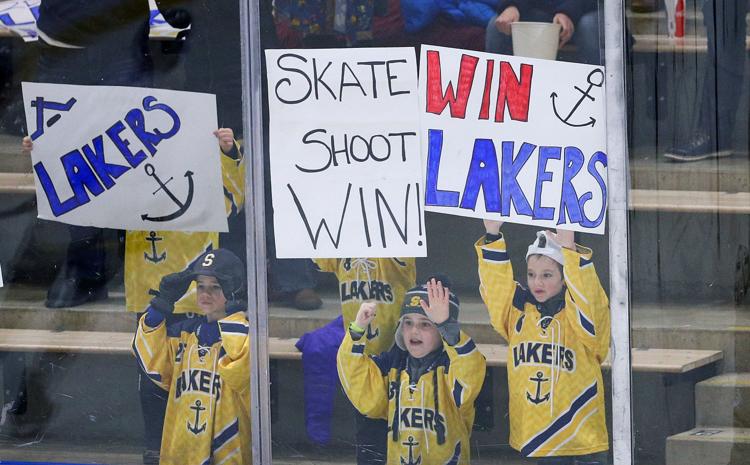 NYSPHSAA HOCKEY SEMI FINAL: Webster-Thomas vs Skaneateles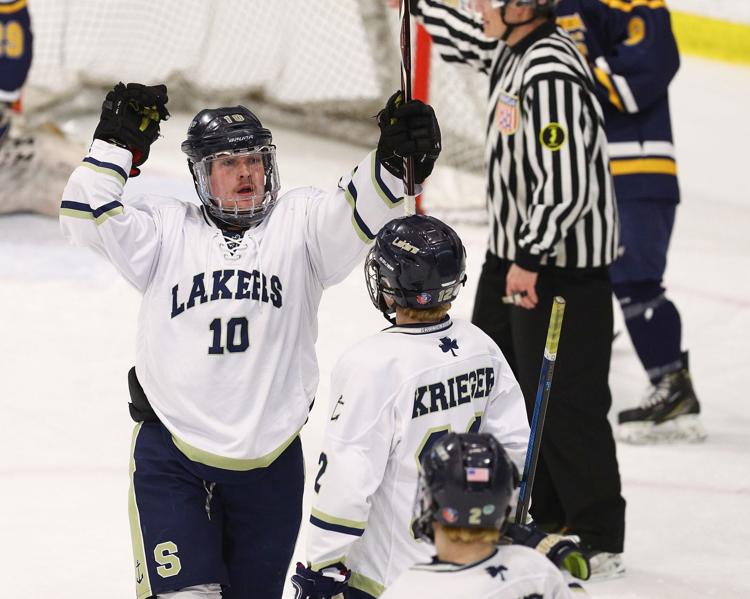 NYSPHSAA HOCKEY SEMI FINAL: Webster-Thomas vs Skaneateles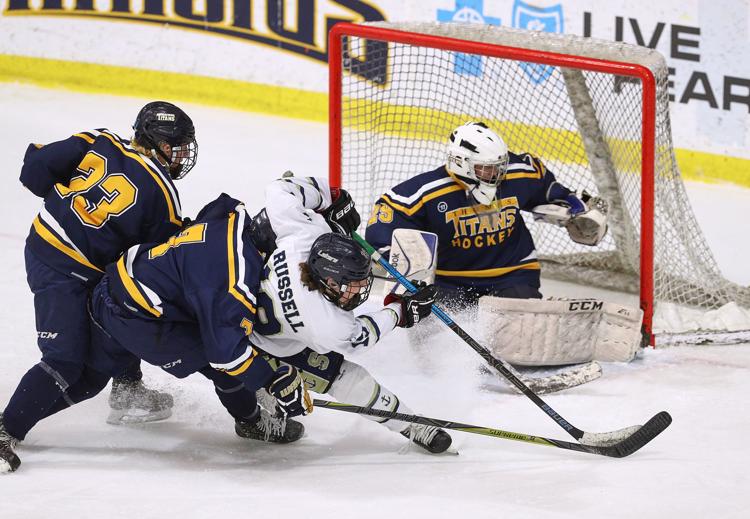 NYSPHSAA HOCKEY SEMI FINAL: Webster-Thomas vs Skaneateles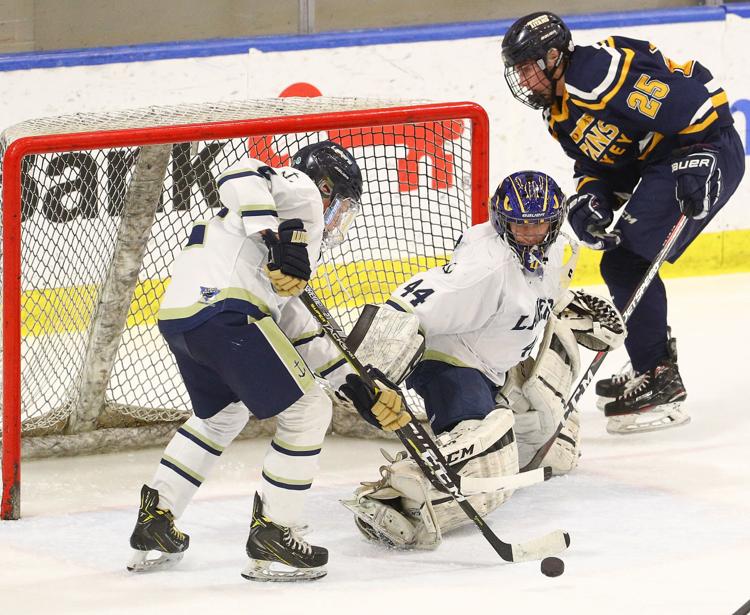 Auburn lawyer plans run against Cayuga County district attorney, who seeks fourth term
Unlike 2015, this year's race for Cayuga County district attorney may be contested.
Incumbent District Attorney Jon Budelmann, who was first elected in 2007, has been endorsed as the county Republican and Conservative committees' candidate for the fourth time.
In a Feb. 24 Facebook post after the GOP gave him its endorsement, Budelmann expressed his gratitude for the support of the party and for the work of his staff.
"For the past 26 years I have proudly worked closely with our law enforcement to successfully protect our community. I (am) proud of the skilled team of professionals who help me prosecute crime," Budelmann wrote, noting his office staff received honors just last year.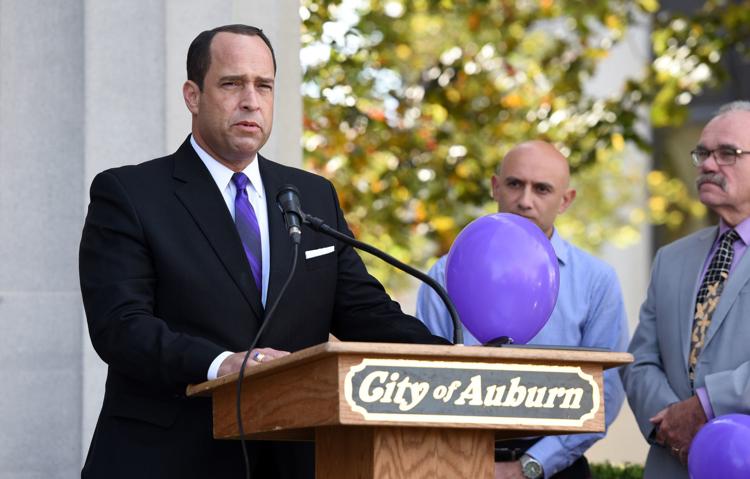 Budelmann, a George Washington University National Law Center grad, worked as an assistant district attorney for Madison County from 1993 to 1994 before joining the Cayuga County DA's office in 1995. He spent 12 years as the county's chief assistant district attorney before winning his first term as the county's elected prosecutor in a contested race in 2007. He won a second contested race in 2011 and ran unopposed in 2015.
Budelmann's potential opponent is Thomas Turturo, who secured the Cayuga County Democratic Committee endorsement last week. The DePaul University College of Law grad grew up in Cayuga County and has been a practicing attorney in Auburn since 2009. He owns Turturo Law Firm in Auburn and specializes in criminal law and civil litigation.
"Turnover among attorneys at the DA's Office is high; each time an attorney leaves, new staff must be hired, relocated and trained at taxpayer expense. As a result, cases are understaffed," Turturo said in a Tuesday press release. "I will restore professionalism to the office and ensure that we retain the best and brightest attorneys."
In an email to The Citizen, Budelmann said Turturo's statements about the DA's office staffing are incorrect, and he also said Turturo lacks experience needed to be a district attorney.
"Mr. Turturo is seeking to be the top law enforcement officer in Cayuga County without any prosecution experience, at all. He has not had one single felony trial," Budelmann said. "Being district attorney is about working closely with law enforcement to get justice for victims, which I have been doing successfully for the past 26 years."
Turturo, however, said he has had tried a number of cases in town, city, county and federal courts. This includes felony matters, he added, specifically referring to a People v. Nancy Kwasniewski, a Seneca County case, which was a felony criminal contempt trial he conducted last summer.
Turturo said he hopes to work with the community to develop a new, comprehensive strategy to combat the opioid crisis, as he said crimes in the county are often fueled by opiate addictions. He believes his experience representing clients from all walks of life and circumstances has provided insight on how to reduce crime and increase community safety.
"I will re-prioritize the precious resources entrusted to the DA's Office to prosecute drug dealers and determine the best path forward for drug addicts," Turturo said. "The people of Cayuga County need a better way forward, with new ideas and a fresh perspective."
In his Facebook post, Budelmann said he foresees challenges with potential state criminal justice system changes but affirmed his commitment to protecting the county.
"I am quite concerned about the current proposals in Albany and their potential to eviscerate the Criminal Justice System," Budelmann said, "but remain energized and engaged in the important work of this Office protecting and serving the Citizens of Cayuga County for another four years."
The period for collecting designating party petition signatures began last week. Those petitions must be filed with the state and county elections boards April 1-4, with any primary elections taking place June 25. The general election is set for Nov. 5.