Weekly top reads: Cayuga County overdose deaths spike, Fingerlakes Mall update, Cayuga County arrests
The Citizen's top 10 most-read stories of the week. 
When Auburn was Charlottesville: Remembering the city's 1993 Nazi rally, which produced a musical
Dozens of white nationalists waving Confederate flags and swastikas.
Thousands of people of different ages, faiths, skin colors and sexual orientations shouting them down.
Violence erupting. And the world watching.
The scene that was Charlottesville, Virginia, in August was similar to the one in Auburn on Sept. 25, 1993, when a rally by the United States of America Nationalist Party at Memorial City Hall was met by counter-protesters. Spurred to action when the party was granted a parade permit earlier that summer, more than 2,000 came from as far as Michigan to denounce what media reported as two dozen neo-Nazis. Like in Charlottesville, their hateful rhetoric quickly led to foot pursuits and fights. The results in Auburn, though, were less tragic: Two minor injuries and three arrests.
"Auburn came together as one today," said Adrian Humphrey, then a student at Auburn High School, to The Citizen. "We showed them that we may have racial tension here, but when some outside group tries to do something like this, we kick them out of town."
The events of Charlottesville reminded many Auburnians of the rally. And one is responding to them the same way she did 24 years ago: a musical.
Beverly Miller will hold auditions in November for "March of the Big-eared Nasties," which she wrote and her husband scored. First produced in 1994, it will return Jan. 28 at Euterpe Hall.
Though based on the neo-Nazi rally, the show is an allegory appropriate for children, Miller said. It depicts the Big-eared Nasties coming to Friendlytown to discriminate against small-eared people. The main character is a 12-year-old boy with one big ear and one small ear, and therefore worried neither side will embrace him. The character was inspired by a biracial relative of Miller's, she said. 
"I was trying to think how to transform such a scary story with real evil in it into something you can show kids," she said. "How do you show them that the size of people's ears, or any other physical characteristic, doesn't define who they are?"
Like many Auburnians, Miller did not join the rally's counter-protest, even though her relatives were targeted by mailbox inserts condemning interracial marriages from the same neo-Nazis. Many Auburnians instead attended vigils and discussion groups to advocate for love in the face of the day's hate, Miller said. At The Episcopal Church of SS. Peter & John, 300 packed the pews for an ecumenical service. Priests and ministers agreed to read only from the Old Testament that day because — per the neo-Nazis' machinations — it was Yom Kippur, the holiest Jewish holiday.
"March of the Big-eared Nasties" shares the message of those vigils and discussion groups, Miller said. As debate continues over how to effectively address neo-Nazis and other hateful demonstrators post-Charlottesville, the Auburn woman comes down on the side of love. It's a message so fundamental, Miller continued, that she didn't feel a need to change the show, even after 24 years.
"Friendlytown creates a parade of love so no one wants to march in the Nasties' march," she said. "The way is, instead of trying to shut people out, find a way to take them in."
Still, Miller acknowledged the bittersweet circumstances of bringing her show back. She wrote it in hopes that history would move away from what happened in Auburn — not toward Charlottesville.
"I'm horrified and disappointed to think the same thing is repeating itself again," she said. "The way things are going — I'm very scared they're going in the wrong direction."
Auburn archery accessories company aims to bring jobs back from China
Copper John Corporation, an Auburn-based archery accessories manufacturer, wants to expand its production and bring jobs back from China with New York state's help. 
The company's plan is one of 38 priority projects endorsed by the Central New York Regional Economic Development Council. The regional council awards competition, which is in its seventh year, supports economic development projects across the state. 
Copper John has applied for a $280,000 grant and $100,000 in tax credits linked to job creation goals. The company would use the funding to purchase new equipment and reconfigure its 11,000-square-foot manufacturing facility on State Street. 
The project would allow the company to retain six existing employees and create 12 new jobs over a five-year period. 
Doug Springer, who founded Copper John in 1999 with his brother Eric, highlighted a major element of the company's plan: to shift some production from China to its Auburn facility. 
Copper John manufactures release aids for competitive archers and sights for bow hunters. Release aids can be attached to the string on a bow and the archer presses a handheld trigger to release the bow. Sights can be added to the side of a bow to help archers aim arrows. 
The sights sell primarily in the North American market, where hunting is more prevalent. The release aids are sold in North America, Asia, Europe and South America. 
Springer acknowledged the irony of where Copper John's products are manufactured and sold. The sights, which are made in China, are primarily sold in the United States and Canada. The release aids are manufactured in Auburn and sold all over the world. 
The fastest-growing market for the release aids, Springer said, is China. 
With changes in the market, Copper John wants to manufacture the sights in Auburn. The company began outsourcing production of its sights in 2009. 
"If we get this grant, it would be great because we would be able to bring back some jobs from China," Springer said. 
The state's support is critical to the project. Springer said without the funding, Copper John wouldn't be able to bring the production back from China and create additional jobs. 
The funding would help Copper John redesign its factory floor and purchase new equipment. The company has had most of its existing equipment for 17 years. 
"They are still in good working order, but to bring production back and still be competitive we would need different machines as well as better machines," Springer said. 
The project excites the regional council and local economic development officials. Springer credited Bruce Sherman, an economic development specialist at the Cayuga Economic Development Agency, for suggesting that the company seek funding through the regional council. 
Tracy Verrier, executive director of the Cayuga Economic Development Agency and one of the county's regional council representatives, called it "one of those feel-good projects."
"This is really a project that is reversing some of the trends that we saw back when a lot of companies started outsourcing their work," she said. 
Cayuga County coroner warns drug overdose deaths on the rise
Something deadly is going around Cayuga County, causing more drug overdoses and deaths than the Cayuga County Sheriff's Office and county coroner have seen in a while. 
Coroner Adam Duckett said he saw four overdose deaths in the past seven to 10 days, all unrelated and spread across the county from Aurora, to Cato, to Auburn. It concerned him so much, he said, that he posted on his former campaign Facebook page to warn people.
"I am writing this post today because my investigators and myself have seen a rise in overdoses in our County this week and it has made me very uneasy," he wrote on Oct. 9. "I want to reach as many people as possible to warn them to BE CAREFUL. Something very lethal is being passed around right now and until we know what it is, PLEASE take this time to get HELP."
Despite the page's inactivity since January 2016, Duckett had more than 460 shares on the post. 
Cayuga County Sheriff David Gould said the calls for drug overdose deaths were very quiet for months. In the past month, however, the problem has sprung up again and with a vengeance. Gould said the sheriff's office is working closely with the Auburn Police Department and New York State Police.
The four deaths were people in their 20s and 30s, he added, at a Cayuga County Legislature Judicial and Public Safety Committee meeting Wednesday night. 
"We certainly want everybody, family members and everybody, to be alert that we don't know what is causing this sudden increase in possible drug overdose deaths in the last three weeks, but we're certainly working on it," Gould said. "It's very concerning. People have to notice if someone is having a problem with drugs, and it doesn't have to be heroin, if people are having a problem with drugs, family members, friends, they have to take the initiative to take care of these people to get them some place that's responsible that can help them."
What's frustrating for both Duckett and Gould is toxicology reports usually take between four and six weeks to come back. Until they do, the substance or substances killing people is unknown. District Attorney Jon Budelmann said at the committee meeting Wednesday night that one of the overdoses was not due to heroin, though he did not say what the lethal substance may have been.
Duckett said fentanyl, an opiod that may be mixed with heroin or sold as heroin, is still the No. 1 killer. The deaths, he added, are scaring drug users, so he's seen an increase in those turning to cocaine. While cocaine isn't good either, Duckett said it tends not to be as lethal as heroin.
"We really have to start getting this more attention again," he added. "We have to stay focused on working together."
Duckett and Gould encouraged those who may be struggling with drug addiction or those with loved ones struggling to reach out to Confidential Help for Alcohol and Drugs (CHAD) in Auburn or another drug treatment program.
In the meantime, the Cayuga County Legislature's Government Operations Committee listened to three law firms representing municipalities in a lawsuit against pharmaceutical companies that sell opiods Wednesday night. After learning more about the case and the strategies of the various firms in executive session, the committee's majority decided to move forward with interest in the lawsuit, recommending that the Legislature consider the New York City law firm Napoli Shkolnik PLLC. 
Legislators plan to discuss potentially joining the lawsuit at the Ways and Means Committee meeting at 6 p.m. Tuesday, Oct. 17 in the Sixth Floor Chambers of the Cayuga County Office Building, 160 Genesee St., Auburn.
Police: Auburn man sold stolen watch to pawn shop
An Auburn man was arrested Tuesday for selling a stolen wristwatch at a pawn shop, the Auburn Police Department said.
Matthew J. Duby, 32, of 151 Perrine St., was picked up on a warrant and charged with first-degree falsifying business records, a class E felony. Police said Duby sold a Movado brand watch to Pawn King in Auburn Sept. 5. Pawn shops require sellers to sign documents saying that they are the legal owner of the goods they are selling.
One of Duby's family members reported the watch stolen that same day. The watch was located through an online registry, police said.
Police said Duby was released on an appearance ticket.
Sennett man pleads guilty to burglary, asks judge for his bike and cart back
AUBURN — A 35-year-old Sennett man pleaded guilty in Cayuga County Court to burglarizing a Sennett home in May. 
A second felony offender and convicted sex offender, Brian S. Wilkinson, of 7884 Grant Ave. Road, appeared before Judge Thomas Leone Thursday and admitted to the third-degree burglary charge.
According to a press release from the Cayuga County Sheriff's Office, the owner of a home on Grant Avenue saw Wilkinson leaving his property on May 2 on a black bicycle with a cart attached. Items were missing from the owner's home. The sheriff's office charged Wilkinson on May 3 with third-degree burglary, a class D felony. He was arraigned and remanded to the Cayuga County Jail without bail.
When Leone asked Wilkinson what happened in May, Wilkinson hesitated and said that he'd rather not say anything. With a plea of guilty, Leone explained, he would have to answer the question.
"Well, I walked into the building and got some stuff, and took it for my own use," Wilkinson said. 
His attorney, Simon Moody, said a number of the items stolen had been recovered and returned including a flat screen TV. It was not clear how much restitution the Cayuga County District Attorney's Office would ask for for the items not returned, but District Attorney Jon Budelmann said it would likely be less than $1,000. 
Moody added that the bike and cart belonged to Wilkinson. Those items were seized by law enforcement, and Moody said Wilkinson would like them back.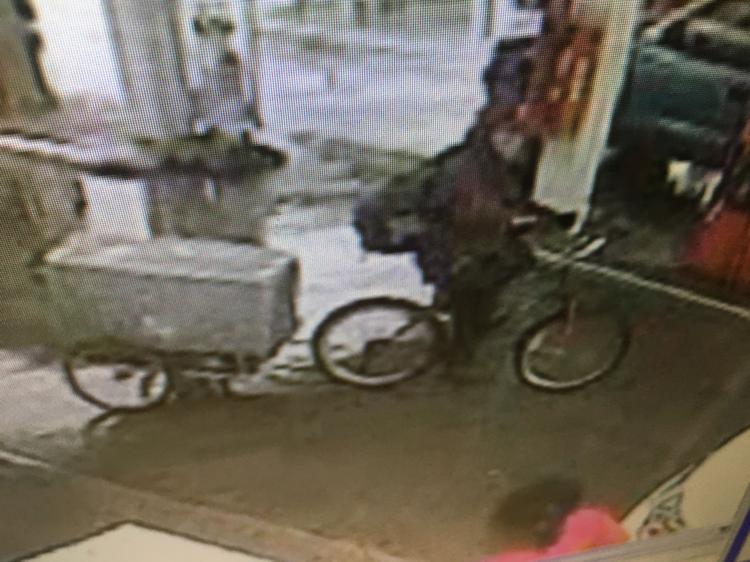 "I'm sure they would be happy to get rid of it," Budelmann said. 
When Wilkinson was arrested in May, he had not been out of the law's hands for long. He'd pleaded guilty in February 2015 to grand larceny and failure to register as a sex offender in a timely manner. According to the state Department of Corrections and Community Supervision inmate database, Wilkinson served more than a year in Wyoming Correctional Facility in Wyoming County, and was released Feb. 7 this year. 
Though he could face 3 1/2 to 7 years in prison for this latest charge, Leone said Moody and Budelmann had worked out a condition where the sentence may be 2 to 4 years. Leone remanded Wilkinson back to the Cayuga County Jail with no bail. He is scheduled for sentencing at 9:15 a.m. Dec. 7. 
Also in court:
• An Auburn woman narrowly missed jail time after violating her probation and failing to notify her change in address. 
Leone sentenced Nicole Errico, 28, of 178 Seymour St., to continued probation on second-degree criminal contempt and second-degree aggravated harassment charges against her from January 2015. 
Errico has failed to appear for multiple probation and mental health appointments, and threatened to kill a person, Budelmann said.
"The combination of lethal threats and mental health issues frankly scares the hell out of me," Budelmann said. "I would think that we're not out of the woods."
Errico's attorney, Rome Canzano, said his client had made considerable strides in the last two months, getting a job and regularly going to her mental health appointments. Errico addressed the court, too, saying that she'd hit a bad patch when her brother died. 
"Since I've been going to mental health, I've been dealing with it," she said, tearing up. 
"She understands," Canzano said. "She gets it. She's attempting to live a stable life."
Instead of pushing her sentence out to continue to monitor her progress, Leone said he didn't want to babysit and would proceed, sentencing her to probation until her officer felt it was no longer needed.
"If you violate again, if you miss one probation appointment, I can tell you right now you'll be looking at a jail sentence," Leone said. "No further slip-ups."
Man suing Auburn police, Cayuga County DA arrested on felony weapon charge
An Auburn man turned himself in Thursday on a charge of threatening someone with a butcher knife, the Auburn Police Department said.
Tyrone Tyreek Matthews, 41, 35 Lansing St., Apt. 1, was arrested on an arrest warrant and charged with third-degree criminal possession of a weapon, a class D felony, and second-degree menacing, a class A misdemeanor.
The APD said the victim called Sept. 22, saying Matthews was outside her residence carrying the weapon. He was not there by the time police arrived. 
After a warrant for his arrest was issued, Matthews, formerly of Rochester, turned himself in to Auburn City Court Thursday afternoon, when he was arraigned and remanded to the Cayuga County Jail in lieu of $2,500 cash or $5,000 bond. His next day in court is Oct. 18.
Two weeks before the incident, Matthews had filed a lawsuit against city and county officials in federal court claiming his rights were violated in the handling of a drug case in which he was acquitted of selling drugs but found guilty of possessing them.
Attorney Jarrod Smith filed a complaint with the U.S. District Court on Matthews' behalf Sept. 8, suing the county, the city of Auburn, the Auburn Police Department, the Cayuga County Sheriff's Department, the Cayuga County District Attorney's Office, District Attorney Jon Budelmann and Chief Assistant District Attorney Christopher Valdina. 
In response to the lawsuit, Budelmann said Matthews' charges and prosecution were justified, pointing out that Matthews had four previous drug selling convictions and that there was strong evidence against him in the most recent case.
Update from Auburn Police: Missing woman found
A 23-year-old vulnerable woman who was reported missing on Oct. 7 has been found, the Auburn Police Department said in a release Monday.
Shaliece Wilson was found in the city of Syracuse with the help of the Syracuse and DeWitt police departments soon after the department had issued a release about her disappearance.
APD thanked the public for their help with the investigation.
State police: Port Byron man caught stealing over $1,000 worth of items
A Port Byron man was arrested for trying to take $1,000 worth of goods from a Wayne County Walmart Tuesday, state police said.
Sullivan Greco, 36, was charged with fourth-degree grand larceny. Police said he stuffed a vacuum cleaner, Blu-ray player, a Hoverboard electric scooter, razors, toys and other items into a shopping cart.
Greco manged to get past the cash registers before getting caught by security at the store in the village of Newark, police said. He was arrested at 4:39 p.m.
He was arraigned at the Village of Newark Court Tuesday and remanded to the Wayne County Jail without bail.
Fingerlakes Mall opens variety, RV stores as new marketing director starts
Two new stores and a seasonal one are opening at Fingerlakes Mall, which also recently hired a new marketing director.
Now open in the Aurelius shopping center's former Sears space is The Great Outdoors RV Superstore, which announced its move there in June. The regional RV dealer will display 50-plus RVs in the 41,536-square-foot space, plus more in the surrounding parking lot, from brands like Keystone and Forest River. A grand opening celebration will be held in the spring.
The company has been in business for 29 years and has additional locations in Fulton, East Syracuse and Brewerton. In a news release, Great Outdoors said the Fingerlakes Mall location offers a unique opportunity to synergize with fellow recreation store and anchor tenant Bass Pro Shops. The store will also add 10-15 jobs to the region, it said. (For more information, visit greatoutdoorsrv.com.)
Fingerlakes Mall was a different place a decade ago.
The mall recently welcomed another new store in Ali's Variety, which will hold a grand opening Saturday, Oct. 14. The store will offer toys, fashion accessories, home decor, figurines and more from brands like Disney and Enesco. The store is open from noon to 6 p.m. Fridays through Sundays. (For more information, visit facebook.com/alisvariety.)
It being October, the mall's location of the Spirit Halloween costume chain is also open in its Event Center space. Complementing it is the recently opened Fright Night Mansion haunted attraction.
Along with the store changes has been one in Fingerlakes Mall's front office, with Tiffany Whittaker starting in September as its new marketing director. The position was previously held by Dann Walsh.
'Quite a story': 2 Victory residents survived Titanic voyage
VICTORY — Many people don't realize the town of Victory, and several other Cayuga County communities, have ties to the tragic 1912 sinking of the RSM Titanic. 
Two Victory residents, Helga and her two-year-old daughter Hildur Hirvonen, were on board the historic ship, traveling from Finland to join husband and father Eric Hirvonen in the United States, when it hit an iceberg and began to take on water over. The mother and daughter were rescued from the ship in a lifeboat. 
"The father was already here or he probably wouldn't have made it because women and children were first," Victory historian Beverly Sayles said. "It wasn't like every man for himself the way many times it is today. It was women and children first, they had a chivalry order." 
Sayles, who has been the historian in Victory for 10 years, thought the Hirvonens' story was interesting and wanted to share it with members of the community. On Sunday, she held a program at the Victory Village Museum called "The RMS Titanic's Connection to Victory."
"I thought this was something Victory residents ought to know and many who grew up here when I did, had no idea," Sayles said. 
According to Sayles, the family didn't speak much about their harrowing experience on the Titanic. 
"A lot of people didn't even know about it until they read their obituaries in the paper," she said. "To a lot of people, it was a surprise."
According to Hildur's obituary, the 46-year-old woman died in 1956 after "a long illness." She lived in Victory with her parents for about 20 years on Pople Road before she died and attended Porter Junior High School and the Central City Business Institute in Syracuse. 
Her mother and father died in 1961 and 1964, respectively, and all three are buried in the Cato Cemetery. 
"It's quite a story," Sayles said.  
During Sunday afternoon's program, visitors had the chance to speak with Sayles and look at a collection of research and newspaper clippings. According to article from the Syracuse Post Standard published on April 15, 2012 — 100 years after the Titanic sank — residents from Auburn, Port Byron, Skaneateles and Syracuse were aboard the Titanic. Sayles also provided refreshments of scones and fruit for visitors.   
"I figured that's what they would have had on the Titanic," Sayles said of the snacks.