Weekly top reads: First Cayuga County babies of 2019, Aurora Ale & Lager expands, Sheriff Schenck sworn in
The Citizen's top 10 most-read stories of the week. 
Retiring Cayuga County Sheriff Gould surprised with goodbye salute
SENNETT — Cayuga County Sheriff David Gould ended his last day in office after 12 years as the county's top law enforcement official with a surprise he said he never saw coming.
Following a formal last sign-off from the county's 911 broadcast system, Gould walked out the doors of the Cayuga County Public Safety Building to a procession of more than three dozen deputies, sheriff's office staff and friends and family standing at attention and saluting.
"Thank you so much," the sheriff could be heard saying again and again as he took the time to give a handshake or a hug to every single person lining the sidewalk.
New Year's Day 2007 ushered David Gould into both his first term as Cayuga County sheriff an…
At the end of the line, Gould returned the salute of his right-hand man, sheriff-elect Det. Lt. Brian Schenck, who will formally be sworn in as the next sheriff on Wednesday.
Gould's wife Sue, nieces and nephews, and even their daughter — Facetiming in over phone from New York City — greeted him as well with an emotional embrace.
"Thank you so much for everything you've done for this department and for me," Gould said as he addressed everyone gathered outside. "Now get inside and get warm!"
The day, which Gould started at 5:30 a.m. to say goodbye to the night shift, had been bittersweet and had gone by fast, almost as fast as the last 50 years of his career as a police officer, he said.
Saying goodbye to all the deputies and office staff, Gould said he considered friends more than employees, was "one of the hardest things I've ever had to do."
"There's so many good friends here and it's been such a great working relationship. It was just a great honor, a great, great honor," Gould said.
Schenck said the goodbye was just as hard for him and the deputies as it was for the sheriff, who he called a great leader for both the department and the entire county.
"I think he worked hard to make sure not only the department but the community respected him, because he had a great deal of respect for the department and the community himself," Schenck said. "He worked tirelessly every day to make sure he earned everyone's respect and I think he accomplished his mission."
While it was difficult to say goodbye, Gould said he couldn't have been happier to have the chance to serve as long as he had.
"I've been able to serve my country, my state and my county, there's nothing more that any one can ask, to be able to do that, I'm very, very proud of that and I'm proud of everyone that lives in the county and certainly every one of my deputies," Gould said.
Cayuga County welcomes two New Year's babies before 8 a.m.
AUBURN — Two families found themselves in an unexpected race New Year's Day morning at Auburn Community Hospital to see who would deliver Cayuga County's first baby of 2019.
Sarah and Jason Dimari welcomed their second son, Jagger Charles, into the world at 6:03 a.m. Jan. 1, a few days before his Jan. 5 due date. Cassandra and Matt Roberts, however, expected to be induced later this week for their overdue baby, but Coraline Jane also made her grand entrance at 7:37 a.m. New Year's Day.
Sarah, of Locke, said she and her husband took to calling Jagger "our little holiday baby," because she found out she was pregnant on Mother's Day. Initially told by doctors that she wouldn't be able to have children, both Jagger and his 4-year-old brother Cylis came as gifts. 
"Doctors said it wasn't going to happen," Sarah said of her conceiving.
Nearly everything was different about Jagger's birth, Sarah said. Cylis' name was picked out when she was 16 weeks pregnant, he arrived two weeks late and weighed more than 9 pounds. 
Jagger, however, shocked everyone by being "a little peanut," Sarah said, as he was born 6 pounds, 5 ounces and 19 inches long. 
On the way to the hospital the morning of New Year's Eve after her water broke, Sarah thought they would name their son Arlo. But when they saw he was "such a little guy" they opted for what they thought was more of a strong, cool name.
"It gives him a little edge," Sarah said.
"It's exciting, totally unexpected," she said of Jagger's early debut. "It made our new year, that's for sure."
Just about 1 1/2 hours after Jagger was born, a baby girl also made her way into the new year.
Coraline Jane Roberts was a surprise New Year's baby as well. She was overdue and doctors talked about inducing her on Jan. 2, but Cassandra said that Coraline clearly wanted to come on her own.
She entered the world at 7:37 a.m., weighing 9 pounds, 3.5 ounces and stretching 22.5 inches tall. Coraline was about 1 pound heavier and 1 inch longer than her 5-year-old brother Landen, Cassandra said.
"It's exciting," she said. "What better day — every time we say 'Happy New Year,' we can say 'Happy Birthday,' too."
New Year's Day also marks seven years of Cassandra and Matt being together, Matt said. The couple moved to Aurelius around August soon after they found out they were expecting — which came as a surprise as the couple originally only planned to have one baby.
While Cassandra's pregnancy "was pretty spot on" to her pregnancy with Landon, she said that the delivery was different. For one, the couple chose to be surprised by the gender. And instead of 36 hours of labor, Coraline was born after about eight hours.
Cassandra's water broke mid-evening New Year's Eve, and they eventually arrived at the hospital at 1:53 a.m. New Year's Day.
"We're happy because we're healthy," Cassandra said to Coraline, who was named after the "Coraline" film.
'A big thrill': Aurora Polar Bears host 29th New Year's Day polar plunge
AURORA — More than 30 people — some for the first time, others with more than a decade of experience under their belts — stormed into Cayuga Lake at noon on New Year's Day to welcome 2019 with a splash.
When Zack VanOrman woke up this morning, he didn't plan to take the plunge. But he changed his mind when he saw his dad, Chris, wrote a Facebook post announcing he was going to do it this year.
"It was spontaneous," Zack said. "I was just like, 'yeah, let's do it.'"
A first time for both him and his dad, Zack said his only game plan to prepare for the impending chill was to "keep the adrenaline going."
"I've been wanting to do it for three years," Chris said. "Kind of regretting it now," he said, laughing, as a strong wind blew across the white-capped waves on Cayuga Lake.
The 34 people who took the plunge this year shivered in the 36 degree weather, wrapped up in robes, blankets and winter gear as they awaited the countdown to prepare to run into the lake. 
"It's just a big thrill, it's something crazy to do at the beginning of the year," said Sarah Homick.
Homick first took the plunge in 1998, and got involved because her Southern Cayuga High School swimming coach, Nancie Tengi Saphara, was the one who started the tradition in 1991.
This year, Homick dedicated her plunge to her father, Ron Jones, who has served Aurora's volunteer fire department for 63 years. Her father wasn't able to attend or volunteer at the plunge this year because he's sick in the hospital, Homick said. So when Jones asked if Homick was jumping in, she gave him a definite yes.
"It was important to do it for him," she said, adding that she planned to visit him at the hospital after warming up a bit.
Saphara did the plunge herself for 25 years, and has continued to organize the event since then. As an Aurora Fire Department and ambulance volunteer at the time in 1991, the departments also supported Saphara's endeavor by being present and have been there every year since.
Each year, the plunge is also an opportunity to raise money for and thank the fire department, Saphara said. In the past, hundreds of dollars have been raised, but this year the plunge only raised about $35. Saphara said due to a transition in leadership there wasn't as much "pump up" this year, but she hopes those donations will increase again in the future.
While she still plans to attend the plunge at least two more years to hit 30 years of tradition, Saphara is passing the leadership baton of the plunge over to Homick and Adam Rossbach, another one of her former student-athletes from the swim team.
Rossbach said he also took his first plunge in 1998 as a senior in high school — because some girls he had crushes on at the time were doing it. He remembered that year being so cold that a hole was cut through the ice on the lake for participants to jump in. He "wised up for about 10 years" before doing the plunge again in 2008, he said, and has done it each year since.
After coming out of the lake Rossbach felt "great," noting that the plunge "gets your blood pumping" and is perhaps the quickest cure for a New Year's Eve hangover.
Rossbach and Homick thanked both Saphara for starting the tradition and the volunteer crews on the scene to keep people safe. They plan to keep the tradition alive as long as they can.
Finger Lakes Drug Task Force seizes marijuana, assault rifle at Auburn home
An Auburn man is facing multiple felony drug and weapon charges after a Finger Lakes Drug Task Force investigation Friday resulted in the seizure of several pounds of marijuana.
Finger Lakes Drug Task Force members arrested Michael Shonchaz Gainey, 36, of 3 Spring St., Auburn, after executing a search warrant on the residence at approximately 9 a.m. Friday. Police recovered more than two pounds of marijuana, an assault rifle and $1,500 in cash, police said.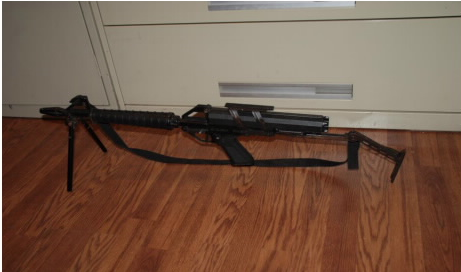 The search served as the conclusion to a five-month investigation into the sale of marijuana and narcotics, according to Auburn Police Department Sgt. Timothy Spingler.
The task force was assisted by the Auburn Police Department's K-9 Unit, the New York State Police Community Narcotics Enforcement Team and the New York State Army National Guard Counter Drug Task Force.
The National Guard program pairs local law enforcement agencies with National Guard members, offering unique and specialized resources and expertise, according to the program's official website.
The Finger Lakes Drug Task Force itself is made up of members from both the Auburn Police Department and the Cayuga County Sheriff's Office.
Gainey was charged with third-degree criminal possession of a weapon, second-degree criminal possession of marijuana, both class D felonies, and fourth-degree criminal possession of a weapon and two counts of second-degree criminally using drug paraphernalia, both class A misdemeanors. More charges may be forthcoming, according to a release.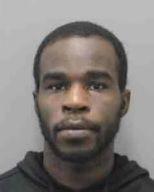 Schenck sworn in as Cayuga County sheriff, Duckett as coroner
FLEMING — Longtime Cayuga County Sheriff's Office member Brian Schenck, taking over for newly-retired Sheriff David Gould, was sworn in Wednesday, alongside the county coroner and a county legislator.
At a reception in Fleming's Springside Inn, Schenck, who first joined the department in 1997, was sworn in by acting Cayuga County Supreme Court Judge Mark Fandrich to replace Gould after the latter retired from his 12 years as sheriff earlier in the week.
Cayuga County Coroner Adam Duckett and Cayuga County District 10 Legislator Joseph Bennett, R-Auburn, were both also sworn in after winning re-election.
Schenck and Duckett both said one of the biggest priorities of their terms would be to continue their offices' cooperative work to alleviate the damaging effects of the drug and opioid epidemic in Cayuga County.
Noting how many in the crowd gathered Wednesday were from both the Democratic and Republican parties, Duckett said it was that kind of unity needed to solve the problem.
"It's amazing to see how really special this county is to bring so many people out," Duckett said.
After being sworn in, Schenck began his remarks by thanking the long list of people whose support he couldn't have done without.
While thanking Gould, Schenck said he half expected to find the former sheriff still at his desk or walking the halls of the Public Safety Building despite his retirement.
"I did get all of the keys from him so I don't think he can get back in the building," Schenck joked.
With 58 other sheriffs as predecessors, Schenck said he would do everything his could to continue Cayuga County's tradition of dedicated service from its law enforcement.
"We do need to come together to work for the greater good of our community and the people we serve," Schenck said.
Rather than being about him, however, Schenck said the job of sheriff was really about the committed staff of the department, who put their lives on the line every day for the sake of the community, he said.
To that end, Schenck formally swore in his longtime ally in the department, Det. William "Steve" Smith as undersheriff, and announced several promotions within the department.
Det. Sgt. Frederick Cornelius was promoted to Schenck's former rank of Det. Lt.; Det. Robert Franklin was promoted to Det. Sgt.; and Deputies Robert Guarnieri and Justin Lesczynski were both prompted to detective.
"I'm excited for the future and proud to lead the sheriff's office into 2019 and beyond," Schenck said.
Haze and hip-hop: Aurora Ale & Lager expands as its beers earn buzz
LEDYARD — You're going to see many more beers from Aurora Ale & Lager in 2019. And if you're a fan of '90s hip-hop, you're going to recognize their names.
In November, owners and brewers Joe Shelton and Mark Grimaldi began making beer on a new system that's significantly bigger than Aurora's previous one. It not only takes them from producing two to five barrels at a time, it also gives them 30 barrels of fermenter space compared to six previously. They'll get another two fermenters this winter, they said at the brewery Thursday.
So Shelton and Grimaldi can now brew more Aurora beer, and more frequently. They estimate their annual output will rise from about 100 barrels to as much as 1,000. And it couldn't come at a better time for the brewery, whose New England-style India pale ales in particular have caught on with regional beer fans at taprooms like Thirsty Pug Craft Beer Market in Auburn.
"They're selling out faster than some of the bigger brands," Thirsty Pug owner Mike Sigona said. "I feel like they're one of the best breweries in the Finger Lakes."
Shelton and Grimaldi have focused on the popular style lately to build momentum and penetrate the market, they said. Beers like Fresh to Death and Off the Hazy use different hop bills; others, like So Damn Thirsty and Party at the Moontower, use fruit, tartness and lactose to deliver a sort of creamsicle taste. Aurora will soon debut two more New England-style IPAs, including one with Cashmere, a newer hop that can give a beer tropical aromas and be grown in New York state — "which is unheard of," Grimaldi said. The brewery sourced it from Chimney Bluffs Hoppery in Wolcott.  
But hazy and hoppy beers are far from the only ones Shelton and Grimaldi plan to make on their bigger system. On deck are a sour with blueberries, vanilla, lactose and cinnamon, as well as a brett (souring yeast) saison aged in red wine barrels. They also recently acquired both rum and Buffalo Trace bourbon barrels. An upcoming Belgian quad will be aged in each type of barrel, as well as with black currants, and Shelton and Grimaldi will also make a bourbon barrel-aged imperial stout. Further down the line, they're excited to brew with Voss Kveik, a Norwegian strain from a Canadian yeast bank they recently began working with. And the new fermenter space will give Aurora the room to brew more lagers and pilsners, which take twice the amount of time it takes to make ales.
"We're trying to make cool-ass beer," Grimaldi said. "People want to try something new and unique, and follow a brewery that's really creative."
The brewery's expansion was made possible by a $130,000 low-interest small business loan from Cayuga County secured through the Cayuga Economic Development Agency, said Tracy Verrier, its executive director. Among the conditions of the loan is job creation, Shelton and Grimaldi said, which they don't expect to be a problem. All that beer means distribution, which means hiring a full-time driver sometime soon. Overall, Aurora will add two full-time jobs to its current three part-time ones, which don't include the owners and brewers themselves.
The bars asking for those Aurora kegs span as far as Buffalo, Syracuse and Ithaca, Shelton and Grimaldi said. Meanwhile, the brewery has begun working with Revolution Canning to can its beers and wholesale them to area retailers. But wholesaling may decrease in the summer, they said, when Aurora will need to keep its tasting room stocked with more beer for its increased visitors.
Shelton and Grimaldi said Aurora gets good traffic at its Route 90 location. Those on wine tours appreciate having a brewery to stop at, they said. But it's still not as much traffic as the owners would like, particularly in the winter. That's why they're considering opening a satellite tasting room — which they can do through their farm brewery license — as soon as later this year.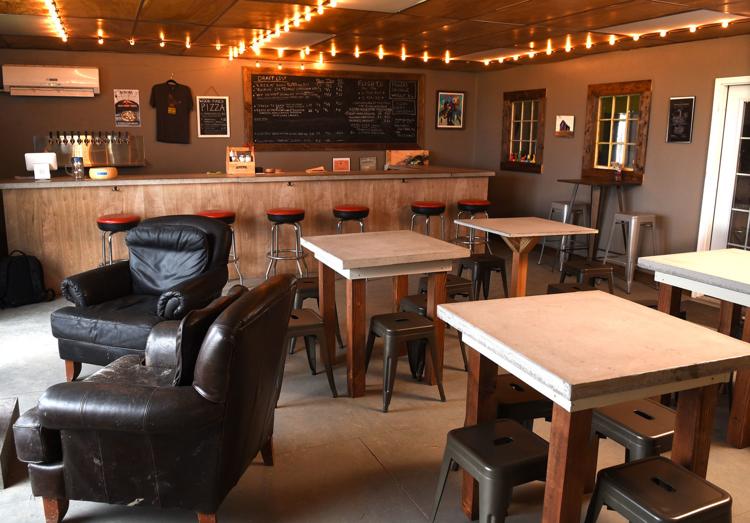 For now, Shelton and Grimaldi are working to make their hilltop barn brewery more scenic and homey. Those who haven't visited since the months after it opened in summer 2015 would barely recognize what it's become. The old tasting room, with its naked drywall and rough edges, now houses all the new brewing equipment. The new tasting room is located elsewhere in the barn. And it's far more inviting, with strings of warm light, wooden finishes and a fireplace. It also boasts a view of Cayuga Lake through large windows, and a pair of leather chairs to enjoy it.
Shelton and Grimaldi said they plan to add seating to the tasting room and, eventually, expand it. Saturdays can get especially crowded: That's when Aurora books live music every other week, and also brings in Grimaldi's mother- and father-in-law, Janet and Jim Shea, to make wood-fired pizza in an oven they built this summer in a new kitchen area opposite the bar. 
The outdoor area will get overhauled with new seating and a nicer patio in time for summer, Shelton and Grimaldi said. The brewery also has a second barn — an older, wooden one — that will be available to rent in the warmer months. With lights dangling from the ceiling, a second bar and space for live bands, it's a rustic option for weddings and other events.
Aurora's pastoral location and look may put it at odds with the names of its beers, which often come from '90s hip-hop lyrics. The Wu-Tang Clan alone is well-represented, with K.R.E.A.M. (Kölsch Rules Everything Around Me), Goseface Killah and The STZA imperial stout. Grimaldi joked that he and Shelton haven't gotten a cease-and-desist letter yet, but one from Ghostface Killah would tell him that they've officially made it. Until then, the references on Aurora's tap list and cans will continue helping to add buzz to the Cayuga County brewery's name.
"People are so happy when they look at the board. You see people smirk at the bar, or mention something to the person they're with," Shelton said. "It's a connection."
Auburn Planning Board to get first look at brewery project
AUBURN — Plans to construct a 20,000 square-foot beer production facility and restaurant will be presented to the Auburn Planning Board Wednesday. 
Prison City Pub and Brewery is seeking site plan approval for its plans to erect the facility on a 2.1-acre property on the corner of North Street and Standart Avenue in Auburn, according to the planning board's agenda.
The proposed project's main building will include a tasting room and an associated restaurant, as well as outdoor seating, an entertainment courtyard and parking, according to the application submitted to the city. Within the production area, bottling and canning lines and beer aging equipment will also be installed. Plans currently include a parking lot with 73 spaces.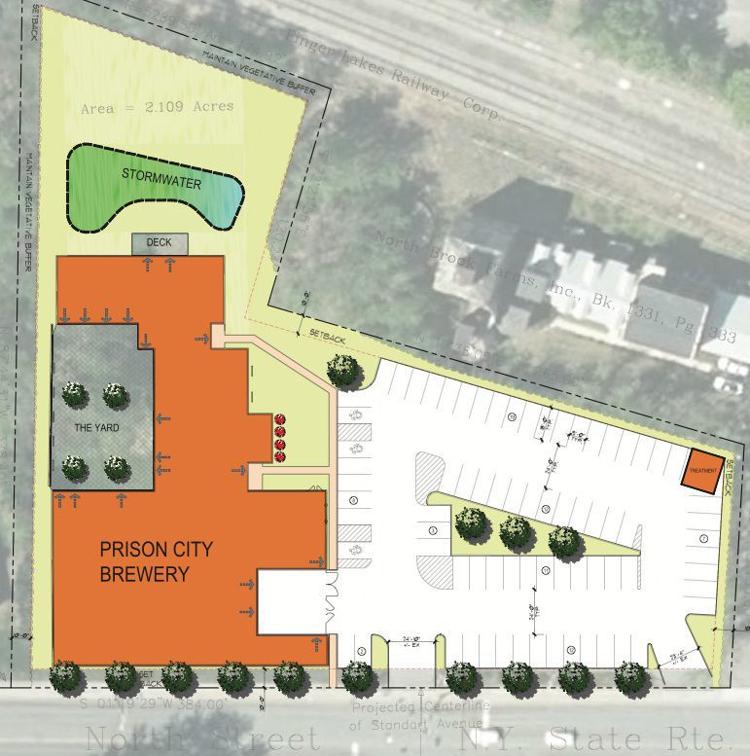 In addition to the 20,000-square-foot building, Prison City plans to construct a small accessory building necessary for pre-treating water after use in the brewing process, the application states. 
Prison City last month announced it had selected the site at 197-199 North St. for its expanded production facility after considering more than a dozen sites, some in Auburn and some as far away as Rochester and Ithaca. The property was once home to a car wash, but that was demolished last summer. Prison City plans to acquire the site from the Kyle family. 
A Dec. 28 memo to the planning board from Stephen M. Selvek, the city's deputy director of community planning and development, said the primary vehicle entrance to the site will be at the intersection of North Street and Standart Avenue, which has a traffic light. However, he said, Prison City's project engineer is also considering a second entrance to the north of the intersection.
Selvek's memo said Wednesday's meeting will include a presentation of the project, but the public will also be given a chance to comment on it.
Thurston sworn in as Auburn City Court Judge New Year's Day
AUBURN — Attorney David Thurston took on a new title this year as he was sworn in as Auburn's new city court judge on New Year's Day at Memorial City Hall.
Previously the associate justice at city court, Thurston was sworn in as the city judge at 1 p.m. Tuesday. Thurston is replacing Judge Michael McKeon, who is retiring after a 20-year career presiding over city court. Thurston won election to the 10-year term in a race against local attorney Steven Buschman last fall.
"This is a special day for the Thurston and Hutchinson families," said Earl Thurston, Judge Thurston's father.
"Our family has some connections with this building ... This is very special and we should be so proud to be here," Earl said.
Among the connections to the building, Earl said that David's next door neighbors are the Osborne family who gifted Memorial City Hall to Auburn. A plaque honoring David's uncle, John Pettigrass, also hangs in city hall's chamber. A long–time serving corporation counsel to the state, Earl said Pettigrass was dedicated to his job and David shares many of his qualities, including drive, intellect and passion.
Following his speech, Earl swore in David — accompanied by his wife, Stephanie Hutchinson, and two children, Leah and Ben — as City Court Judge David Thurston.
Nicholas V. Midey, Jr., a senior judge for the state's Court of Claims and a mentor to Judge Thurston also spoke during the ceremony.
"I was really pretty good until I got here," Midey said. "Then all of the sudden what do I do? I turn around and I look and see Judge (James G.) Cuddy. Now why would that bother me? I thought, 'Well, from now until the end of time, the caliber of the city court judge will be determined by the gold-standard of that position. And that's Judge Cuddy. Good luck, Dave," he said as the crowd of more than 100 people laughed.
Midey then passed on two pieces of wisdom to Thurston that were once shared with him, one by Professor David Siegel and another by his own father, Nicholas Midey, Sr.
Siegel, he said, taught him that patience is what makes a good judge. Not only patience in the courtroom, but also patience in chambers to find the right legal answer — especially when you are unsure of what to do.
His father, he said, taught him about respect. He instilled in him the importance of respecting all lawyers and litigants — "you are not above them, you are one of them in the legal process," his father once told him.
Midey then presented Judge Thurston with a gavel specially prepared by Thurston's family. Historically, the gavel has represented authority, Midey said, "use it wisely, or better yet, use it judiciously."
"I can't describe what an honor and privilege this is," Judge Thurston said at the closing of his swearing-in ceremony. "I have very, very large shoes to fill with Judge McKeon before me and Judge Cuddy before him. We've been very blessed in this community.
"I really consider myself to be very, very fortunate," he said, thanking all in the audience for their support, love and kindness throughout his life.
City's first female judge appointed by Auburn City Council
AUBURN — The Auburn City Council on Thursday appointed the city's first female judge — naming Auburn attorney Kristin Garland as the city's new part-time associate judge.
In Auburn's 226 years as a municipality, Garland is now the city's first female judge. She was approved by a 4-1 vote, with Councilor Debra McCormick casting the only "no." Despite her vote, McCormick said she thought it was a great thing that the city selected a woman. 
In a four-hour executive session last week and another hour-long session Thursday, the council interviewed a total of five candidates — each were asked the same 14 questions in 45-minute interviews. Besides Garland, the candidates were not named.
Councilor James Giannettino said Garland's appointment is supported by her wide range of law experience including family law, private law and municipal law. 
"There were multiple qualified female candidates," Giannettino said before the council's vote. "I'm happy about that."
Garland is an 11-year veteran in family court and criminal court at both local and state levels. Previously an assistant district attorney in Cayuga County, she has also represented New Yorkers in criminal matters, according to a resume given to the council.
Garland is married to Nate Garland, assistant corporation counsel for Auburn. Together, the two are partners in a firm, but according to Kristin's cover letter to the council, she plans to dissolve the partnership immediately.
Giannettino said the relationship was "irrelevant" to the council's decision. 
"I don't think it's fair to deny someone a job based on their spouse's job," he said.  
Granted the approval for a six-year term, Kristin Garland may be assigned judicial work of many sorts including small claims, commercial claims, parking ticket appeals and dangerous dog hearings. She will soon briefly attend a judiciary school in preparation for the job.  
The part-time position has a current salary of $90,000 plus pension, medical, dental and eye care coverage.
New veterans health clinic to be established apart from Auburn Community Hospital
Auburn's outpatient clinic for veterans will relocate in the spring from Auburn Community Hospital to a currently vacant building on East Genesee Street — a move that hospital officials said raises "questions and concerns."
According to a news release, health clinic operator STG International has been approved by the Syracuse Veterans Affairs Medical Center to become the new provider for an Auburn-based clinic to assist Cayuga County veterans.
The company said it will establish an outpatient clinic at the former Rite Aid pharmacy at 47 E. Genesee St. The building will undergo extensive renovations before a targeted May opening.
STG International was chosen as part of the established Department of Veteran Affairs federal solicitation and award selection process, the news release said. Contracts for VA clinics are competitively bid every five years as a part of the process. 
The Auburn clinic is currently operated by and located at Auburn Community Hospital, providing primary and behavioral health care and specialty referral services to around 1,400 veterans in Cayuga County and the surrounding area.
The new building will be designed to provide additional space for room expansion, patient privacy and enhanced services, the press release said. The new spot would allow the VA to expand care through additional space for mental service, health and dietetic services. The Auburn hospital will continue to operate the current clinic during the transition, and services for veteran patients currently seen at the clinic "will continue uninterrupted," during that time, the news release said. The new clinic is set to be roughly twice the size of the current one, with about 10,000 square feet of space.
The VA said the move will provide "significant additional space needed for room expansion, patient privacy and enhanced services" and afford the ability to provide Patient Aligned Care Teams and expand care for mental health, telehealth and dietetic services.
Matt Chadderdon, vice president of marketing for Auburn Community Hospital, said the hospital wants to know more about the process behind STGi being selected to operate the clinic for the next five years instead of the hospital.
"Auburn Community Hospital has a number of questions and concerns about the decision, and is working with Congressman (John) Katko to get a better understanding of the process and the decision," Chadderdon said.
Retired Marine Corps Lt. Col. Robert McLean, public affairs officer for the Syracuse VA, said the strength of STGi's proposal, which included the use of the Rite Aid building and the additional space, influenced the decision to pick the company instead of proposals from the Auburn hospital and another entity. 
The losing bidders were notified by email Sunday, McLean said.
"We picked the proposal that included the best possible service for our veterans," McLean said.
The Syracuse VA center sent letters about the operator and location change to every veteran using the Auburn clinic on Friday and Monday, McLean said.
STGi runs VA clinics in locations in California, Pennsylvania, North Dakota, Arkansas and Oklahoma. The company's services beyond managing clinics includes management consulting, supporting pre-kindergarten through 12-grade education programs and providing health care for detention and correctional facilities, including Immigration Customs Enforcement locations, according to STGi's website.
"STGi was selected to operate the (Community Based Outpatient Clinic) because their proposal was the most responsive to the needs of our Veterans and allows for the expansion of services and programming. We look forward to working with them," Dr. Judy Hayman, director of the Syracuse VA center, said in a news release.
The staff at the Auburn hospital's clinic consists of around a dozen employees and two VA employees on the mental health staff, McLean said. It was unclear Wednesday whether any of those people would move over to the new facility.
"The general procedure is that the new contractor, in this case, STGi, will discuss employment with the current staff," McLean said.
Judith Gentleman, of Moravia, whose husband is a veteran who receives service from the Auburn hospital, contacted The Citizen to say that she is concerned about the clinic becoming privatized.
"I'm very distressed that some contractor is going to be taking away something from the hospital when they're doing a good job," she said.