Weekly top reads: Rapist captured in Skaneateles, Auburn vet starts coffee company, new Auburn food truck
The Citizen's top 10 most-read stories of the week. 
Authorities search for rapist who removed monitor bracelet in Skaneateles
Law enforcement officials in central New York were searching for a "dangerous" convicted rapist who removed a parole monitoring bracelet in Skaneateles on Wednesday.
Christopher E. Block, 61, of 803 Court St., Syracuse, was released from state prison in December on parole after he had been serving a sentence of 25 to 50 years following a 1984 conviction on forcible rape and kidnapping in Syracuse, according to state Division of Corrections and Community Supervision records.
According to the state sex offender registry, Block is white, 5 feet 10 inches tall and weighs 176 pounds. He has brown hair and hazel eyes. He has tattoos on both arms and his back, and is missing a toe on his left foot.
Block's convictions include two counts of first-degree rape, two counts of second-degree kidnapping, two counts of first-degree sexual abuse, two counts of third-degree criminal possession of a weapon and one count of second-degree burglary, according to DOCCS records. His sex offender risk level is the highest potential for re-offending.
The Onondaga County Sheriff's Office received a call from the state parole office a little after 10 p.m. Wednesday requesting assistance looking for Block, said spokesman Sgt. Jon Seeber. He said Block's ankle bracelet had been found on Kane Avenue in Skaneateles.
Seeber said the sheriff's office dispatched a K-9 unit and a helicopter to assist in the search. Members of the office searched until around 2:30 a.m., Seeber said, and they had assistance from state police, the Cayuga County Sheriff's Office and state parole.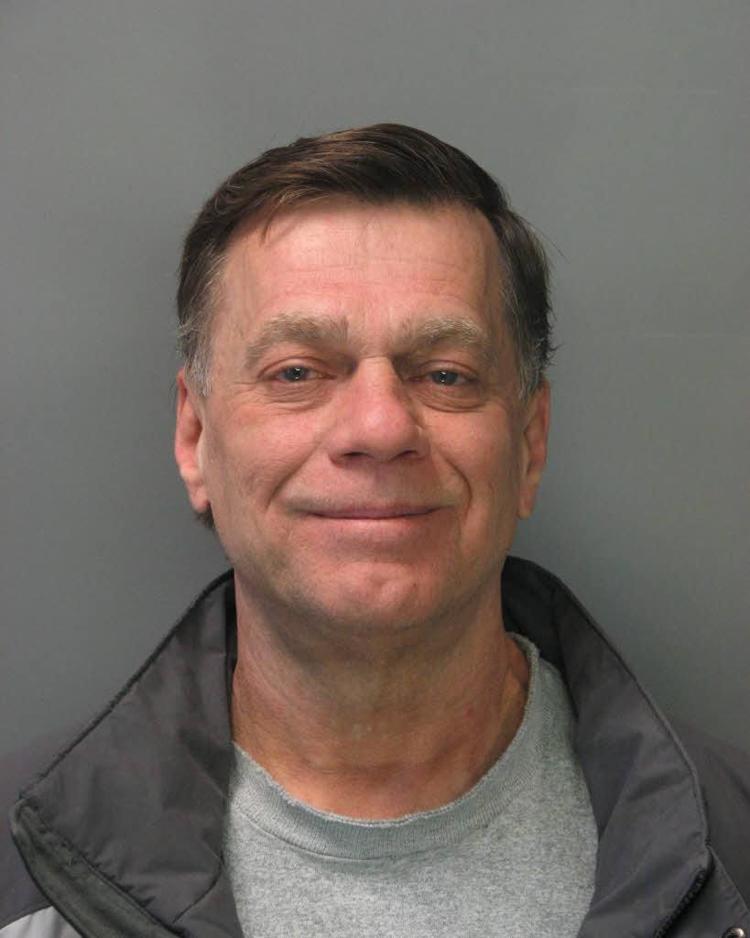 In a Facebook post of a link to a regional television station's article about Block, the Skaneateles Police Department said: "If you see someone you believe is Mr. Block, call 911 immediately." That was posted at 3:13 p.m. Thursday.
Numerous police agencies in central New York have referred questions to the state parole office, which is part of DOCCS. The Syracuse regional parole office referred questions to the agency's press office in Albany, which issued a statement around 3:30 p.m. Thursday.
In that statement, DOCCS said the search was ongoing and that Block "should be considered dangerous." The agency said people can call in tips to (518) 457-4213.
According to DOCCS, Block had been denied parole numerous times before he was conditionally released by statute for good behavior in prison in May 2017. He was returned to custody in November of that year for an unspecified violation of his conditional parole, and an administrative law judge ordered that he remain in prison until his most recent release, which was Dec. 26. Block's parole completion date is Jan. 13, 2034.
Before DOCCS put out its statement, Cayuga County Sheriff Brian Schenck said his agency was also hoping to get more details from the state agency. "We do not have much information and it appears that the investigation is focused in Onondaga County," he said.
Later Thursday, Schenck posted a statement on his office's Facebook page critical of the lack of information being shared about the case.
"Not only should our local law enforcement agencies have been, and continue to be updated and kept in the loop of this ongoing investigation, the public should have been notified about this dangerous fugitive's status much earlier," he said. "This is inexcusable."
Cayuga County E-911, at the request of its Onondaga County counterpart, also sent out a reverse 911 call regarding block at 1:30 a.m. Thursday, E-911 Administrator Denise Spingler said. The call explained that Block had cut his ankle bracelet and was on the loose, provided a circumference of his location and advised residents to lock their doors.
Spingler said she did not anticipate the department sending out another reverse 911, barring a new credible sighting within the county.
Wells College placed on probation by accrediting organization
Wells College has been placed on probation by its accreditation organization and given two years to come into compliance.
The Aurora-based private college was told it received the designation from the Middle States Commission on Higher Education on June 28, according to a statement on the college's website from President Jonathan Gibralter and board of trustees Chair Carrie Bolton. The commission said the college is not in compliance with its "Planning, Resources, and Institutional Improvement" standard and also with its standard related to financial documentation, funding sources and financial development.
Wells will have two years to completely comply with the requirements needed for its academic accreditation to be renewed, the statement said. It is also directed to submit a progress report by Dec. 1.
Middle States is recognized by the U.S. Secretary of Education to conduct accreditation activities for higher education institutions in Delaware, the District of Columbia, Maryland, New Jersey, New York, Pennsylvania, Puerto Rico and the U.S. Virgin Islands, according to the commission's website.
Wells is still fully accredited while it is on probation.
"The College is also modifying its budget for the coming year to bring annual expenditures closer in line with projected revenue, and also to more closely align budget allocations with our long-term strategic priorities," the statement said.
Gilbralter said in an interview with The Citizen on Wednesday that as an alternative to layoffs, the college has enacted salary reductions for current full-time employees, starting with the colleges's new fiscal year, which began this month. Depending on how high an employee's salary is, that cut ranges from 3% to 6%, Gilbralter said. A 10% reduction is in effect for senior administrative staff, including himself, he said. 
"We felt really horrible about having to do this to people who work hard and love the college," Gilbralter said. "They work hard, they care, and we wanted to make sure that we did was even more substantial than what we were asking them to do." 
Gilbralter said the college hopes the reductions will only be in effect for one year. He said Wells has already met its goal of reducing around $1 million from the school's 2019-20 operating budget. Cost-saving measures in addition to the salary reductions include not filling vacant faculty and staff positions, he said.
Wells also has an retirement incentive program for faculty and staff who have more than 10 years of service and are 60 years old or older, Gilbralter said. The incentive is that for every year of employment, they would receive one week's salary, up to 26 weeks, he said.
In the fiscal year ending June 30, 2017, the college reported a net loss of $1.05 million, according to the most recent public filing with the Internal Revenue Service. Revenues for that year fell from $40.8 million to $34.4 million.''
The state Education Department has posted enrollment data for Wells that showed the full-time student population dropped from 558 in 2015-16 to 509 in 2016-17 and then to 481 in 2017-18. Numbers from 2018-19 have not been posted yet.
When addressing the potential challenge probation could mean for recruitment, Gilbralter said he believes colleges throughout the Northeast have had issues recruiting.
"It's a challenge, but students who want an education, want to come to a private college, really find Wells to be the right setting for them. We will continue to recruit those students. I don't think that this is going to be an obstacle for us," Gilbralter said. 
He said the college's goal is to bring in 180 first-year students by August 2020 and it's looking to "dramatically increase" its international enrollment. The college is also open to "creative partnerships" with community colleges within the state, he said. Gilbralter said the college's new vice president for enrollment services, Gerard Turbide, who started earlier this month, is a "national expert in enrollment management, recruitment."
According to a "frequently asked questions" page on its website, Wells will have to submit a "teach-out plan" which is meant to prepare a institution "to ensure that its students can complete their studies elsewhere should the commission ultimately withdraw its accreditation," regardless of the likelihood that the plan would need to be put into action, the page said.
Despite that, the college emphasized that it is not closing.
"This is not a line of discussion that the board of trustees, the president or the senior leadership are currently evaluating — or have even seriously considered," the FAQ section said. "We strongly believe that the College will ultimately prevail over these short-term obstacles, and are looking into any and all avenues that will lead to the College continuing to fulfill its educational mission."
Wells' history reaches back over 150 years. The institution was a women's college for over 130 years before going coed in 2005. Gilbralter said he believes the college, which employs nearly 200 people in full-time and part-time positions, "will be OK" in the long run. 
"Wells has had financial difficulties many times over the years and we've always prevailed and we will now," he said.
State police: Auburn man charged with raping girl
An Auburn man is facing a felony sex abuse charge in connection with a relationship he had with an underage girl, state police said.
Troopers from the state police Auburn station on Tuesday arrested Kevin N. Dicola after an investigation found that he had a sexual relationship with a girl under the age of 17, state police said in a press release.
Dicola was charged with third-degree rape, a class E felony, and endangering the welfare of a child, a class A misdemeanor.
Dicola was arraigned in Fleming Town Court and remanded to Cayuga County Jail on bail of $1,000 cash or $2,000 bond.
Coffee and courage: Auburn veteran starts company to support wounded warriors
What's the most important step you take during a journey? Many people would say it's the first step; for others, it's the final step.
For Auburn native Jay Roberts, a former nuclear submariner in the Navy and a competitor at the Invictus Games, it's the next step — whatever step it takes to keep moving forward in life.
That philosophy helped Roberts overcome a life-changing medical diagnosis, which ended his dream of becoming a submarine officer, in order to eventually take that next step: Owning his own business, Sapere Coffee, which donates 100% of its profits to charities for veterans like himself.
In 2015, Roberts, a lieutenant, was pushing himself to become submarine-qualified as fast as possible on the USS Oklahoma City, a nuclear submarine based out of Guam. After five days without sleep, he said, he was knocked in the head while working in the engine room. Thinking nothing of it, Roberts went to take a quick nap ahead of another meeting and then getting some more sleep.
Instead, he woke up on a table surrounded by the submarine's officers, who asked him if he knew where he was and what was happening. They told Roberts he'd been found in the midst of a seizure.
That started a long wait to get from the submarine's secret deployed location back to Guam, before seeing a neurologist in San Diego.
Roberts would learn that he had a brain tumor. It could be treated with medicine, which would disqualify him from commanding a submarine — or surgery, which came with a 20% chance of death.
Unafraid of surgery because it meant keeping his dream alive, Roberts went under the knife. While the surgery was successful, he still needed to take the medicine.
Worse, the surgery, combined with seizures, resulted in major memory loss. Roberts said that loss included nearly everything he learned pursuing a master's degree in physics, his research and more basic areas like movement and emotion. Following the surgery, Roberts fell into a malaise, depressed about what he'd forgotten and the struggle to essentially relearn everything about life.
"I've got to change," Roberts realized.
He'd already started to turn things around, training rigorously and eating healthier, when he was invited to compete in the Department of Defense's Warrior Games in 2017. The multi-sport competition features wounded, injured or ill service members and veterans.
Roberts thought he was going to excel at the competition. Instead, he got "crushed." Still, it was a positive experience, he said, as working and being with his teammates who had been through similar experiences helped him open up again.
"It helped me take that next step, and keeping up and getting where I needed to be to fit back into society," Roberts said.
The next year, things took a downturn again. Roberts didn't make the team for the Warrior Games that year, and he was forced into an early medical retirement from the Navy.
When things were getting bad, however, he got the call to compete for the U.S. in the Invictus Games, an international version of the Warrior Games started by England's Prince Harry after witnessing the American version.
It was at the Invictus Games that Roberts got the idea that would become Sapere Coffee. There, he encountered an Australian man selling coffee who donated all his profits to veterans causes.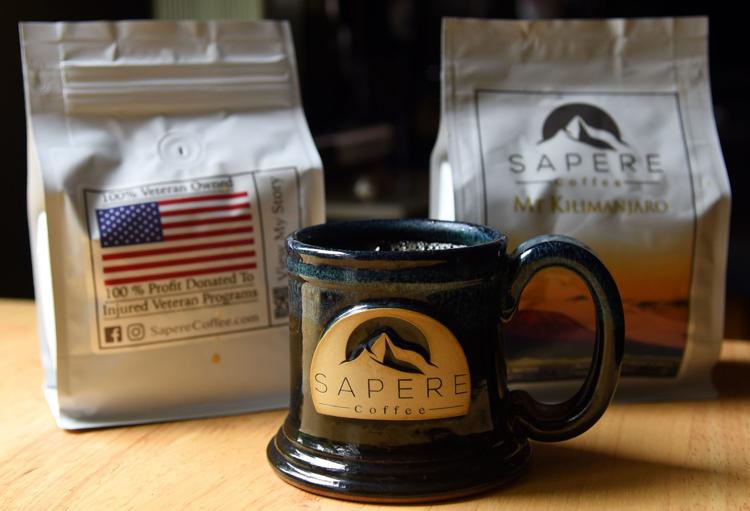 It was a serendipitous moment, Roberts said. While not initially much of a coffee drinker, Roberts fell in love with the beverage during his recovery. In addition to working to recover physically, Roberts also had to overcome memory loss, difficulty spelling and other cognitive problems as a result of the surgery and seizures. Much of that recovery work was done while reading and enjoying a cup of coffee in a Pearl Harbor cafe. With the inspiration for the business he found at the Invictus Games, Roberts had his next step.
Once the games ended, Roberts took several weeks traveling the world, both as a vacation now that he was finished with military life, and as a way to find the best coffee beans for his new venture.
He settled on a variety from Tanzania, farmed at the foot of Mount Kilimanjaro, and a roasting recipe he developed personally and has done at scale by a Syracuse roaster, he said. Using bourbon Arabica peaberry beans, the coffee is available in two styles, Full City and Darkr, along with mugs emblazoned with the brand's logo of Mount Kilimanjaro.
Now, with the profits from Sapere, Roberts wants to sponsor his fellow veterans for competitions like the Warrior or Invictus games in hopes the experience will help them as much as it helped him. While he plans to move to Washington, D.C., where opportunities for wounded veterans within the government are abundant, Roberts is keeping Sapere small for now.
"If I was able to fund one person to go to these events, it might change their life," he said. "I had to become a new man, and I learned how to be a mentor to these young guys going through hell."
Auburn woman charged for false bomb threat in Aurelius
State police arrested an Auburn woman Monday in connection to a reported bomb threat at an Aurelius business in June.
Laci E. Lardin, 31, of Auburn, was charged with making a terroristic threat, a class D felony, and offering a false written statement, a class A misdemeanor, according to a state police news release.
On June 13, K-9 teams from the state police and Wayne County Sheriff's Office responded to a bomb threat at BCS Access Systems in Aurelius, but found no suspicious device.
Following an investigation from the Bureau of Criminal Investigation at the Auburn state police barracks, Lardin was arrested and charged.
Lardin was arraigned in Aurelius Town Court and was remanded to the Cayuga County Jail in lieu of $750 cash and or $1,500 bond. She is scheduled to reappear in Aurelius Town Court at 7 p.m. July 10.
Port Byron man caught by the FBI soliciting a minor pleads guilty
AUBURN — A Port Byron man will likely serve two years in prison for trying to engage in oral sex with someone he believed to be younger than 15.
Richard McAllaster, 37, of 10518 Duck Lake Road, Port Byron, pleaded guilty Thursday in Cayuga County Court to one count of second-degree attempted criminal sex act, a class E felony. 
The person McAllaster connected with using an online dating app and thought was a 14-year-old boy was actually a member of the FBI, Judge Thomas Leone said in court. McAllaster tried to initiate "oral sexual conduct" in the Town of Brutus on May 17 with the FBI agent he thought was a child, Leone said.
In exchange for pleading guilty Thursday, McAllaster was promised a conditional sentence of two years in prison followed by five years post-release supervision. He faces a maximum sentence of four years in prison. 
His sentencing is scheduled for Sept. 12.
• Dwight Williams, 40, of 7 Chestnut St., Auburn, pleaded guilty to three of 30 charges in an indictment that included multiple counts of first- and second-degree criminal contempt, as well as aggravated family offense.
An arrest warrant was issued for Williams on March 19 in connection to an incident on the same day, when a woman was choked in her sleep. The warrant charged Williams with first-degree criminal contempt, a class E felony, and obstruction of breathing, a class A misdemeanor. He was arrested by state police on March 29.
In court Thursday, Williams admitted to violating an order of protection by having contact with the woman on March 19 and by calling her on the phone on April 2. Williams also admitted causing $250 in damages to her car on March 22. 
He pleaded guilty to two counts of first-degree criminal contempt and aggravated family offense, all class E felonies. Leone promised Williams indeterminate sentences of two to four years in prison on each count, which will run concurrently to each other.
Williams will be sentenced Sept. 12.
Rapist who removed monitoring device captured in Skaneateles
A convicted rapist who removed a parole monitoring device was captured in Skaneateles Friday. 
The state Department of Corrections and Community Supervision and Onondaga County 911 confirmed that Christopher Block, 61, was in custody after being found at the Skaneateles Country Club. 
Thomas Mailey, a DOCCS spokesman, said Block was apprehended at 8:30 a.m. by a team of law enforcement agencies, including DOCCS' Office of Special Investigations, parole officers, New York State Police, a K9 and trackers from the state Department of Environmental Conservation and local police. 
"Block will now be lodged at a local jail and a hearing before an administrative law judge will be scheduled to address his absconding which is a violation of the conditions of his parole," Mailey said. 
State and local law enforcement agencies had been searching for Block after he removed the monitoring bracelet Wednesday night in Skaneateles. He was issued the device after being released from state prison in December. 
Block was convicted in 1984 on numerous charges, including two counts of first-degree rape and two counts of second-degree kidnapping. He was sentenced to 25 to 50 years in prison, according to the state Department of Corrections and Community Supervision. 
Block was denied parole before being conditionally released by statute in May 2017. He returned to prison in November 2017 for violating his conditional parole and was ordered to remain in prison until his December 2018 release. 
Before confirming Block's capture, Mailey said Friday that the agency issued a warrant for Block. The warrant was posted in the National Crime Information Center at 10:05 p.m. Wednesday. Two minutes later, DOCCS sent a bulletin with Block's photo to the Skaneateles and Syracuse police departments. 
Mailey added that a Skaneateles police dispatcher contacted DOCCS requesting the agency to send the bulletin to other law enforcement agencies, including the Onondaga County Sheriff's Office. 
In a statement, Mailey described the search for Block as "intense" and "comprised of multiple law enforcement agencies working together around the clock to find this individual." K9 units from the New York State Police and Cayuga County Sheriff's Office assisted the search. A K9 unit from the state Department of Environmental Conservation was added to the search Friday morning. 
On Thursday, some central New York law enforcement leaders expressed frustration with how communication in the Block search was handled. DOCCS did not release any information to the public until around 3:30 p.m. Thursday. Officials, including Cayuga County Sheriff Brian Schenck, also said they were getting little information about the search that could have enabled their officers to assist.
On Friday, Schenck posted a statement to his office's Facebook page pledging to work with state officials to improve communications in the future.
"Thank you to the officers that were able to take Christopher Block into custody today and those that worked tirelessly on this case. Moving forward I will be working to try and partner with the NY State Department of Corrections and Community Supervision to improve communication between our offices as well as strengthen our partnerships. Our local Parole Officers in Cayuga and Onondaga Counties have a difficult job and they have always been willing to partner with our local agencies. The issues with the lack of communication to local law enforcement and the public related to this incident appear to be at an administrative level. We can do better, and I hope to be part of the solution."
Schenck also said state Sen. Bob Antonacci reached out to help in the effort to address communications issues.
Irie Jamaican Queen: Years after restaurant, Auburn woman opens food truck
AUBURN — When Patrice Henry came to Auburn in 1993, the only food options she saw around town were pizza and Chinese.
Ever since, the native Jamaican has wanted to give her new home a taste of her old one.
"You need something different at times," she said. "Who can beat a home-cooked meal? Rice and peas, some jerk chicken, some veggies, cornbread. You can't beat that."
In 2005, Henry began serving those meals at Irie Jamaican Queen, a restaurant located on West Genesee Street near Genesee Elementary School. There, she prepared entrees like jerk chicken and oxtail for either takeout or dining in an environment with flags, pictures and other flourishes of Jamaican culture. And for a few years, she said, business was good and customers were loyal.
Then came the Great Recession in 2008. Within two years, the resulting damage to the economy forced Henry to close her restaurant. 
For years, though, those loyal customers still wanted a taste of Jamaica.
"They would call or text me and say, 'What, you don't think we eat?'" Henry said.
During that time, Irie Jamaican Queen continued through catering and vending at events like the Cayuga Community College Holiday Craft Fair. But Henry wanted to get back to regular business.
Then, last year, she began reading about food trailers. By June, she bought one — and reopened her restaurant in a smaller, mobile form. Located in front of the Auto Wash on Grant Avenue, the Irie Jamaican Queen food trailer serves jerk chicken, curry chicken, beef patties and more three days a week. Henry also brings the trailer to the Owasco Farmers Market on Wednesday evenings.
Henry said the car wash gave her the high-traffic spot on a provisional basis at first, but made the arrangement permanent after she began bringing in business.
"It's two-in-one," she said. "You can come and get your delicious Jamaican food, and also wash your car."
The food trailer's menu is mostly the same as her restaurant's, Henry said, with the exception of oxtail, which is now a special because it can be hard to secure. She still hopes to open another restaurant someday, she continued, if only to have another dining room with Jamaican decor. But she plans to keep her trailer for special events and mobile sales.
The trailer has its loyal customers, too, many of whom date back to the restaurant, Henry said. She believes they're loyal to her cooking because Jamaican cuisine is both filling and flavorful. Jerk chicken and pork, for instance, are heavily spiced through dry rubs or marinades, then slow-cooked. Meals pair the entree with rice, peas and sides like cornbread.
The Irie Jamaican Queen Facebook page bears out that loyalty, with a 5.0-out-of-5.0 rating based on nine reviews. And those customers are some of the many people Henry thanked for her return to business, along with her "very encouraging" children, Lamar Henry, 29, and Michelle Muirhead, 35; friends Rebecca McLaurin, who also works at the truck, and Patricia Salva; and God. 
"Through God, all things are possible," she said. "Follow your dreams and your dreams will come true."
State police: Moravia man drove drunk with 6-month-old in car
A Moravia man was arrested in Auburn for a number of traffic violations while driving with his girlfriend and 6-month-old son in the car, state police said.
Kurtis A. Cole, 22, of Moravia, was pulled over July 7 on Owasco Street in Auburn for a traffic violation and was arrested for driving while intoxicated after being interviewed, state police said.
Cole was charged with first-offense aggravated driving while intoxicated with a child passenger, a class E felony that is also known as Leandra's Law.
He was also charged with failure to return license and registration plates, operation of a motor vehicle while registration is suspended and first-offense driving while intoxicated, all misdemeanors.
Three Cayuga County-area schools acknowledged by state
The New York State Education Department acknowledged three Cayuga County-area schools along with hundreds of other institutions across the state as recognized schools.
Union Springs High School, Skaneateles High School and Waterman Elementary School — the latter of which is in the Skaneateles district — are all recognition schools for the 2018-19 school year, according to a spread sheet with the names of all of the acknowledged schools. A state Education Department press release on the recognition schools said such schools "have high academic achievement, student growth and graduation rate, and have made progress during the 2017-18 school year."
Of the 562 institutions, 41 are public charter schools, 241 are based in New York City and 280 are in the rest of the state, the news release said.
"The teachers and administrators at these Recognition Schools have taken to heart the critical mission of educating the whole child," Board of Regents Chancellor Betty Rosa said. "Our priority is fostering equity for our children across New York. These schools serve as models of the levels of performance we seek for all schools to be able to achieve in the future."