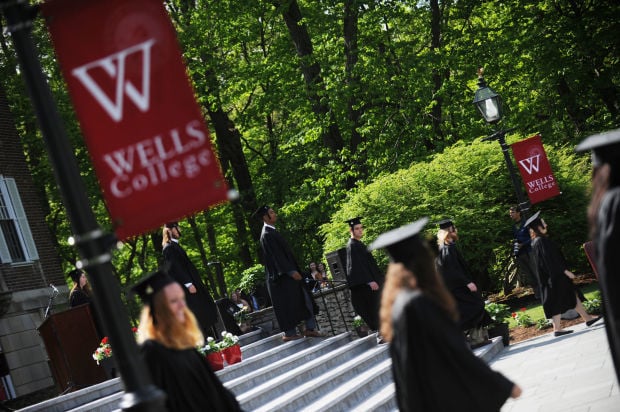 As businesses and events continue to close across the country due to concerns over the coronavirus outbreak, Cayuga Community College is going to accelerate its distance learning and Wells College has shut down its residential life program and on-campus classes.
In reaction to the novel coronavirus, also known as COVID-19, Cayuga Community College previously announced it would shift to an online format starting March 20. CCC announced in a news release Tuesday that courses will transition to online faster than originally scheduled, to Wednesday. The distance learning format will continue until further notice. 
"The health and welfare of our students and staff are always our primary responsibility. This transition to a distance learning model allows students to continue their courses remotely while at the same time accessing services such as tutoring, advisement and more that help them succeed," CCC president Brian Durant said in the news release. "Our faculty and staff have done remarkable work to make this transition as smooth as possible for students, and we will continue to rely on their talent and dedication to our students."
The college's campuses in Auburn and Fulton will stay open as students are allowed to access both campuses. The Cayuga Community College Childcare Center will stay open. 
"College leaders and staff are also expanding systems that provide students remote access to support services. College resources are currently only being offered to current and prospective students," the news release said.
Wells, the Aurora-based private college, announced last week that its ongoing spring break would be extended a week from March 16 to March 23. Charles Kenyon, interim dean of students, told students in an online letter on March 15 that the residential program would temporarily close.
Online classes will still be held by faculty on March 23. Students are asked to check their email daily for updates from faculty with instructions for accessing the online format.
The letter said each student living on campus must prepare to depart their housing and leave as soon as arrangements can be made. Students who live off campus but who intended to return "in the week ahead should suspend those plans until further notice," Kenyon said in the letter. Special requirements from students, including international students, will be addressed on a case-by-case basis. Kenyon said the college student affairs staff, including himself, will be available to help with any specific questions or concerns.
"Please know that we take this action with heavy heart. None of us expected that the 2020 spring semester would be disrupted in such a profound and disturbing manner. Nevertheless, we are committed to providing all of our students with the high quality learning experience they have come to expect at Wells College," Kenyon said in the letter. "In the coming days you will receive more information about when classes might resume on campus and how activities normally taking place during the spring semester will be carried out. We ask your patience and cooperation as we work together to get through this difficult time."
Wells President Jonathan Gibralter said in an online letter March 16 that Wells College vans will be available during the week to take students to local airports and train stations. He emphasized that students should plan to continue their course instruction online on March 23.
"Faculty are hard at work planning their revised instructing methods and syllabi, and will be in touch directly soon. We are well aware that many courses — such as acting classes, science labs, physical education to name a few — have significant hurdles to consider as we all adapt to a remote-learning format. We are working hard to solve these challenges as soon as we can and with the goal that you will be able to earn academic credit for all of your current courses," Gibralter said in the letter.
Cayuga County declared a state of emergency March 14 due to the pandemic, with every school in the Cayuga-County BOCES shuttering through April 13.
Concerned about COVID-19?
Sign up now to get the most recent coronavirus headlines and other important local and national news sent to your email inbox daily.