AUBURN — After settling into a chair to have her head shaved bald on Sunday, Sarah Portipilo said the emotions of the moment finally caught up to her.
Gallery: Auburn St. Baldrick's Day 2016
The fifth annual St. Baldrick's Day fundraising event, which collected donations to support childhood cancer research, featured around 120 shavees and raised upward of $70,000 Sunday at the Knights of Columbus in Auburn.
To that point, approximately 60 people had already had their heads shaved for Auburn's annual St. Baldrick's Day fundraising event at the Knights of Columbus on Market Street. The haircuts were gestures of support to the St. Baldrick's Foundation's mission to bolster childhood cancer research efforts.
Pacing the event, which was organized by members of the Auburn Fire Department, were intermittent speeches by parents and others directly affected by the disease. Auburn's fifth annual St. Baldrick's Day, by Monday, drew around 120 shavees and raised around $70,000, organizers said.
More than $2,000 of that was collected through fundraising efforts by Portipilo, a special education teacher at Herman Avenue Elementary School.
And when Portipilo's hair was cut on Sunday, she was seated with the family of Caden Schmitt, a 8-year-old student of hers whose experience living with a brain tumor moved her to "brave the shave," as the St. Baldrick's saying goes.
Schmitt, diagnosed with medulloblastoma in 2014, is in remission after his chemotherapy treatments ended in November, according to his mother, Jaime.
Nevertheless, the young boy's plight against his condition moved several in the local community. Through the Make-A-Wish Foundation of Central New York, the Sugarman Law Firm granted Caden Schmitt's wish and funded a trip to Africa for a safari last August.
Portipilo, meanwhile, described her student as "a tough kid" in going through his treatments and hospital stays, saying she committed herself to braving the shave when she learned more about the annual St. Baldrick's Day event in Auburn.
"He'd come back (from treatments) like he never missed a beat. And then I'd go home to my family and it just really hit home," she said before adding, "When I go home to my kids, that's what it's about. And then having to see what Caden's had to endure the last couple years, that's what it's about."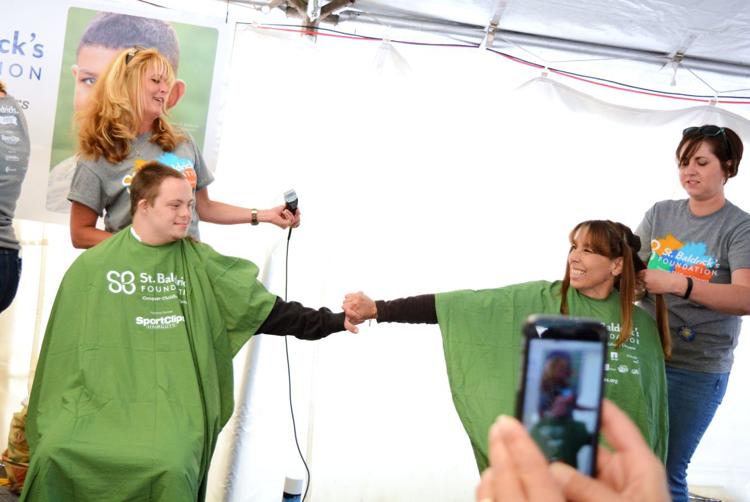 Several who volunteered for haircuts donated locks of their hair to organizations like Wigs for Kids. Other 2016 shavees included Keith Batman, chair of the Cayuga County Legislature, and Jeff Pirozzolo, superintendent of the Auburn Enlarged City School District. 
New to this year's St. Baldrick's Day was an added incentive for area school teachers to raise funds. Organizers put together a basket full of rewards collected through donations from local businesses, said firefighter Brian Bennink, event chair.
The basket, which was won by Portipilo, included around $2,000 worth of prizes including gift cards, coupons and tickets for a day trip to New York City, Bennink said. However, the Auburn firefighter said that none of the participating teachers he spoke with — including Portipilo, she said herself — were in it for the basket, parts of which would likely go back to the students.
"Anything that's done, this community — I would put us up against any community, per capita, in the country. We give so much," he said, noting other recent fundraising events, including Majorpalooza and the Socci Stiletto Stampede in Skaneateles. "To think that we're going to be close to $500,000 in five years (of St. Baldrick's in Auburn) is unbelievable."
Caden Schmitt was one of the 17 children formally commemorated through the event.
Another was Carissa Mosher, a 13-year-old who died of cancer, rhabdoid sarcoma, in May. Her mother, Tracey Mosher, told her daughter's story Sunday to a crowd that featured several that could not hold back tears.
Jaime Schmitt joined members of her family and Portipilo in shaving their heads for Caden. The Auburn mother noted that Portipilo first approached her about shaving in her son's honor, saying she and her family will continue supporting the Auburn St. Baldrick's event "for a very long time."
"It's amazing, I knew he touched a lot of people, but this really drove home how much he has moved others in this area," Jaime Schmitt said of Portipilo's efforts.