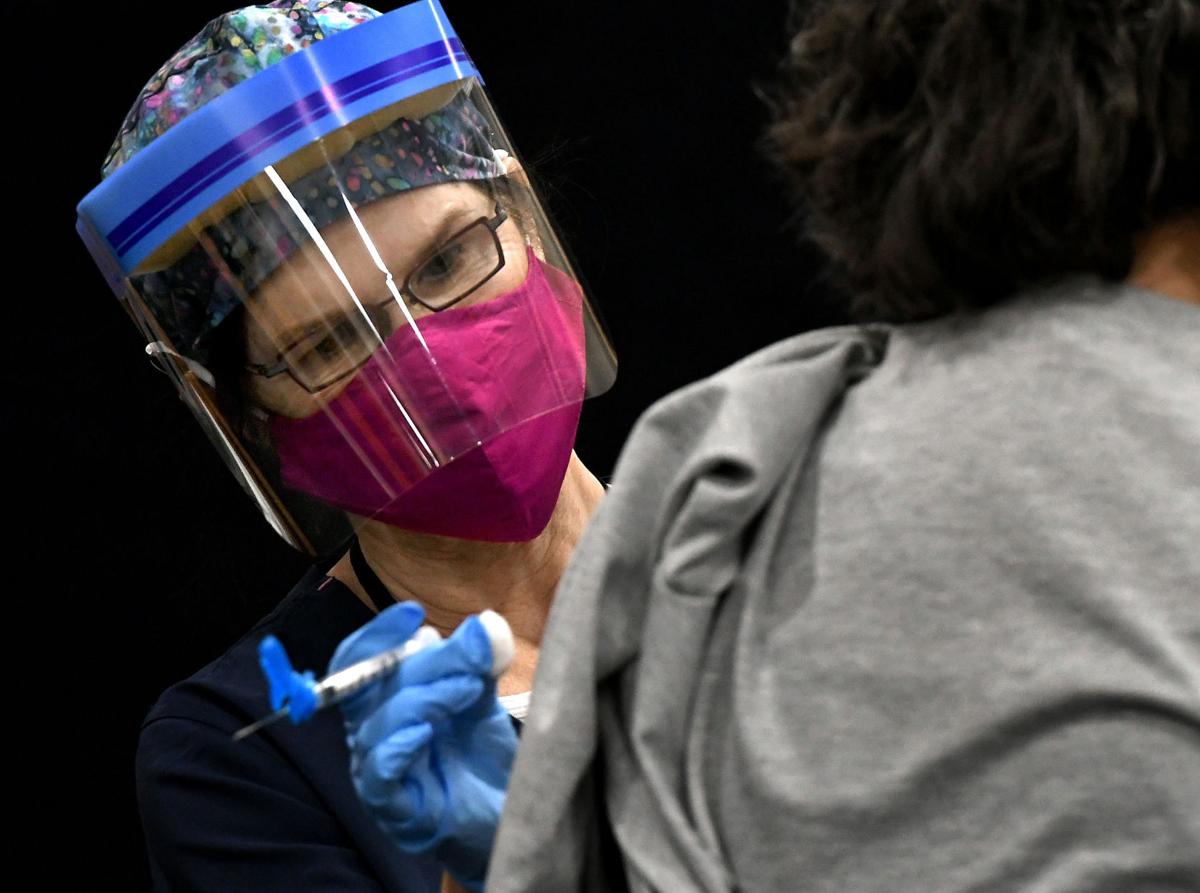 A village in northern Cayuga County has the highest COVID-19 vaccination rate in Cayuga County, while a specially designated zip code for a state prison has the lowest rate. 
The data, which was provided by the Cayuga County Health Department, shows the vaccination rate in each of the county's 17 zip codes. The department accesses the data through a dashboard created by the state Department of Health. 
The county-wide vaccination rate, as of Friday afternoon, is 47.9% — nearly nine points lower than the 56.4% statewide rate. 
When compiling data, a person is considered vaccinated if they have received at least one dose of a COVID-19 vaccine. While there is a single-dose vaccination available, two of the vaccines — Moderna and Pfizer — require two doses for maximum effectiveness against the virus. 
In Cayuga County, three zip codes — Fair Haven (13064), Union Springs (13160) and King Ferry (13081) — have a higher vaccination rate than the statewide average. Fair Haven's, which is 93.3%, is by far the highest. So far, 154 of the 165 residents of the village's zip code — and 100% of people age 65 and older — have been vaccinated. 
Union Springs and King Ferry have 60.5% and 56.8% vaccination rates, respectively. 
The 13021 zip code, which includes the city of Auburn and some surrounding towns, has the fourth-highest vaccination rate (56.2%). Three other county zip codes — 13071 (Genoa), 13166 (Weedsport) and 13034 (Cayuga) — have rates above 50%.
Ten of the county's zip codes are below 50%. The worst is the 13024 zip code, which is specifically for Auburn Correctional Facility. The inmates at the prison are considered the population within this zip code. According to the state dashboard, 23 of the prison's 1,709 inmates have been vaccinated — a 1.3% vaccination rate.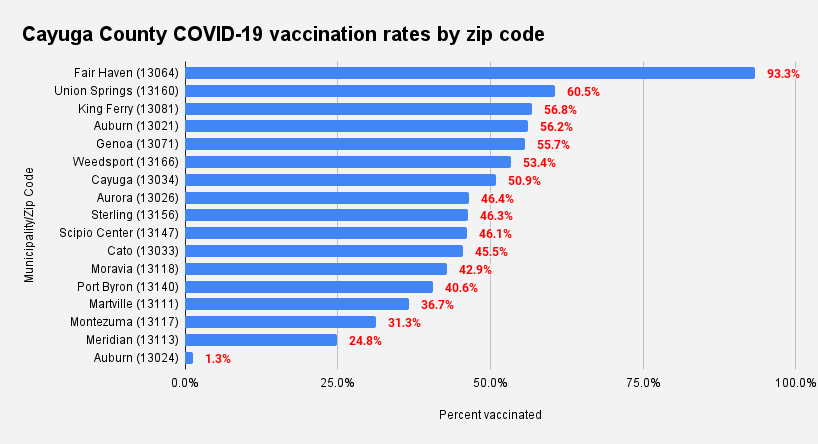 Similar numbers aren't available for Cayuga Correctional Facility in Moravia. Unlike Auburn prison, Cayuga doesn't have its own zip code. Kathleen Cuddy, the county's public health director, believes that the vaccination numbers for the prison could be included in the data for the 13118 zip code, which includes Moravia. 
Cuddy said the zip code data, which was recently provided to county health departments, could help them with reaching certain communities in need of the vaccine. But they would like to see more demographic data, specifically age breakdowns, to determine who they need to target. 
One highlight for the county is its vaccination rate among older people. More than 70% of the county's residents age 65 and older have been vaccinated. In the 13021 zip code, which includes Auburn, the vaccination rate is 83.2% among the 65-plus population. 
Based on that data, the health department knows the vaccination rates for younger age groups are lower. Older residents have been eligible for a few months, while younger people weren't eligible until late March (for age 30 and older) or early April (for those younger than 30). 
"It shows there are more inroads to be made (from age 16 to 65)," Cuddy said. "It would be ideal to get that narrowed even further." 
The health department has been ramping up its efforts to get younger age groups vaccinated. There are county-run vaccination clinics at Fingerlakes Mall in Aurelius. But that's not the only option. Cuddy said residents should visit vaccines.gov, enter their zip code and see what providers and local pharmacies are offering the vaccine.
While there is more work to do to increase vaccination rates across the county, Cuddy is encouraged by the numbers. She credited local governments for helping residents schedule appointments. In February, the health department asked local governments to establish waiting lists for the vaccine. 
"That was, and continues to be, such a great partnership to really get people who are interested engaged," Cuddy said.
Despite an increase in COVID-19 cases, there was positive news for Cayuga County in April. 
Politics reporter Robert Harding can be reached at (315) 282-2220 or robert.harding@lee.net. Follow him on Twitter @robertharding.