Today is Monday, Aug. 10, 2020. Let's get caught up.
These non-virus headlines are in the news this morning: Joe Biden is expected to announce his running mate this week; Donald Trump's weekend executive orders raise questions of constitutionality but also effectiveness; and college football players united Sunday night in a push to play and save their season — but also for a union.
Read on for these stories, other top headlines, celebrity birthdays and more.
---
Top stories
Why choice of running mate matters more than usual this year
For all the secrecy and speculation that typically surrounds the search for a vice presidential candidate, the decision rarely sways an election. But ahead of Joe Biden's imminent announcement, this year could be different.
At a minimum, the decision will shift the force of the campaign — at least temporarily — away from Donald Trump's turbulent presidency onto Biden himself. That's not a place many Democrats are comfortable given Biden's proclivity for gaffes and the persistent lack of excitement behind his candidacy.
More fundamentally, the choice offers Biden an unusual opportunity to unify a party still reeling from Trump's 2016 win and solidify its future. He's already committed to selecting a woman and is considering several Black women. And since the 77-year-old Biden has not committed to seeking a second term, his running mate could be strongly positioned to become the Democratic Party's presidential nominee in 2024 and shape national politics for the next decade.
Trump end run around Congress raises questions on his claims
President Donald Trump's end run around Congress on coronavirus relief is raising questions about whether it would give Americans the economic lifeline he claims and appears certain to face legal challenges. Democrats called it a pre-election ploy that would burden cash-strapped states.
After negotiations with lawmakers on the next package of pandemic economic assistance hit a wall, Trump used what he said were the inherent powers of the presidency to forge ahead on tax and spending policy that Congress says it is granted by the Constitution.
Trump asserted he had the authority to defer payroll taxes and extend an expired unemployment benefit, although at a lower amount than what the jobless had been getting during the crisis. His reelection chances imperiled by the pandemic, the Republican president contended his orders "will take care of pretty much this entire situation, as we know it."
But the orders appeared to carry less weight than Trump promoted and cut federal relief spending by shifting more onto the shoulders of struggling states. Critics said the actions crossed a legal line and fell well short of what is needed to help right the fragile economy.
Football players unite in push to save college season, create union
College football players from across the country united Sunday in an attempt to save their season and ensure they will no longer be left out of the sport's biggest decisions.
The final call on whether major college football will played this season rests in the hands of the university presidents who oversee the largest conferences.
Under the logos of each Power Five conference — ACC, Big Ten, Big 12, Pac-12 and SEC — the players pronounced their platform:
The 2020 spotlight is about to shift, at least temporarily, away from President Donald Trump and onto his Democratic rival, Joe Biden. Biden is soon expected to announce his vice presidential selection, which is almost certain to come this week, ahead of the Democratic National Convention's Aug. 17 start date.
Whether Trump has the constitutional authority to extend federal unemployment benefits by executive order remains unclear. Equally up in the air is whether states, which are necessary partners in Trump's plan to bypass Congress, will sign on.
House Speaker Nancy Pelosi said Sunday the threats of interference in the U.S. presidential election from Russia and China are not equal, pointing to a more serious risk with Moscow's efforts to boost Trump's reelection bid.
A riot was again declared by authorities Sunday night in Portland when protesters marched to a police union building, blocked a road and set dumpster fires as officers work to quell nightly unrest in Oregon's largest city.
Hong Kong authorities broadened their enforcement of a new national security law on Monday, arresting media tycoon Jimmy Lai, searching the headquarters of his Next Digital group and carting away boxes of what they said was evidence.
Election officials in Belarus said that President Alexander Lukashenko has won his sixth consecutive term, taking over 80% of the vote amid protests fueled by frustration with the country's deteriorating economy, years of political repression and the authoritarian incumbent's cavalier brushoff of the coronavirus threat.
Decades of progress in one of modern history's greatest achievements, the fight against extreme poverty, are in danger of slipping away. The world could see its first increase in extreme poverty in 22 years after whittling it down to 10% of the population, further sharpening inequalities.
Collin Morikawa delivered a shot that will go down as one of the best in a major that hardly anyone witnessed, setting up an eagle on the 16th hole Sunday that carried him to the quietest PGA Championship ever.
China has announced unspecified sanctions against 11 U.S. politicians and heads of organizations promoting democratic causes, including Senators Marco Rubio and Ted Cruz, who have already been singled out by Beijing.
Click on the links below for full versions of these stories and scroll further for trending stories, a look at today in history and celebrity birthdays.
Today's national forecast
Trending today
Image of the day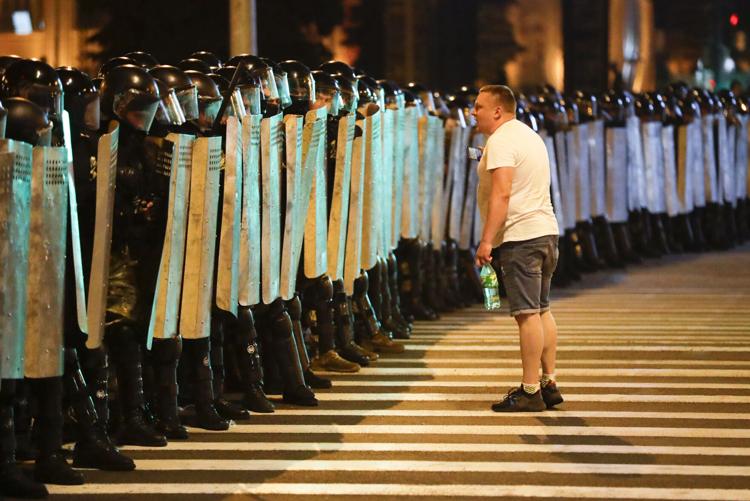 On this date
Happy birthday to ...