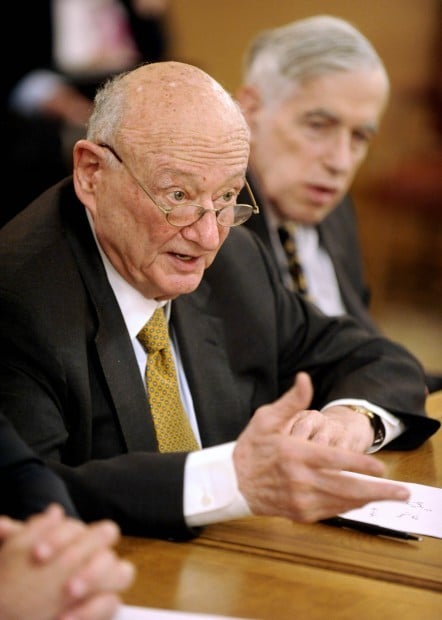 Ed Koch, head of New York Uprising, wants the 138 legislators who signed the New York Uprising pledge leading up to last year's elections to co-sponsor independent redistricting bill by March 1.
If they don't, Koch says, they will hear from him.
The independent redistricting bill has been introduced in the Assembly and state Senate (read the Assembly bill here and read the Senate's here). Koch hopes those that signed his pledge last year will keep their word and co-sponsor the bill.
In a letter to members of the Assembly and Senate who signed the pledge, he asked that they will remain true to what they pledged several months ago by co-sponsoring this measure.
"I believe most will remain Heroes and stay true to their word," Mayor Koch said in a press release. "A few won't. For them, I said I'd visit their districts crying 'liar, liar, pants on fire,' and I hope they don't think I'm not up to the task."
Here is the letter Koch sent:
Dear Senator [Assemblymember]:
Good news! A bill has been introduced that would bring true, independent, non-partisan redistricting to New York: S2543 [A3432]. As a Hero of Reform, I know this is as an exciting development for you as it is for us. And it also provides the first opportunity for you to show your constituents, the media, and the people of New York that you meant what you pledged and become a sponsor of this bill.
You have free articles remaining.
I believe there is sufficient support in the Senate/Assembly to pass this bill immediately. 54 [84] of your colleagues have already signed the New York Uprising pledges and I believe they will not let their constituents down.
Having been a legislator myself, I understand that you face a myriad of priorities. Redistricting, however, is one that requires immediate action. As you know, the new lines must be in place in time for the 2012 elections, and the commission must have adequate time to complete its work.
S2543 [A3432] does not break new ground. It builds on what was introduced in prior sessions, and the revisions, amendments, compromises, and full vetting that transpired. It is ready to pass, and it must.
On Tuesday, March 1st, I would like to announce how many sponsors have signed on to the bill. Please let me know that you have formally sponsored the bill, S2543 [A3432] (email me anytime at ***@nyuprising.org). We will, I hope, because of your efforts and those of your colleagues, celebrate an enormous victory
Founder, New York Uprising
Several legislators signed the pledge, including every incumbent Republican state senator at the time. Most Senate Democrats also signed the pledge.
So far, 40 members of the Assembly have signed on to co-sponsor the bill. In the Senate, 10 senators are on board. That does not include the bill's sponsors, Assemblyman Hakeem Jeffries and state Senator Michael Gianaris.