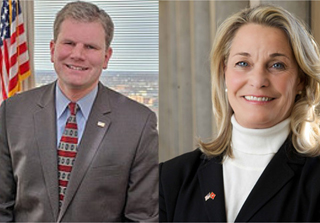 Ann Marie Buerkle's campaign sent a press release Thursday night saying Rep. Dan Maffei is not performing well enough in Onondaga County, with Buerkle's head counsel Jeff Buley adding that "[w]e are approaching mathematic certainty that Ann Marie Buerkle will be the 25th District's next representative in the United States Congress."
Over the past two days, Maffei's campaign has released figures from the absentee ballot counting. The latest numbers have Maffei down 303 votes as of midday Thursday. But a recent update has not been given as more ballots have been counted since, and Onondaga County Board of Elections officials hope to be completed counting ballots Friday.
Buerkle's campaign makes the argument that Maffei has not received enough votes in Onondaga County to make up the difference and, they say, the counting today featured ballots from Democratic strongholds and traditional GOP strongholds have not been counted.
"The facts are clear, Congressman Maffei did not perform near well enough in the absentee counts from his most critical election districts," Buley said. "While most of today's counted ballots are from the City of Syracuse and Town of DeWitt - the remaining ballots are proving to be much more difficult for Maffei."
As Buerkle's campaign pointed out, Wayne County -- a county Buerkle won by over 6,000 votes -- has yet to start counting ballots. Buerkle is likely to add votes to her lead there once the counting commences.
Buerkle campaign spokeswoman Liza Lowery echoed similar sentiments as Buley and said Maffei's campaign is making "frivolous objections" to ballots in an attempt to win the race.
"Ann Marie Buerkle won the count on Election Day, has added votes and expanded her margin of victory in Monroe and Cayuga Counties, and will easily pick-up additional votes in Wayne County," Lowery said in a statement. "The simple fact remains that Dan Maffei's only path to victory is to throw out hundreds of legally cast, eligible votes in Onondaga and Wayne Counties. That is why his staff continues to make frivolous objections. We know at the end of the day, Ann Marie Buerkle will be the duly elected Member of Congress for New York's 25th Congressional District."
There are about 1,300 ballots to count in Wayne County and remaining ballots from challenges in Cayuga and Monroe counties. Maffei entered Onondaga County behind 824 votes after ballots from Monroe were opened and counted.
Check back here Friday for more updates as the counting in the 25th appears to be finishing up in Onondaga County and we should have more numbers once the count is finished.