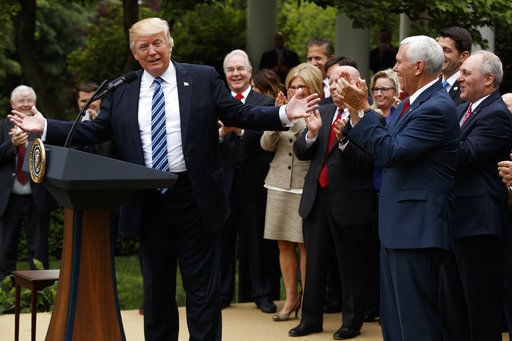 U.S. Rep. John Katko repeatedly claimed during his victorious re-election campaign that, in an age of hyper-partisanship in Washington, he was a moderate voice who wasn't afraid to stand up to his party when needed.
One could argue that's precisely what he did with his no vote on the Republican leadership's repeal and replacement of the Affordable Care Act.
With all of the major flaws that were evident with this rushed GOP effort to get something jammed through the House of Representatives, Katko's vote against the measure was the correct choice. This bill, which has remarkably little public support, would devastate millions of Americans who currently have and need access to health care. At the same time, despite some blatantly misleading GOP claims to the contrary, there is little in this legislation that would actually provide relief to the people suffering financially under the escalating costs of insurance under the current system.
Nevertheless, the measure barely made it through the House, and now it's with the U.S. Senate. Here's what Katko said about that prospect: "I will remain a constructive part of that process and urge my colleagues in the Senate to continue working towards viable, market-based solutions to Obamacare."
That sounds good ... but it has a similarly optimistic tone to what the congressman was saying when the House's first attempt at repeal and replace failed a little more than a month ago: "It signals that there's still another opportunity. That's my fervent hope is that we continue on with this. Anything that's a colossal undertaking like this is going to be tough and I think we gotta recognize that and realize that we gotta dust ourselves off and get back at the table and try and figure out how to do it."
Again, it sounds good. But here's the problem: Katko and his like-minded colleagues failed at trying to get the fixes they wanted — and the American people needed. Instead, the more stridently conservative block got most of the major changes in the version that passed the House.
Katko may believe he's made the right decision from a political perspective. Representing a moderate district, he cast the moderate vote. But central New Yorkers didn't send Katko to Washington to come up on the losing side of key issues such as health care, especially when he's a member of the controlling party.
As the Senate begins to look at this legislation, we urge Katko to be highly vocal about his concerns. He must rally behind the handful of GOP senators and, yes, the members of the Senate Democratic conference, who believe the House bill is horribly flawed and must never become law.
The Citizen editorial board includes publisher Rob Forcey, executive editor Jeremy Boyer and managing editor Mike Dowd.
Catch the latest in Opinion
Get opinion pieces, letters and editorials sent directly to your inbox weekly!