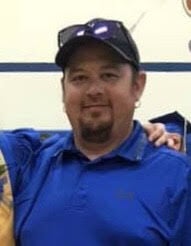 CATO — Christian ("Chris") David Godet died on Aug. 6, 2019, at age 43, surrounded by family.
He is survived by his wife, Laurie (Enders); children, Cassidy, Ethan, and Brynnley; mother, Jeanne (Brooks) Godet; father, William (Bill) Godet; mother-in-law, Marilyn Bloomer; brother, Adam (Jennifer Hilfiker); sister-in-law, Tracie Ostrander (Eric); and nieces, Avery and Riley.
Chris was a loving father and husband who loved to cook and eat good meals, coach soccer, and enjoy life sitting by the fire with a beer or a glass of wine, or piloting the pontoon boat down the river. He had a lifelong fascination with technology and gadgets: computers, video games, cell phones, stereos, and even high-tech manufacturing equipment. He had a natural talent for using, building, and fixing such things. He also loved music and when he was young you could hear him coming from a mile away with one of the several car stereos he installed himself. Chris had a good sense of humor and loved cartoons, sketch comedy (especially Kids in the Hall and early Saturday Night Live) and comedians like Lewis Black. Behind a tough exterior, Chris had a very tender heart; he was a very proud dad and uncle and an expert at teasing the kids he loved. He loved watching all of the kids play their sports. He adored his parents and jokingly and lovingly called his father "Batman." He was generous with whatever he had; he loved animals (especially his wiener dogs), was a natural with babies, and had an uncanny knack for picking very good gifts for people. He loved his family very much and was loved deeply.
Calling hours will be from 2 to 4 p.m. Sunday, Aug. 11, with a memorial service taking place at 4 p.m. at the Keysor-Dain-Cullinan Funeral Home, Cato.
In lieu of flowers, donations can be made to the CNY SPCA, 5878 E. Molloy Road, Syracuse, NY 13211, CNYspca.org.
To plant a tree in memory of Christian Godet as a living tribute, please visit Tribute Store.
Obituaries Newsletter
Sign up to get the most recent local obituaries delievered to your inbox.