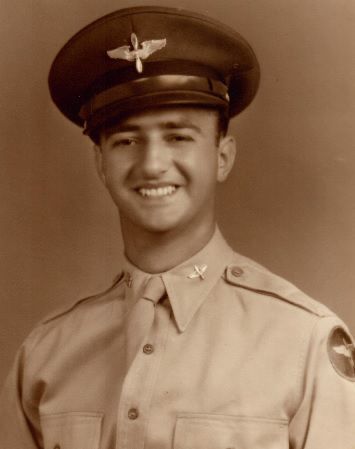 AUBURN — Christopher C. Spagnola, 98, of Auburn passed away peacefully late Tuesday evening, May 23, 2017 in Little Falls Hospital, with his loving family at his side.
He was born in Auburn on Oct. 12, 1918, the son of the late Antonio and Lucia Pappalardo Spagnola and had been an area resident for most of his life. Chris was a longtime communicant of St. Alphonsus Church and former 4th degree member of the Knights of Columbus. He was a U.S. Army Air Corps 44th Bomb Group veteran, having received numerous medals, while serving our country honorably during World War II. He flew 36 successful combat missions as pilot and commander of the B-24 bomber, which had a nine man crew. These missions included several trips during the D-Day invasion. Chris continued his military service in the USAF Reserves, retiring at Lt. Colonel in 1972. He was honored in 2009 by the French Government with the Legion of Honor Chevalier Medal for helping aide in the advancement of allied forces.
Upon the completion of his active duty military service, Chris became co-owner and President of Auburn Foundry, where he successfully operated and built the business until his retirement in 2006. The business continues as one of the last remaining independent foundries in upstate New York.
Chris received several accolades for his outstanding service, not only to his country but to our community. He was awarded the NYS Conspicuous Service Cross and given proclamation in honor of his service by Auburn City Council in 2009. He was honored by Tyburn Academy for its 1st Ball of the Brave in 2014. He also was an active member of the Kiwanis, Highland Park Golf and Country Club member for more than 60 years, participated in Operation Enduring Gratitude, and a 44th Bomb Group member.
Chris exemplified the "Greatest Generation" in every aspect of his life and was a "true" gentleman in everything that he did. He cherished his time spent with his family, whether it was frequent visits to California or time spent in Little Falls; he enjoyed all the memories that he was fortunate to have with his daughters and grandchildren. Chris's putting others ahead of self, his incredible charm, infectious smile and quick wit will truly never be forgotten by the many lives he touched.
He is survived by his two loving daughters, Laura and her husband, Max Eisenberg, of Los Angeles, and Krista and her husband, Martin Babinec, of Little Falls; a sister, Mary Spagnola Orofino; grandchildren, David and Rachel Eisenberg, Andrea, Elaine, and Jared Babinec,
In addition to his parents, Christopher was predeceased by his best friend and wife of more than 64 years, Clementine (Boglione) Spagnola; six siblings, Matthew, Sam, Fred, Ernest, Bill, and Rose.
A private calling hour will be held at the convenience of the family.
Friends and relatives are invited to join the family at noon this Saturday in St. Alphonsus Church for Chris's Mass of Christian burial. Entombment will be held in St. Joseph's Mausoleum, where military honors will be accorded.
In lieu of flowers, the family requests any donations be made in Chris's memory to the Friends of Bassett Healthcare, a nonprofit healthcare network in CNY and whose staff at Valley Residential and Little Falls Hospital provided exemplary care and compassion during the last two years of Chris's life. Please go to http://FriendsOfBassett.org.