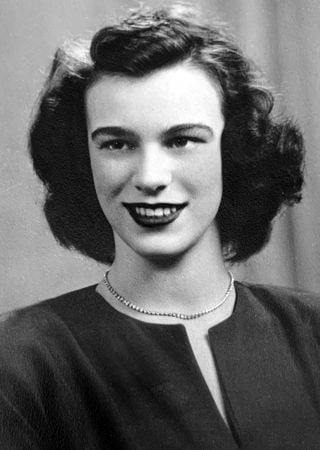 OWASCO — Shirley B. Smith, 90, of Owasco, passed away peacefully at her home on Owasco Lake on Sunday, June 21, 2020 (Father's Day) joining her recently deceased husband of 70 years. Shirley was born in Auburn, the daughter of the late William Burke and Clairabell Emlaw. Mrs. Smith retired as Director of Auburn Community Residence where she dedicated her professional career to caring for those with special needs. She was loved by the residents who often referred to her as Mommy.
She took great pride in being a high school cheerleader for East High. As a Mom she provided unconditional love to her family and continued as their biggest cheerleader in both sports and life. She would never miss one of their games and was known by all for her loud rally cheer.
Shirley will always be remembered by her children and grandchildren for her sparkling green eyes, beautiful smile and active imagination when caring for and playing with the young ones.
Shirley was lovingly cared for in her final days at home by her family with special attention from her beloved granddaughters, nurse Molly Smith and therapist Lily Nelson.
Shirley is survived by her children: Lynn Smith (Douglas Ross), Stephen Merman-Smith (Karen), Karen Dwyer (Robert), Sharon Nelson (Richard), and Bill Smith (Maura); her beloved grandchildren: Steve (Amy) Vergamini, Kelly (Matt) Yount, Bailey (John) Sauers, William Ryan (Teresa) Merman-Smith, Kristin (Lynn) Graham, Claire (Colby) Schneider, Rick and, Lily Nelson, Molly, Liam, Daniel and Marin Smith; great-grandchildren: Addison, Kathryn, and Alexandra Vergamini, Olivia and Mila Yount, Bailey, Thalia, and Ayla Graham, Braden and Amelia Sauers, and Avery and Finn Schneider. She is also survived by her brother, Richard Burke.
Shirley has been reunited with the love of her life and best friend whom she was married to for 70 years, Warren J. "Bud" Smith. A beautiful ending to their love story. Bud predeceased Shirley on May 15, 2020. In addition to her parents Shirley was predeceased by her sister Helen Burke Davis.
Due to the pandemic, services will be private with burial in St. Joseph's Cemetery. We will be driving by their Owasco Lake home on Wednesday around noon. Donations may be made to St. Jude's Children's Hospital. Arrangements are with White Chapel Funeral Home, Auburn.