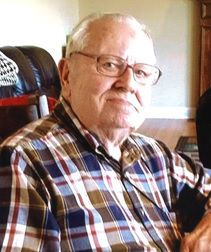 WEEDSPORT — Victor L. Sine, 92, formerly of Weedsport, passed away in the early morning of July 8, 2018.
He was the son of Earl and Ruth (Jones) Sine, of Throop. He attended Hadden School (a country, one-room school) through 6th grade then transferred to Port Byron Central School. He graduated in 1943 at age 17 and joined the Army. He served as a heavy machine gunner in the 6th Division Infantry in South Korea. He also played the clarinet and saxophone in the Army band.
Following his honorable discharge in 1946, he married Frances Hoffman.
He was employed by the International Harvester Company Auburn plant. After that closed, he established a Nationwide Insurance Agency in Weedsport and also worked as a district clerk for the Weedsport Central School District.
He resigned from the insurance business and became the business manager of the Weedsport Schools until his retirement in 1988. During his last seven years, he added the business manager position at Port Byron Schools.
Vic was a long-time member and held many positions with the Throop Community Church, Weedsport Presbyterian Church, Boy Scouts of America, Weedsport Lions Club, Mentz Grange, Masonic Lodge, Weedsport Historical Society, the American Legion Clark Heck Post 568, and he also was at one time the Weedsport Village Mayor and Trustee.
Victor was predeceased by his wife, Frances, in 2000, and his son, Gary, in 1992.
He is survived by his daughters, Susan Solomon (Joe), Cheryl Winslow (Tom), and Karen Smith (Jim), and his grandchildren, Mary Scozzari (Paul), Micki Solomon, Chelsea Cater (Kevin), Stacey Smith (Austin), Tom Winslow (Annie), and Jamie Winslow (Jon). He is also survived by his great-grandchildren, Sam and Alex Scozzari, and Duke Burke.
We would like to thank Bluefield Manor employees and Auburn Nursing Home employees for his well-being. We would also like to thank Becky Johnson for her exceptional care of him.
At Victor's request, there will be no calling hours. A Masonic service will take place at 6:30 p.m. on Monday, July 16, in the First Presbyterian Church, 8871 South Seneca St., Weedsport, after which there will be a funeral service at 7 p.m. Graveside services will be held at 10 a.m. on Tuesday, July 17, 2018, in Weedsport Rural Cemetery with full military services.
In lieu of flowers, donation can be made to Weedsport Presbyterian Church, 8871 South Seneca St., Weedsport, NY 13166; Weedsport Rural Cemetery Association, P.O. Box 884, Weedsport, NY 13166 or Boy Scout Troop 59, c/o Andy Roden, 2331 Day Road, Weedsport, NY 13166.
Audioun Funeral Home LLC, has been entrusted with the arrangements.
Obituaries Newsletter
Sign up to get the most recent local obituaries delievered to your inbox.