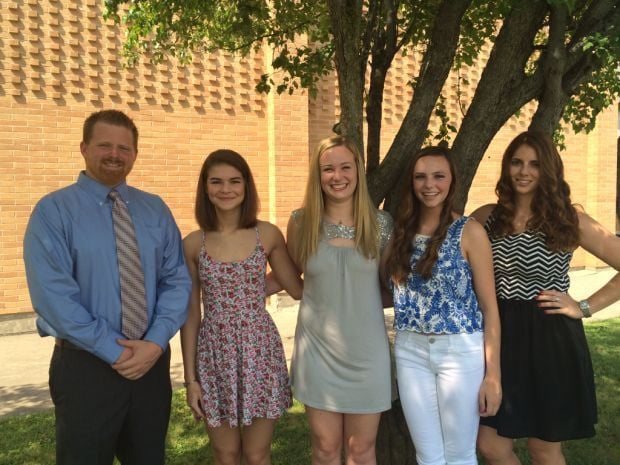 The Pamela Ann Cudahy Memorial Scholarship was awarded this year to Auburn High School graduates MacKenzie Bates, Natalie Herlihy and Brianna Wilson. 
From left are Pamela's son Ryan Crawford, Bates, Herlihy, and Pamela's daughters Hanna Flaherty and Mackenzie Crawford.  Brianna Wilson was unavailable for the photo.
---
• Katherine Daloia, of Auburn, whose major is English and creative writing, was awarded the Sylvia Levitt Angus Scholarship.
• Thomas Powers, of Auburn, whose major is mathematics, was awarded the SUNY Potsdam Transfer Scholarship.
---
• Joshua A. Hunt, of Wright Avenue in Auburn, Bachelor of Arts (broadcasting and mass communication)
• Bill Scala, of Rockingham Road in Auburn, Bachelor of Science (business administration)
• Crystal A. Walters, of West Genesee Street Road in Cayuga, Bachelor of Arts (history)
• Jodi M. Downs, of SRoute 104 in Martville, Bachelor of Science (child)
• Katharine P. Riley, of P.O. Box 302 in Port Byron, Bachelor of Science (geology)
• Michael J. Jorgensen, of Experimental Road in Auburn, graduate certificate in educational leadership
• Rebecca L. Stryker, of Hillview Drive in Cato, Master of Science in Teaching in adolescence education
---
UNION SPRINGS HIGH SCHOOL
Grade 9: Kathryn Graham, Hannah Yorkey, Gwendolyn Leaf, Brent Burgess, Joan Hodges, Gabrielle Greer, Zahra Vaughn, Flynn Anderson, Kevin Cunningham, Amanda Daum, Hannah Bedell, Zada Seitz, Ashleigh Hinman, Madison Sochan, Gracie Groesbeck
Grade 10: Amanda Walter, Brianna Hand, Cassondra Raymond, Taylor Gilbert, Bailey Schafer
Grade 11: Connor Coleman, Jordan Anthony, Olivia Gill, Morgan Hand, Jasmine Jackson, Marieke DeSevaux, Nicole Marquart, Natalie Lynch, Angela Pacelli, Natalie Janas
Grade 12: Mitchell LoMascolo, Rachel Morgan, Samantha Walawender
Grade 9: Lillian Greer, Matthew Radcliff, Alexandria Nemo, Laure Roe, Nicholas Valentino, Madyson Clark, Jacob Hickey, Amanda Pacelli, Jakob Dillon, James Thurston, Sierra Clark, Matthew Fritz, Gregory Baumes, Hayden Drechsler, Jonathon Jackson, Elizabeth Sherman, Lucy Preuss, Danielle Rindfleisch, Lauren Cunningham, Bailey Mudge, Samantha Brown, Chloe Wright, Cassandra DiSanto, Emily Charette, Cassandra Porter, Hannah Thurston
Grade 10: Benjamin Radley, Olivia VanOrman, Abigail Salico, Michaela Tanner, Cameron Anthony, Dominic LoMascolo, Bailey Burr, Erin Rindfleisch, Jonathan Schenck, Jacob Jirinec, Taylor Van Epps, Taylre Perkins, Autumn Rienhardt, Jared Wilmot, Grace Van Horn
Grade 11: Kristina Wilmot, Emily Palmer, Geneice Thomas, Maria Staehr, Madelyn Romeo, Michael Henry, Connor Siracusa, Bernard DeGraw, Dustin Dauerheim, Bethany Wojeski, Daniel Baumes, Katie Bower, Gabrielle Gulbe, Lee Weaver, Hunter Kerrick
Grade 12: Rebecca Mills, David Hodges, Jenna Zammett, Karissa Colombo, Stella Anderson, Tylor Gamlen, Samuel Katovitch, Joshua Orchard, James Harris, Maia Casper, Madelyn Henry, Amanda Schafer, Rebecca Schoonmaker, Ashley Testa, Timothy Long, Brittany Wainwright, Mikaela Cummings, Daniel Jackson, Olivia Jackson, Taylor Wiler, Amanda Townsend, Sarah Burtless, Thomas Alfieri, Ciara Kukiela
Grade 9: Connor MacKenzie, Michaela Lawrence, Alexandria Tucker, Hannah Shaw, Hailey Testa, Nathan McKay, Eric Ryan, Hunter Spina, Abigail Mucia, Jennifer Hawker, Hannah Patterson, Kayla Nichols, Dominic Cartner, Kayli Wright, Brian Chadwick, Autumn Hardy, Mia Woodruff
Grade 10: Emily Irving, Cassandra Brown, Victoria Natale, Emily Button, Riley Evener, Catherine Delaney, Hallie Garropy, Breanna Gulbe, Ausin Quick, David Hickey, Bridgett Mattes, Danielle Haff, Brandon Schafer, Erin Heindl
Grade 11: Dylan Vivenzio, Cheynne Wiggins, Noah Morhiser, Abby Reese, William Pierce, Jessica Hawker, Scott Smith, Miya Johnson, Beldwin Perez, Logan MacNicol, Tessa Gulliver
Grade 12: Morgan Mucia, Brandon Cecchini, Ayeesha Lamb, Taylor McKeen, Eric Prior, Amy Owren, Cassandra Selover, Joshua Jenkin, Daniel Marquart, Halie Calkins, Garrett Cunningham, William Vreeland, Craig Freligh, Harry Fearon, Sean Decker, Kevin Ellers, Christopher Stebbins, Joshua Patti, Sierra Green, Alexis Chehovich, Grace Shepard, Christopher Pinckney, Michael Kerrick
---
MORAVIA MIDDLE/HIGH SCHOOL
High honor: Sophia Amos, Alexis Anderson, Nathaniel DeForest, Paige DeForest, Connor Funk, Megan Nunes, Alexa Nye, Justin Pettit, Dallas Pierson, John Read, Elizabeth Vivenzio
Honor: Alyssa Brown, Brianna Butts, Hannah DeWitt, Megan Lamphier, William Manning, Nicholas Smith.
High honor: Aaron Ammerman, Hannah Andersen, Rachel Badman, Rachel Bancroft, Mia Dillon, Elizabeth Dusseau, James Fedrizzi, Kaitlyn Frierson, Abigail Glover, Benjamin Herman, Benjamin Janke, Trey Johnson-Stayton, Madison Kelly, Noah Kieffer, Benjamin Langtry, Mia Lederman, Jenna Morris, Teagan Mosch, Angelina Oliver, Dristin Smith, Lindsey Smith, Gavin Stayton, Brianna Steger, Brooke Steger, Jacob Stockton, Kylee Stockton, Tiffani Vandermark, Grace Walker
Honor: Bradley Bonnet, Felicia Brown, Ethan Chandler, Gaven Dearden, Collin Dusseau, Nathan Eberhardt, Anna Garrow, Justin Garrow, Dylan Lunsford, Dakota Mazzanti, Tristan Morgan, Tyler Moses, Olivia Nalley, Chloe Peck, Rachel Pflueger, Zoe Quartier, Trent Rutan, Allison Smith, Lyssa Treamer, Deegan Tucker.
High honor: Alethea Banerjee, Kharisma Blake, Mackenzie Burhans, Adyson Burke, Natalya Cecena, Hunter Church, Sarah Cuddeback, Elijah Davis, Trinity Dearden, Jared Justian, Emily Kehoe, Gabrielle Kehoe, Alyssa Knapp, Sierra Lyon, Cassidy Pooler, Ariana Raymond, Jared Russell, Sydney Smith, Hope Thilburg, Grace Wasileski, DaKotah Young-Ross
Honor: Kayla Bennett, Benjamin Bilinski, Ian Cameron, Tylor Compton, Joshua Crull, Izaac DeHart, Kaleb Frierson, Gavin Genson, Lindsey Jones, Brady Knutson, Kevin Lynch, Ethan Manning, David McCall, Sarah Potter, Joseph Shoemaker, Scottie Tucker, Mara Wells, Abigail Younger.
High honor: Madison Becker, Sameh Delfavero, Sequoia Dixson, Kaitlyn Dusseau, Carson Ferris, Madelyn Funk, Allison Genson, Madeleine Grobelny, Mariah Hanley, Alexander Janke, Ashley-Ellen Knapp, Bethany Kulas, Brittany Kulas, Nathaniel Morse, Tyler Munro, Kelsey Nelson, Jenna Powers, Ella Read, Jacob Rieks, Samantha Russell, Patience Sheppard, Michael Smith, Kaleb Stayton, Garrett Stoyell, Hunter Trojnor-Hill
Honor: Parker Barrington, Kylie Caza, Thomas Custer, Collin Damico, John Fedrizzi, Carter Flick, Julia Garrow, Graig Hobart, Brittany Jaquith, Payton Johnson, Jared Mantey, Cera Miller, Ryan Mosch, Emily Newell, Rachel Nunes, Alexzander Scholeno, Kailea Sharpsteen, Kole Sovocool, Emily Tracy, Nicholas Yowan.
High honor: Kelsie Aloi, Jonathan Ammerman, Zachary Becker, Hailey Bradshaw, Zackery Chehovich, Nathaniel Clouston, Emmalee Compagni, Michael Compagni, Jordan Crossgrove, Jenna Crull, Parker Dickenson, Paige Dillon, Hannah Gibson, Marissa Hingston, Julia Jandrew, Austin Kulas, Hunter Loomis, Kaitlin Mahunik, Ryan McElfresh, Kristen Patten, Jasmine Pooler, Justin Searles, Gabriel Short, Tatianna Trojnor-Hill
Honor: Gabriel Ammerman, Teaghan Campbell, Marie Dzikiewicz, Jesse Flynn, Timothy Horner, Conner Ideman, Morgan Jensen, Damion Johnson, Ashley Justian, Destiny Lemmon, Dustin Mondics, Lindsey Parker, Kearstyn Sweeting.
High honor: Zoe Barrington, Hannah Bennink, Makenna Benson, Autumn Burgin, Joshua Campanella, Jacob Campbell, Cara Carmichael, Cameron Caza, Hailey DeWitt, Morgan Ferris, Samantha Gallasch, Taylor Gillooly, Victoria Groom, Madison Hares-Ryan, Cody Lamphier, Trynidy Lyman, Jared Lyon, Joseph Peppe, Melanie Powers, Lily Rieks, Jakob Scholeno, Lexington Stoyell, Hunter Talbot, Ridge Walker, Autumn Wells, Miranda Withers
Honor: Kathleen Baker, Chad Carvill, Dezaray Crandall, Brandon Damico, Deistani Friend, Allison Horner, Bernhard Lavender, Joshua Lee, Jesse McCleary, Garett Sovocool, Travis Swayze, Morgan Tompkins, Makayla Weisbrodt.
High honor: Alexandra Allen, Caitlin Allen, Griffin Amos, Molly Clark, Reagan Emerson, Mara Engelmann, Dalton Evener, Madison Genson, Hailey Gibson, Sarah Hansen, Ciara Hingston, Elana Hobart, Nicholas Jayne, Cole Johnson, Tanner Langtry, Summer MacAdam Gorham, Anderson Manning, Zacharia Oliver, Jonathan Patten, Daisy Smith, Jon Smith, Branden Staniec, Samantha Stepanski, Dylan Warner, Taylor Yowan
Honor: Sarah Chace, Alexander Dziekiewicz, Steven Eberhardt, Cody Flick, Laken Greenwood, Ryan Hargett, Rebecca Howland, Abigail Juli, Matthias Langtry, Joyanna Mahunik, Courtney McUmber, Trent Nesbitt, Dylan Richards, Annissia Rowland, Ryan Sawyer, Ashley Schultz.