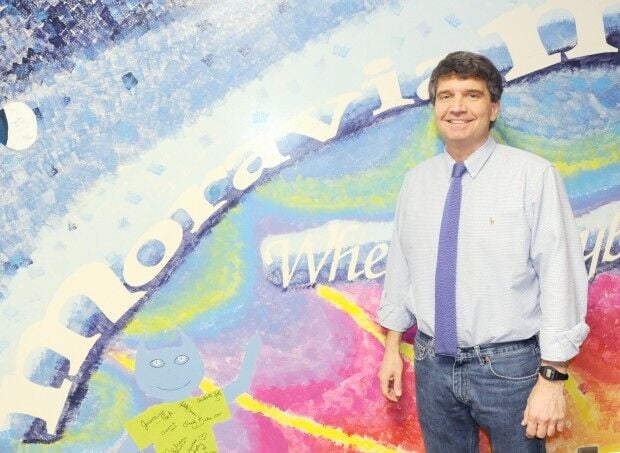 I am an alumnus of the Moravia Central School District. I attended Millard Fillmore Elementary School and then Moravia Central School for grades seven to 12, graduating in the year 2000. Bruce MacBain was my teacher in multiple years, for both Social Studies and Government. Indeed, I would say I had the privilege to be one of his students. There were a handful of teachers I had during my high school years who impacted me greatly, and taught me lessons I still recall today. I look back on those teachers with great fondness, and Bruce was one of them. It is owing at least partially to his influence that I went on to earn my law degree, and it is in that capacity that I write this today.
I remember Bruce as energetic, enthusiastic, knowledgeable, sometimes stern, but always fair. Being a teacher of his caliber, it was no surprise to me that he went on to become a principal, and then to earn success and acclaim in the role. What did come as a great surprise to me was reading several weeks ago that he had been suddenly placed on involuntary leave pending an undisclosed investigation. I learned of this by reading his post on Facebook, wherein he alleged that not only had the leave been sudden, but also without explanation. Per his post, he was told that he was being placed on leave while the school board conducted an investigation, but the school board did not furnish him with the substance of the accusation against him, nor the name of his accuser. The school board claims it has kept these details quiet in order to protect the confidentiality of the accuser. Bruce, in his Facebook post, claimed that while he is sometimes viewed as a hard taskmaster, he has done nothing immoral.
High school civics classes were a relic by the time I was in high school, but it was Bruce himself, along with another of my favorite teachers, Linda Arcangeli, whose combined efforts taught me what civics they could in my years at Moravia. Of the many things I learned in those years, among them were the basic tenets of the rights of the accused, which include the right of an accused to understand the nature of the charges against them, as well as the right to face one's accuser. Indeed, our founding fathers were so convinced of the sanctity of these rights that they enshrined them in our Bill of Rights as the sixth amendment. However, since Bruce's Facebook post a month ago, the status of his scenario is unchanged. He has now been on administrative leave for more than seven weeks with no explanation, nor charges levied against him. He does not know why, of what, nor by whom he has been accused. And as such, he is being denied these most fundamental rights.
The argument may be made that these rights pertain to legal matters; to criminal cases wherein one's life and liberty are at risk. But making such an argument misses a crucial point, which is that our laws become laws because we, as a society, believe them to be of sound moral reasoning. The rights enshrined in our Bill of Rights are among the most sacrosanct of all our laws for that very reason: they transcend what is merely legal because they are fundamentally moral. As Americans, we classify these rights as "inalienable"; we say they are "endowed by [our] Creator". As such, to deny a person such rights in any circumstances is immoral and unjust.
As a community, we do not know the facts, nor are we entitled to them. It is possible that an immoral act may have been committed here, and if so, there should be just consequences. The Bruce MacBain I remember from high school would agree with that, I'm sure. I don't write this in defense of any act or omission Bruce may have committed; I write in defense of his most essential rights to face his accuser and defend himself. Seven weeks without such an opportunity is egregious and unjust, and the school board should rectify this immediately. The Moravia community should apply all the pressure it can to that end.
As the saying goes, justice delayed is justice denied.
Robbie A. Blowers is an attorney in Australia who graduated from the Moravia Central School District in 2000.