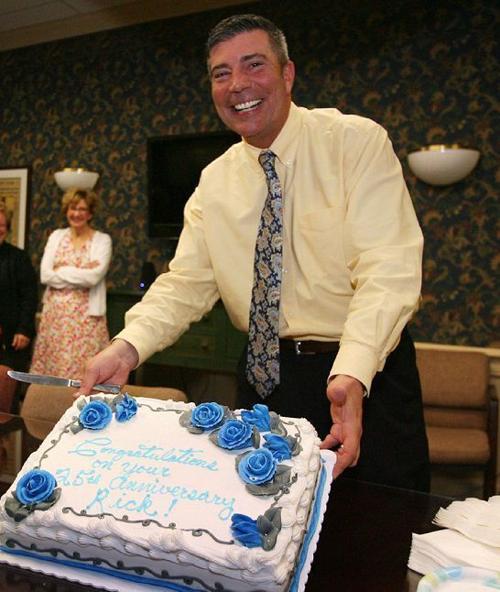 Words of praise for Rick Emanuel have been flowing with abundance since people around New York state began to hear about his sudden and unexpected death last week. Newspaper articles and social media posts have accurately recalled his palpable love for his family, community and the newspapers he's served, including The Citizen.
But after reading through much of it online over the past few days, the most spot-on description of Rick came in two sentences his family included in his obituary: "Rick made everyone he met feel valued, and his quick wit and sense of humor won him many friends. He had a quiet way of reaching and supporting those in need."
I think there are probably hundreds, if not thousands, of people in the Cayuga County area who have personal stories attesting to that truth. I have a bunch from my life, but two have stood out for me as I've tried to process his passing.
I had been on the job as a news editor at The Citizen only a couple of weeks in 2004 when my wife's grandmother passed away in Florida. As a brand new employee, I had earned no paid days off, and official corporate policy on bereavement did not extend to the death of a spouse's grandparent. I was prepared to stay in New York while my wife went down for services, but I approached Rick and asked him if it was possible for me to take a few days off to go. I said I'd understand if he said no, or if I'd need to take the time off as unpaid.
Rick did not hesitate. Go and take all the time you need, he told me. The paper will give you the paid days. Family, he explained, is the most important thing we all have, and you have to be there with them in these moments.
The other story happened a little more than a year later. I was still new to the world of management/editing and was questioning if this work was a good fit, and if this newspaper was the right place for me to be. Having gotten to know Rick pretty well by then, I thought I should talk with him before I made any decisions.
That discussion may have saved my career.
He listened intently to my concerns, made me feel that he understood what I was going through, and then gave me the encouragement to stay and work through the challenges. He made me feel valued, and that's exactly what I needed. About a year later, Rick was promoting me to my current position, the one I've held for more than 14 years and the best job I've ever had.
When Rick accepted an offer to become publisher of our sister paper in Glens Falls in 2008, it was kind of like having a big brother move away to college. I was happy for him, and I knew we'd keep in touch, but I also felt apprehension and sadness that we'd not have that same relationship.
But true to his form, that "quiet way of reaching and supporting those in need," Rick continued to be my mentor over all the years that have followed. We might only talk once a year or even less, but whenever we did, he just had a way to lift my spirits and sharpen my focus — as a professional and also as a husband and father.
Three upstate New York communities are mourning the death of Rick Emanuel, a longtime New Yo…
I'm sure I was one of many Auburn-area residents who spent four hours driving down to Elmira and back this week for Rick's calling hours or funeral service. I had to go. It was like a gravitational pull that brought me to one of the back pews in St. Patrick's Church on Tuesday morning.
The messages we heard from his amazing family — his wife, Kelly, and two children, Alex and Eric — resonated with all of us. Rick was their rock in life every day. But he was also a rock for the rest of us whenever we needed him.
The service reminded of a moment several months ago, when I happened upon a LinkedIn post Rick made that was so typical of his approach to life:
"If you've recently been laid off or furloughed and we've worked together in the past, had a coffee, lunch, drink, email, or a phone call, please don't hesitate to get in touch and see how I can help.
- Can I put you in touch with a contact of mine?
- Can I write a LinkedIn recommendation for you?
- Need a pick-me-up conversation?
I encourage others to copy and paste this post as their own. We are a strong and resilient community so let's empower each other so we can grow, together!
I'm still struggling to accept that we've lost Rick. But the past few days and seeing this message have brought me to one conclusion so far: A great way to honor Rick's memory and carry on his legacy is just to try to be there for other people who need a rock. Be a little more like Rick, and the world will be a better place.
Executive editor Jeremy Boyer's column appears Thursdays in The Citizen and he can be reached at (315) 282-2231 or jeremy.boyer@lee.net. Follow him on Twitter @CitizenBoyer