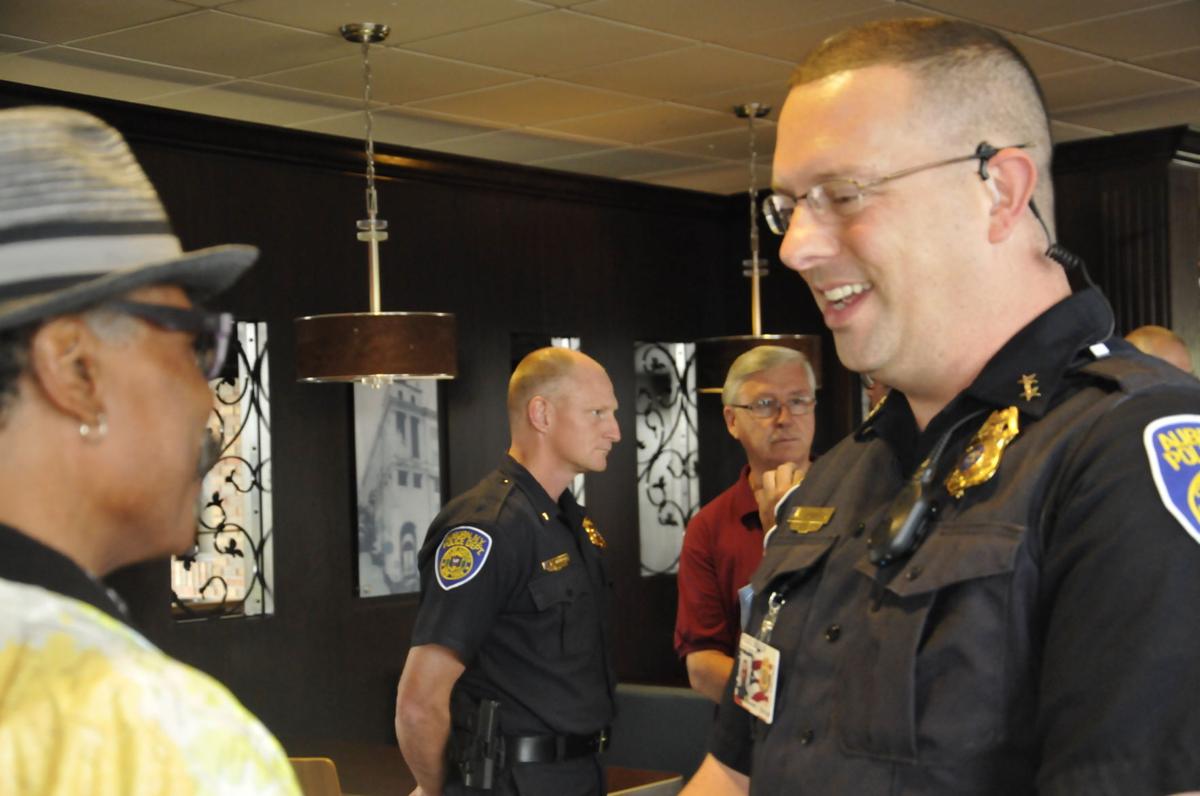 Black Lives Matter. Blue Lives Matter. The Thin Blue Line. The Blue Wall of Silence. Peaceful Protestors. Violent Looters. These phrases represent varied and often oppositional points of view that have risen to a level of contention beyond the pale in our country. Americans have become so divided on issues of racism and discrimination, police brutality and protection that it has become nearly impossible to have a conversation around these issues, and even more difficult to find any common ground to advance progress toward meaningful social change.
As a newly elected official I am carefully watching and learning from the relationship that continues to evolve between the Cayuga County Sheriff's Office, Auburn Police Department and social justice organizations in our community. These leaders recognize that racism exists, and that the goal to support law enforcement is not mutually exclusive of the goal to advance social and racial justice. We are fortunate to have strong civil rights and law enforcement leaders working on these issues locally. Over the years, trust and mutual respect has been established through words, actions, missteps and commitment to continued forward progress.
The NAACP's recent criticism of Sheriff Brian Schenck for his endorsement of statewide sheriff's association proposals was met by our sheriff with open ears and a strong desire to understand concerns and preserve relationships built over years. I spoke with Sheriff Schenck about his endorsement, which was rooted in a desire to protect law enforcement, which I share. I also spoke with Auburn Police Department Chief Shawn Butler, who echoed a need to support our officers who put their safety on the line every day to protect the public.
I had an opportunity to speak with Eli Hernandez from the Auburn-Cayuga Chapter of the NAACP and Bill Berry from Harriet Tubman Center for Justice and Peace about their concerns with the sheriff's association proposals, including lack of transparency and inclusiveness in developing them, as well as specific provisions they felt could be abused or potentially detrimental to the safety of people of color. I appreciated hearing their perspectives on a personal level, which helped me better understand some of their concerns.
These brief conversations were long enough to convince me that it is possible to find common ground in this sea of discontent. This incident quickly brought our law enforcement and civil rights leaders to the table to talk through concerns and identify solutions on how to be more inclusive moving forward. All parties recognized the importance of involving the community and residents in public policy decision-making. To that end, a series of public events are being planned by local government in partnership with social justice organizations.
At 11 a.m. Aug. 10, the Auburn Police Department will provide a formal presentation to the leadership of Auburn's social justice organizations and public at large. Led by Chief Butler, this gathering will seek to enhance understanding of Auburn Police Department's policies, protocols, operational procedures and other issues. Stay tuned for a similar presentation to be provided by the sheriff's office in the near future, as well other community engagement events.
As a county legislator, I join our county sheriff, city police chief, civil rights leaders and others to move this important work forward and expect the public to hold me accountable in doing so. In the words of Sheriff Schenck: "Words and actions can destroy a bridge. Our community must work to build them. Mistakes will be made as we build but that is OK. Just keep working. I have crossed a few bridges that weren't made of steel and concrete during my career and I recognize that I have a few more to cross. I hope you will join me. This work is important and well worth the effort."
It is important to protect the progress made to build bridges between government and people of color in our community, to extend those bridges beyond law enforcement to all areas, and to ensure that government of the people, by the people, for the people remains fundamental in our approach to governance. I commit to this guiding principle, and to help find common ground on policies and actions that will lead to positive change for people of color in our community.
Tricia Kerr is a Cayuga County legislator representing District 12.
Catch the latest in Opinion
Get opinion pieces, letters and editorials sent directly to your inbox weekly!