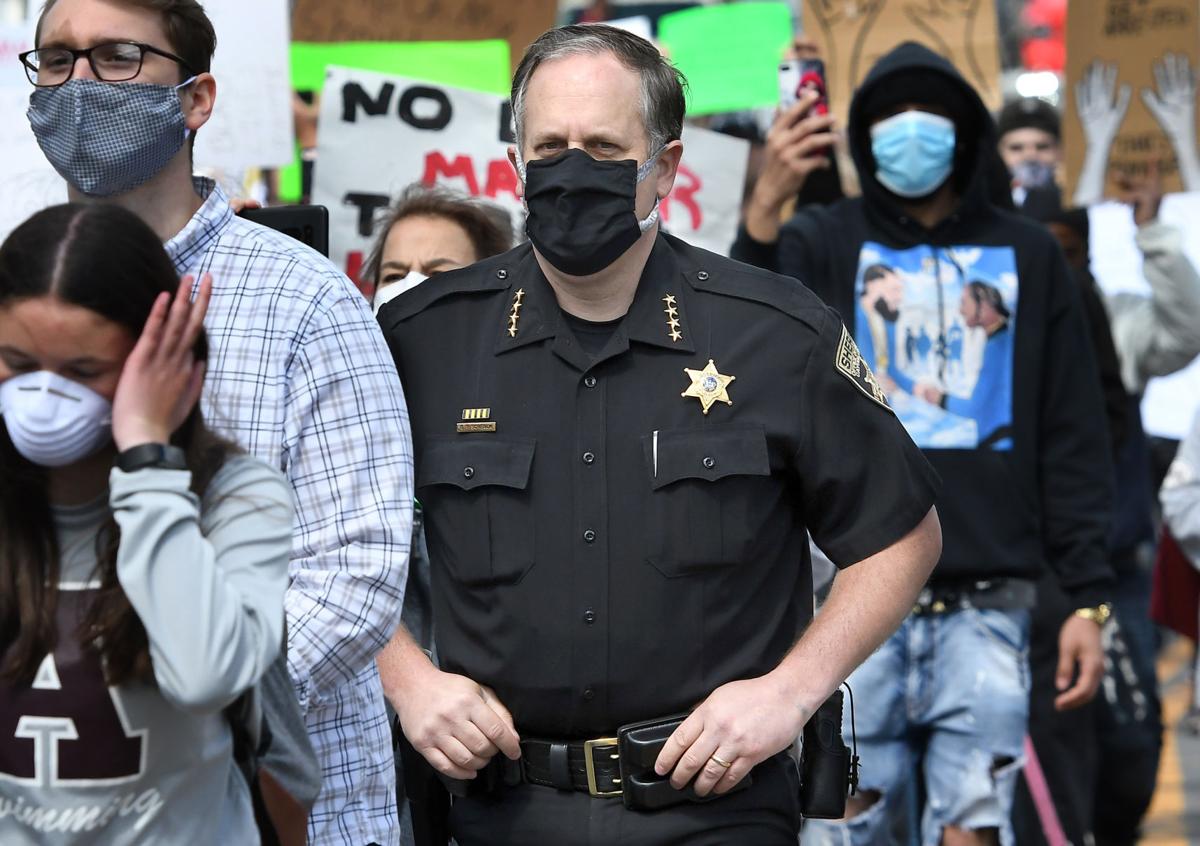 As your Cayuga County sheriff, I am responsible for 170 people that include police officers who patrol our community, custody officers who secure our jail, security officers who secure our courts and office building and navigation officers who provide public safety services on our waterways. I take this responsibility seriously. For nearly 23 years I have proudly worn my badge while serving those that live in and visit Cayuga County. For me, the badge is a symbol of integrity, honesty and dedication. Next to my desk on the wall is the mission statement that guides the work that we do. It reads: "The mission of the Cayuga County Sheriff's Office is to secure and maintain a safe community and enhance the quality of life of all citizens by providing responsive, caring, unbiased, and professional Law Enforcement, Custody, Correctional, Security, and Civil Enforcement services. The Sheriff's Office is committed to utilizing community partnerships to accomplish this mission and to maintain the trust and respect of those we serve." This is the mission statement that our administrative staff and I rewrote when I took office in January of last year. The words it contains for me are personal.
In the past week, we have witnessed protests in almost every community across our country fueled in part by the recent death of George Floyd in Minneapolis during his arrest by members of the Minneapolis Police Department. Some of these protests have been peaceful while many others have turned into civil disturbances that resulted in violence and destruction of property. Right here at home, we observed members of our own community protest the circumstances surrounding Floyd's death as well as racial injustice this past Sunday in Auburn. I would like to commend all of those that joined in this event, especially those that spoke and shared their stories. Many of the speakers articulated having been personally subjected to acts of racism, in our community. The peaceful nature of this protest with the participation by local law enforcement officers should serve as a model for other cities throughout our country. Officers understood the anger and frustration of demonstrators and worked to protect their right to express their concern.
Racism obviously exists within our community and throughout our country. Knowing that anyone would have to live in fear or struggle through life due to their race is unacceptable to me. I do not know what it is like to be a person of color who is subjected to racism or challenges that are created by the color of one's skin. However, I can listen, observe, learn and work to understand to the best of my ability what struggles people face in our community due to their race. What I can tell you is that I personally know what it is like to feel extreme frustration and anger when someone dies or is injured due to unjustified, inappropriate or criminal conduct by someone wearing a badge. Equally concerning to me is when someone is mistreated due to bias or racism by anyone in a position of authority. Many people, including people in our own community, view these types of incidents as being a reflection of my integrity, and that of those that work and partner with me. All too often, incidents of police abuse stemming from misconduct issues, including mistreatment due to bias or racist attitudes, throughout our country have a negative impact on my agency, and all police agencies across our nation as well as our communities both locally and beyond. Unfortunately, just one of these incidents can give some residents the sense that all of us who wear a badge come from the same mold.
I am not saying that there is not work that we in law enforcement can all do to make sure that implicit bias or racist-driven attitudes do not impact the manner in which we police our streets. However, I can assure our community that in Cayuga County, as your sheriff, I will confront those issues head-on and hold those that do not live up to our mission to provide responsive, caring, unbiased and professional law enforcement services accountable. We seek to maintain the trust and respect of those we serve and the residents of Cayuga County should expect nothing less.
Moving forward, I urge everyone in our community to recognize that racism is real. It exists locally. Knowing this, we all, including law enforcement, must continually work to understand its impact and stand against it. I also ask that those in our community understand that the actions by those officers in Minneapolis are not consistent with the actions of all police officers, both locally and beyond. It discourages me to see the professional work of dedicated and committed officers, right here in our community and in others throughout our country, being overshadowed by incidents like these. Are there bad officers out there that are not doing the right thing? Unfortunately there are. But it is the responsibility of other officers to hold them accountable and set the example for others to follow.
How do each of us have a positive impact moving forward? We all need to listen, observe, learn, understand and respect both sides of these issues, call out unacceptable behavior, and hold each other accountable. Racism, in any form, is not acceptable.
Brian Schenck is the Cayuga County sheriff.
Catch the latest in Opinion
Get opinion pieces, letters and editorials sent directly to your inbox weekly!