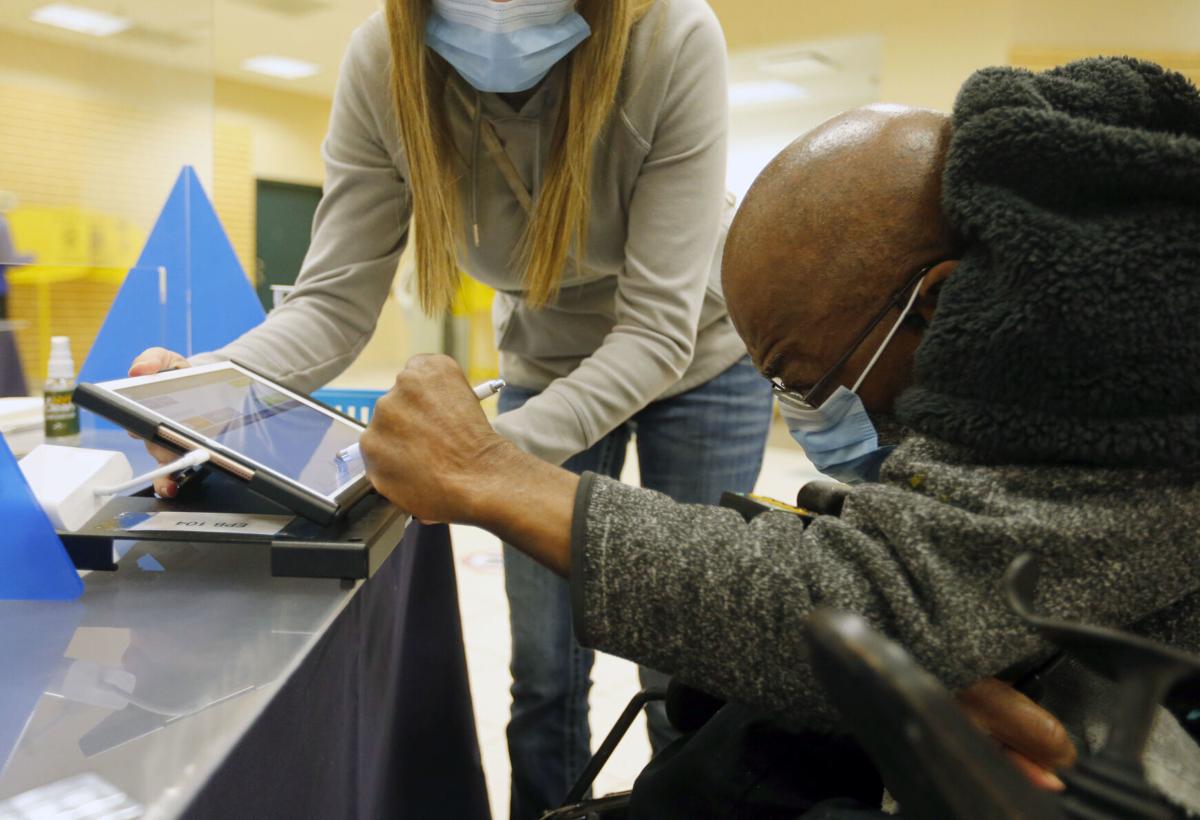 In most ways, Thursday was a standard day for Henry Wesley. He woke up early at his Jamestown home to grab some breakfast before heading to therapy, and then he hurried back to catch a breath before leaving for the Chautauqua Mall, where he wanted to pick up a 26th wedding anniversary gift for his wife.
Yet he had one other mission at the mall, a duty he will never see as typical. Wesley, 75, stopped to cast his vote in this year's presidential election, arriving at a moment when the wait was almost nothing. "I think about three people," he estimated of the line when he wrote an email later that day, though by the time he left the crowd was quickly growing larger.
With that ballot, he joined the millions of Americans who surged to the polls for early voting or already cast mail-in ballots, propelled by a belief that in past years has often seemed, at least statistically, a more casual assumption – the idea of the vote as a precious gesture of belonging and stature as a citizen.
Henry Wesley was never in danger of losing that appreciation.
"If I do not vote, my voice is nonexistent," he wrote in the exchange of emails.
His entire trajectory, his landmark American story, is built on the strength and lasting resonance of that voice.
Wesley's "remarkable journey," said David Mack-Hardiman, associate vice president for People Inc., "serves as a role model to all people who desire an inclusive life."
In an email, Wesley wrote of how in 1949, at the age of 3, he was left "at the door of the Willowbrook State School," an overcrowded state institution on Staten Island where people with developmental disabilities were locked away from everyday life in the community. Wesley, who wrote that he was born with cerebral palsy, would be there for more than 23 years, enduring the "deplorable conditions" forced upon everyone trapped inside.
"Most of my experience at Willowbrook was constant neglect," Wesley wrote. "The school was understaffed, overfilled with patients and there was a huge lack of resources, which left patients naked and covered in urine and feces.
"I was abused both mentally and physically and was not called by name … referred to by number," wrote Wesley, a Black American. "Often times, racial comments were made to me. At times, even if I had done nothing wrong, I was beaten, put in a straitjacket, tranquilized and thrown into a room for solitary confinement."
Today, about a month short of 48 years since he finally made it out, Wesley has become a vibrant spokesman of American conscience. He and his wife, Jean Jeffers Wesley, live their lives with several housemates in a Jamestown home supported by the Resource Center. The couple decided to hire Britnie Barmore, a self-determination assistant, to spend several days a week as an aide. She was there, at the mall, to provide any assistance Wesley needed while voting. Her duties might also include helping the Wesleys go through an old box of Jean's love letters to Henry, written years ago, a kind of joyous chore they shared the other day.
Barmore said Wesley communicates through a speech-generating device called a Dynavox, using it over the years to lead many public forums and presentations on his life and his philosophy. Often, he serves as a consultant for staff training sessions, and he is in the process of getting ready to do some of that work by teleconference.
This is the same guy, as a young man, who was so beyond the reach of basic human rights that he was sometimes wrapped in a straitjacket and locked in solitude.
By 1965, as Wesley noted in his email, an appalled Sen. Robert F. Kennedy was describing the more than 6,000 residents of Willowbrook as being caught in a "snake pit." Seven years later, television reporter Geraldo Rivera placed a searing investigative spotlight on the place, accelerating one of the great civil rights movements in American history.
The goal remained a sweeping return to the main streets of American communities, a journey that started for Wesley when he finally left Willowbrook on Pearl Harbor Day, 1972. "I was scared, confused and unsure of what was going to be my future," he wrote. But he was also jubilant and focused on "what could or may be."
That sense of belief, of sheer will, propelled him to where he is now. Wesley, who voted for the first time in 1984 at age 39, is among thousands of people with disabilities throughout Western New York who have already voted or will do it soon.
BJ Stasio, of South Buffalo, president of the board for the Self-Advocacy Association of New York, said a statewide "Go Vote" task force has met by teleconference over the past few months to anticipate problems and seek ways of working through any hurdles.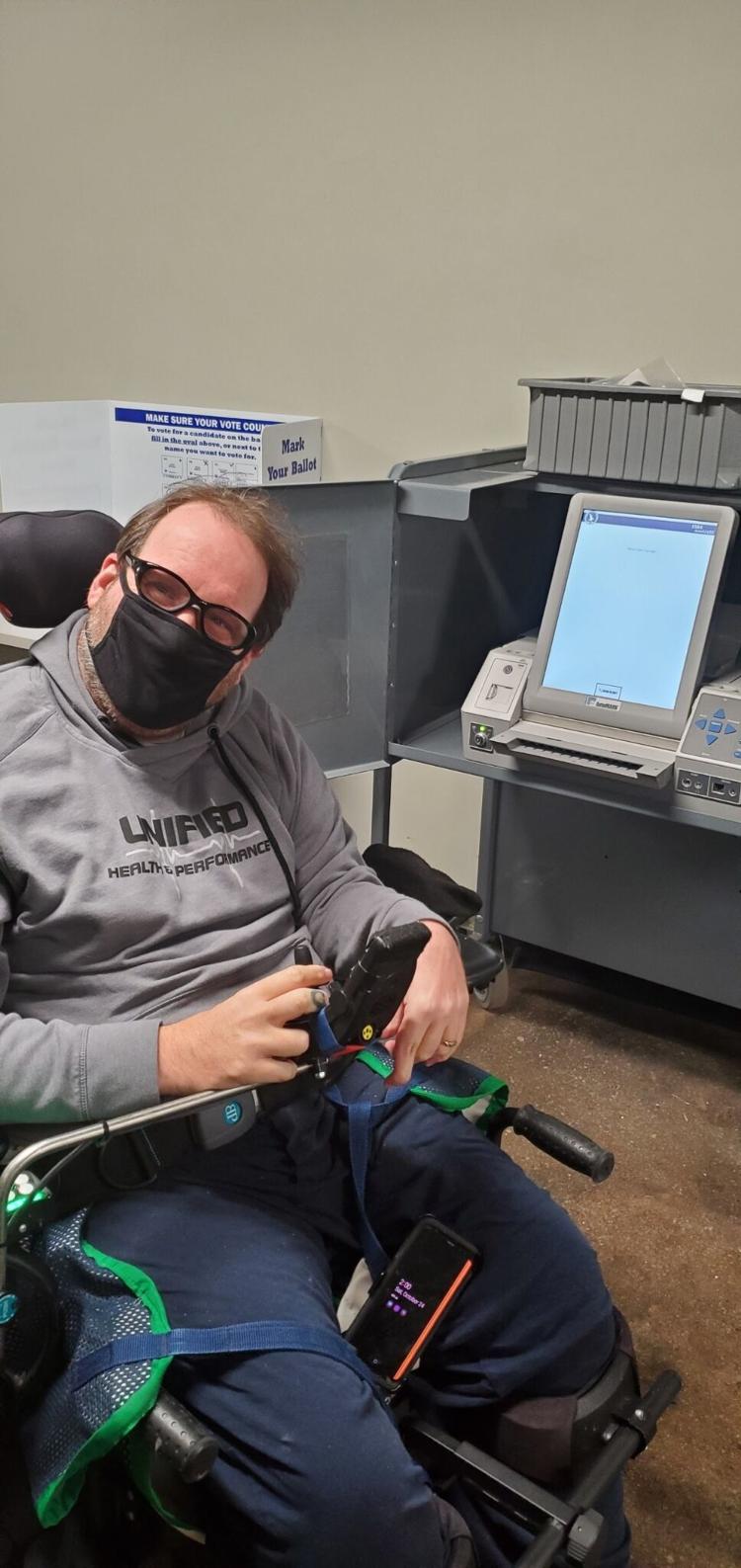 Stasio, who described the vote as "the ultimate advocacy action," said the mission is making sure people with disabilities – disproportionately affected and threatened in multiple ways by the pandemic – are fully aware of such options for participating as accessible voting machines.
Like Wesley, Stasio said he prefers to show up and vote in person. He uses a wheelchair, and he believes his presence makes a visible statement on the sense of full citizenship for women and men with disabilities, especially when so many federal and state policies and decisions directly impact those he represents.
"Everything I've done in my life is proof that somebody was wrong," said Sam Mattle, executive director of the Center for Self-Advocacy in Buffalo, speaking of the barriers he routinely faced and overcame – all part of his reflection on why he waited in line Saturday for about two hours in order to cast his vote, at a time of such meaning.
As for Wesley, who vividly remembers when a life spent behind the walls of an institution made the chance to vote seem impossibly out of reach, he wrote with passion of the sense of responsibility he carries with him on every visit to the polls.
"To me, the right to vote is important because I haven't always had equal rights, and/or the accommodations I needed to successfully vote were not always made," wrote Wesley, who emphasized "it is my duty, as an American with a disability, to educate the public that people with disabilities have the capacity and capability to make choices about who better represents them."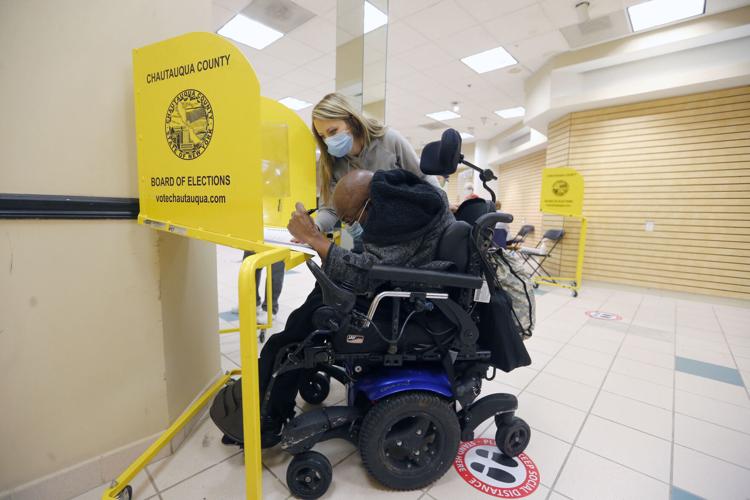 He chooses not to disclose whom he voted for this year, noting the fierce emotional divide over the election and hoping, maybe, that staying away from his selection will allow for clarity in his central point about respect, true equality – and why he hopes that you will vote.
Wesley wrote of how – for more than the first quarter-century of his life – he endured sanctioned brutality that was meant to extinguish his essential purpose. "I had no voice, I had no choices," he wrote. "It was as if my life was meaningless. We were dehumanized."
He outlasted years of crushing abuse through indomitable resilience and integrity, supported by many allies who helped reshape existing law and policies. As part of it, he learned to see the redemptive potential of each vote, the longstanding brilliance of a fundamental right for those who refuse to take it for granted – especially those who remember when it was not there for them at all.
"I am a person, just like everyone else," Wesley wrote of his life as an American, a thought intertwined with why he went Thursday to the Chautauqua Mall.
Every year, it is not only a vote. It is his proof.
Catch the latest in Opinion
Get opinion pieces, letters and editorials sent directly to your inbox weekly!