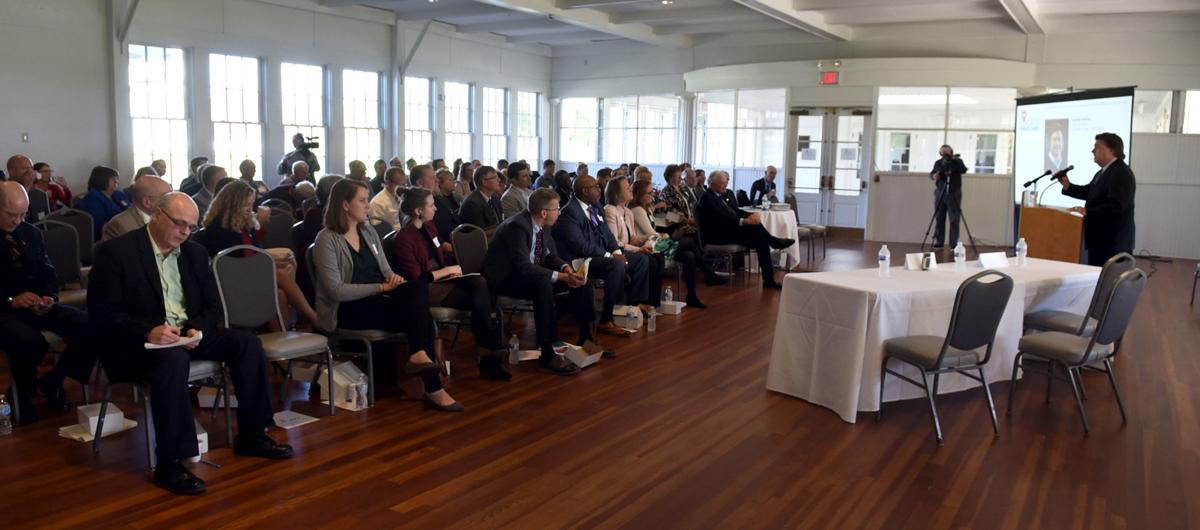 When the historic Emerson Park Pavilion was renovated eight years ago through a $4.5 million public-private project, one of the most important decisions the Cayuga County Legislature had to make was choosing a private company to operate the facility.
After a process that included seeking proposals and working with an advisory committee, an Ithaca-based catering company, H&J Hospitality, got the contract. The selection was controversial, largely because local operators were turned down. And it's been the source of occasional complaints in the years since, particularly because H&J has had their deals extended without a new opportunity for others to submit bids and because H&J largely didn't live up to a commitment to hold some events open to the general public.
Last fall, though, H&J went out of business. Cayuga County worked to transfer the ongoing contract to a newly formed company owned by H&J's local managers, and it began a process to seek bids on a new contract that would run from 2022 through 2024.
While the closure of any business is a cause for concern, the county was fortunate with how the H&J situation worked out. Having the new company, A&M Catering, available to immediately take over an ongoing contract made it much easier to keep all of the scheduled weddings and other events on track. Imagine the mess that could have ensued if Cayuga County was forced to cancel on customers who had booked these events.
With a solid operator in place to fill out the rest of the current contract and continue working with active clients, the county was in a great position to conduct a robust search for the next contract.
But that's where the ball clearly got dropped. The county put together a request for proposals that included a mandatory pre-bid meeting, but then appeared to make minimal effort to get the word out about this opportunity.
You have free articles remaining.
Aside from quietly posting the RFP on the internet, the county reached out to four potential bidders directly to make them aware. Those four didn't include all of the bidders from the previous open search, most notably the man with the most experience in that facility prior to the 2012 reopening, Balloons Restaurant owner Bernie Simmons. It did notify another obvious candidate, Sean Lattimore, owner of the nearby Springside Inn, but failed to answer a follow-up inquiry Lattimore made as he was considering whether to attend to the pre-bid meeting.
The result was that just one operator, incumbent A&M, attended this mandatory session. That's an unacceptable result for a facility with so much unrealized potential. A&M may well be the best choice, but legislators can't know that for sure without a better search.
When the Emerson Park Pavilion re-opened, local leaders talked about its unmatched location on the shores of Owasco Lake, in a beautiful and spacious park. We heard predictions of the facility being busy year-round with conferences and retreats from throughout the Finger Lakes, central New York and beyond. And we heard promises that the pavilion, which is owned by the residents of Cayuga County, would also have plenty of opportunities for general public use.
But right now the pavilion is largely used for private weddings and an occasional party or community presentation. It remains largely a seasonal facility. And it has not come close to meeting the revenue projections laid out in 2012.
The Cayuga County Legislature needs to view this situation as a golden opportunity to see if that original vision can materialize. We were encouraged by Legislature Chair Aileen McNabb-Coleman comments to The Citizen last week, saying she would like to see the Jan. 22 bid deadline extended and the removal of the pre-bid meeting attendance requirement.
"I'd love to have so many (candidates) that we can barely wrap our arms around it," she said.
We hope her legislative colleagues agree and get this situation fixed.
The Citizen editorial board includes publisher Michelle Bowers, executive editor Jeremy Boyer and managing editor Mike Dowd.