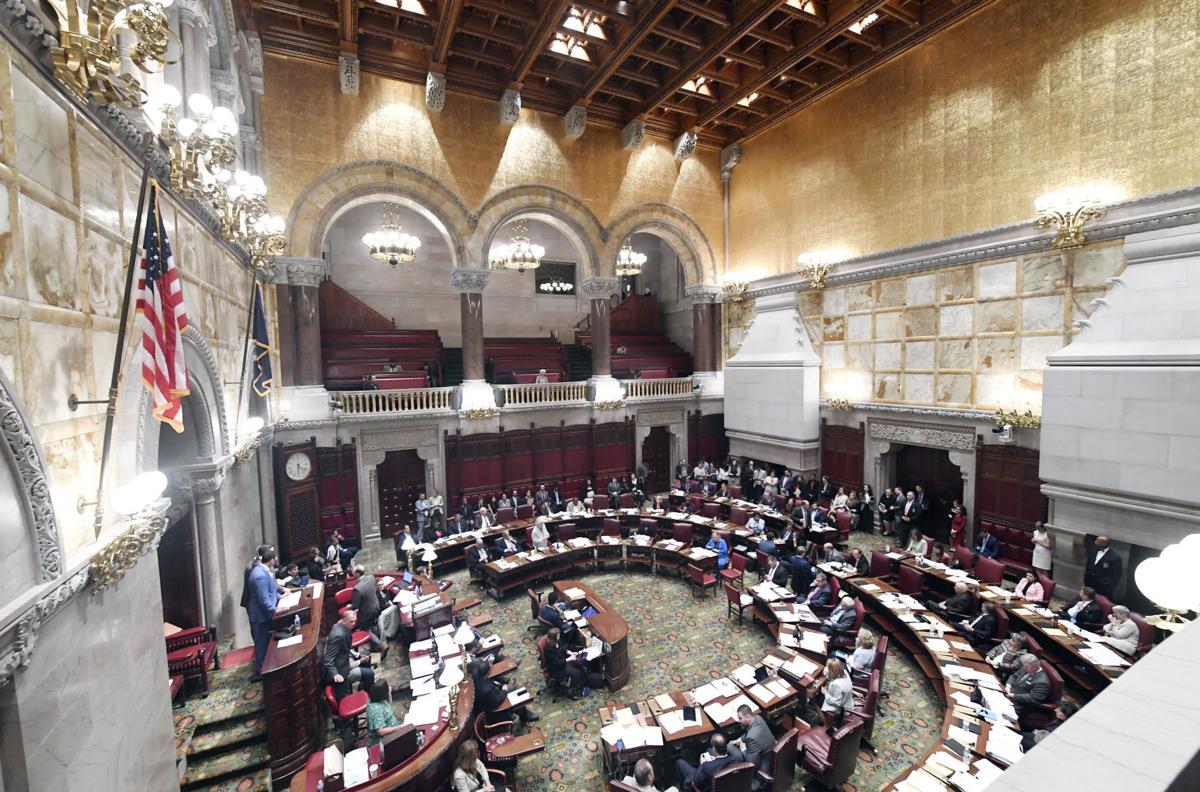 Cayuga County is divided up into three state Senate districts, with all three coming into or up to the border of the city of Auburn and branching out from there. Like in 2018, there are contested races for three seats. Unlike two years ago, this year's election is guaranteed to result in at least two new senators representing the county in Albany.
The race for the 50th Senate District features a familiar face, as Democratic nominee John Mannion is once again seeking to fill the seat after losing narrowly to Robert Antonacci in 2018. Antonacci stepped down from the Senate at the start of this year after winning election to a state judicial seat, and the district has been without a representative since then.
We endorsed Mannion, of Geddes, in the last campaign, citing his detailed campaign platform that demonstrated his command of issues and his willingness to reach out to constituents to be informed about their needs. He has once again put together an impressive plan, and this time he brings the experience that came from his first attempt at office. We've seen him truly dive into the work that the Auburn area is doing with respect to protecting the Owasco Lake Watershed. As a longtime teacher, he brings a keen sense of how education funding from Albany badly needs reforming for our local districts. And he wisely views the need to deal with the state's fiscal challenges by both looking to strategically cut expenses while also asking the ultra-wealthy to pay just a little more.
Angi Renna, of Manlius, runs a financial planning firm and has been active in supporting Republican efforts in central New York for many years. Her business background certainly could be put to use in Albany. She's advocating for the state Legislature to take back Gov. Andrew Cuomo's emergency powers granted to him in March to deal with the pandemic, and she's been a fierce critic of the state's criminal justice legislative changes of the past year. What was missing from Renna's campaign, at least in comparison with her opponent, is a strong sense of how she planned to address specific needs and issues in the district and in Cayuga County. A striking moment came during a debate at Cayuga Community College, when Renna appeared to mock Mannion's explanation of how climate change and the need to advance renewable energy is connected with efforts to protect water quality: "John, you're well on your way to a career with the DEC," she chided.
In the end, we see Mannion as independent thinker who will stay well connected with the district, while Renna could easily become a puppet of the state Republican party with little else to say.
The Citizen endorses John Mannion for election in the 50th Senate District.
Like the 50th, the 51st Senate District is also going to bring a new representative, as longtime incumbent state Sen. James Seward has decided to retire. Vying to replace him are Democrat Jim Barber, of Schoharie County, and Republican Peter Oberacker, of Ostego County.
Barber is a farmer who also has experience in elected office and in government policy. His resume includes serving as a special assistant to the commissioner of the state Department of Agriculture and Markets and as state director of the U.S. Department of Agriculture's Farm Service Agency. Though he's a Democrat, he has concerns with the state's bail law changes enacted by the majority conference he hopes to join, and he believes upstate New York is often overlooked by the downstate-heavy majority. But he also argues, wisely, that being in the majority party is the best way to get some concrete results. Barber clearly would be a strong representative of the important agricultural industry in this district.
Oberacker also has local government experience as a town supervisor and then as a county legislator, and is the owner of a company that supplies products for the food industry. He certainly has a good sense of how local government and state government affect each other, and his experience as a business owner gives him a helpful perspective when it comes to the state's economic development policies. Oberacker believes that spending cuts across the board in state government are the first step in dealing with the state's budget deficit. We believe such an approach is misguided, as state agencies have unique needs that need to be examined carefully when reducing spending; some certainly do need cuts, but others would be decimated by them. Oberacker is also against asking the ultra-wealthy to pick up more of the tax burden, and he rejects his opponent's intriguing suggestion to tax Wall Street transactions as a means to add revenue to the state budget.
The Citizen endorses Jim Barber for the 51st Senate District.
In the race for the 54th Senate District, Republican state Sen. Pam Helming, of Canandaigua, is being challenged by Democrat Shauna O'Toole, of Geneva.
Helming has been active in the community and has become a familiar face around the district. She has worked to help the village of Aurora and Wells College overcome obstacles related to the aging drinking water infrastructure there. She was among those who supported the reopening of del Lago casino months after workers there were furloughed during the the pandemic, and she prodded the state to allow nursing homes to safely reopen to visitors. As chair of the Senate Republican Campaign Committee, Helming led the development of a women in business agenda with priorities that include reimbursing child care providers for the cost of health and safety improvements required to safely reopen during the pandemic; increasing the dependent care tax credit; and streamlining the certification process for minority- and women-owned businesses. She has pushed for the state to carefully evaluate the possible repercussions of legislation granting increased wages to farmworkers, and she has worked to protect the Lake Ontario shoreline from damaging flooding affecting homeowners and businesses.
While we sometimes don't agree with her stances and rhetoric, such as when she advocated for divisive legislation to make English the official language of New York, she's more than proven herself to be fierce advocate for the district.
O'Toole is running on the Democratic Party line, but we've unfortunately heard little from her during this campaign. Her Twitter profile expresses a desire to help farmers keep their farms, shop owners to stay open and to build up skilled trades. But we're not aware of any public campaigning she did in Cayuga County, and she did not respond to a request to debate Helming at Cayuga Community College.
The Citizen endorses Sen. Pam Helming for re-election in the 54th Senate District.
The Citizen editorial board includes publisher Michelle Bowers, executive editor Jeremy Boyer and managing editor Mike Dowd.