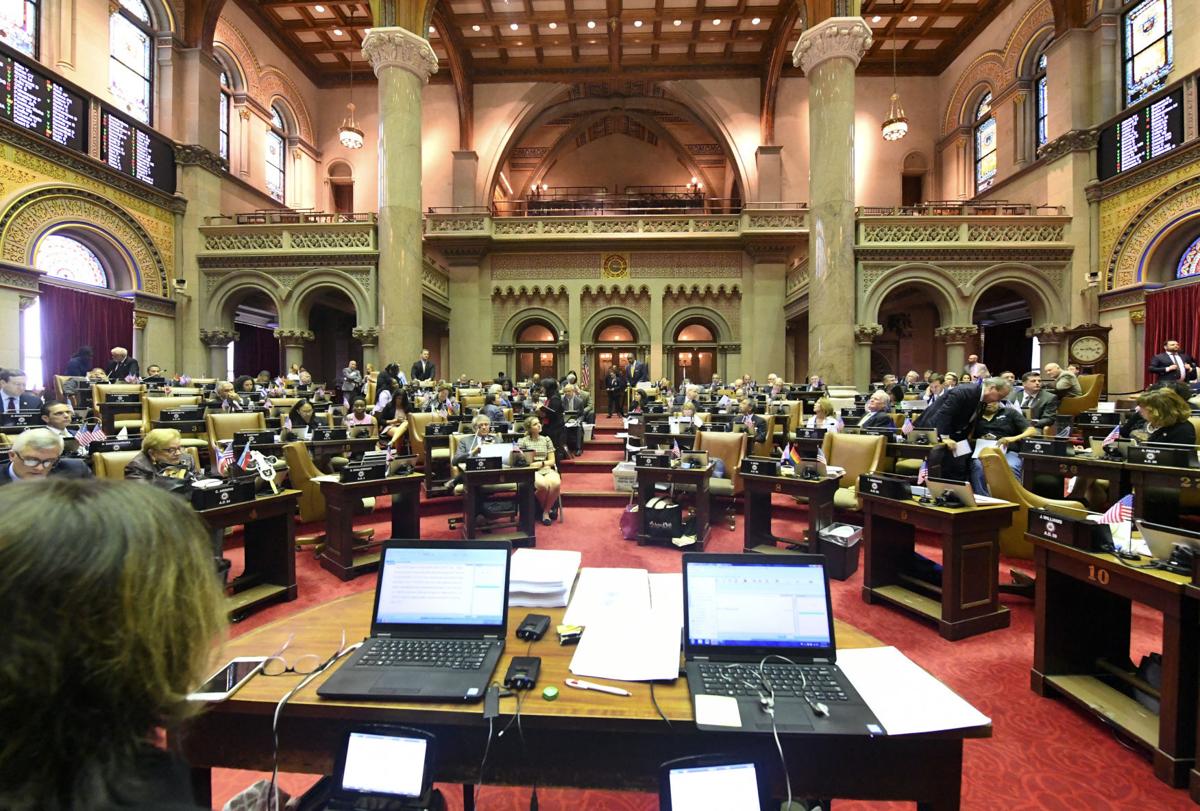 The races for the two state Assembly districts covering parts of Cayuga County include one with a first-term incumbent and another that will decide a seat that hasn't changed hands in decades. 
The 126th Assembly District race features Republican John Lemondes, of Lafayette, and Democrat Dia Carabajal, of Auburn. The winner will fill the seat of retiring Assemblyman Gary Finch, who was first elected to the Assembly in 1999.
The two candidates agree on some of the top issues facing people here, including diversity training in the public and private workforce, reducing the use of fossil fuels and protecting water quality. Both understand the need for jobs and improvements in infrastructure such as the expansion of rural broadband.
Lemondes is a U.S. Army veteran who studied agricultural science at Penn State University and now operates his own farm. He has spoken out against bail reform in New York, and is critical of police reform advocates who want to see some funding shifted from police departments to mental health agencies and other services. 
We agree with Lemondes that BOCES is sometimes left out of the education funding conversation and that opportunity for all students should be balanced. He is correct that the high cost of doing business in New York can be a detriment to luring people to set up shop here, but lowering the minimum wage, as Lemondes advocates, would surely hurt thousands of low-income workers struggling to provide for their families.
Lemondes has done his homework, but his campaign seems to have a stronger focus on national and statewide issues than the particular needs of the Assembly district he seeks to represent. In a forum hosted by the League of Women Voters of Cortland County, Lemondes said his first two priorities are the military and the police, arguing that building a strong economy depends first and foremost on the need to "restore public order." But while some U.S. cities have seen violent protests arise over issues of social justice, there haven't been widespread problems in upstate New York — especially not in the rural 126th Assembly District.
Carabajal is a professor at Cayuga Community College and lists education and water quality among her top priorities. She recognizes that the COVID-19 pandemic is the biggest immediate threat facing the state because of its wide-ranging effects on public health, business and education, and said that her first effort, if elected, will be securing any and all state and federal funding to assist with recovery.
A former member of the Auburn Enlarged City School District Board of Education and Auburn City Council, Carabajal was on the council when toxins from harmful algal blooms were found in the city water supply and worked in tandem with city, county and state officials to address the problem. 
The 126th is an expansive district that includes portions of Cayuga, Chenango, Cortland and Onondaga counties. Finch, of Springport, was always a strong advocate for Auburn and Cayuga County, and, should she win, Carabajal would be the sole state legislator representing Cayuga County who actually lives here. Carabajal has a growing resume of public service that will serve her well in Albany, and we believe that her close connections to Auburn and Cayuga County will be of great benefit to the people who live here.
The Citizen endorses Dia Carabajal for election in the 126th Assembly District.
The election for the 130th Assembly District, which covers 10 Cayuga County towns, is a rematch of the 2018 race between two Wayne County farmers who agree about the need to protect water quality, the importance of agriculture to the region and who both believe that the state's bail reform measures need to be reworked.
Democrat Scott Comegys believes that Gov. Andrew Cuomo made good decisions and was consistent in his communication about the need for the state to make it through the public health crisis of the COVID-19 pandemic before starting to open up the economy again. He argues that his opponent, Republican Brian Manktelow, has been a voice of opposition in Albany rather than a representative who seeks compromise. He believes that the state Legislature should have been working all along on solutions to a huge budget deficit rather than waiting for a bailout from the federal government.
As former Lyons town supervisor, town board and planning board member, Manktelow has a solid understanding of how state and local governments operate. He advocates for cutting the local tax burden by getting rid of unfunded state mandates. He wants to see the Legislature work on a long-term fix for the state budget problems — and involve local governments in the decision making. He has hosted tours of the district for downstate lawmakers to help educate them on agriculture issues.
These candidates have a lot in common and both are very well spoken when it comes to trying to make things better in upstate. We believe that Manktelow has a better understanding of the issues in this region and we appreciate his active involvement in the ongoing efforts to monitor and control the level of Lake Ontario, especially with regard to shoreline flooding in New York. 
The Citizen endorses Brian Manktelow for election in the 130th Assembly District.
The Citizen editorial board includes publisher Michelle Bowers, executive editor Jeremy Boyer and managing editor Mike Dowd.
Catch the latest in Opinion
Get opinion pieces, letters and editorials sent directly to your inbox weekly!