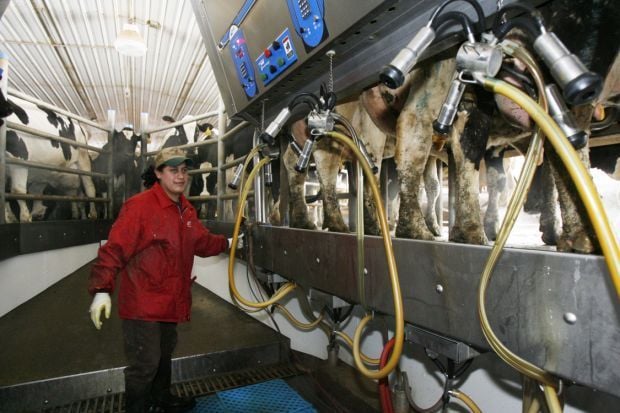 Thanks to a spike in yogurt consumption and production, the dairy industry in New York is booming. But with that comes an issue of its own: where to find workers.
New York is now the third largest state for U.S. dairy production, trailing only dairy kings Wisconsin and California, according to United States Department of Agriculture statistics. New York is also the yogurt capital of the U.S., as the state's Department of Agriculture and Markets noted in its 2013 annual report that New York had surpassed California in overall production in 2012.
All good news for New York dairy farmers, no doubt. But that is some serious production — 3.5 billion pounds of milk and 741 million pounds of yogurt in the state in 2013, according to the USDA. That kind of production requires hands on the farm, something that has proved increasingly difficult to find for farmers of late.
The boom in yogurt and, subsequently, dairy production, has exacerbated a labor shortage born of waning interest from local laborers and an immigration policy that both farm industry representatives and farm worker advocates agree needs updating.
Kelly O'Hara is the co-owner of O'Hara Farms and Oakwood Dairy, an Aurelius farm with 1,850 cows producing 52 million gallons of milk per year. The farm has 28 employees to watch over that herd. Finding long-term employees, O'Hara said, is never easy.
"It's viewed as being hard work, long hours and a dirty job," O'Hara said. "But our use of technology has changed that somewhat."
Oakwood Dairy uses sensors on the cows and computers to track the animals' health. But agriculture going high tech doesn't necessarily help find the right amount of labor.
"It's increasingly difficult as our farms incorporate more technology; we need people that are able to use computers and diagnose electronic systems," O'Hara said.
O'Hara Farms is certainly not alone in this struggle.
Steve Ammerman, a spokesman for the New York Farm Bureau, said the effects of the shortage can already be seen in the types of crops farmers are choosing to grow.
"You'll see a transition away from fresh fruits and veggies and more to mechanized row crops," Ammerman said, referring to corn and soybeans.
This shortage comes at a time when the growing demand for yogurt actually requires the labor force for dairy farms to expand.
According to a report by the Cornell University Farmworkers Program, milk production in New York needs to increase by 15 percent within five years to meet the demand brought on by yogurt factories in the state. That will require, the report says, an additional 100,000 cows and 2,225 workers.
O'Hara said out of his 28 workers, 12 are migrant workers from Guatemala. According to the Cornell report, that puts his farm right on average with the rest of dairy production in U.S. — nationwide, the dairy industry's workforce is estimated to be 41 percent foreign-born.
Migrant workers in all sectors of agriculture are often given permission under the H2-A program run by the U.S. Department of Labor. The program allows farmers to bring migrant workers into the country on a temporary basis. Dairy farmers, however, have little use for temporary employees. There is no harvest season for the dairy industry: Milk production happens year round.
And even the farmers who do have use for the program face potential snags — both legal and bureaucratic. Ammerman said paperwork can delay when workers can arrive, plus picking start and end dates for a workforce is hard for any farmer.
"Say you need 20 employees by March 1 to work to Sept. 30. Well, a lot of that is left up to Mother Nature," Ammerman said. "A slow growing season could push harvest back, to the point those employees may have to leave."
Often when hiring, farmers are required to be the judge of who is in the country legally or illegally.
"When someone comes to their door and has the paperwork, farmers are entitled to take that information at face value," Ammerman said. "They can't discriminate. They're not immigration officials who know exactly how to tell if papers are legal or not."
O'Hara said farms are often treated by enforcement agencies, such as the Department of Homeland Security's Immigration and Customs Enforcement, with a "guilty until proven innocent mentality."
"For us to determine whether documents presented to us are legitimate or have been falsified — that's just not our area of expertise," O'Hara said.
Farms are often subjected to audits by ICE agents to see if workers have entered the country illegally. The number of ICE audits on Federal I-9 tax form jumped from 250 in 2007 to more than 3,000 in 2012. The results of this audits can be devastating to farmers, Ammerman said.
"The cows have to be milked and the fruits have to be harvested, so if a farmer loses a few employees, that can be a huge loss,"" he said.
Carly Fox, a legal advocate with the Worker Justice Center for New York, said the enforcement tactics of ICE force the workers to live in a "climate of fear."
"It criminalizes people who are just going to work and making this dairy industry thrive," Fox said.
Obama's executive actions
In November, President Barack Obama announced a series of executive actions that would offer a path to citizenship and a reprieve from the threat of deportation for millions of immigrants who entered the country illegally.
Fox called the actions "bittersweet." The sweet coming from allowing millions of people to, as she described it, "come out of the shadows."
"If you were fortunate enough to have a young child who was born here, you will no longer live in fear of being deported and separated from your children," Fox said.
But part of the bitter is that, according to Fox, many migrant workers in New York don't fit that description. She said many are either single men or men with families still living in their home countries. And Fox said those not qualified under the system face a threat from another part of Obama's plan — increased funding for enforcement mechanisms.
"That means more border patrol agents under more pressure to find people who are undocumented any way they can," she said.
The New York Farm Bureau also expressed a desire for action that stretches beyond Obama's executive actions. Describing immigration policy as a "food security issue," the bureau released a statement following Obama's announcement that called on Congress to pass a long-term solution.
Ammerman said farmers need an expansion of the H2-A program, one that involves a more streamlined application process and provides a longer period of time the guest workers can be in the country — addressing the needs of dairy farmers.
"We're trying to open our doors and give a legal avenue to come into the country and work," he said.
An immigration reform bill passed by the U.S. Senate in 2013 addressed a lot of the current issues, Ammerman said, but that bill ultimately stalled in the House.
With a Republican-controlled Congress that voiced opposition to Obama's executive actions, full-scale reform faces an uphill climb in 2015. Even with that reform, the answers to the dairy industry's labor woes might not be easily found.
For example, Ammerman said that since the president's executive actions provide a pathway to citizenship for several immigrant workers, they might in some ways be detrimental to farmers.
"People with legal status might seek employment outside of agriculture, and they have every right to do that," Ammerman said. "But it leaves us still without access to farm labor."
For Fox — whose organization opposed the H2-A program in a letter to a House subcommittee on immigration in 2013 — the answer to the labor shortage is somewhat simple: If you pay better, workers will come.
"I don't think it's a matter of not being able to find workers," she said. "If you pay enough, you'll be able to find people."
Ammerman said most farms pay above minimum wage, and with falling milk prices, it is particularly difficult for farmers in the dairy industry to pay more.
"When production costs are high and income is low, it's next to impossible to increase wages," he said.
Ultimately, Fox believes, people will need to be willing to pay more for milk and other foods to allow workers to make what she believes is a fair wage with benefits.
"We just can't have subsidized prices of foods when it comes off the back of the workers," she said.
Staff writer Ryan Deffenbaugh can be reached at (315) 282-2237 or Ryan.Deffenbaugh@lee.net. Follow him on Twitter @Citizen_Deff.