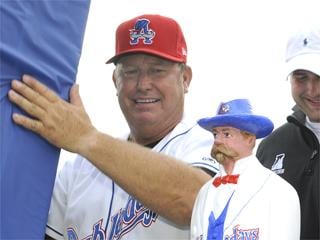 AUBURN — It was only fitting that Sunday night's game between the Auburn Doubledays and Aberdeen Ironbirds was rained out after 2.5 innings, because it was the pre-game ceremony that would take center stage.
Auburn led the Ironbirds 3-1 when intense lightning and rain drenched Falcon Park before the game could be completed. But longtime Doubledays manager Dennis Holmberg received a bit of a surprise 20 minutes before the game was set to begin when General Manager Carl Gutelius called him out onto the field from the dugout to announce that his No. 35 would be the first jersey to be retired in the team's history.
On what was Savannah Bank Lapel Pin Night, every fan in attendance received a No. 35 pin with Holmberg's name. Mayor Michael Quill presented Holmberg with the key to the city of Auburn, Tom Gainey unveiled a miniature statue of Holmberg ("It's not a flying saucer," Gainey joked) and a special message from Holmberg's son Kenny was played over the speakers at Falcon Park.
Voluntarily retired from baseball, Kenny Holmberg is now a coach with the Texas Rangers minor league organization and was in the Dominican Republic on Sunday.
"What a deserving honor," said Kenny Holmberg in the message. "Auburn couldn't ask for a better coach, a better manager, a better teacher and I'm just proud to call you dad."
Dennis Holmberg welled up at the sound of his son's voice and was visibly moved by the entire ceremony, which included his number plastered onto the right-center field wall.
Mayor Quill gave Holmberg, a Florida resident, a key to the city — not that Auburn's most beloved visitor wouldn't be welcome anywhere in the city, at any time.
"This means you're always welcome back to Auburn, no matter where the winds of baseball takes you," Quill said to Holmberg.
"Just because they gave you a key to the city doesn't mean it's the key to Auburn Family Restaurant," Kenny Holmberg joked to his father in his message.
And just because his number will never be worn by anyone else in a Doubledays uniform doesn't mean Holmberg's eighth season in Auburn will be his last.
"Old soldiers never die, they just fade away, the great General MacArthur said 'I shall return,'" Holmberg said after the ceremony. "And I plan to return too, thank you."