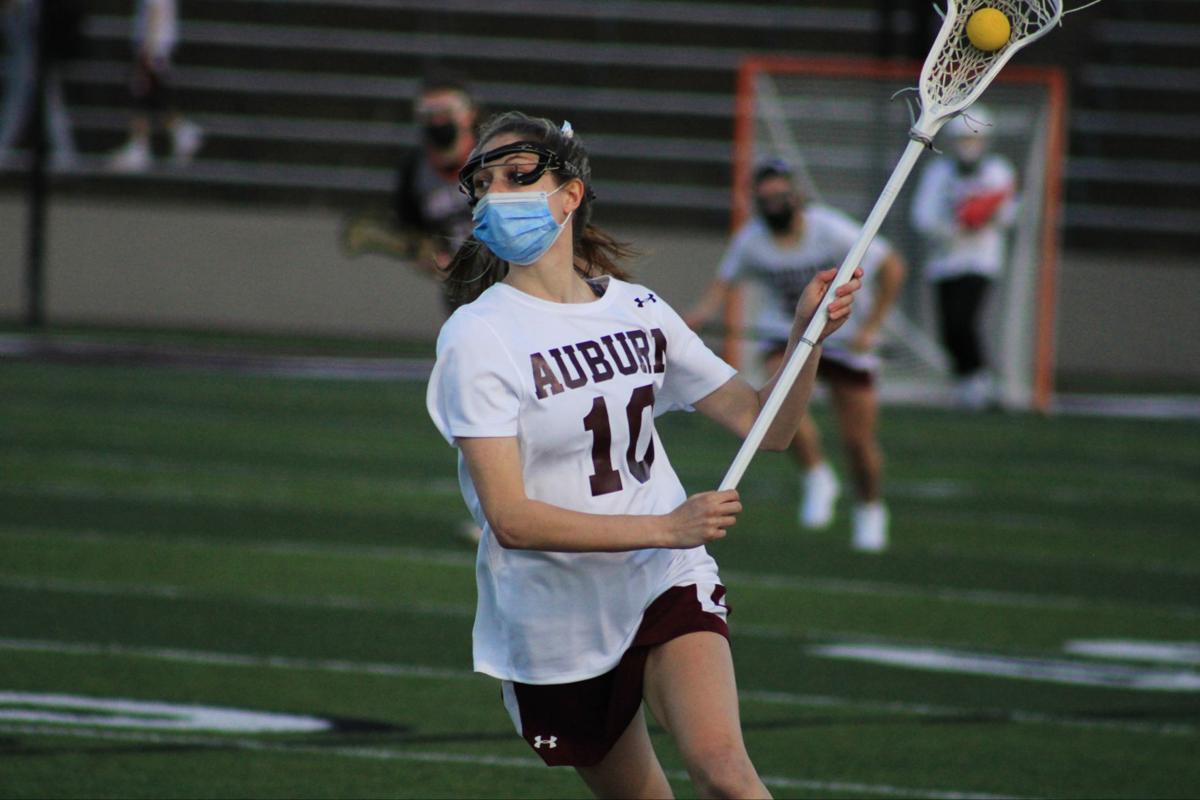 At the beginning of each season, Auburn's coaching staff sits down with each member of the girls lacrosse team and conducts a preseason interview. 
Among the questions is a simple one: What are your goals?
For Abbie Izzo, it was to be an All-American. Earlier this week, her mission was accomplished. 
On Wednesday, Izzo was selected as one of seven Section III players as a U.S. Lacrosse Upstate All-American. 
Joining Izzo is Skaneateles' Maggie Newton, CBA's Gracie Britton, South Jefferson's Karsyn Burnash, Jamesville-DeWitt's Skyler Constantino, West Genesee's Jasmine Murray, and Baldwinsville's Olivia Muscolino. 
Izzo said she received a call from Maroons coach Bill Dean during the week notifying her of the recognition, which alluded to her preseason objective. 
"He called me and said, 'Remember what you said during our interviews?'" Izzo said. "I was just super psyched. I honestly didn't think I was going to get it because there's so many good players on our team and in Section III, but I was so happy because it was unexpected. I worked really hard and it's great to receive the recognition. It's been a dream of mine and I finally achieved it."
Izzo has been a member of the Auburn's varsity girls lacrosse team since eighth grade and has experienced several highs and lows with the program. 
She recalls her first year with the team as a middle-schooler in 2017, when Auburn was on the upswing but still not on the level with Section III's powerhouses. Then as a freshman and sophomore, Izzo helped Auburn to back-to-back Class B section championship appearances, but on both occasions the Maroons were foiled by Fayetteville-Manlius. 
Auburn didn't reach a third straight championship game in 2020, because there was no game thanks to COVID-19. But Izzo was a crucial member of this spring's team that finally captured that elusive section title. 
In her four seasons on varsity, Izzo racked up 138 goals and 47 assists, and nearly 80 ground balls. She capped off her interscholastic career with 33 goals and 16 assists this spring. 
Izzo said she was "really honored" to be part of a senior class of Maroons that helped put the program overcome that title hump. 
"All of these girls worked really hard since middle school just to be where we're at," Izzo said. "We weren't always the best lacrosse team and used to get beat up a little bit, but we put in the work because we wanted that sectional championship. It makes me proud of everybody because we worked so hard."
Last fall, Izzo committed to Harvard University after impressing coaches at a prospect day. Izzo said she's been in regular communication with leaders from the program and hopes to hit the ground running this fall for the Crimson. 
Harvard is in a unique situation. Like all college programs in 2020, the Crimson's season ended only six games in due to COVID-19. However, the Ivy League chose not to resume play this spring, meaning all member schools have been without lacrosse for nearly two full seasons. 
"We've been on Zoom and all stayed in touch," Izzo said. "We have our workout packets, so we're supposed to lift about four times a week and run six times a week. It's pretty hardcore. They want everybody ready to go and in shape."
Sports reporter Justin Ritzel can be reached at 282-2257 or at justin.ritzel@lee.net. Follow him on Twitter @CitizenRitz.