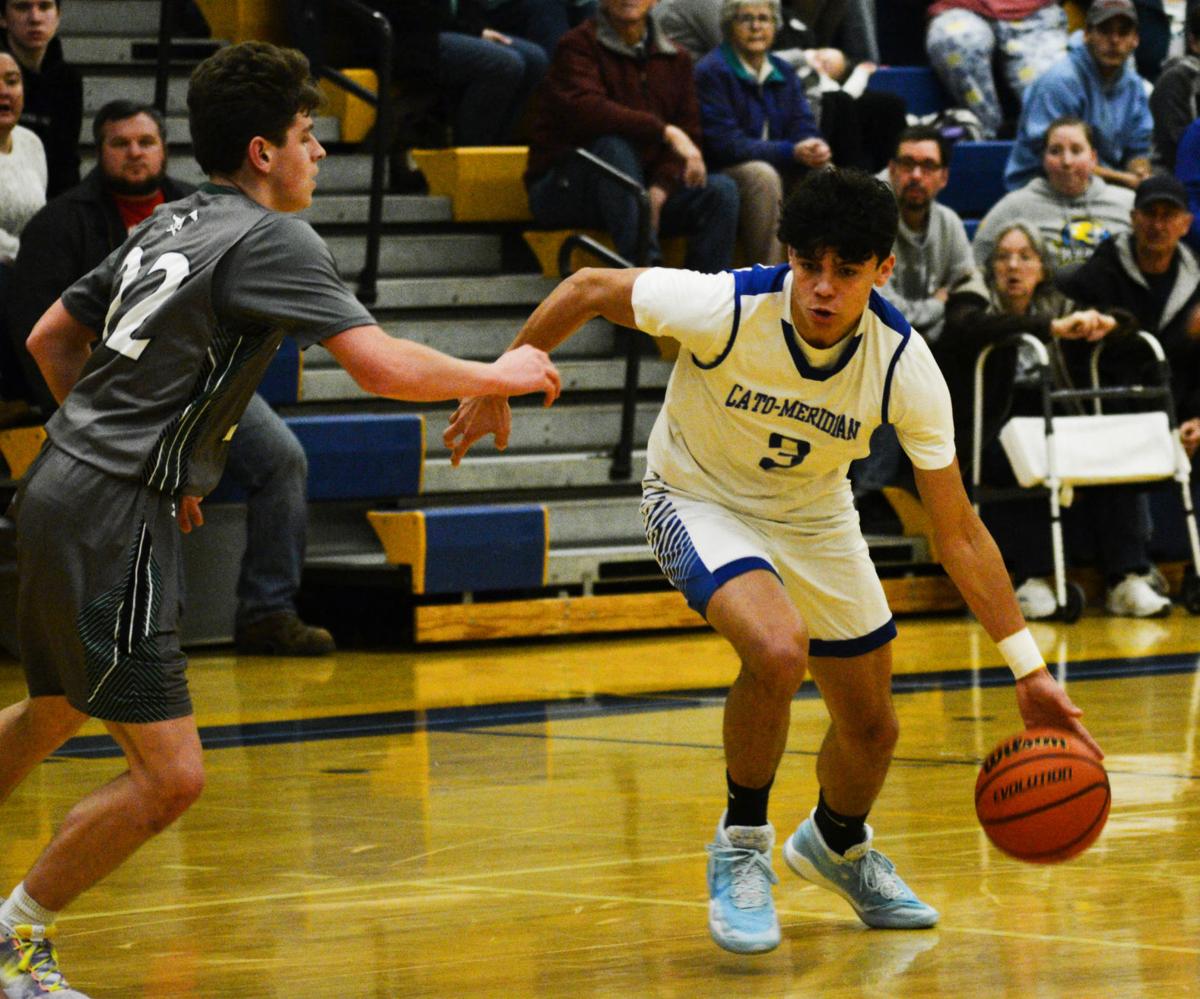 Marcus Ramacus went off for 28 points as Cato-Meridian boys basketball defeated Pulaski 67-42 on Monday night.
Trevor Lunkenheimer chipped in with 11 points, Robbie Krieger scored eight points and Austin Vincent finished with seven.
Cato-Meridian (4-5) heads to Fabius-Pompey on Wednesday.
Manlius Pebble Hill 49, Port Byron 46: Kody Kurtz finished with 15 points and five steals. Brandon Relfe recorded 11 points with eight steals and eight rebounds. Tony Bizardi chipped in with seven points, and Matt Marsden grabbed 15 rebounds. 
Port Byron faces LaFayette on Wednesday. 
Nottingham 56, Auburn 48: Auburn was ahead by a point at halftime, but Nottingham came back in the second half to win. Doray DiLallo recorded 13 points along with 10 rebounds for the double-double, while Leah Middleton posted 10 points and four rebounds. Peyton Maneri had three points and 11 assists. 
"Without a doubt this is the best game we've played all year," Auburn coach Al Giannone said. "Nottingham is very good and the kids battled."
Auburn (3-8) is home against Jamesville-DeWitt on Thursday. 
Port Byron 3, Canastota 2: Fresh off a five-set loss on Saturday, the Panthers returned to the court to pick up a five-set win.
After winning the first game 25-12, the Panthers lost the next two, each by a score of 25-18. Facing defeat, Port Byron won the fourth set 25-21 and closed it out with a 25-23 win in the fifth.
You have free articles remaining.
Miranda Aldrich finished with 11 kills, nine aces and 19 digs. Cassie Nolte had eight kills, three aces and 12 digs. Sophie Redmond posted six kills, four aces, three assists, and four blocks. Rileigh Gray added five aces, 29 assists and seven digs. Gabriella Atchinson helped out defensively with 16 digs.
Port Byron is home against Weedsport on Tuesday.
Auburn 2827, East Syracuse Minoa 1880: The Maroons were led by Amber Pidlypchak's 679, Kaylee Hodson's 651, and Lily Snyder's 595. The highest single game score belonged to Pidlypchak, who scored a 257 in her second game. 
Waterloo 7 (2,193), Weedsport 0 (1,596): Alanna Golden scored a 357, including a round of 127 to lead the Warriors.
Auburn 2977, East Syracusa Minoa 2869: The Maroons squeaked out a win behind Alexander Guzewicz's round of 651 and Jarid Wilkes' 633. Tyler Kraushaar was next with a 576, while James Wilkes bowled a 530.
Waterloo 5 (2,613), Weedsport 2 (2,361): Zach Tratt had Weedsport's top individual game and series, bowling a 533 overall that included a 220 in his second round.
FROM SATURDAY
Cazenovia Invitational: Cato-Meridian/Hannibal's Ethan Scanlon and Hunter White both won their respective weight classes. Scanlon, wrestling at 182, beat Indian River's Jake Whitmore by a 3-2 decision in the title bout. White, at 126, defeated Groton's Kyle Willard in a 15-4 major decision for the championship.
GIRLS INDOOR TRACK AND FIELD
Cortland One and Done Invitational: Union Springs/Port Byron's Jodie Jenkin was the Wolves' only place finisher, coming in fourth in the 600m run with a time of 1:49.67.