PORT BYRON — "Never give up" is more than a motto.
For the Port Byron field hockey team, it's the chant at the end of the huddles before each half. It's repeated at team meetings and marked on mementos.
It's also put into practice.
When the Panthers take on Little Falls in the Section III, Class D championship game at Sauquoit Valley High School 3:30 p.m. Wednesday, they're hoping their team mantra — reinforced by coach Mindy Gilbert, who has battled cancer for the last year — leads them to their first section title in 28 years.
"Her strength has trickled down to each and every one of us," senior captain Rileigh Gray said of her coach. "It made us very inspired to play our hardest every single game, no matter what the outcome will be."
Gilbert revealed she was diagnosed with multiple myeloma, a blood cancer that affects the plasma cells in bone marrow, last winter. Still, she was adamant she'd be back for field hockey season.
Gilbert led Port Byron to an 8-7-1 record in the regular season to earn the No. 4 seed in sectionals. The Panthers then routed No. 5 Sauquoit Valley 9-3 last week before topping rival Weedsport, the No. 1 seed, 2-0 in the semifinals Sunday.
After the game, Gilbert struggled to find the words for the feeling to make the finals. The motto "Never give up" is about more than what happens on the field.
"It's a wow factor for me," Gilbert said before her team's practice Monday evening. "I've been through a lot, but we don't stress that or talk about that. ... But they do play for me and they do have their hearts in it. It means so much, and that's why we say 'Never give up.'
"I'm trying to teach them that you don't give up during field hockey, but you also don't give up in life. You've got to give everything you have, stay positive and keep pushing forward. That's why we have that motto."
Port Byron is making its first trip to the section championship game since 2009, and the program's two championships came in 1988 and 1991.
While it's been decades since the Panthers have earned the hardware, there's still multiple connections to the past. Senior captain Rileigh Luste's mother, Jennifer Harkness (now Luste), was a junior on the 1988 Panthers championship team, and Gilbert's older sister, Mary Beth Fiore, was the coach for both the 1988 and 1991 titles.
"My mom and I have talked about it a lot. … She was saying how cool it would be if we both won it," said Rileigh Luste, whose mom insisted she play field hockey.
When Port Byron made it to the section finals a decade ago, the Panthers were topped by Little Falls — the same program they'll see Wednesday — by a score of 3-0. 
"We're just very grateful to be here, but it's hard to comprehend that we've made it this far because it hasn't happened in such a long time," Gray said. "We believe we can do it. And what it comes down to is our chemistry and our trust."
For Gilbert and the Panthers, the past is the past. They're focused on the current moment.
"I think they really, truly have an understanding of the importance of this game, and they couldn't be more excited to play in it," Gilbert said. "This opportunity is everything for them. This group of girls has so much chemistry and it's a true field hockey family. There's a lot of trust on the field and off the field. They want that title really bad."
The Panthers' preparation for Wednesday has played out like any other week.
There's no special film session to break down Little Falls' offense or talk of what players to key in on defensively. They want to be the best team they can be heading into the finals.
"We're not going to wrap ourselves up in all that," Gilbert said. "We're going to fine tune the fundamentals of the game and continue to work on some adjustments we've made. ... Basically, we're going to do our thing and come with 110% both days (of practice)."
You have free articles remaining.
Register for more free articles
Stay logged in to skip the surveys
"We want to focus on our game and not the other team or the crowd," Luste added. "We're going to play for each other and whatever happens, happens."
For Gray and her teammates, there's a reason the Panthers are in the finals.
"What we've been doing has been working pretty well so far," Gray said. "We need to keep up with our intensity and with the trust and believe in ourselves."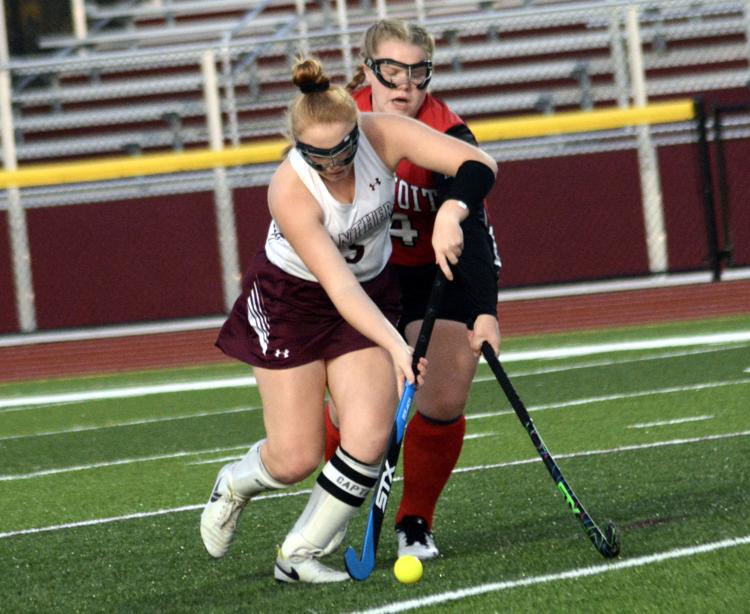 The Panthers' attack has been on fire in the playoffs.
In two postseason contests, Gray has recorded four goals and three assists, Alison Grudzien has scored four times and Luste has added two goals and one assist. Add that to their already impressive season totals, and Gray has 69 points, Luste has 46 points and Grudzien has 36 points — more than 150 points between them.
"Those three really have worked phenomenally," Gilbert said. "They're really talented, they work really well together and they finish."
But it's not just the offense that's come up big. The defense and freshman goalie Maria Burns helped Port Byron weather an early flurry in the semifinals against Weedsport. Burns finished with 12 saves for the shutout, 11 of which came in the first half.
"It's the chemistry these kids have together," Gilbert said. "We have talent and they've really put it together the last few games. They are peaking at the right time. ... We all just came together and everyone stepped up with their role. They just gel really well together."
While practices may focus on fundamentals, making smart plays with the ball and making defensive stops, one of the biggest things for Gilbert is her team's belief in themselves.
"That's one of the keys," Gilbert said. "They have to believe and have faith that they have the talent and what it takes. I really, truly believe they feel it. It's one thing to say it, but to feel it is another aspect.
"They really, truly believe."
The section finals pits the No. 4 Panthers against the No. 3 Mounties.
Both teams pulled off upsets of the top two seeds in the semifinals Sunday. But Port Byron doesn't see itself as an underdog.
"Coach always says that it doesn't matter whether you have the best seed or the worst seed. The only thing that matters is the game you go out and play at that current moment," Gray said. "That's what matters the most."
While the bracket doesn't have them favored on Wednesday, the Panthers certainly aren't fazed by it.
"I don't think we really consider ourselves to be the underdogs," Luste said. "Obviously, we think we're a good team with chemistry, and you never know what can happen.
"One of our mottos is 'Never give up' and we've never given up all season. We're going to continue that no matter the score on Wednesday."