Local sports were not lacking for exciting highlights this past year.
Championships were won, comebacks were pulled off in stunning fashion, and a local baseball hero had a storybook moment against pro sports' most fabled franchise.
Here are The Citizen's top sports stories of 2019:
1. Tim Locastro hits first MLB home run at Yankee Stadium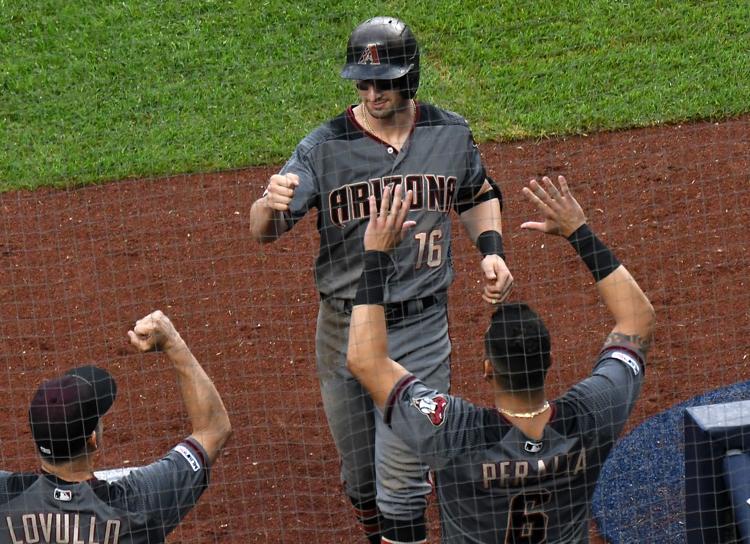 By the end of 2018, Tim Locastro was property of the New York Yankees by virtue of an offseason trade. But a lot can change in a year. 
Locastro was a member of the Yankees organization for just seven weeks before New York shipped the Auburn native to the Arizona Diamondbacks for a minor-league player and cash on Jan. 16. 
Entering 2019 with only 21 major league games under his belt, Locastro became a fixture with the Diamondbacks this season. Appearing in 91 games, Locastro hit .250 with 38 runs and 17 stolen bases. He was hit by a pitch 22 times, the fourth-most in the National League. Locastro appeared in all three outfield positions for the D'backs this season, often providing highlight-reel defensive plays.
His best moment came on July 31 during the second game of a two-game series against the Yankees at Yankee Stadium. 
While Arizona ultimately lost 7-5, Locastro finished the game 2-for-4 with a double to go with his homer. 
"It's definitely surreal," Locastro said after the game. "I'm happy for my parents, my friends and all of my family who were here because they can enjoy it."
2. Auburn football completes miraculous comeback in section semifinals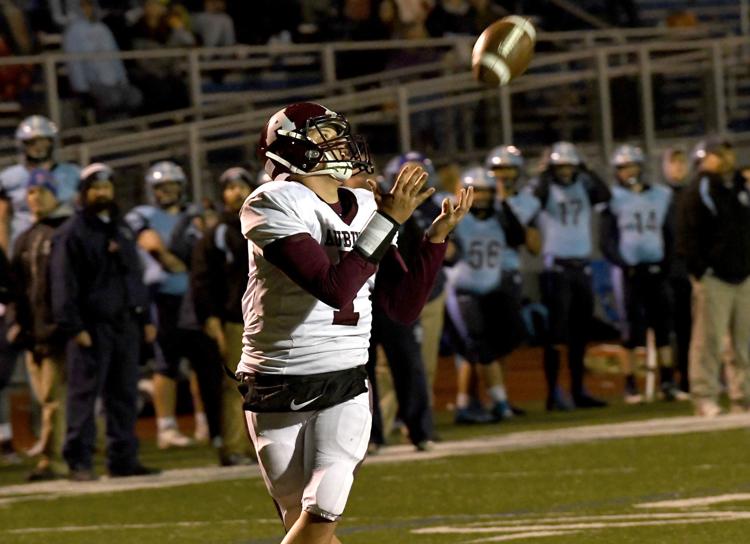 Behind by 32 points late in the third quarter, Auburn football's season looked to be over against Indian River in the Section III Class A semifinals, Nov. 1 at General Brown High School. 
Indian River had already beaten Auburn handily during the regular season at Holland Stadium, but this story would have a different ending. 
Down 45-13, the Maroons scored 32 straight points to force overtime, including a 27-yard touchdown pass from quarterback Troy Churney to Dante Herndon, following by a two-point conversion by Shaheed Beal, to tie the score with 3:30 left in regulation. 
Auburn finished 2019 with seven wins, none more memorable than the comeback against Indian River. 
You have free articles remaining.
"We don't spend a lot of time in season talking about accomplishments and milestones, but there's a lot of great things these guys have done," Auburn coach Dave Moskov said after the loss to Rye. "This team has really established themselves in the history of Auburn football with the things they did out on the field ... There's a lot of things to look back on and celebrate."
3. Skaneateles hockey wins fourth state title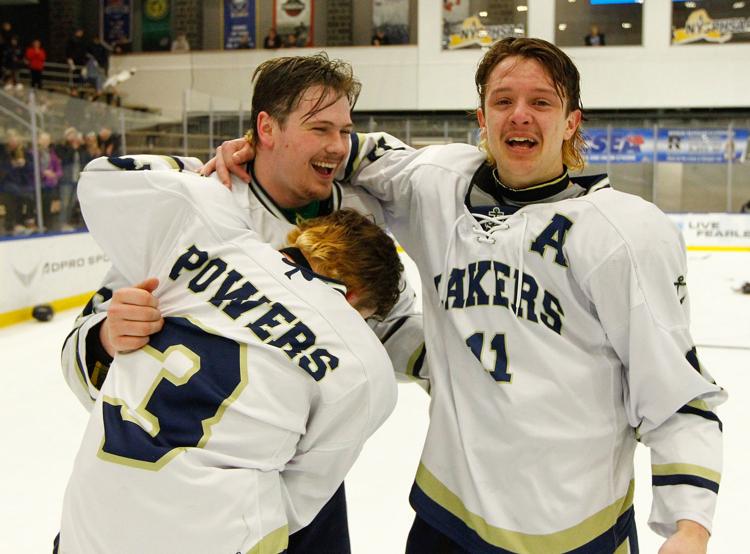 Considered one of the top Division II teams in New York state for most of the 2018-19 season, Skaneateles delivered on those expectations in dominating fashion. 
"I grew up in Skaneateles. My whole family was here," Skaneateles coach Mitch Major said after the championship game. "It's just awesome to be able to bring another state championship back to Skaneateles and say, 'Hey, we're still on the map here.' This is important to the community and it's been important to me since I was born. It's definitely a special moment."
4. Cato-Meridian and Weedsport football teams thrive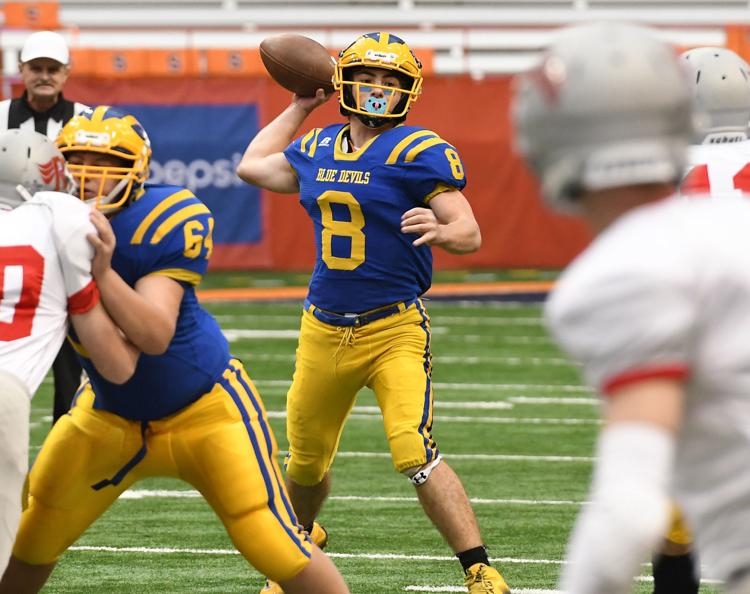 Coming off an appearance in the Section III Class D semifinal in 2018, Cato-Meridian bumped to Class C in 2019, but that didn't stop the Blue Devils from having their most successful season in almost a decade. 
Cato-Meridian finished perfect during the regular season, establishing itself as a Class B power with a dominant 40-0 win over Skaneateles, winners of two straight section titles, in early October. 
"I'll remember how great we were throughout the whole year," Cato-Meridian coach CJ Hannon said. "This is a great group of kids, I love coaching them, and I'm so proud of them to make it here."
The defending 8-man champion from 2018, Weedsport was even better in 2019. The Warriors posted a perfect 8-0 record this season, outscoring opponents 436-198. 
Facing West Canada Valley in the Section III 8-man championship, the Warriors routed the Indians 68-44. It marked the first time Weedsport was able to capture back-to-back section titles in over two decades. 
"It's rare, because there's usually so much turnover in high school football, especially for a small school," Weedsport coach Jon Sgarlata said. "To go back to back is not something we prepped or planned for. It's special, because this doesn't happen a lot."
5. Bassmaster Series returns to Cayuga Lake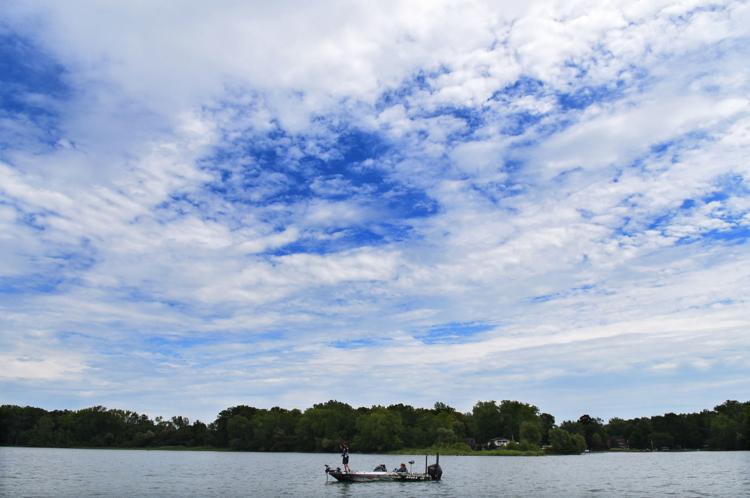 Jamie Hartman was the victor in this turn of the SiteOne Bassmaster Elite tournament, capturing a four-day haul of 80 pounds, 13 ounces. The Newport, N.Y. native only recently returned to competitive fishing after missing an entire year due to a back injury, 
Sports reporter Justin Ritzel can be reached at 282-2257 or at justin.ritzel@lee.net. Follow him on Twitter @CitizenRitz.