SYRACUSE — Aiming for its second straight section title, Weedsport football sought to accomplish one thing last year's championship team couldn't, and that was to complete a perfect season. 
Behind three touchdowns from tailback Aidan Mabbett, the Warriors rolled West Canada Valley, 68-44, in the Section III 8-man championship Saturday at the Carrier Dome in Syracuse. 
It's Weedsport's second consecutive championship as an 8-man squad and seventh sectional title overall. It's also the first time the Warriors successfully defended a section title since 1995 when the school claimed two straight Class D titles. 
"It's rare, because there's usually so much turnover in high school football, especially for a small school," Weedsport coach Jon Sgarlata said. "To go back to back is not something we prepped or planned for. It's special, because this doesn't happen a lot."
Weedsport received a major boost from two players who were not members of last year's championship team. Jake Brown, a senior running back and defensive back, hauled in two interceptions and had a 46-yard rushing touchdown; he also had a long kickoff return that set up a Weedsport touchdown. Josh O'Connor, another senior defensive back, came up with an interception in the second quarter that he returned about 40 yards for a score.
Brown was named the player of the game for his efforts. 
"It's different, because we've never had seniors come out for the team before, and some of these guys have never played tackle football before," said quarterback Owen Mabbett. "Their skill and their character shows through everything. They're so excited to be here, and it gives everyone a boost during the games."
Added Sgarlata, "We knew with Josh and Jake that early in the season they'd be in for packages of plays, and if we were able to continue late in the season into the playoffs they could be real factors for us. We knew all along this is what they were capable of, and both of them have been battling for the interception lead all year."
The No. 1 seed in the postseason, Weedsport was dealt an early blow when West Canada Valley marched down the field on its opening possession to take a 6-0 lead. The Warriors needed only 53 seconds to respond, as Aidan Mabbett converted his first score of the game on a 44-yard run. 
The Indians didn't lay down, instead countering on Logan Valerio's 91-yard kickoff return touchdown. 
You have free articles remaining.
Register for more free articles
Stay logged in to skip the surveys
West Canada Valley's lead, its last of the game, lasted only four minutes. A 45-yard kick return by Hunter Morgan set up Weedsport deep in Indians territory, and on a fourth-and-goal from the 1, Connor Mabbett ran outside the tackles and stretched across the goal line to tie the score 14-14 at the end of the first quarter.
Morgan wasn't done — on Weedsport's first offensive play of the second quarter, Morgan set up at tailback and took a sweep 60 yards to the end zone to give the Warriors their first lead. 
He scored again with 3:48 left in the first half on a 33-yard pass from Owen Mabbett. 
"We knew their best three or four guys could match up with our best, so we were gonna need a supplementary player," Sgarlata said. "We needed guys to step up, and in terms of Hunter, that's just what he's capable of. We find a way to get him the ball and he's gonna make good things happen."
Another rushing score from Aidan Mabbett and O'Connor's interception return followed, giving Weedsport a 40-22 halftime lead. Then in the second half, Brown took over, posting a long rushing score on third down from midfield, and then intercepting his second pass of the game midway through the third quarter. 
Later in the third, Brown returned a kick to West Canada Valley's 8, and shortly after Aidan Mabbett was in the end zone for his third touchdown. That was more than enough for Weedsport to clinch the title.
Weedsport's football history is a storied one — prior to dropping to 8-man in 2018, the Warriors were five-time section champs dating back to 1979. Weedsport also has a state title in its back pocket, having won the Class D championship in 2004. 
The nucleus of players that have been around for the past two seasons, or ones that decided to join up this year, are glad to add their own piece to that legacy.
"It's super cool," Owen Mabbett said. "I know I'll remember it."
Weedsport Football 1.JPG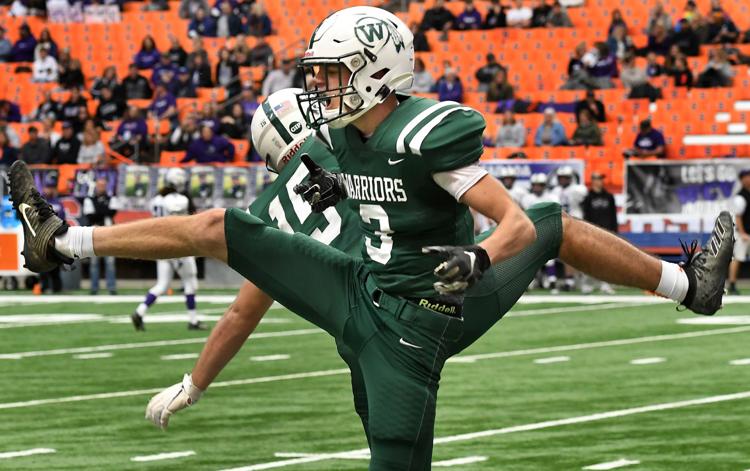 Weedsport Football 2.JPG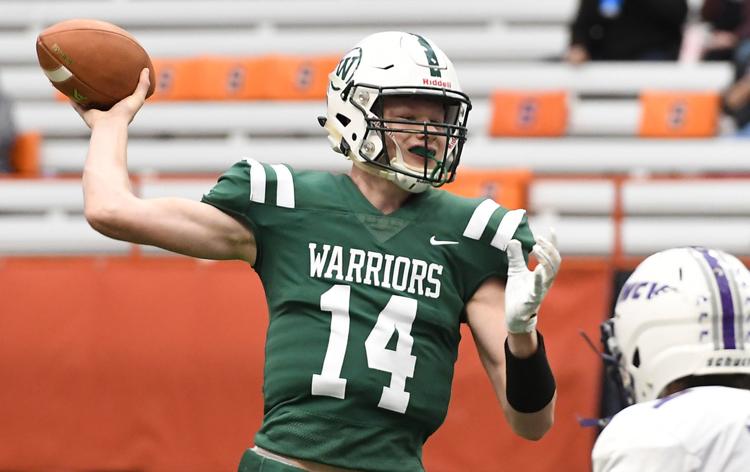 Weedsport Football 3.JPG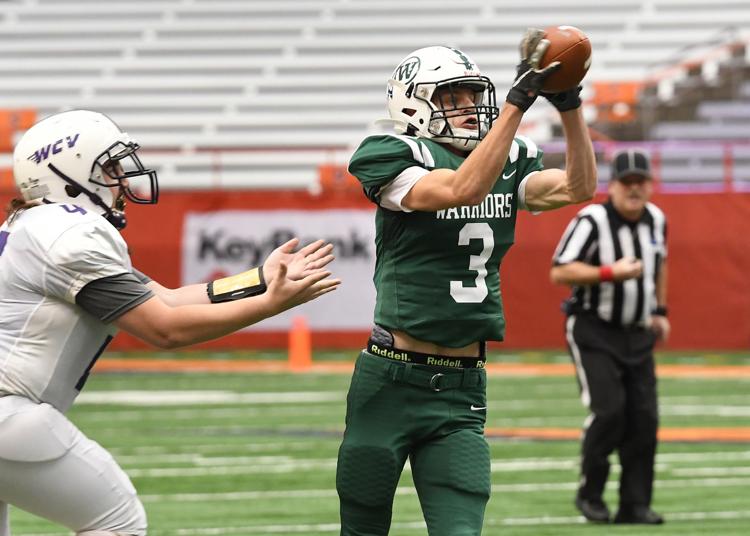 Weedsport Football 4.JPG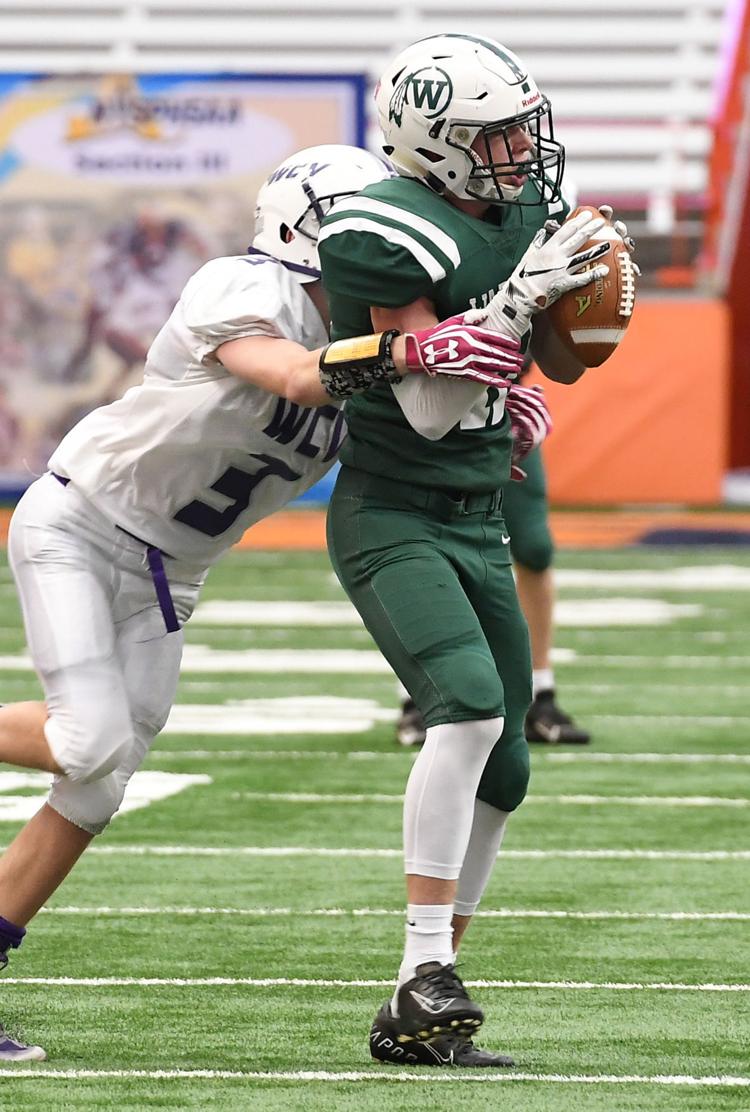 Weedsport Football 5.JPG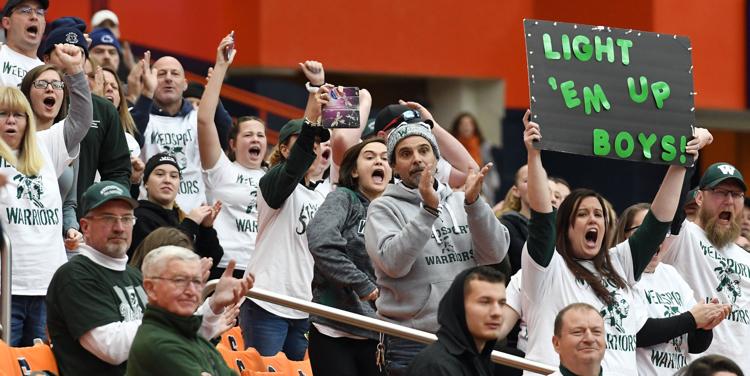 Weedsport Football 6.JPG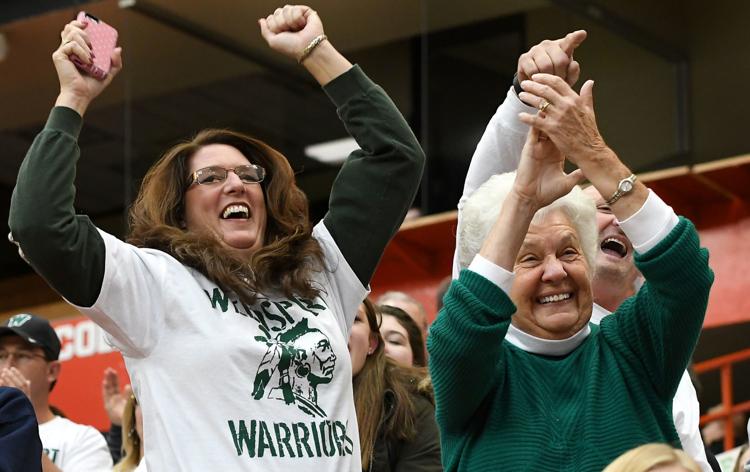 Weedsport Football 7.JPG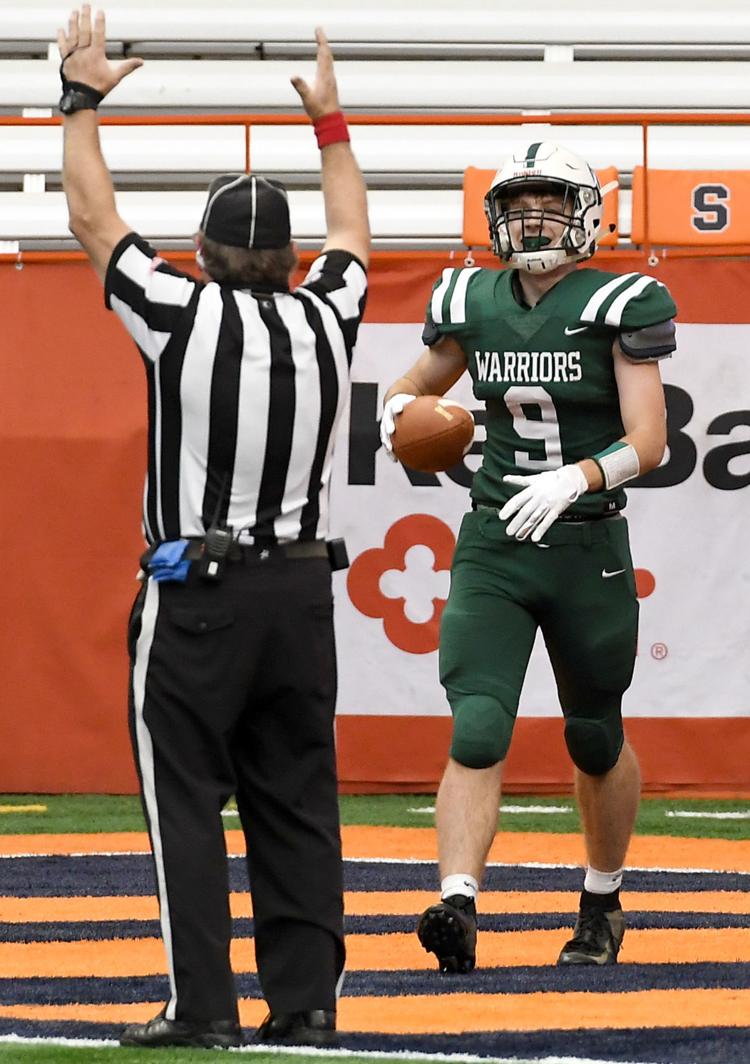 Weedsport Football 8.JPG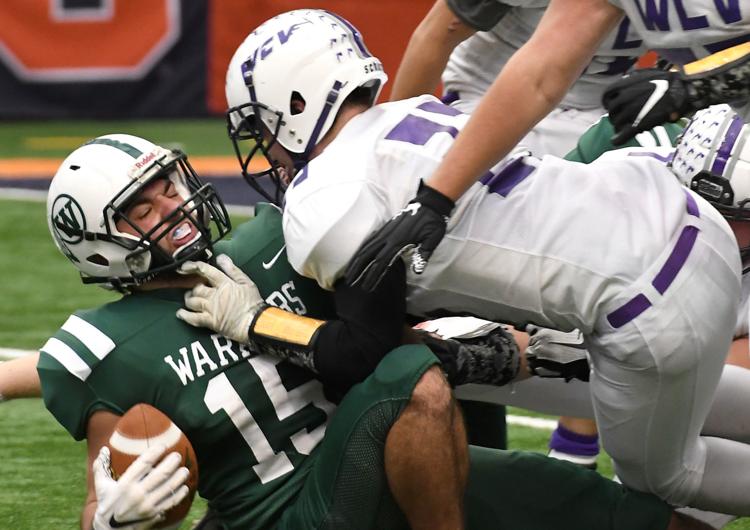 Weedsport Football 9.JPG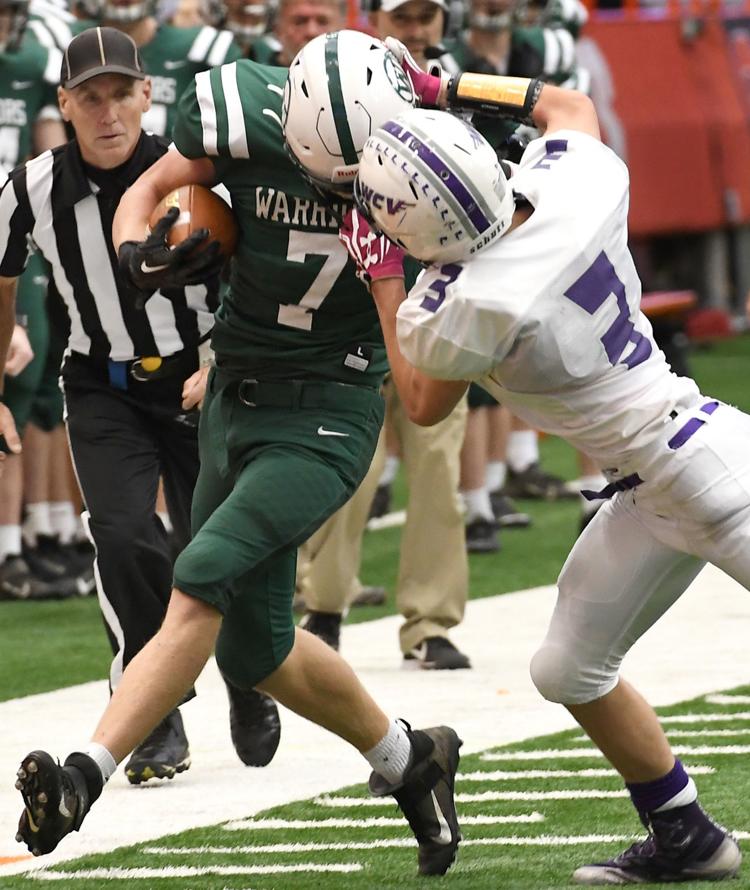 Weedsport Football 10.JPG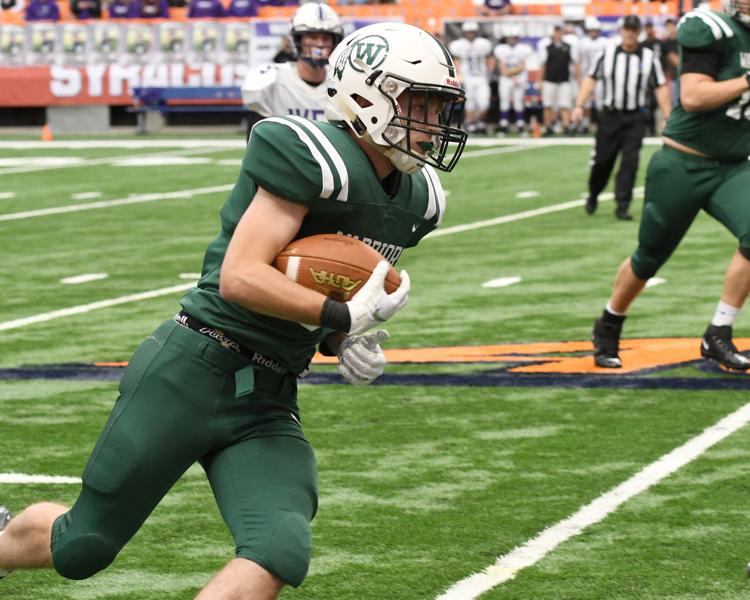 Weedsport Football 11.JPG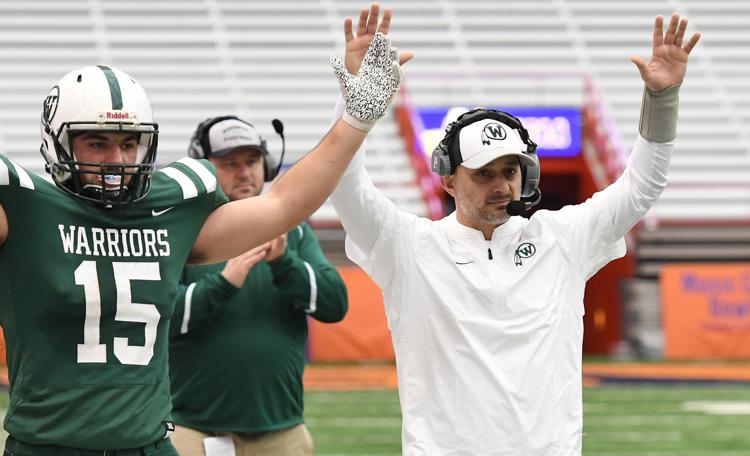 Weedsport Football 12.JPG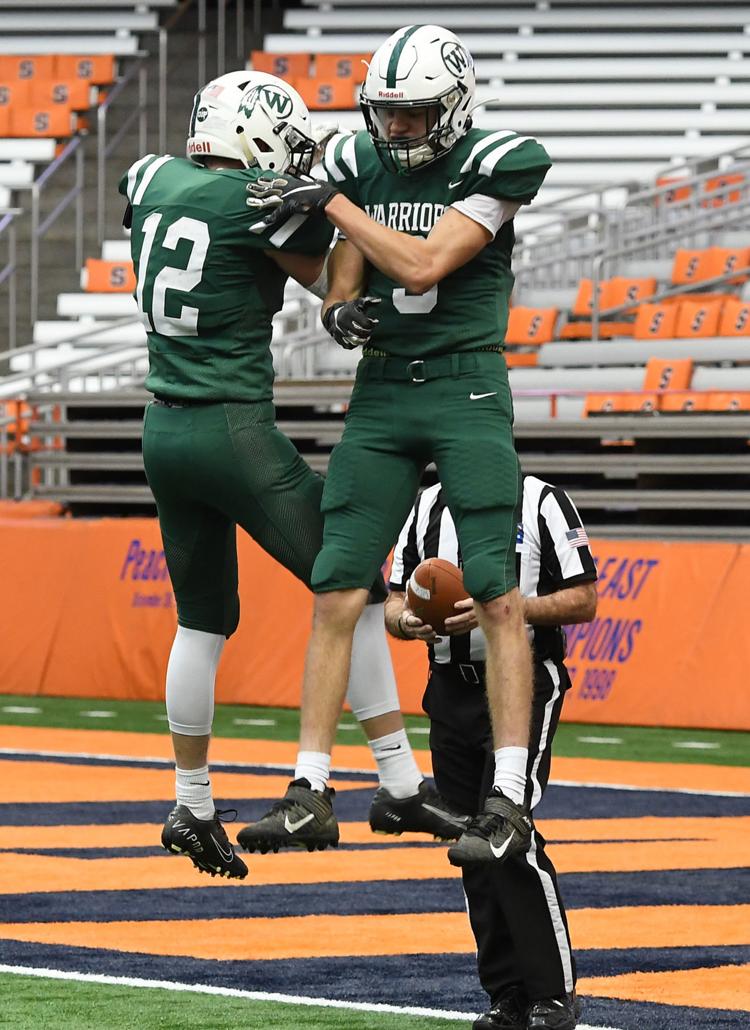 Weedsport Football 13.JPG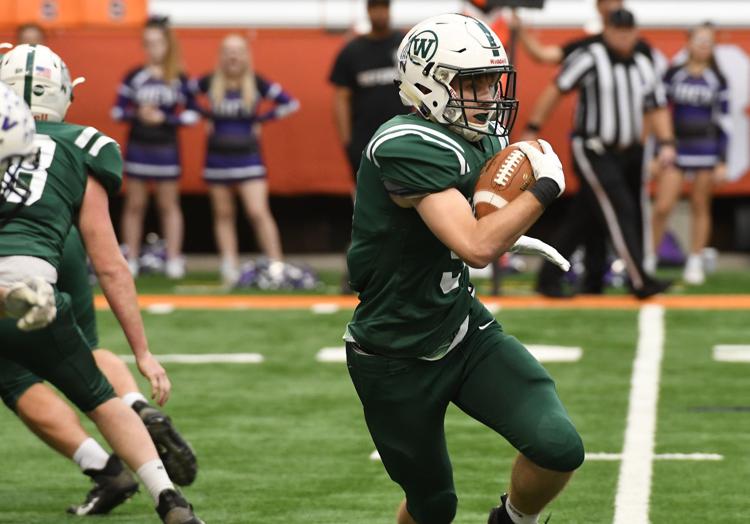 Weedsport Football 14.JPG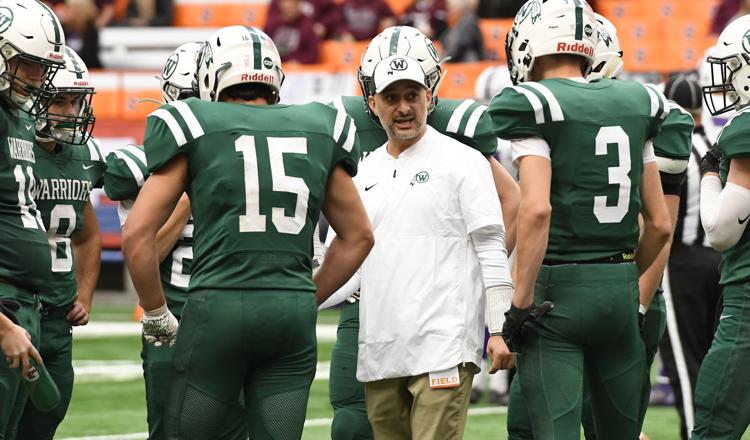 Weedsport Football 15.JPG