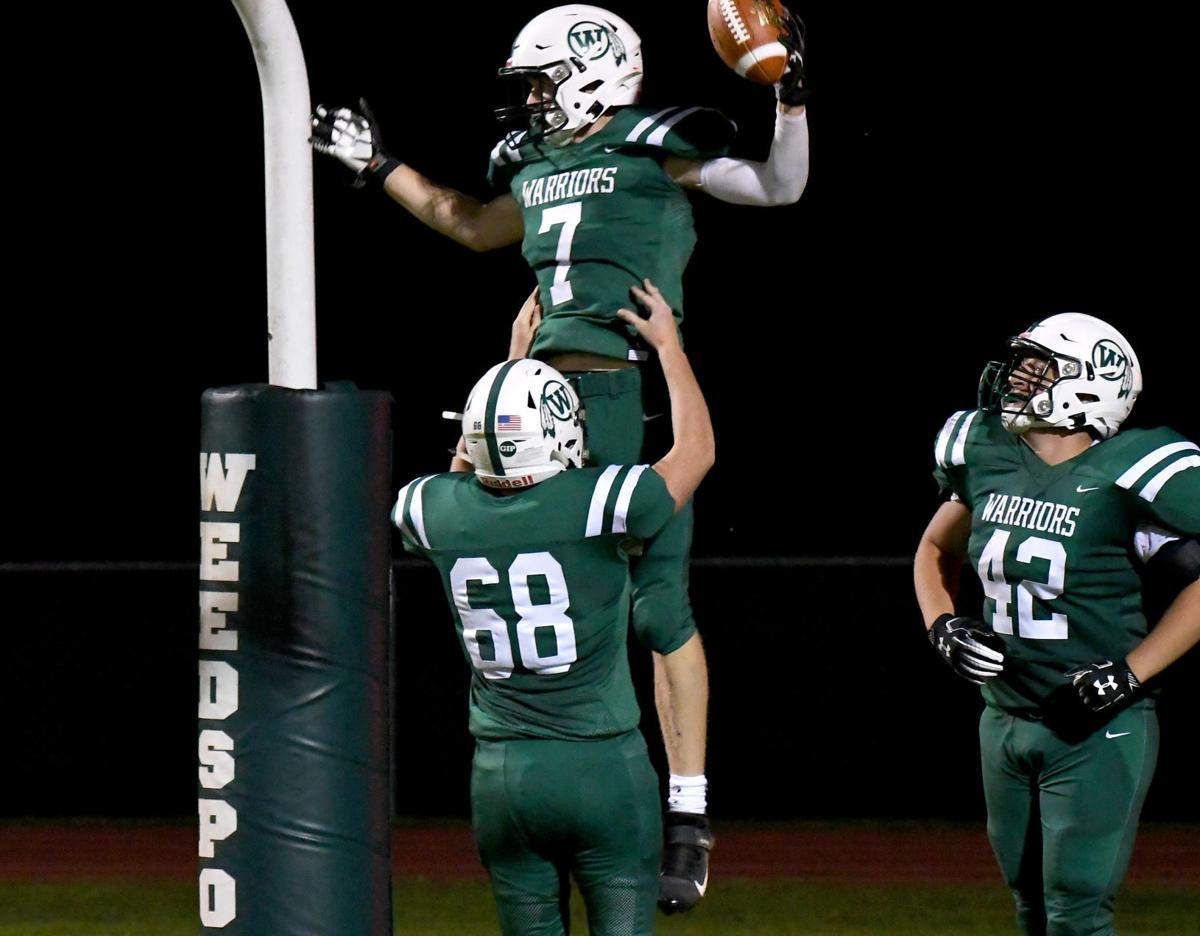 When Weedsport football made its trip to the Carrier Dome last year for the section title game, most of the players had never been to the famed stadium. It would be easy to be swooped up by the aura of the Dome, and forget the real reason the team was there. 
Now the Warriors are one year older, one year more comfortable in their 8-man system, and one win away from capturing back to back section titles. 
That doesn't mean Weedsport has lost sight of the specialness that potentially awaits, as the Warriors take on West Canada Valley for Section III's 8-man championship on Saturday. 
"When you leave that tunnel (at the Dome) and just look out there, it's really incredible," Weedsport coach Jon Sgarlata said in a phone interview Wednesday evening. "I told the guys, 'Look, Michael Jordan played in that building.' Numerous All-Americans, numerous NFL Hall of Famers played there, whether it be for Syracuse or opposing teams. It's a really special place ... and that excitement never really goes away."
What's been incredible is how Weedsport has been a step above the competition this year.  The Warriors are undefeated and coming off a dominant win over Altmar-Parish-Williamstown in the section semifinals. 
It's helped that the team is able to be more complex in its scheme in 2019. Last year in the program's first year as an 8-man team, and first year with Sgarlata as varsity head coach, everything was simplified. 
This year the Warriors have amped up their playbook, and Sgarlata says it's gone "better than expected," even though he and assistant coach Rob Piascik haven't needed to dig too deep for plays. 
"I knew we had some depth at running back, so at the end of the day if we just ran our base offense that we ran last year, we'd be able to function," Sgarlata said. "Coach Piascik taking over the offense, he's been able to add a little bit of his own flair and flavor to it. It's really merged together very well.
"You might look at the box score and say, 'They only throw the ball three times a game,' but we have absolutely no problem throwing it 30 times. We have the receivers for it and the plays installed, we just haven't needed it."
You have free articles remaining.
That's because the Warriors have ran so effectively, leaning on Aidan and Connor Mabbett. In five games during the regular season, Aidan posted 10 touchdowns and over 700 yards on the ground, while Connor added 235 yards and three touchdowns. 
Sgarlata also credits others, like Hunter Morgan, for being a jack of all trades.
"He's so versatile. We put him at running back, he can play quarterback for us, we put him at receiver, he's in motion, he returns kicks and punts," Sgarlata said. "He's a guy that pretty much every time he touches the ball, you hold your breath. His ability in open field is unbelievable."
West Canada Valley is a team Weedsport is familiar with, as the two programs met on Oct. 4, with the Warriors coming through with a 62-30 win. In that game, Weedsport scored the first six touchdowns from five different players. 
Weedsport can expect to have its pass defense tested, as West Canada Valley threw the ball 31 times in that previous game. 
"They run a lot of different plays out of a lot of different formations," Sgarlata said. "They have two or three really good players, and they really spread you out and make you chase sideline to sideline, but they can still power you at times. The biggest challenge defensively literally might be getting lined up correctly."
Last year after Weedsport dispatched Altmar-Parish-Williamstown in the section championship, the Warriors moved on to a regional championship against the Section V champs, Oakfield-Alabama/Elba, that would serve as the final game of the season. In that game, Weedsport was handed its only loss of the season.
There was hope the NYSPHSAA would be able to expand its state tournament this season as more and more teams around the state drop down to 8-man, but unfortunately scheduling circumstances prevented that. 
Win or lose against West Canada Valley, the Warriors' season will be over once the final buzzer sounds. 
"All I know," Sgarlata said, "is this is the final game for us either way."
Sports reporter Justin Ritzel can be reached at 282-2257 or at justin.ritzel@lee.net. Follow him on Twitter @CitizenRitz.