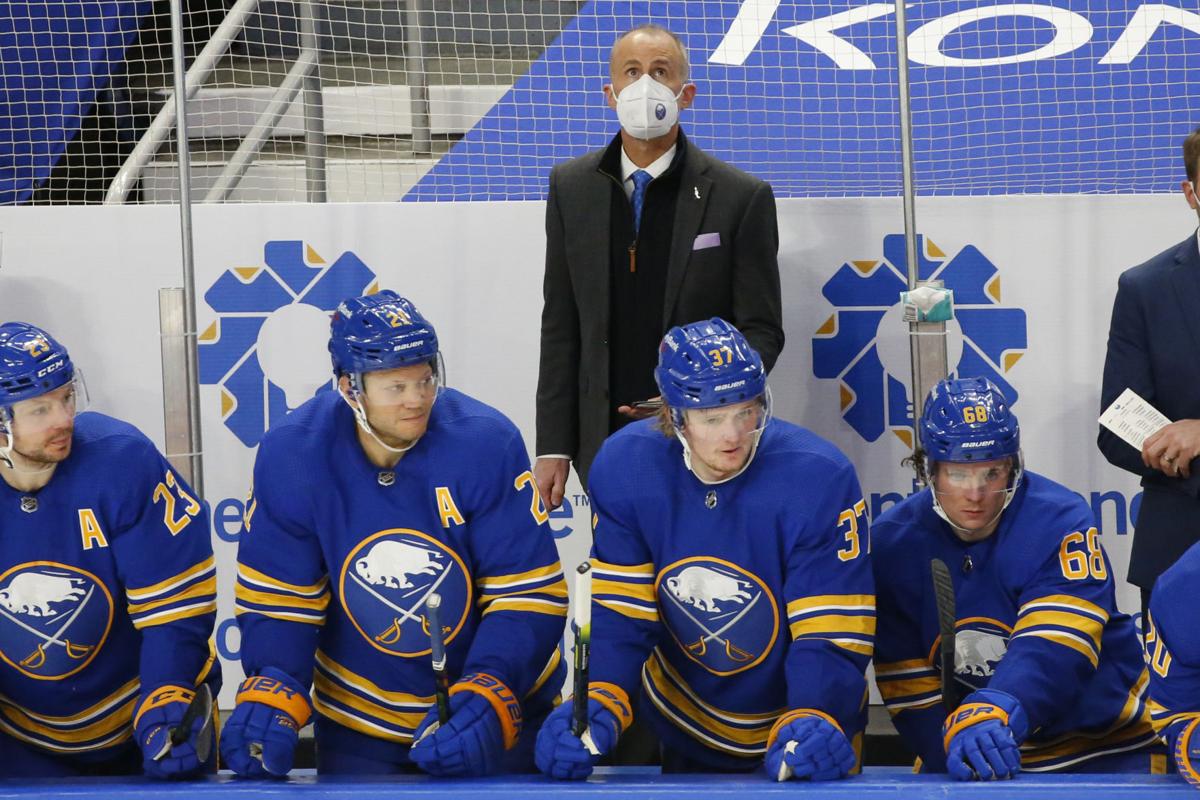 The first thing you have to note about the Buffalo Sabres is that you're not going to see much improvement under interim coach Don Granato as opposed to Ralph Krueger if you look at just the numbers.
With Jack Eichel still out of the lineup, the power play remains mostly hopeless. And if you want to study shot charts and Corsi ratings, Thursday's overtime loss to the New York Rangers skews everything when you factor in the Blueshirts' 47-23 advantage in shots on goal and their monstrous 82-36 bulge in attempts.
You have to look deeper. There's a lot of empirical evidence that Granato has made a quick impact on this club, even with a 2-5-2 record. Does that mean he's a candidate to get this job on a permanent basis?
It's too early to tell. But one thing has quickly become apparent: Granato may have been hired simply to keep the seat warm for somebody else, but he has a real chance to keep his candidacy growing over the final 19 games of the season.
The Sabres took Sunday off after improving to 2-0-2 in their last four games with Saturday's shootout win over the New York Rangers. And they've played strong hockey for five straight games now, going back to the March 27 loss in Boston where a 2-1 lead after two periods turned into a 3-2 defeat.
It helps that Granato has had Linus Ullmark back in net. Like many teams, the Sabres would be in a different place in the standings had they not lost their starter for a month.
Ullmark's shootout win Saturday against the Rangers put him at 7-5-3 for the season. The three-headed backup of Carter Hutton, Dustin Tokarski and Jonas Johansson is 1-18-3.
The Sabres play faster under Granato. They have pace. The defensemen are engaged in the offense. They're willing and even encouraged to make some high-risk plays. He's getting better play from guys up and down the lineup.
That cross-ice breakout Rasmus Dahlin threw Saturday night in his own zone to Taylor Hall? What a doozy. High risk. High reward, as it turned into a 2-on-1 break and a Casey Mittelstadt goal.
"It's exciting," Sam Reinhart said after Wednesday's rout of Philadelphia snapped the club's hideous 18-game winless streak. "I like the style we've been able to play. We've been able to skate more and play a faster game. Tonight, I think of the defensive end, we were able to build speed and make some plays coming out of our end a little bit more."
In Granato's first five games, the Sabres averaged just 1.6 goals per game and were giving up 4.2. In the last four games, they're at 3.25 for and 2.5 against. Small sample size alert for sure. But the more you watch, the more you wonder what took so long to fire Krueger if the Sabres were simply going to replace him with Granato.
Krueger should have been gone after the double shutout loss to Philadelphia at home the last weekend in February. Instead, the Sabres soldiered on for nine more games with their coach a dead man walking and the players waiting for the move to be made.
Maybe General Manager Kevyn Adams was indecisive. Not a good look. Maybe he couldn't get Terry and Kim Pegula to sign off on a change and thus have to pay Krueger not to coach. Also not a good look.
Whatever it was, Granato is at least in the better-late-than-never file. And don't throw up Ron Rolston to me either. When he was promoted from Rochester after the 2013 firing of Lindy Ruff, it quickly became obvious he was in over his head and didn't belong in the NHL.
Granato, on the other hand, has been a clear upgrade from the man he replaced.
Come the offseason, it would probably be better if the Sabres could lure a longtime NHL coach like Bruce Boudreau, Claude Julien or Gerard Gallant. And if John Tortorella comes available from Columbus, you have to inquire with him and see if he'd want to bring his brand of butt-kicking here. This franchise could use it.
That said, any of the four names above are going to be want big money and big security. It seems unlikely that Adams – and, by extension, the Pegulas – are interested in that kind of investment in a coach at this point in time.
So would some college coach really be a better option than Granato?
You want to see a coach evolve and have impact on his team. Granato is doing that. He started slow in the personnel area, but is now pushing Dylan Cozens (before his injury) and Mittelstadt to get real ice time at center. He's tried Reinhart there, too. Dahlin and Kyle Okposo have been much more productive and Okposo suddenly has points in six of his last seven games.
The Sabres have struggled in overtime this year, but Granato is learning there, too. He had Mittelstadt and Hall on the ice with Rasmus Ristolainen on Saturday rather than Dahlin, so there was no repeat of the first-minute troubles the club had Monday vs. Philly.
The Sabres took things much more methodically Saturday as well. They have one of the league's best shootout goalies in Ullmark. There's no reason to press the issue and they didn't. They took the air out of the puck, to use an old basketball cliche, and Ullmark stoned New York's Artemi Panarin and Mika Zibanejad in the shootout.
"The nicest feeling in all of that is the players like playing for their teammates," Granato said Saturday. "They work for their teammate, work for the team. They have clarity in what they're supposed to be doing and how they can be successful.
"That's the feel that you get, that you see. All the signs point to that ... so that's always a great feeling as a coach for personal reasons, but there's enjoyment in watching your guys immerse in the moment and staying engaged in the moment."
Granato needs to stay in the moment, too. Day by day with each glimmer of hope, his chances to stick around grow. Bears watching.
Mike Harrington covers the Buffalo Sabres and minor league baseball for The Buffalo News.