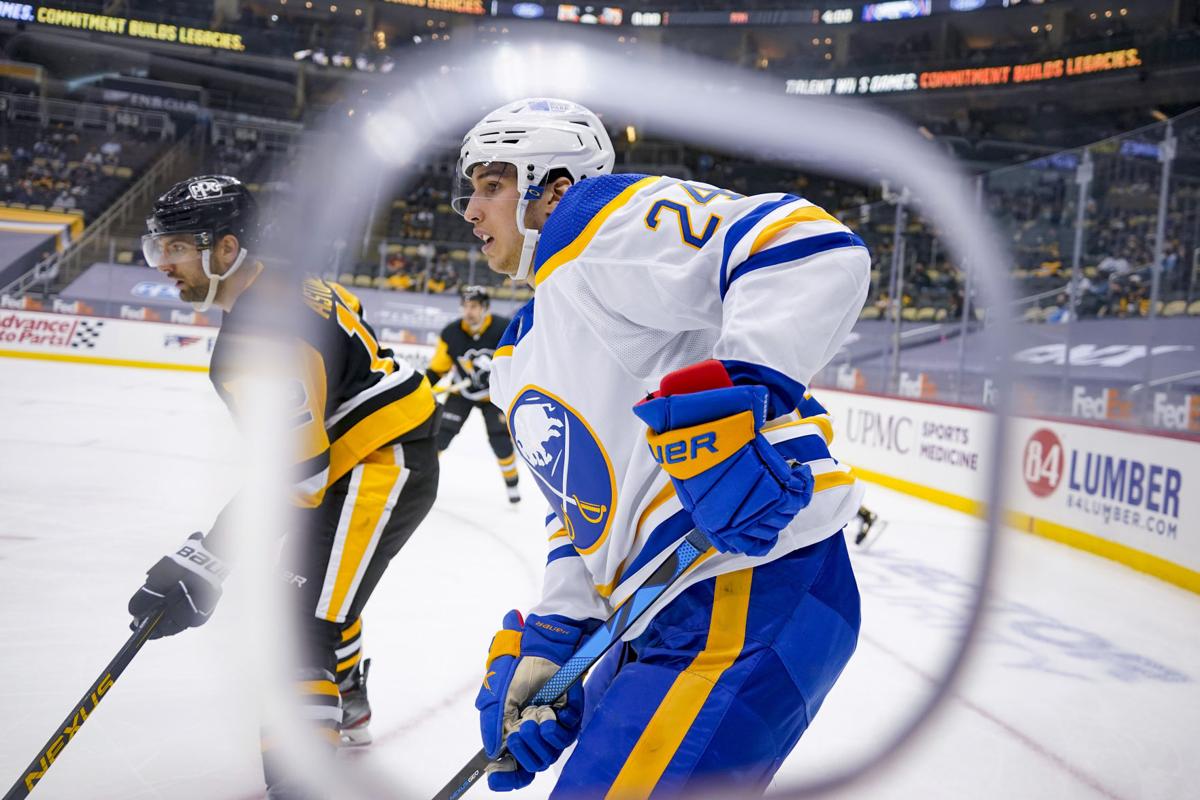 It was one of those nights for Dylan Cozens. Really, it was one of those nights for just about every Buffalo forward. Fall behind the Boston Bruins and you play into their hands, and that's what happened in a 2-0 Boston victory Tuesday night in KeyBank Center.
Cozens had a team-high seven shots on goal in the game and one turned into a save-of-the-year candidate for Tuukka Rask as the veteran Boston goalie stretched to his left and robbed Cozens with the glove in the first period.
"Arttu (Ruotsalainen) made a great pass and I just tried to get it off and he made a great save," Cozens glumly said of Rask. "It's a great save by him."
Especially in the first two periods, the Sabres weren't good in this game. As interim coach Don Granato said, they were chasing all night. Cozens was one of the few players really going as he added one dangerously speedy rush in the third period, too, but Rask stopped his backhand.
"His speed is dynamic. And his quickness is even more dynamic," Granato had said of Cozens earlier in the day. "So his first two, three strides, his speed up and down the rink is high end. But it's the first two strides and separation that he's another level. He's in another category there."
Although what Granato said applied to that third-period burst, it was actually an outgrowth out of a conversation of what we saw in the first 30 seconds Sunday against Pittsburgh. It was exactly the kind of play that former GM Jason Botterill was dreaming about when he took Cozens at No. 7 overall in 2019.
Cozens lost the opening faceoff clean to Sidney Crosby, then got bumped off the puck in the defensive zone by Jake Guentzel. But when defenseman Kris Letang pinched too much and Anders Bjork tied up Letang and Bryan Rust to leave Crosby and Guentzel stuck in the zone behind the play, Cozens was off.
It was a 2-on-1 with the puck still inside the Buffalo blue line and Cozens flew right by the Sabres bench. By stride six, he was already crossing the center red line. Once in the zone, his saucer pass burned Brian Dumoulin and found Ruotsalainen for a one-timer that produced a goal just 26 seconds into the game. The Penguins never caught up as Buffalo won 4-2.
"I saw there was a chance, an opportunity for an odd man rush," Cozens said. "So I just used my legs to get away as fast as I could to create time and space to hopefully make a good play. Obviously, it worked out. So it's always nice to get one on the first shift like that."
You draft at No. 7 overall for offense and Cozens would certainly like to have more than four goals and 11 points thus far. But especially with Jack Eichel out for the season, this is a multi-game lab for Cozens to show he can be a 200-footer center in the NHL. He's had matchups with the likes of Washington's Nicklas Backstrom and Crosby the last few days, and Tuesday's foes were Boston's David Krejci and Charlie Coyle.
"I've been really focused on my defensive game. I think it's really important as a young guy in the NHL to show that you can play defense," Cozens said. "Donnie (Granato) is obviously trusting me to play against some really good players lately. I take that as a really big compliment. I want to play against those top lines, those top players and prove that I can compete against them, score against them and defend against them. So I'm grateful that Donnie has given me that opportunity to play against them. And I just want to keep showing that I can."
Cozens entered the game at 49.6% in the faceoff circle, but struggled in this one, going just 1-7. Good moments and tough ones. Exactly what you expect from a rookie, even a Top-10 pick. And that's fine. Granato wants to see how Cozens reacts.
"I wouldn't put him in situations that would jeopardize his confidence,' Granato said. "So if he was going to make a mistake, and it was going to be a hit to his confidence, I wouldn't put him in that situation. But I don't have any worry or concern that is going to be an issue. So now when he's in that situation, if he makes a mistake, it's going to be growth, immediate growth, immediate gained experience."
In Saturday's game, Cozens had a rough giveaway behind the Sabres net that turned into an easy goal for Pittsburgh's Teddy Blueger. Experienced gained the hard way.
"There's always multiple things on a play. All four guys pulled away from supporting him," Granato said. "And so there was mistakes by four other guys as well, there. it looked obvious that it was Dylan's mistake only because of that, but I can assure you that the other four guys were not supporting the way they should have and that complicated the issue.
"I don't worry about making a mistake like that from the standpoint of hurting him the next shift out. And that was evidence and proof that he can handle those situations because he's not going to change. He's not going to curl up and not be the aggressive player we need him to be."
Mike Harrington covers the Buffalo Sabres for The Buffalo News. Harrington is also a Baseball Hall of Fame voter and a 2013 inductee into the Buffalo Baseball Hall of Fame, and the Buffalo chapter chair of the Professional Hockey Writers Association.